Car Review: The Ford Bronco Sport
Our review of the fun and sporty Ford Bronco Sport, an SUV built for the thrill-seeker, the sightseer and the day-tripper!
Update! In 2021 we bought one because we loved it so much!!
Ford of Canada recently reached out and asked if we would like to take the new Ford Bronco Sport for a weeklong test drive. Not wanting to miss an opportunity for adventure, we quickly agreed and are we ever glad we did! Keep reading to learn more about this Bronco we wish we could keep forever!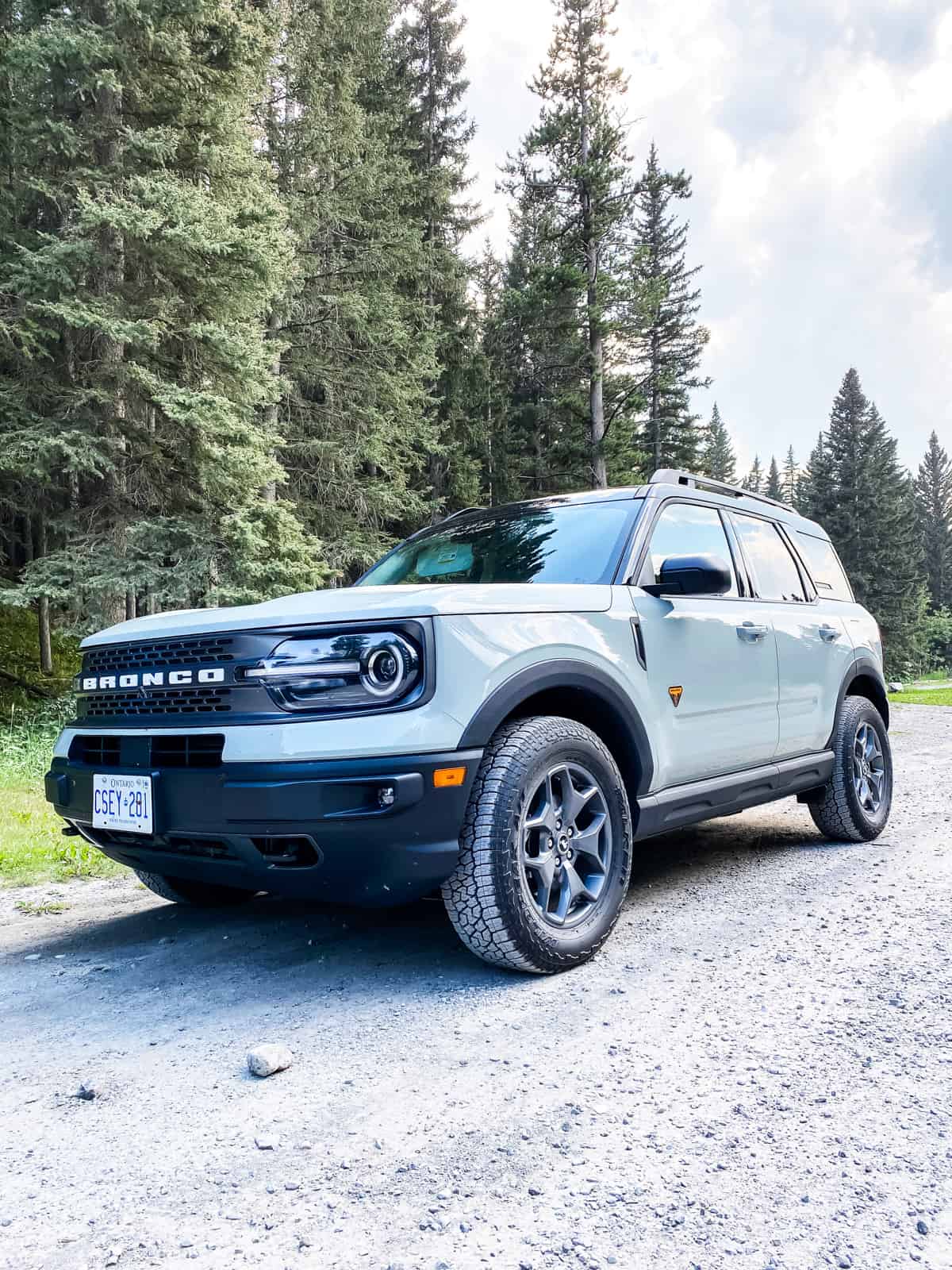 A great first impression!
Our first impression of the Ford Bronco Sport was the really great styling and size of the SUV. There are certain elements that take you back to the original Bronco, round headlights, the one piece grill, and the squared off body – the new Bronco Sport takes the elements from the past and puts together a beautiful, modern version… and we loved the colour – Cactus Grey!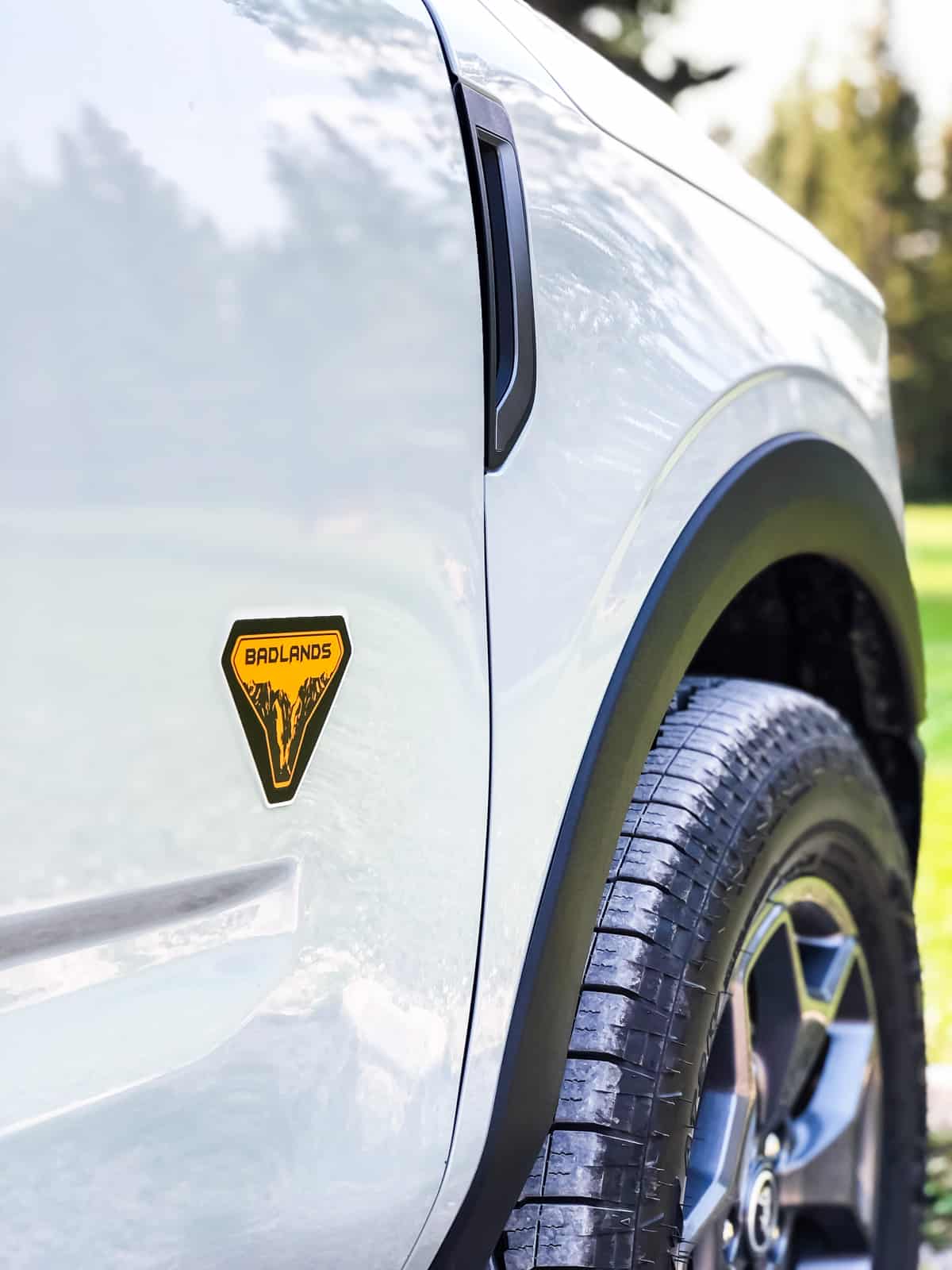 So much room for everything!
Once inside the Bronco, we were impressed with the overall look and feel. The Safari Style Roof makes the interior roomy, with loads of room for everything you need on your adventures…the cooler, the backpacks, all of your equipment…and your tall family members! There's even enough cargo room to fit two bikes standing up.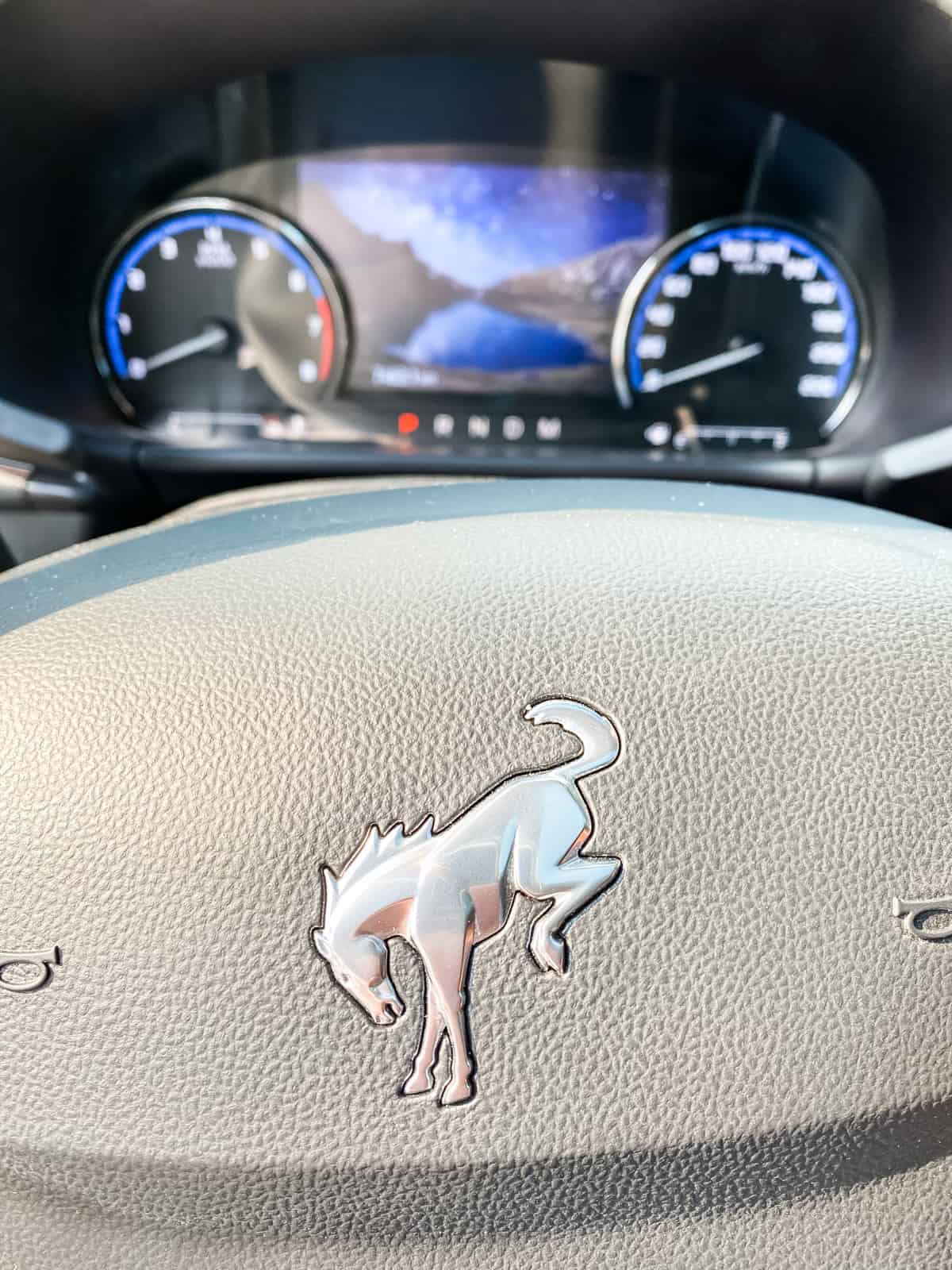 So many smart storage capabilities!
But what really sets this vehicle apart is how smart the storage capabilities are, this is a mobile base camp! There are so many configurations to pack your gear that you may need to do a few extra trips just to find them all! This Badlands Edition is loaded with smart storage solutions that are durable enough to stand up to all of our gear, and are also super easy to clean (we loved the Rubberized Flooring in the cargo area and Rubberized Rear Seat Backs).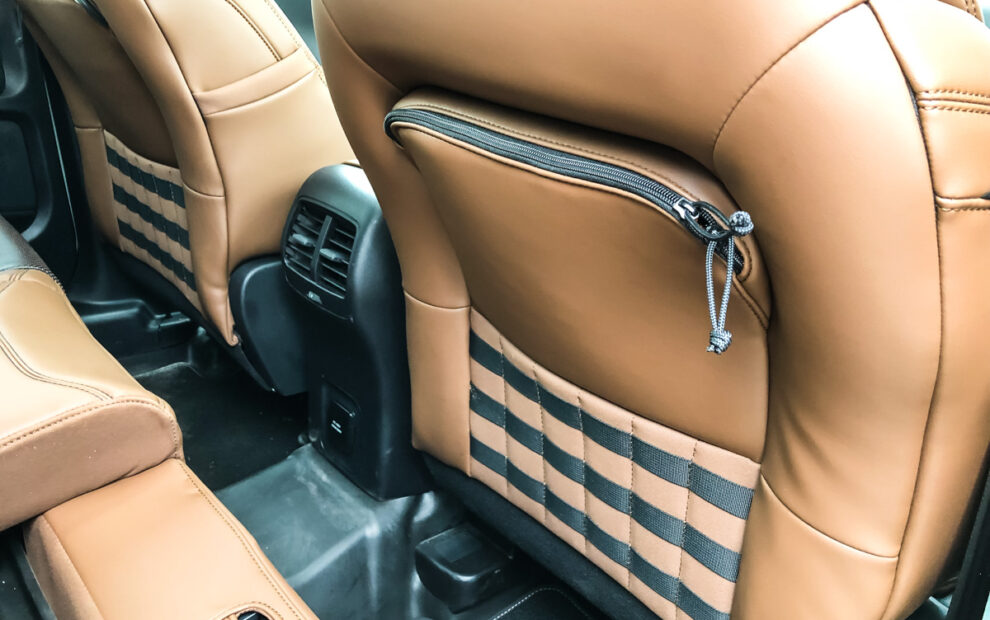 This model had under seat storage compartments, flat fold second row seats (which is great for packing!) and daisy chain style straps (MOLLE Strap System) on the backs of the front seats which are great for hooking your backpack, and hanging gear like water bottles, sunglasses and flashlights. Another feature that we really liked were cargo tie down carabiner hooks in the trunk that are great for securing gear and are also great for hanging grocery bags.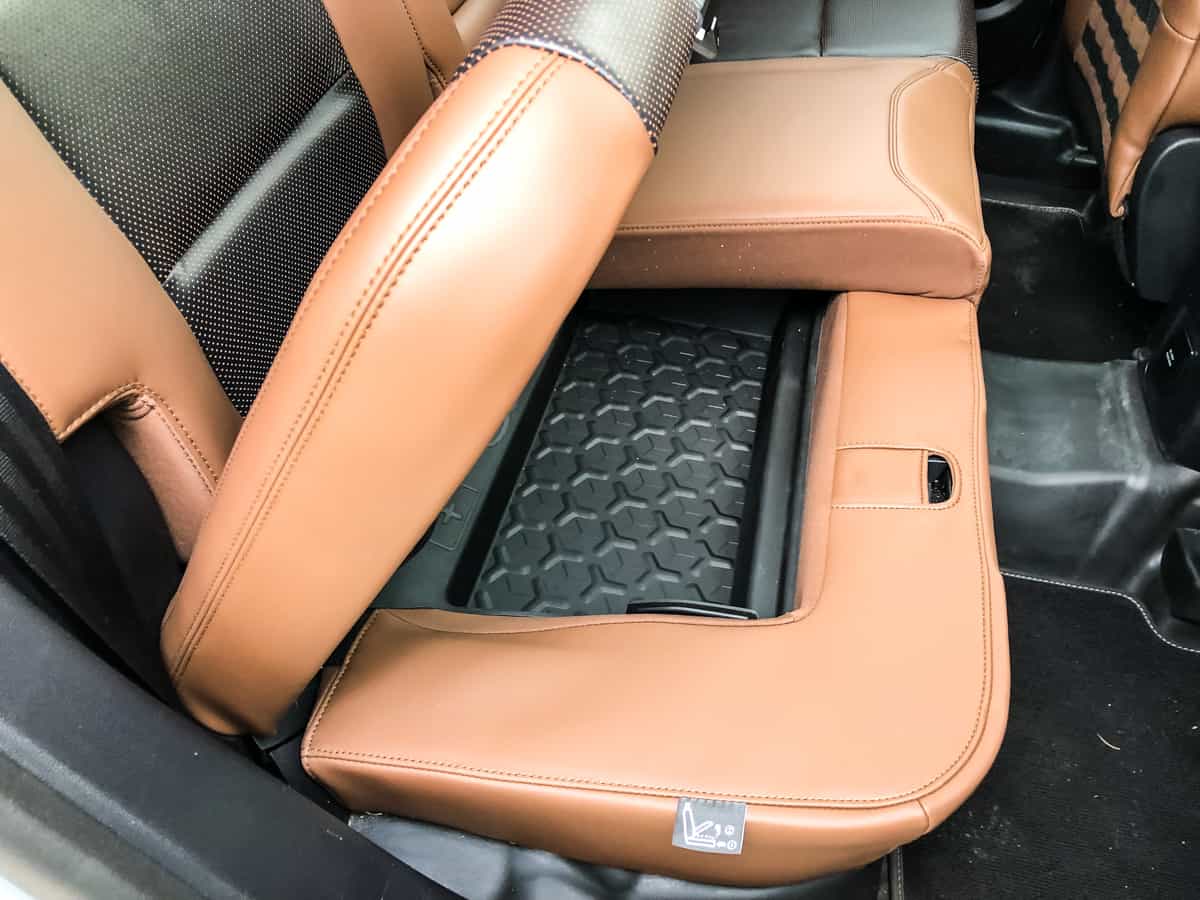 It's all in the details!
This vehicle is also quite the tech centre with multiple power outlets and USB ports, including a wireless charging pad. There are so many smart, well thought out features in the Bronco Sport it really made getting to and from our day to day adventures a pleasure.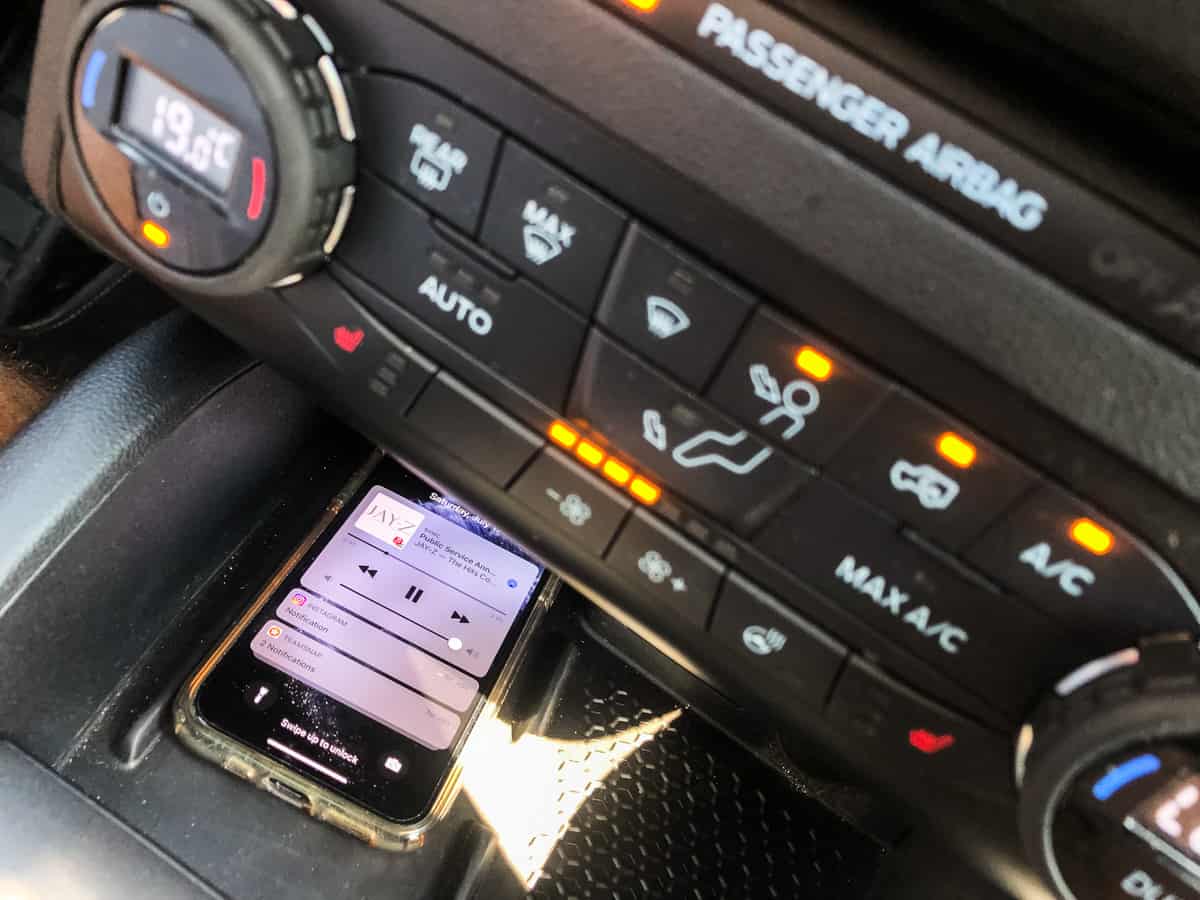 Some of the features that we really loved were the speed control images on the dashboard…the vehicle tracks the speed limits as you drive so you always know how fast you should be going!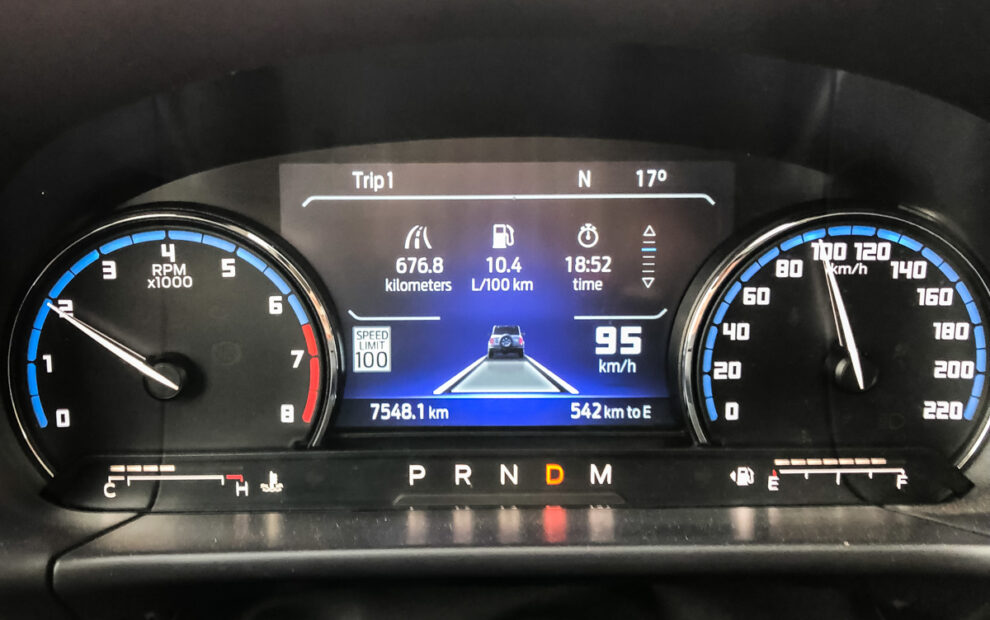 The seatbelt warning feature is also nice for those with small kids that might try to sneak off their seatbelts!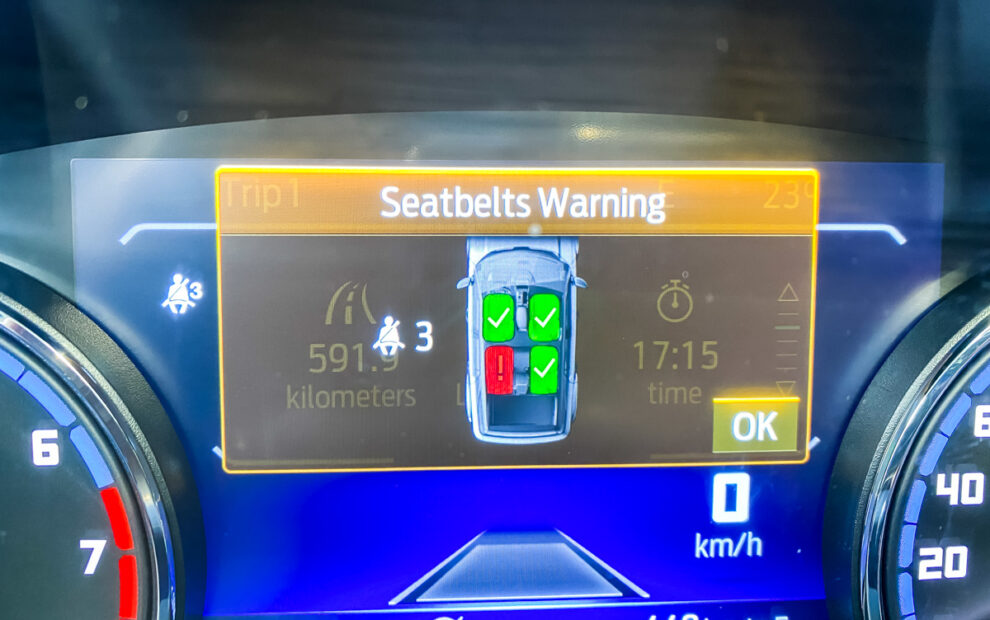 The fun is in adventuring!
Now let's get to the fun part…driving and adventuring! During our week with the Ford Bronco Sport we drove it around on all of our normal day-to day errands, like grocery shopping, taking the kids to rugby…it's really really enjoyable to drive in the city too. But the most fun is out on adventures! We took the Bronco out to visit the folks at Moose Mountain Horseback Adventures and do some trail riding in the foothills of the Rocky Mountains. Moose Mountain is a 520 acre ranch 60km Southwest of Calgary.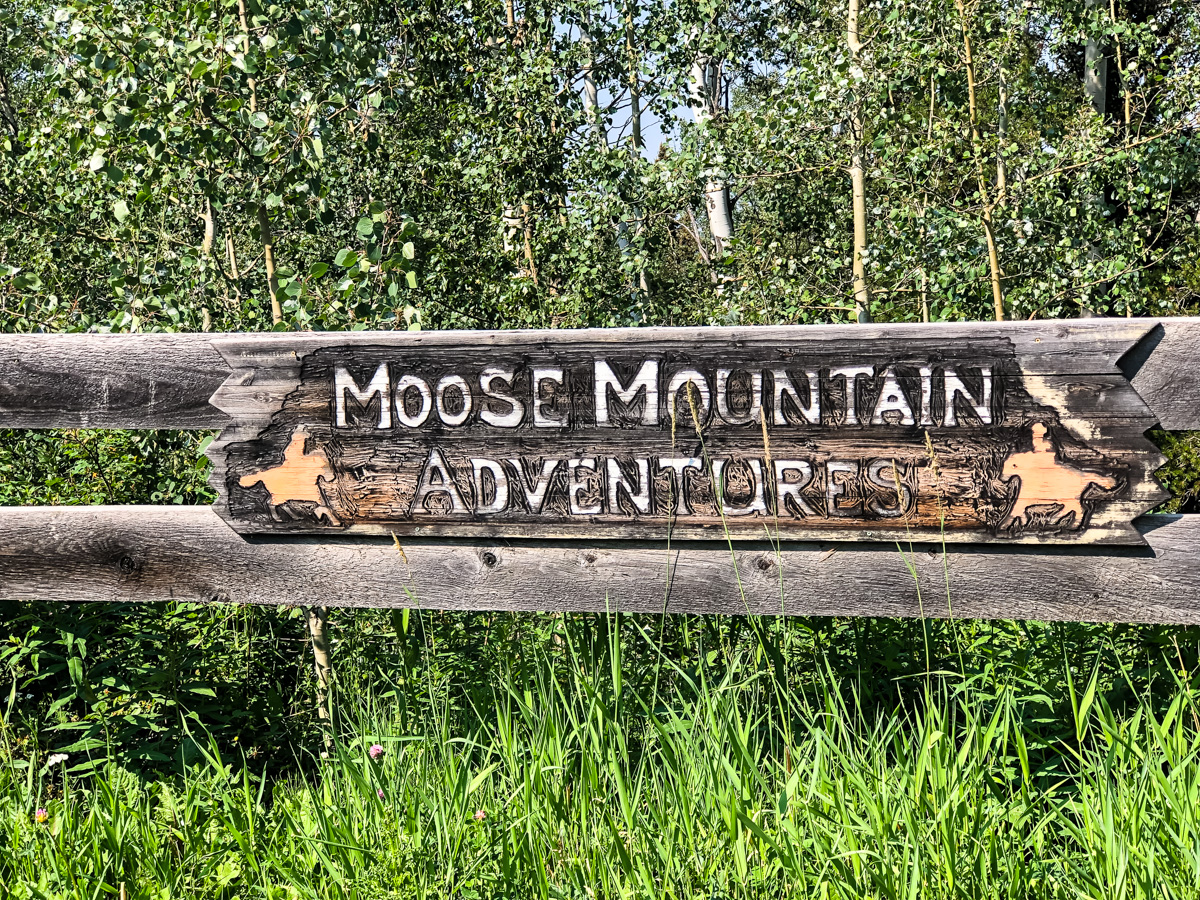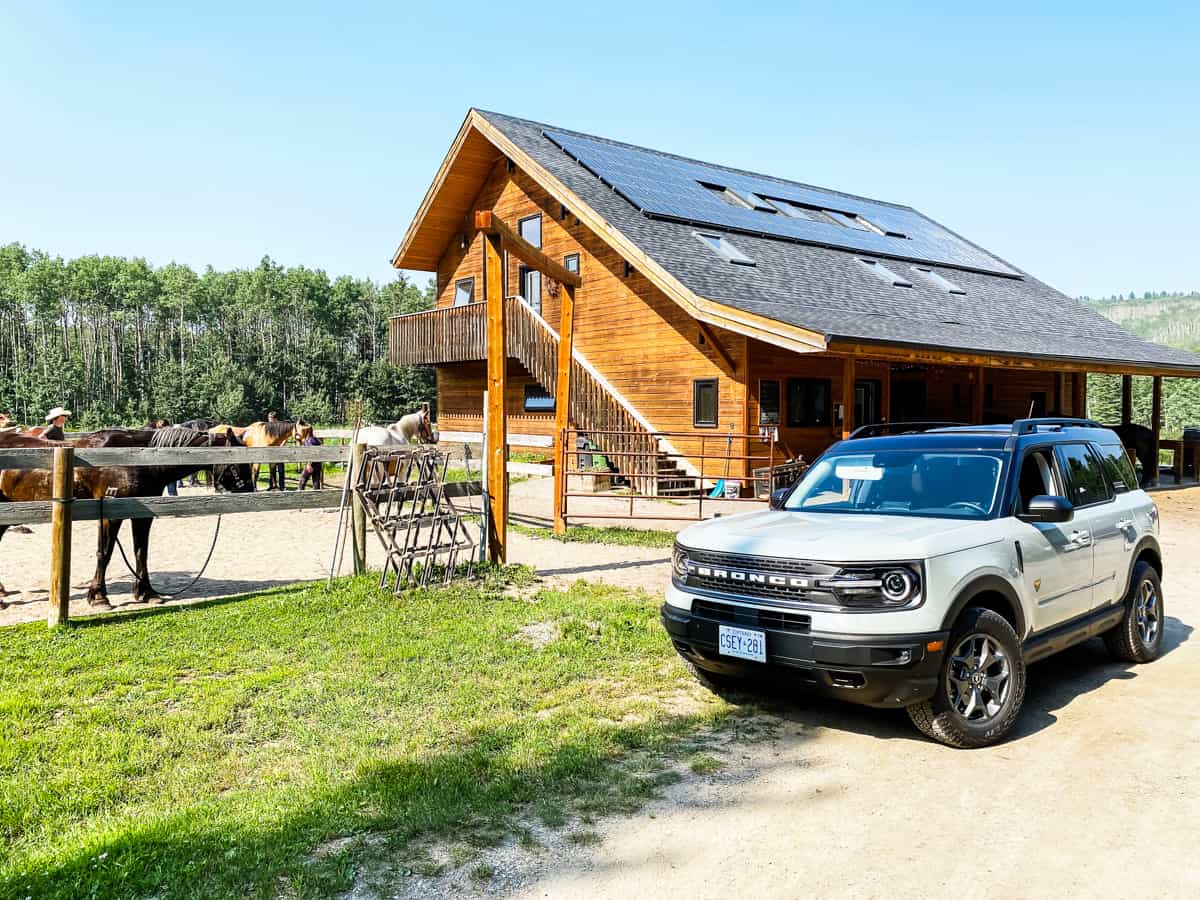 Moose Mountain Adventures
When we pulled into the Moose Mountain Ranch, you can immediately tell it is a working ranch. A farrier was busy shoeing horses, plenty of horses in the back pasture, and more being introduced to their riders for a lesson before heading out on a wilderness pack trip.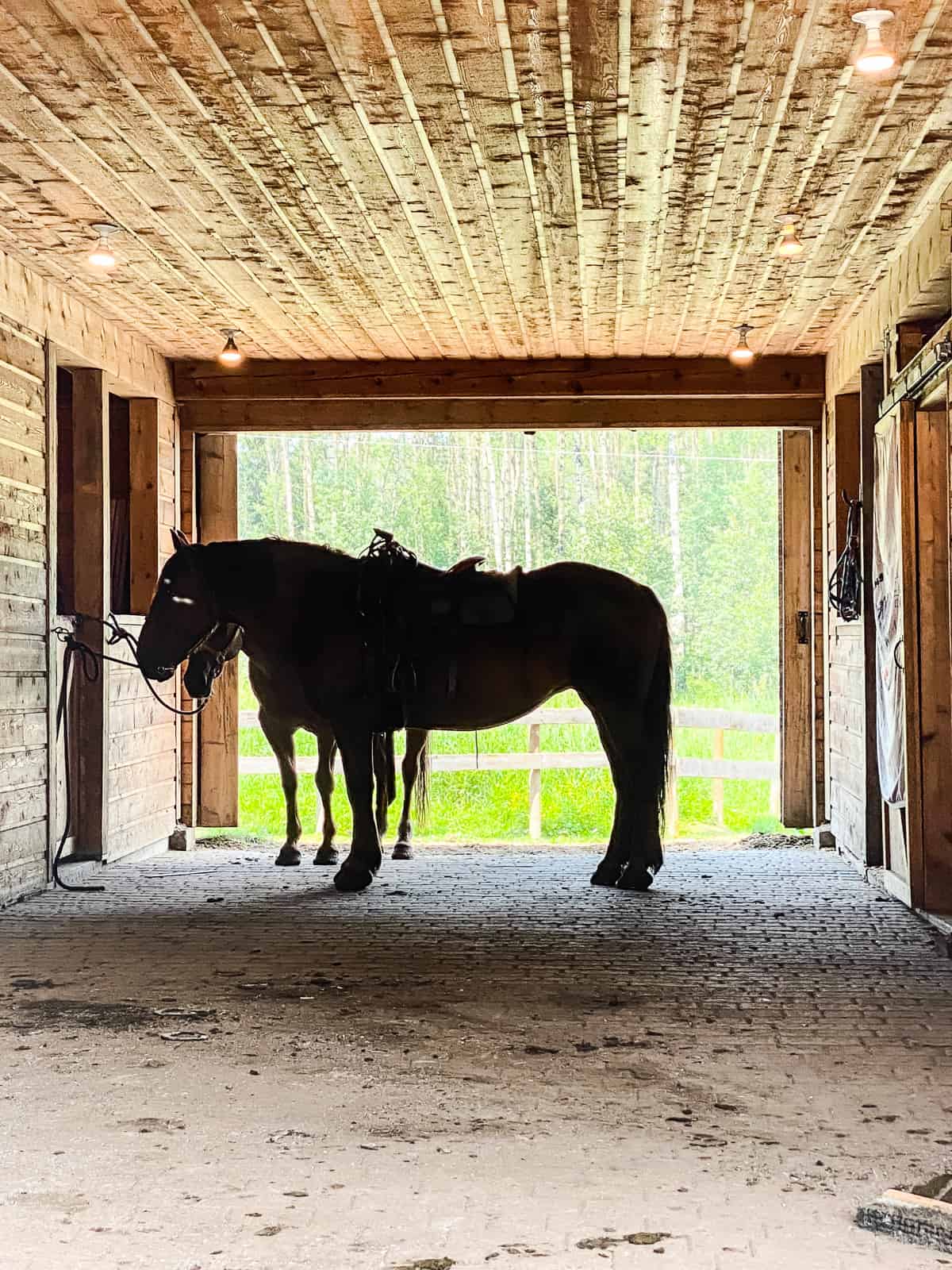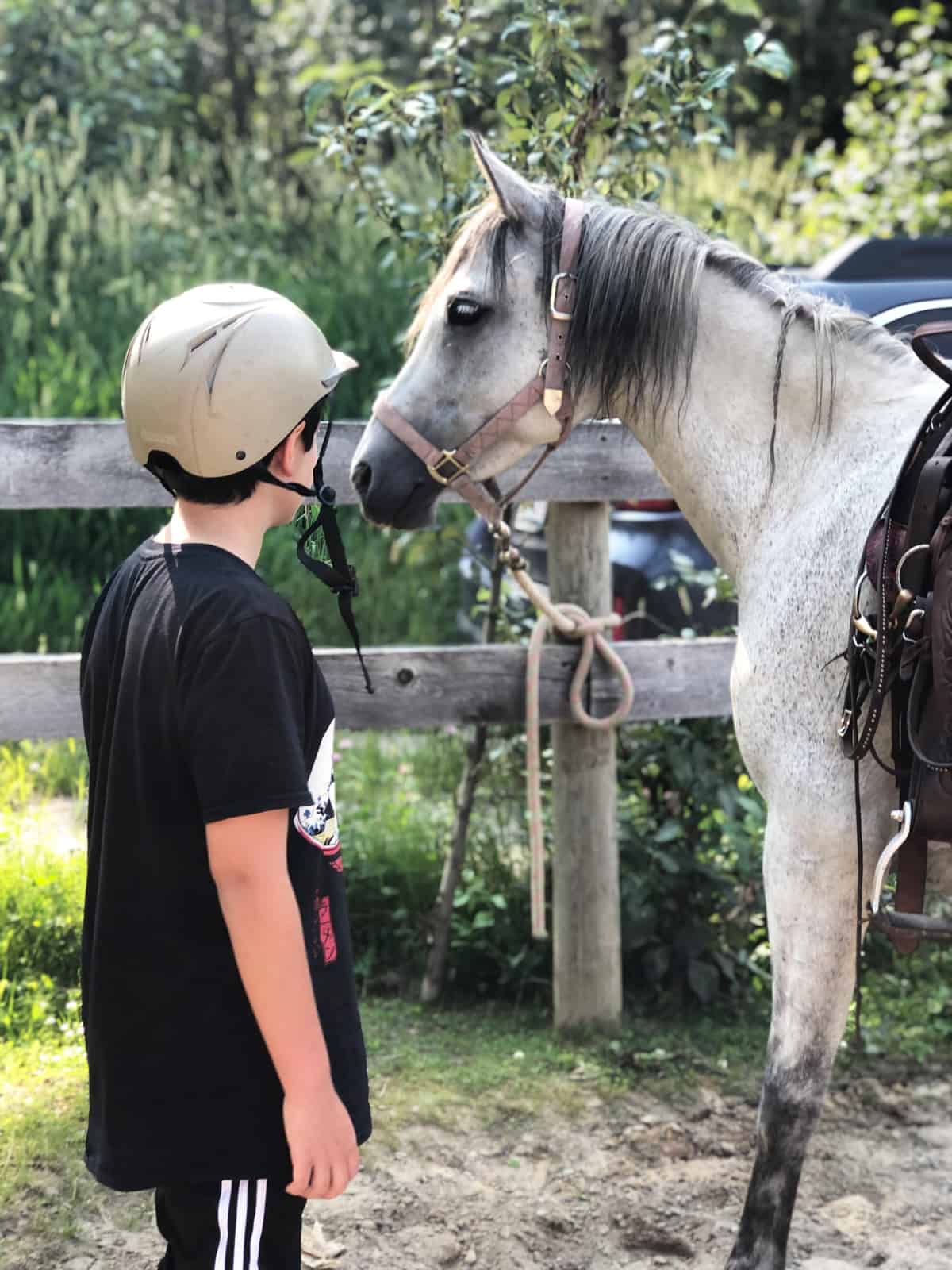 Our kids had never ridden horses before so they were a little nervous to go for their first ride. Our fantastic guide introduced us to our horses and made sure we were comfortable getting to know them and the basics of riding before heading out.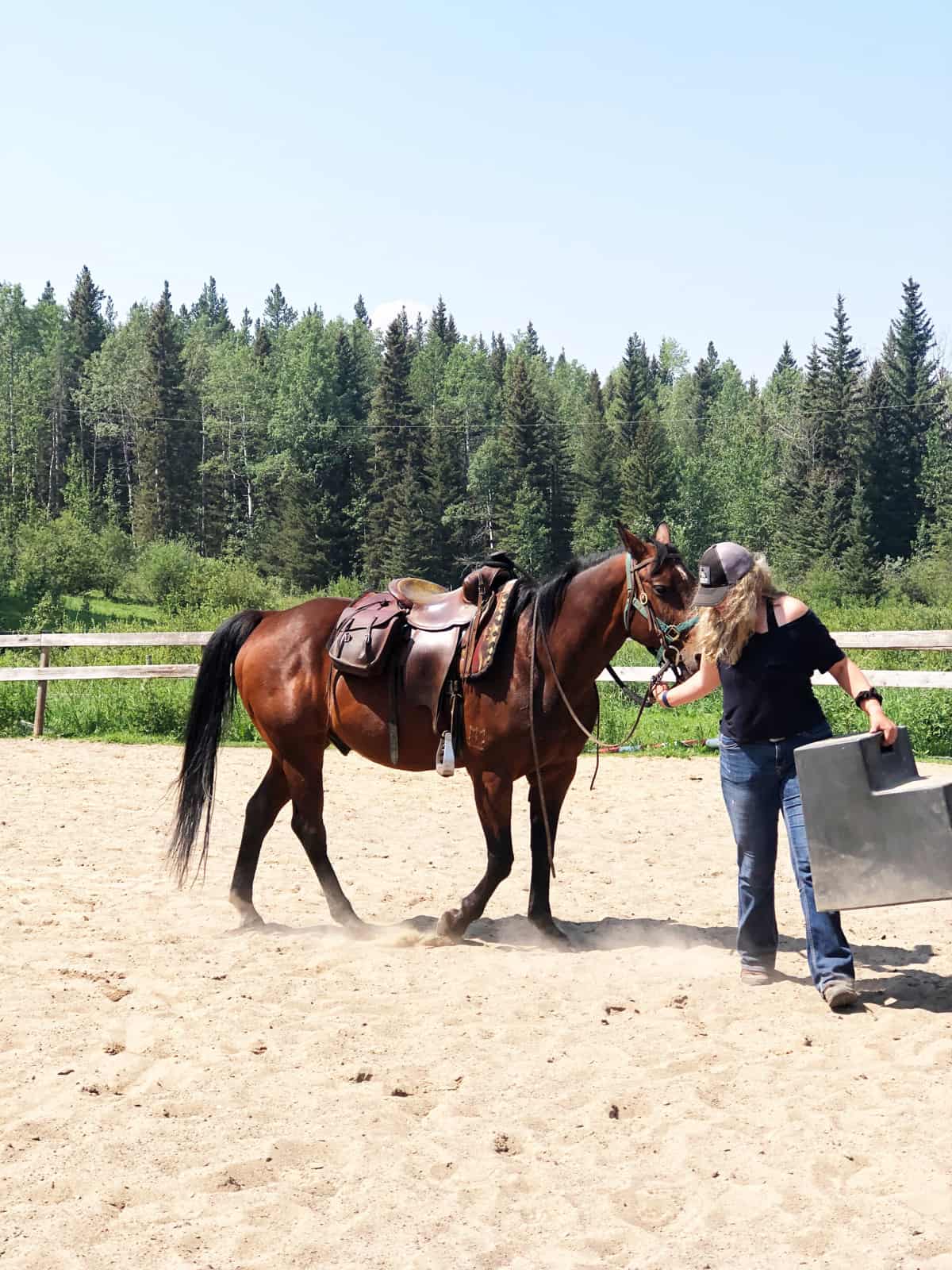 Such a fun family experience.
Our guide was really great at getting the kids (and the grown ups) comfortable. We were given a lesson on the basics of stopping, starting, turning, etc. and then we were on our way. Rosie, my horse for the afternoon, was a dream to ride, I felt super safe and she was very gentle in breaking me in. It was nice to be able to focus on the scenery and not focus as much on the horse, you can tell that the Moose Mountain team have really taken time and care to match rider to horse, it really made a big difference in enjoying the day.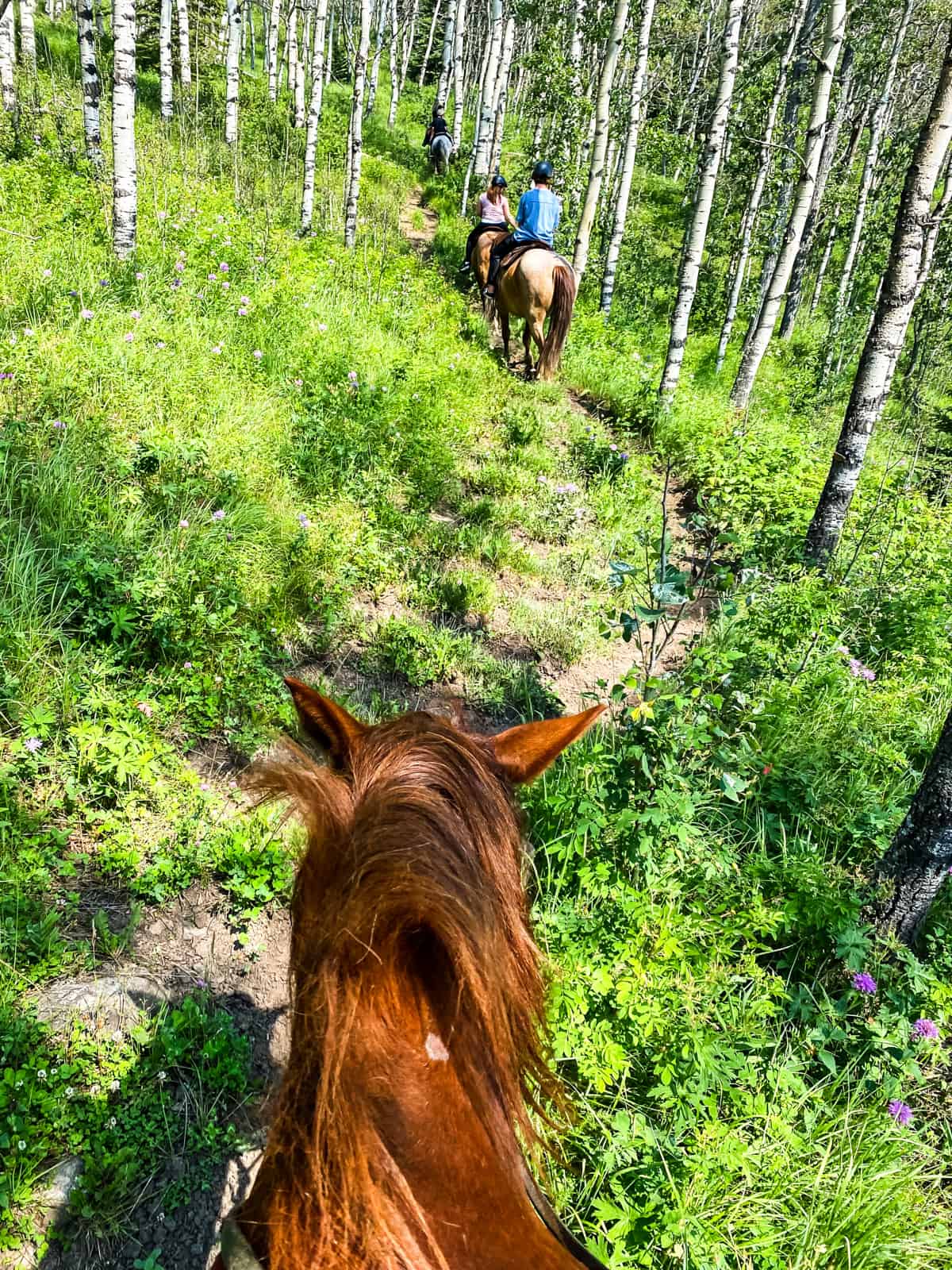 Rosie and I settled in to follow our guide up into the Foothills and enjoy the amazing scenery on the sprawling ranch. Great views of the mountains, lush greenery and summertime flowers were in abundance. It was quite picturesque and everyone was enjoying themselves.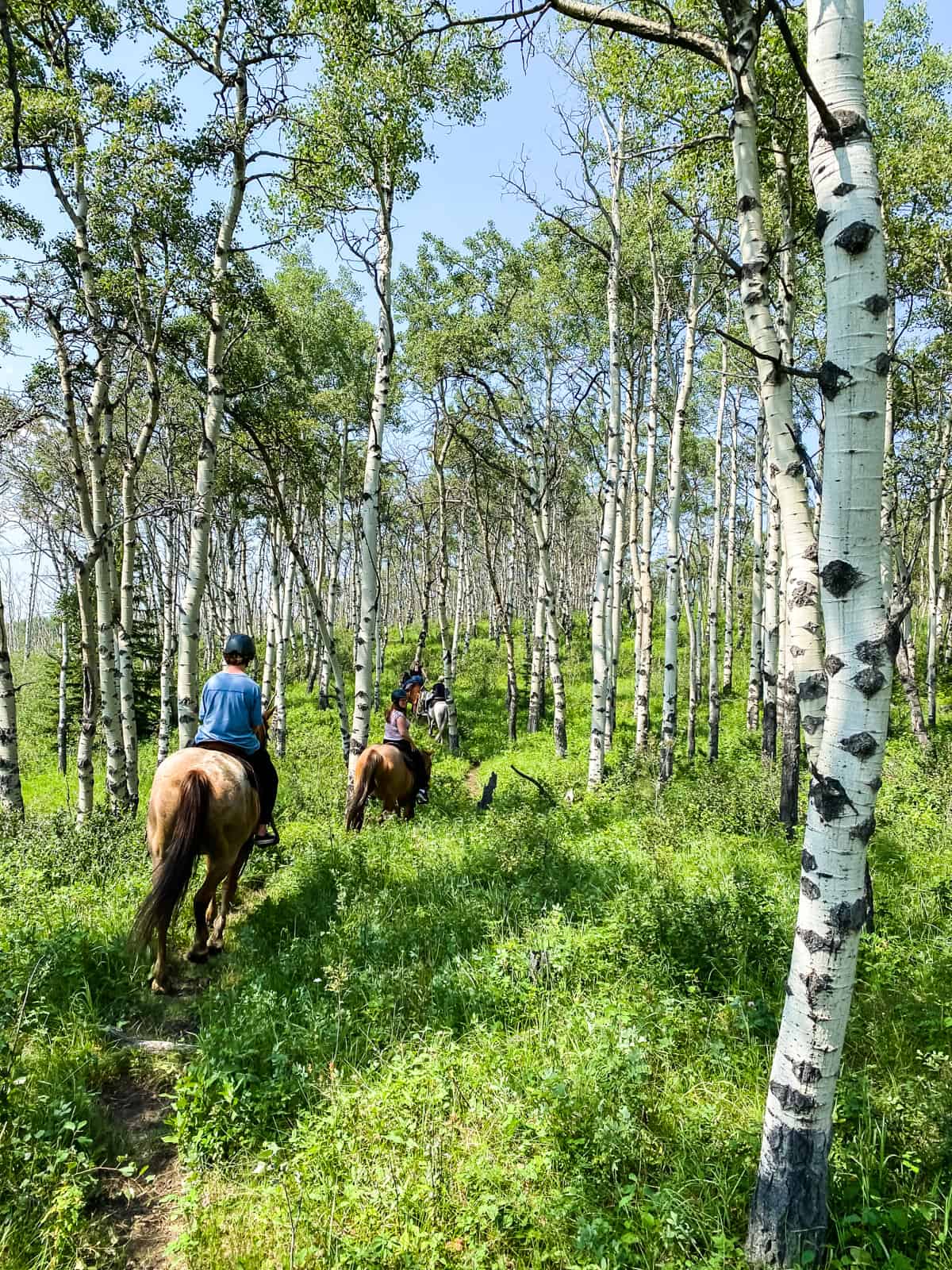 We went out for an hour and half and it was such a nice introduction to trail riding and horses that we were already planning our next trip before we had even got back to the corral. I cannot say enough about the horses and how amazing they were to ride and how easy they made the riding. Everyone had such a great time.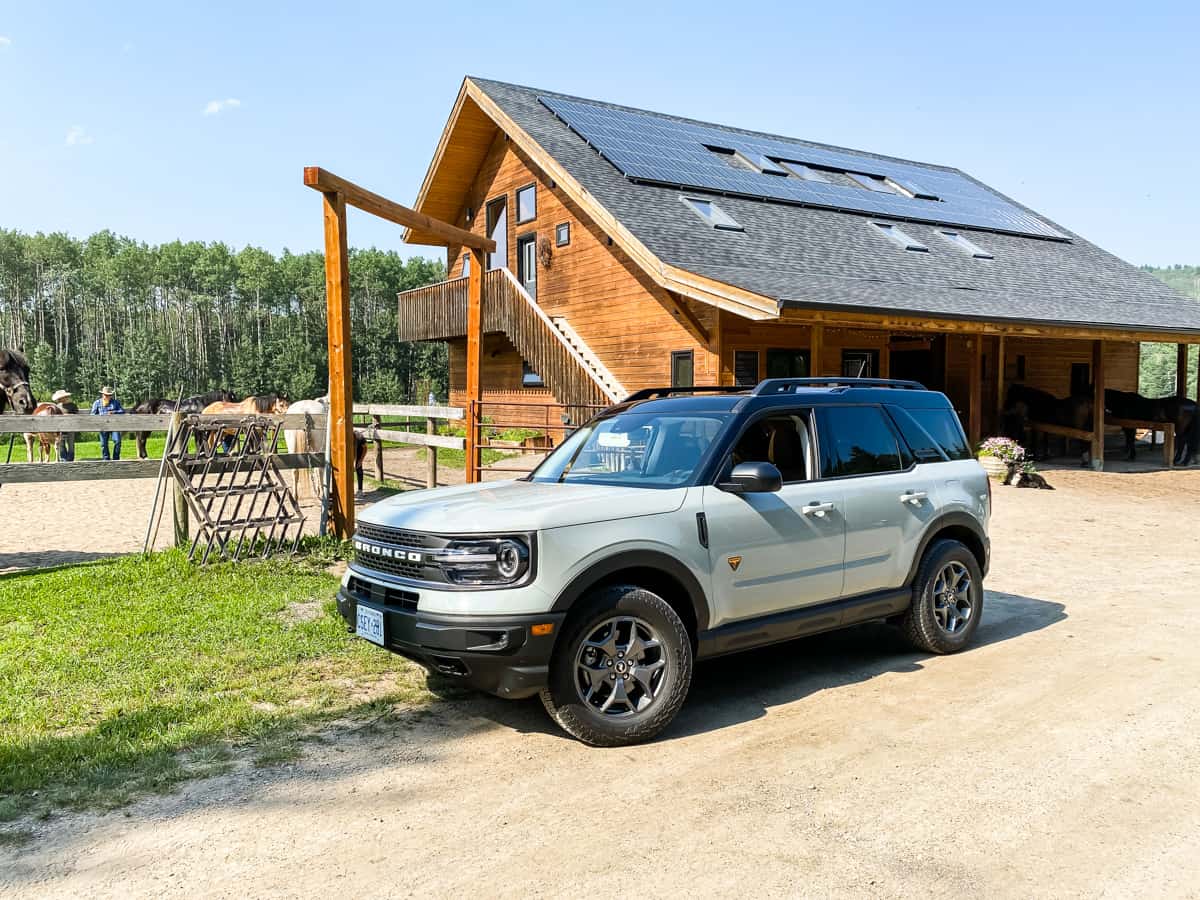 With our trail ride done, we hopped back into our Ford Bronco Sport and made a quick run over to Bragg Creek for a final picnic dinner before heading home for Calgary. It was a great day of adventure, and a great week of getting to know the new Ford Bronco Sport.
Final Thoughts.
We really really enjoyed the Ford Bronco Sport…it was a pleasure to drive, it was comfortable and modern and had everything we didn't even know we needed! We are even considering purchasing one after this experience…it has everything we want/need in an SUV. And that colour though…fantastic!
Thank for reading along!
Disclosure: Thank you to Ford of Canada for the opportunity to test drive the Ford Bronco Sport! While Ford did cover the costs of our trail ride, we were not compensated monetarily for this review. All opinions expressed here are our own…we truly enjoyed the Ford Bronco Sport.