Tonto Natural Bridge State Park, Arizona
Tonto Natural Bridge State Park in Arizona is a great spot to explore with your family!  Put on some hiking shoes, take a picnic and plan to spend the day here!
Arizona is one of our most favourite places to visit.  We've been going with our family for many years now, and every time we go we find another fascinating spot.  On our last visit, my Mom and Dad took us on a road trip up to Tonto Natural Bridge State Park.  We packed a lunch and spent the day…and what a great day it was.  Full of beautiful views, boulder scrambling and great hiking!
Located in central Arizona, near Payson (10 miles north of Payson on Hwy 87), Tonto Natural Bridge State Park is a must see!  It is believed to be the largest natural travertine bridge in the world.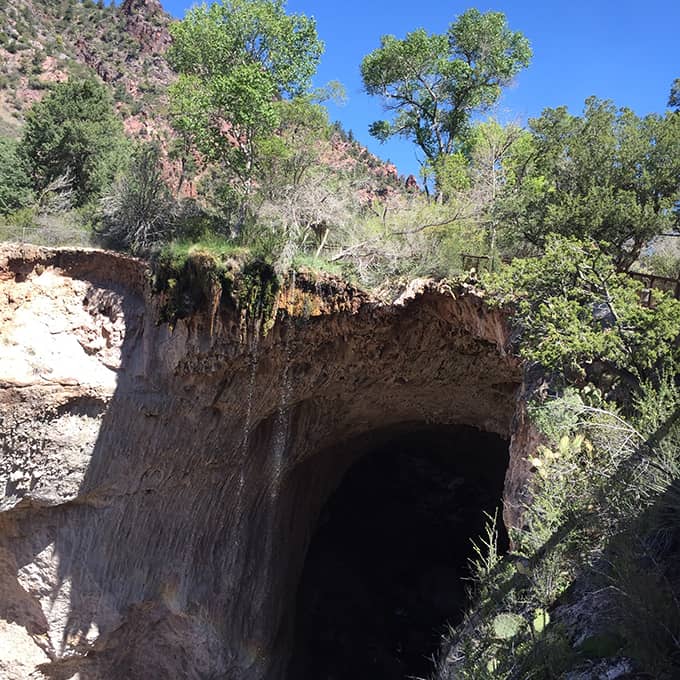 The bridge stands 183 feet high over a 400 foot long tunnel that measures 150 feet at its widest point…and you have the opportunity to get right up close, both on top of the bridge and under it!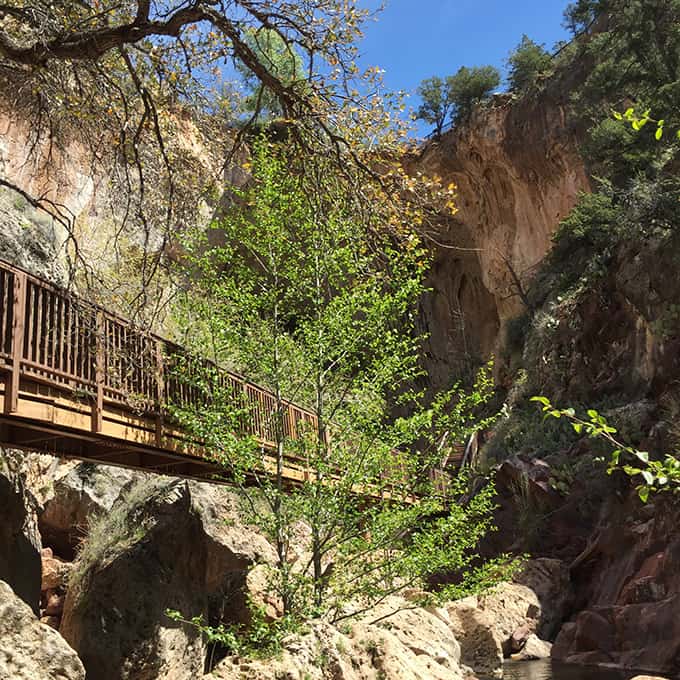 You can explore the area by taking a hike on any of the 4 hiking trails:
Pine Creek Trail is about half mile long and leads to the Pine Creek natural area.
Waterfall Trail is about 300 feet long and ends at the waterfall cave.
Gowan Trail is about 2200 feet long leading to an observation deck in the creek bottom.
Anna Mae Trail is about 500 feet long and leads to Pine Creek Trail and The Natural Bridge.  The Anna Mae Trail was our favourite!
All the hikes are not long in length, but they are a bit treacherous.  At points it can be steep and the ground is uneven, so definitely go slow and wear proper shoes.  Once you get to the bottom of the trail, you will find yourself in the waterfall cave area.  If you're really feeling adventurous, you can explore this area under the bridge, but you have to scramble up and over large boulders and water. This is the most interesting and fun area to explore, but be very careful, as it can be dangerous.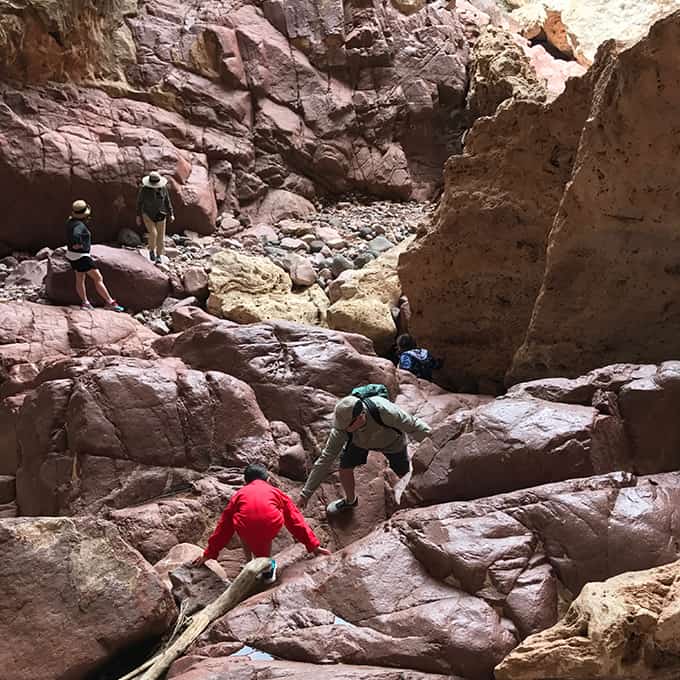 Scrambling at the bottom of the Anna Mae Trail
Our favourite trail was the Anna Mae Trail, which had what I think was the most spectacular view of the waterfall cave, and the best boulder scrambling.  I highly recommend this trail…just be prepared for the somewhat steep and rocky descent…but we all (including my parents and our 7 year old) did it with no problems.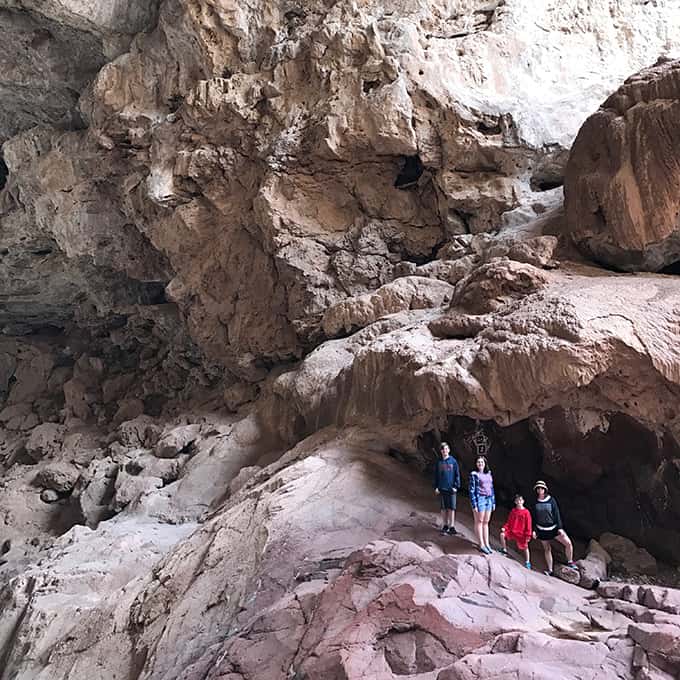 It's amazing how big the space under the bridge really is!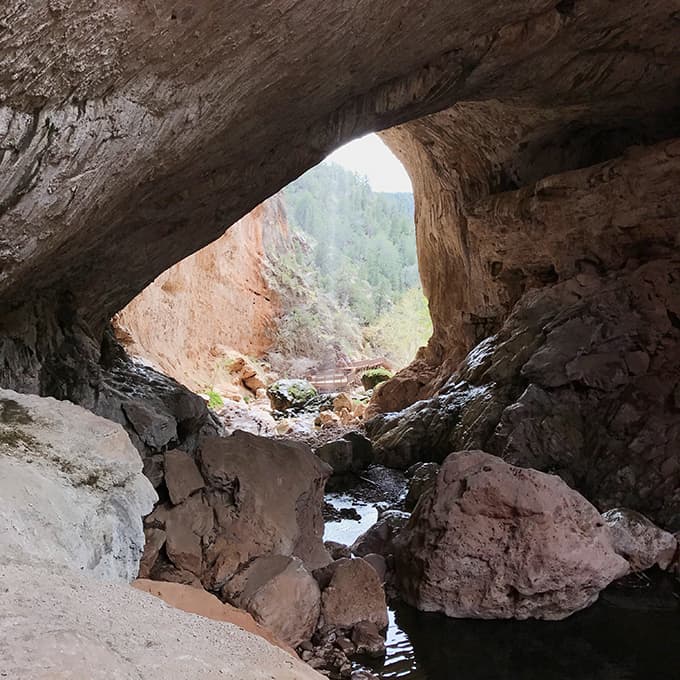 This is such a fascinating place! Here are a few more details for planning your visit:
Tonto Natural Bridge Hike Details
Rating:  Moderate to Difficult
Type:  The trails are not loops.  You hike there and back on the same trail.
Length:  There are 4 trails, and all are less than a mile long.
Activity:  Trail is for Hiking only.
Things To Note
Address: Payson, AZ  (10 miles north of Payson on Hwy 87)
Picnic:   There is a picnic area and a group use area available.
Hours and Fees:  Visit the website for hours and fees.
Washrooms:  There are outhouses available at the trailhead.  Don't worry, they are kept very clean and stink-free!
Pets:  Pets are not allowed on the trails.
Weather:  Tonto Natural Bridge State Park is quite far north, so the temperature is much cooler here…it can be almost 20 degrees cooler than Scottsdale.  The temperature here can range from 54 to 93 degrees F, so be prepared and have a coat or sweater with you just in case.  We *may* have come unprepared and ended up shopping at the gift shop for long sleeve shirts 😉
You may get wet.  When we were here the waterfall was active and water was constantly dripping from the stone, so when you are under the bridge area, you are likely to get wet.  I left with wet shoes and a damp sweater.
Visitor Centre and Historic Lodge.  You can get facility information here, and visit the gift shop.
Check ahead!  Before you visit the area, you may want to call and check to see if there are any trail closures, especially if it has been rainy.  High water levels could close the trails.