What to do in Sundre, Alberta
What to do in Sundre, Alberta!  Where to visit, where to eat and where to stay, we've got you covered!
Alberta is so beautiful…where else in the world can you go from boreal forest to the badlands to prairies to desert and the mountains, all right in our own backyard!  We're so lucky. With so much to see and do in Alberta, we like to spend a lot of our time exploring our beautiful province.  So when we were asked by the Town of Sundre to come explore, we jumped at the opportunity!  We had never been to Sundre, so this was a new adventure for us.  Disclosure:  This post is sponsored by the Town of Sundre.  We were compensated for our time, but all opinions of our adventure are ours alone.  We really enjoyed Sundre, and will definitely be going back!
About Sundre
Sundre is located in central Alberta, in Mountain View County, about 100 km northwest from Calgary.  Located along the Cowboy Trail, in the Canadian Rockies foothills, this area is a campers/hikers/bikers/explorers/golfers dream!  One of the things that surprised us most about Sundre were all the trees!  I know that seems funny to say, but as you drive towards town, you drive through prairie, then all of a sudden Sundre appears in a midst of evergreen trees.  Beautiful.  We were imagining all the camping we could do here…and we'll definitely be back to do just that.
So whether you're travelling through the area, or have chosen Sundre as a destination, you won't be disappointed.  There is a lot to see and do here.  Here are just a few things available to see and do!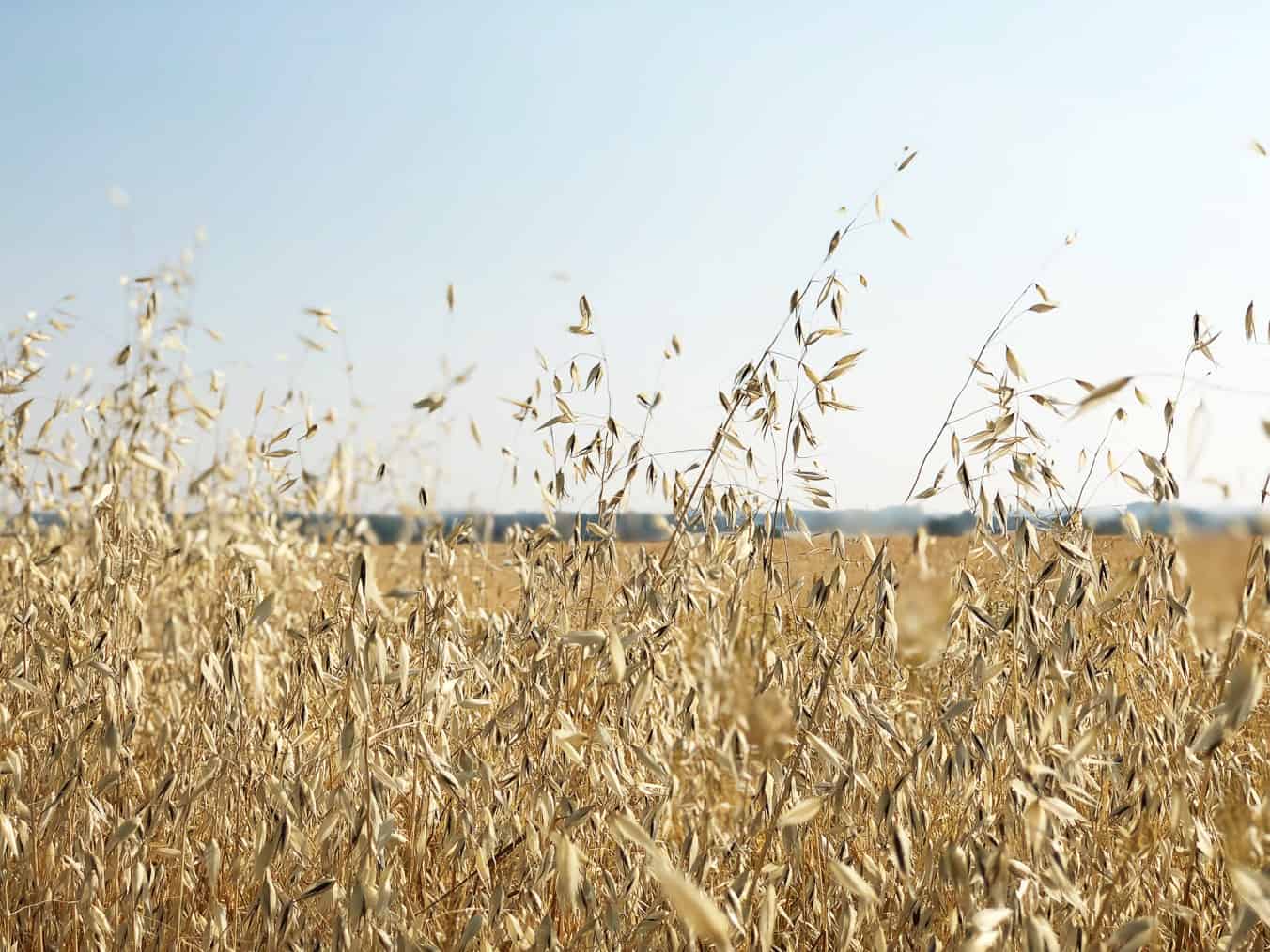 What to do in Sundre
So what exactly is there to do in Sundre?  A lot.  We spent 2 full days here and still didn't manage to get everything done that we wanted to!  You can visit the museum, go for a hike, play a round of golf, spend time at the river, visit the wild horse sanctuary, shop, and eat…the possibilities are endless.
Visit the Sundre Pioneer Village Museum
We really enjoyed our time at the Sundre Pioneer Village Museum.  This museum is not what you might expect from a small town museum.  In fact, we spent over 2 hours here, and because there's so much to see and explore, we could have easily stayed longer.
Visit tip!  Spend a morning or an afternoon here exploring, and bring along a picnic lunch!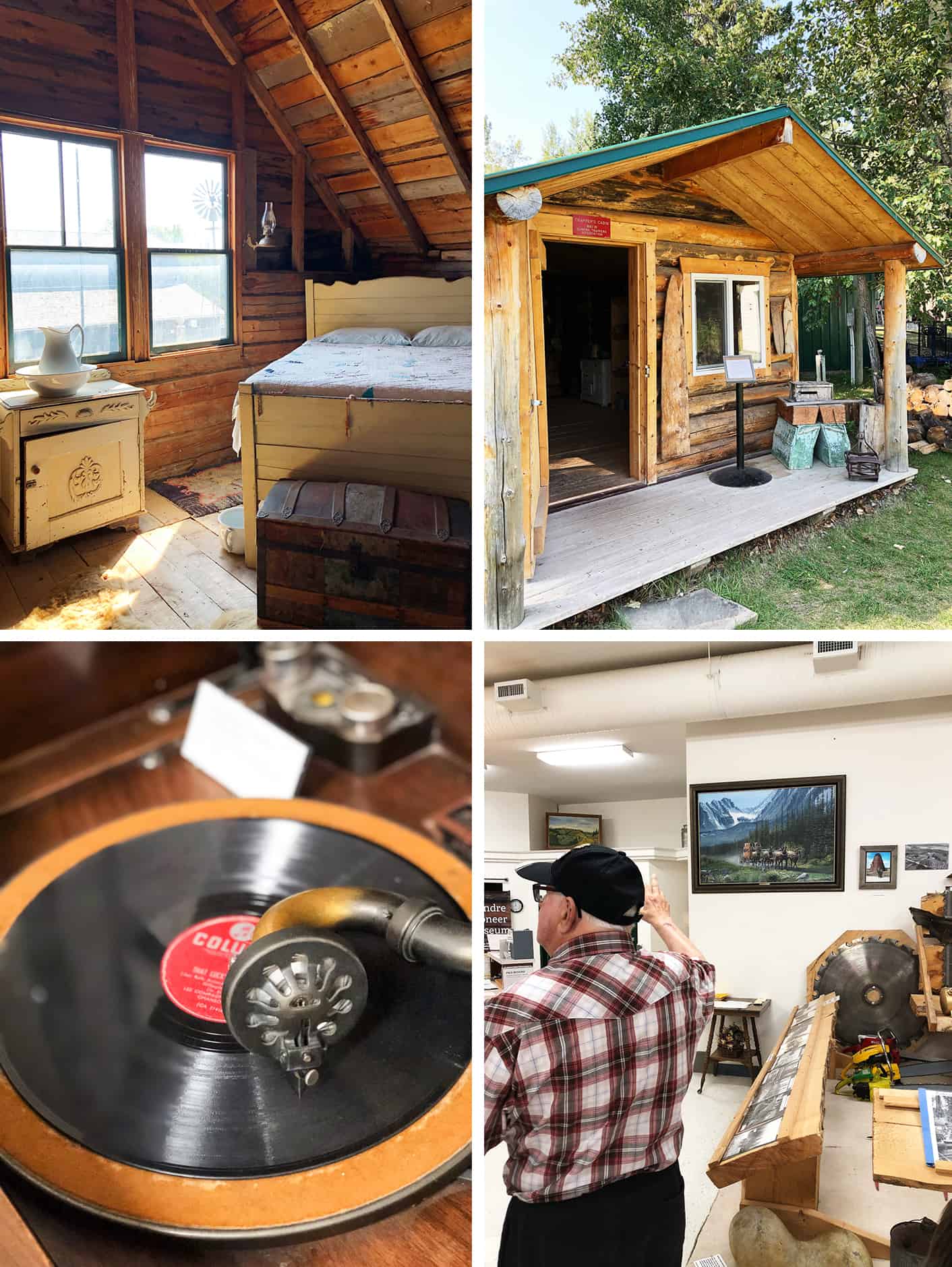 The village sits on 4 acres of land, and houses 8 heritage buildings. So you can wander around the pioneer gallery, take a walking tour through the grounds and heritage buildings, then walk through the Chester Mjolsness World of Wildlife Exhibit which displays 170 animal mounts from around the world!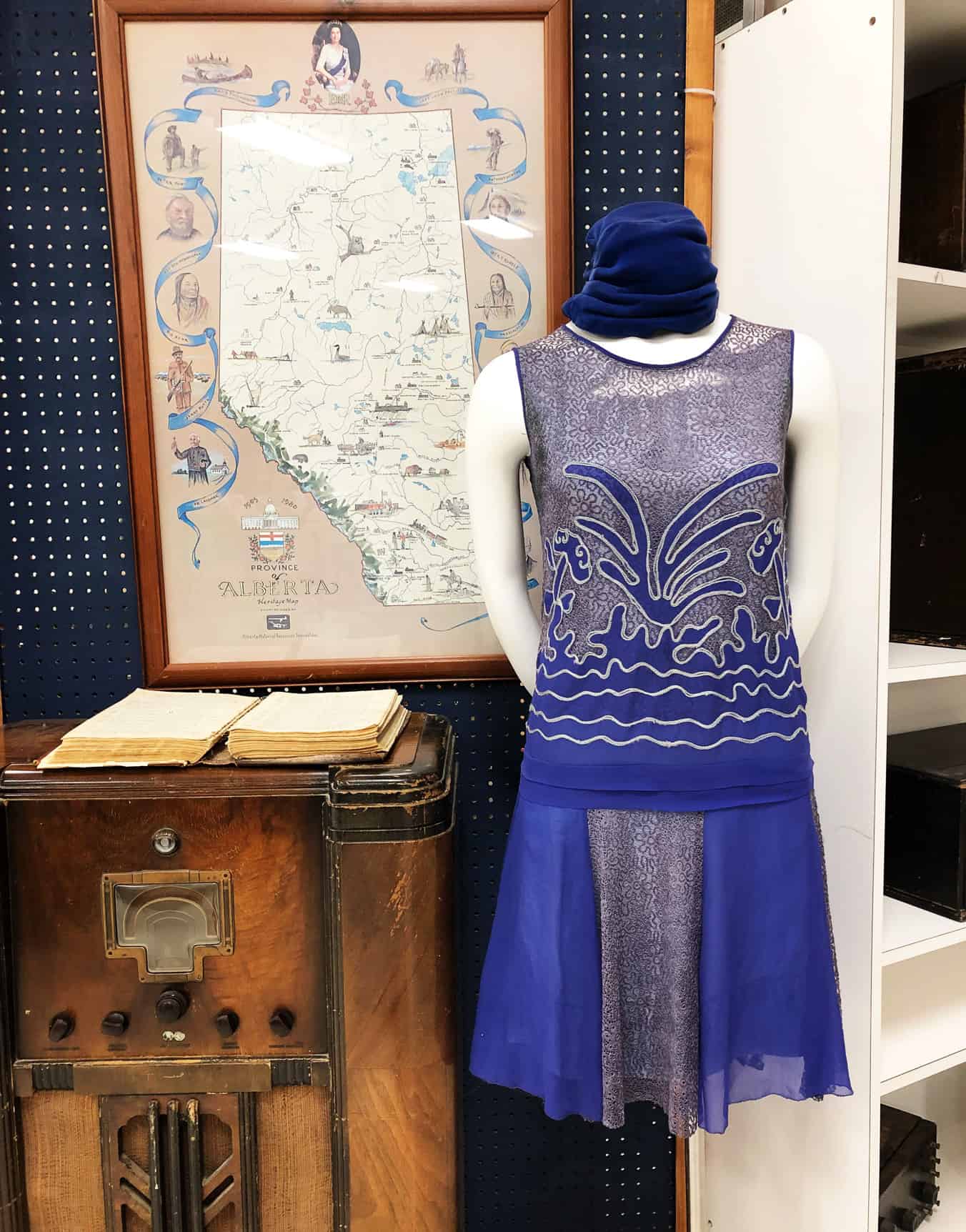 All of the exhibits, both in the gallery and on the grounds, are full of carefully curated items collected from the community of Sundre and surrounding areas.  The attention to detail is really quite amazing!  Everywhere you look there's something interesting.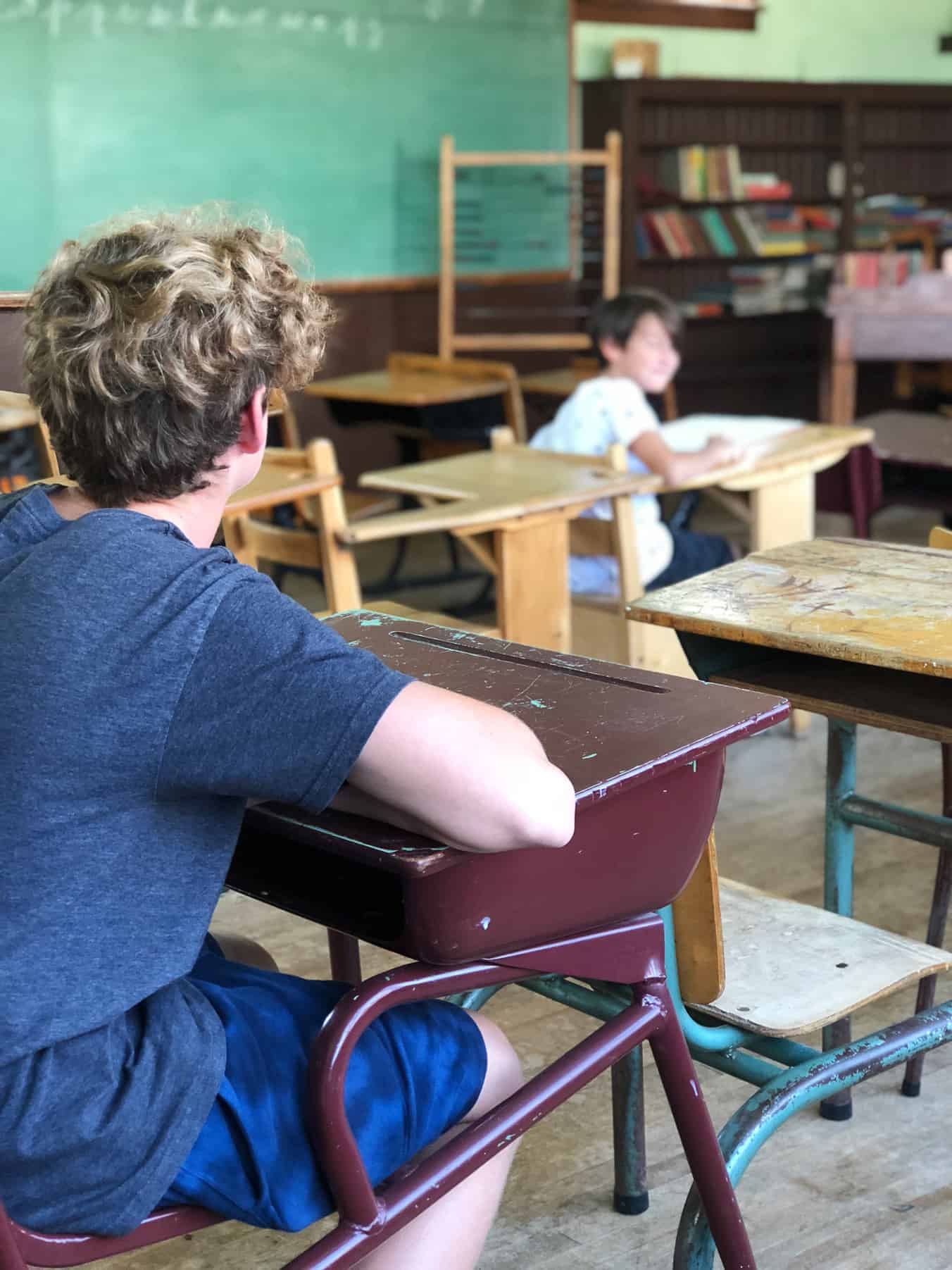 The kids especially loved the grounds and heritage buildings, where they could interact with many of the exhibits!  Sit in a desk in the old schoolhouse, ring the church bells, take a tour through the trappers cabin, play a game of horseshoes…there's a lot to do here.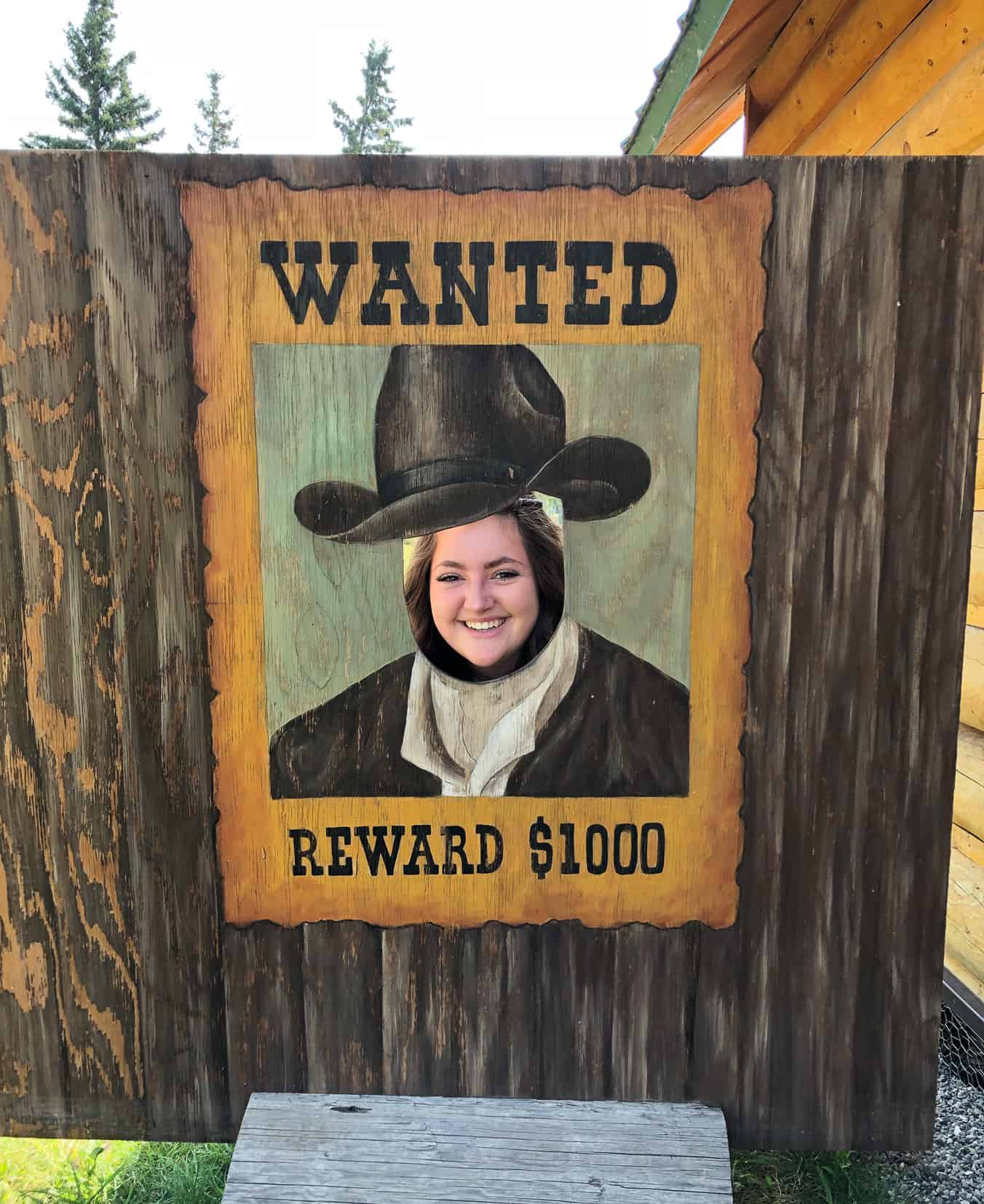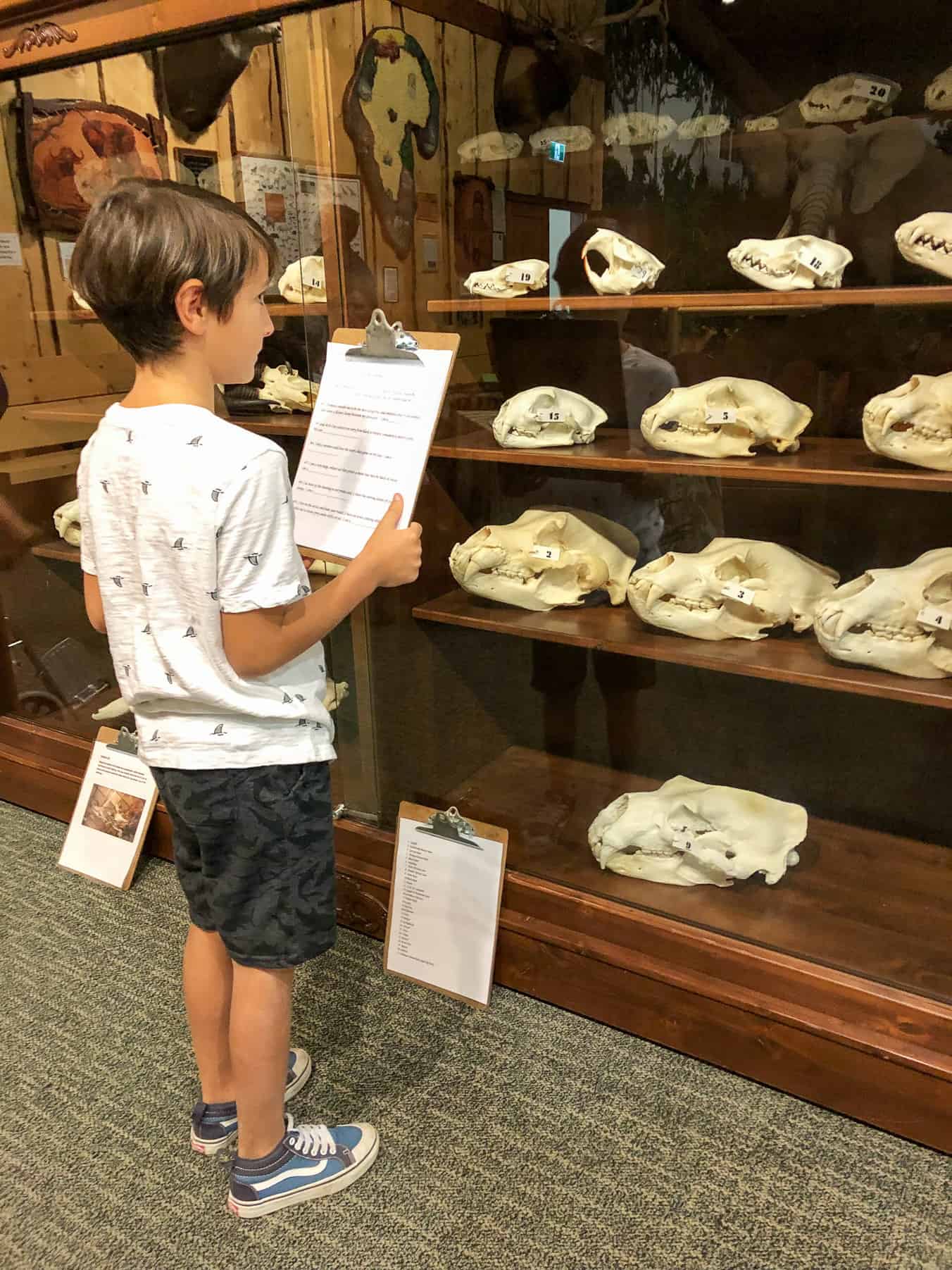 One of the most unique galleries here at the museum is the Chester Mjolsness World of Wildlife Exhibit.  This exhibit displays 170 animal mounts from around the world…it's really quite something to see.  Visit tip! At the World of Wildlife Exhibit desk, ask for some trivia worksheets for the kids!
Golf or hit the driving range at the Sundre Golf Club
For golfers, Sundre has multiple courses within 10 km of town. On our trip we visited the Sundre Golf Club and we could not have been more impressed.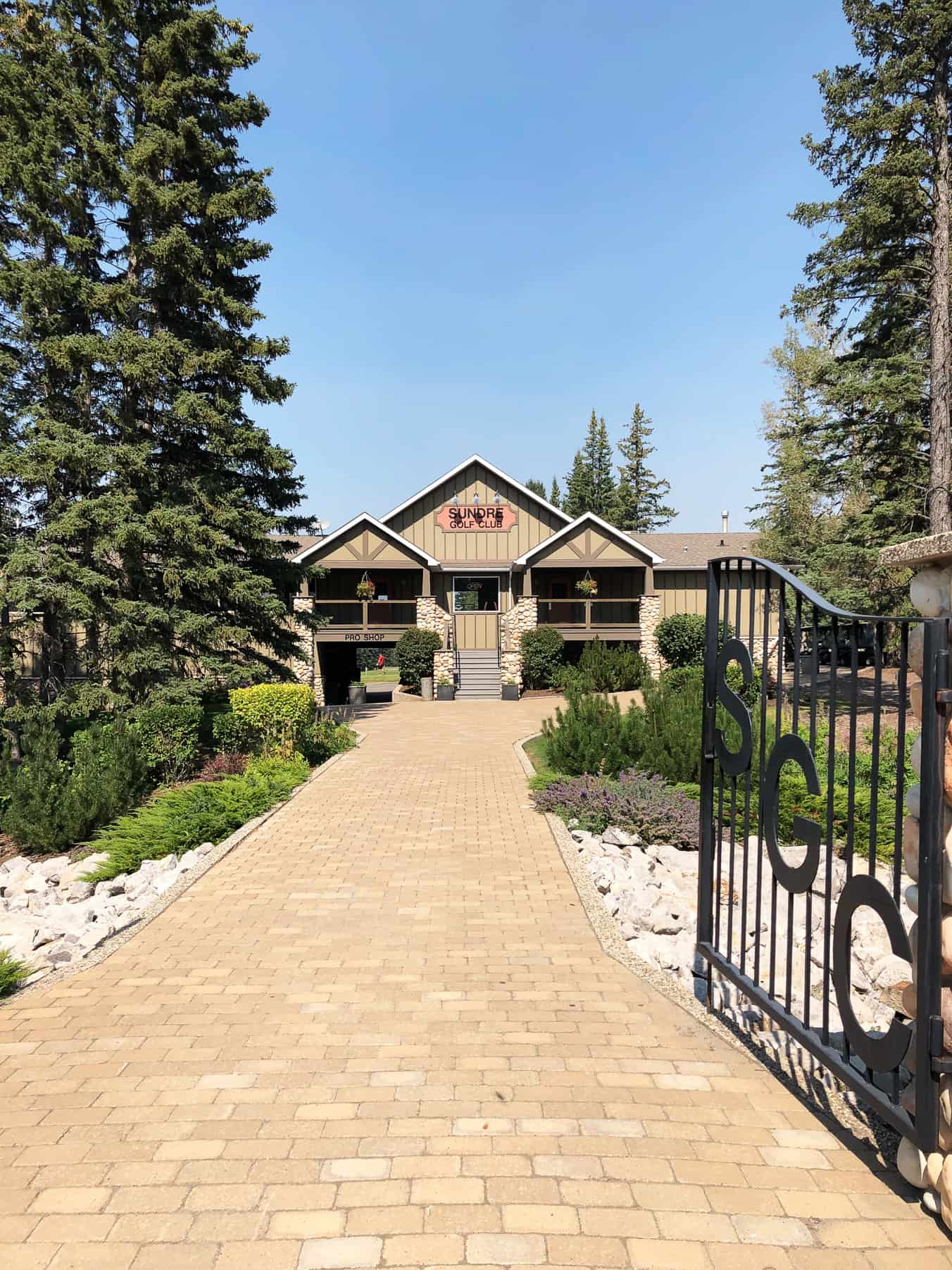 Impressive landscaping greets you as you enter the course gates and it only gets better from there!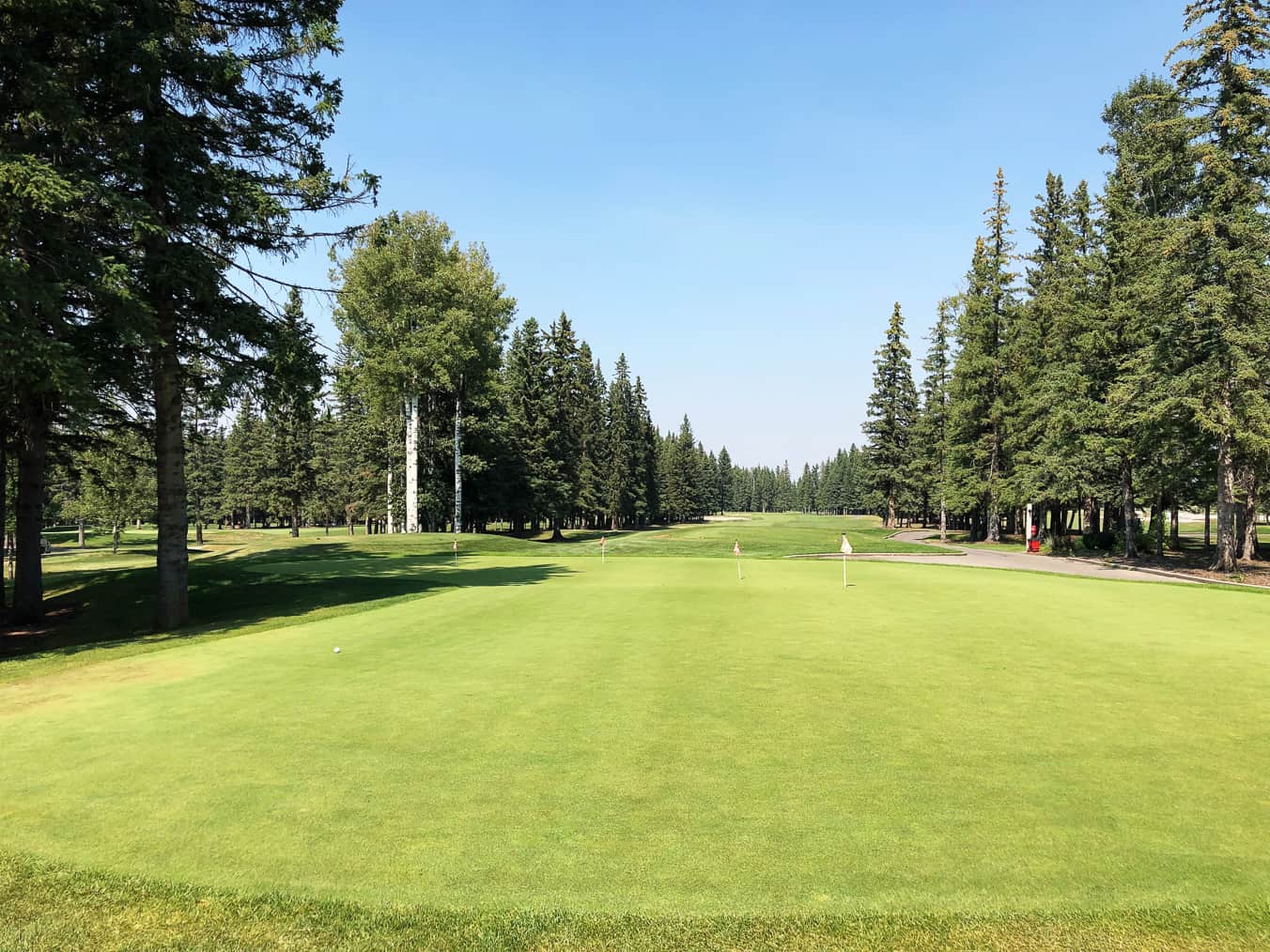 The Sundre Golf Club is a beautiful, lush course lined with mature trees, emerald green carpet-like fairways ending with smooth, fast greens.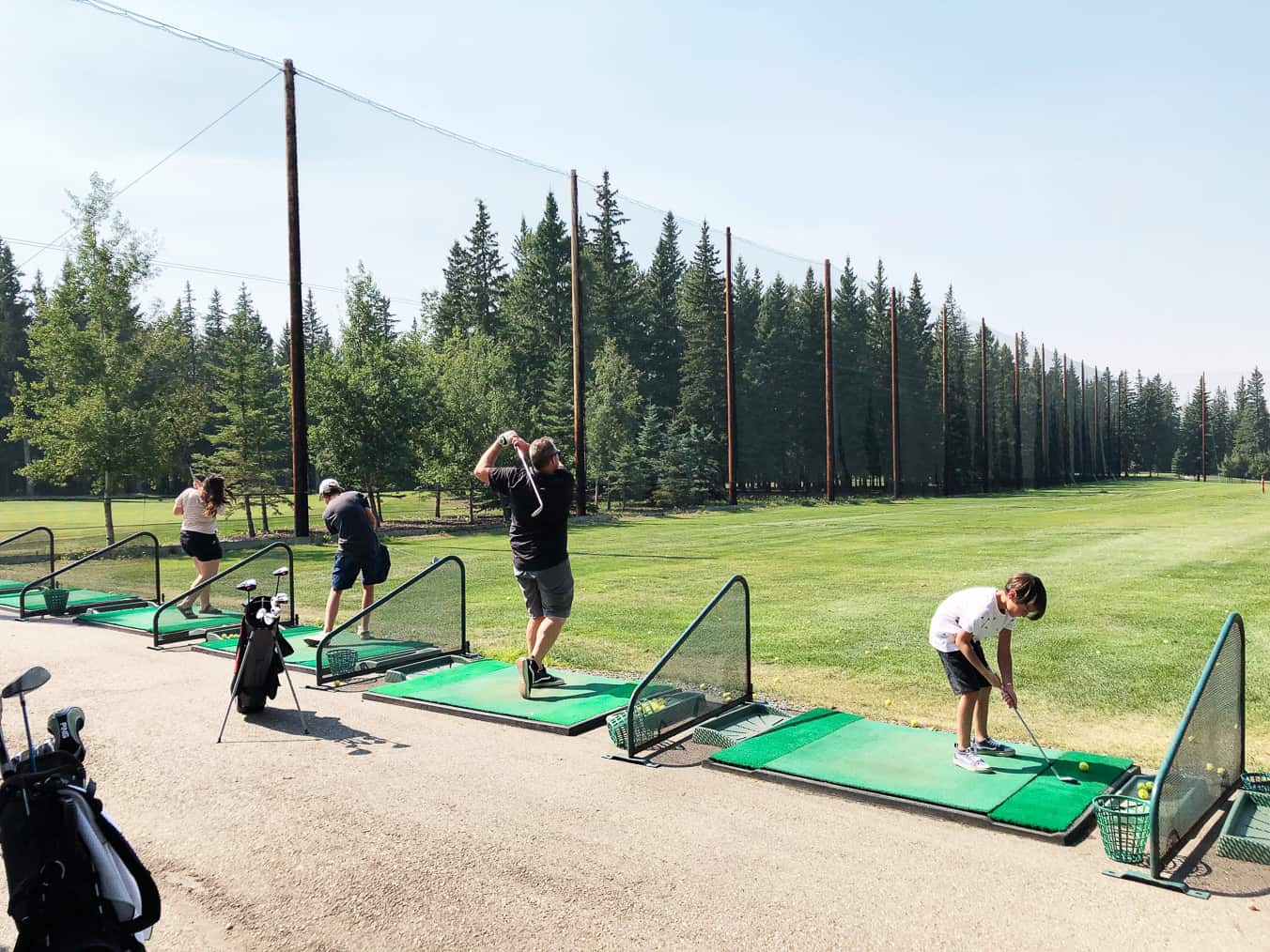 There is a practice range and putting greens for those wishing to warm up or work on your swing.  My preferred warm up was to sit out on the patio that overlooks the course and take in the amazing view. 😉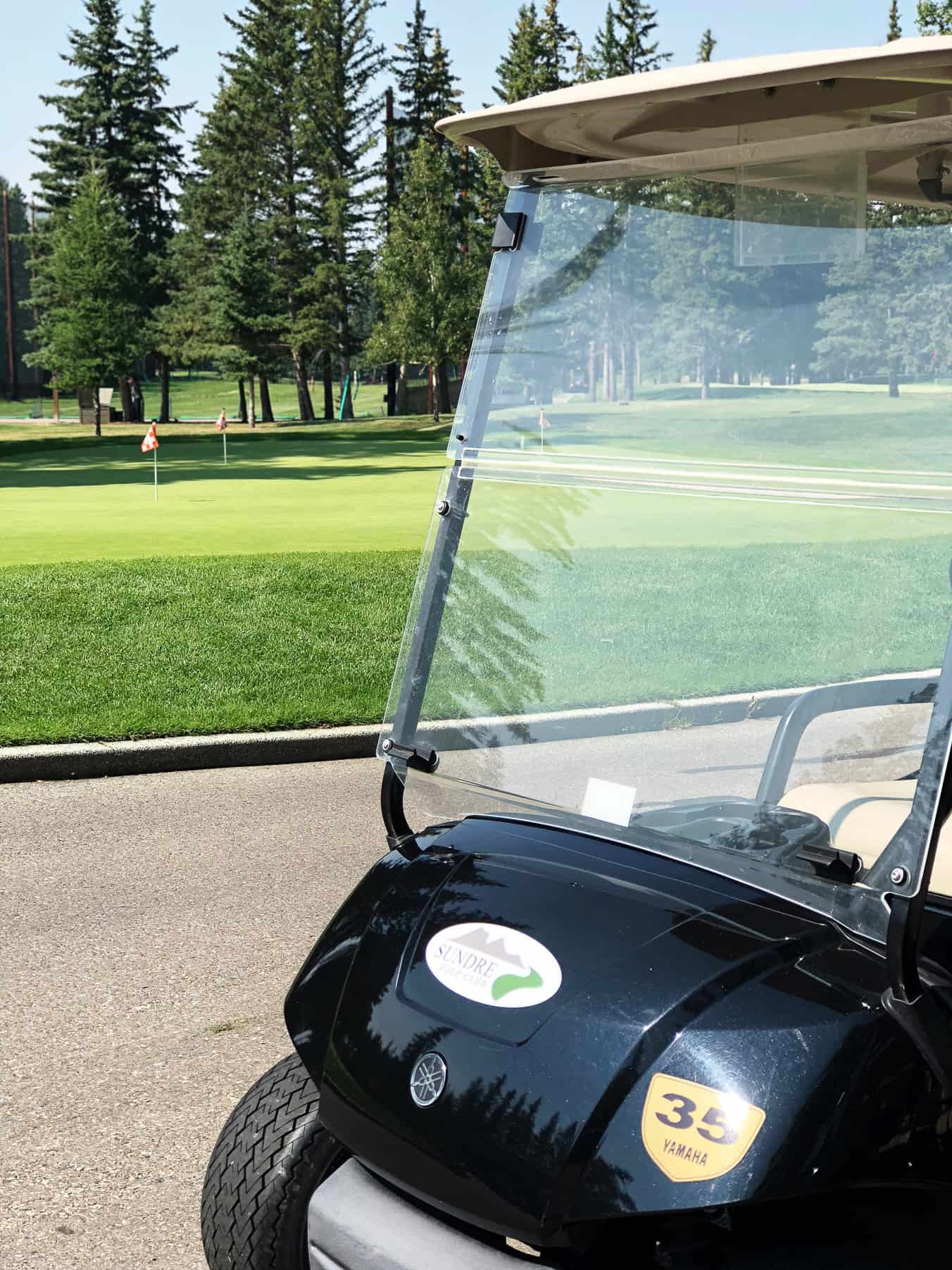 The facilities at Sundre Golf Club are top notch and the staff are friendly and super helpful.  With fantastic rates as well as stay and play options, the Sundre Golf and Country Club is an easy choice if you are planning your next golf getaway.
Take a tour of Bergen Rocks
One of our favourite things about exploring, is coming across hidden gems like Bergen Rocks.  This unique attraction is located just minutes outside of Sundre.
Artist Morton Burke has created the Bergen Sculpture Park, which is home to over 10 monumental stone sculptures.  This outdoor art gallery features works of art, made by local and international artists, from more than 100,000 LB of sandstone and marble.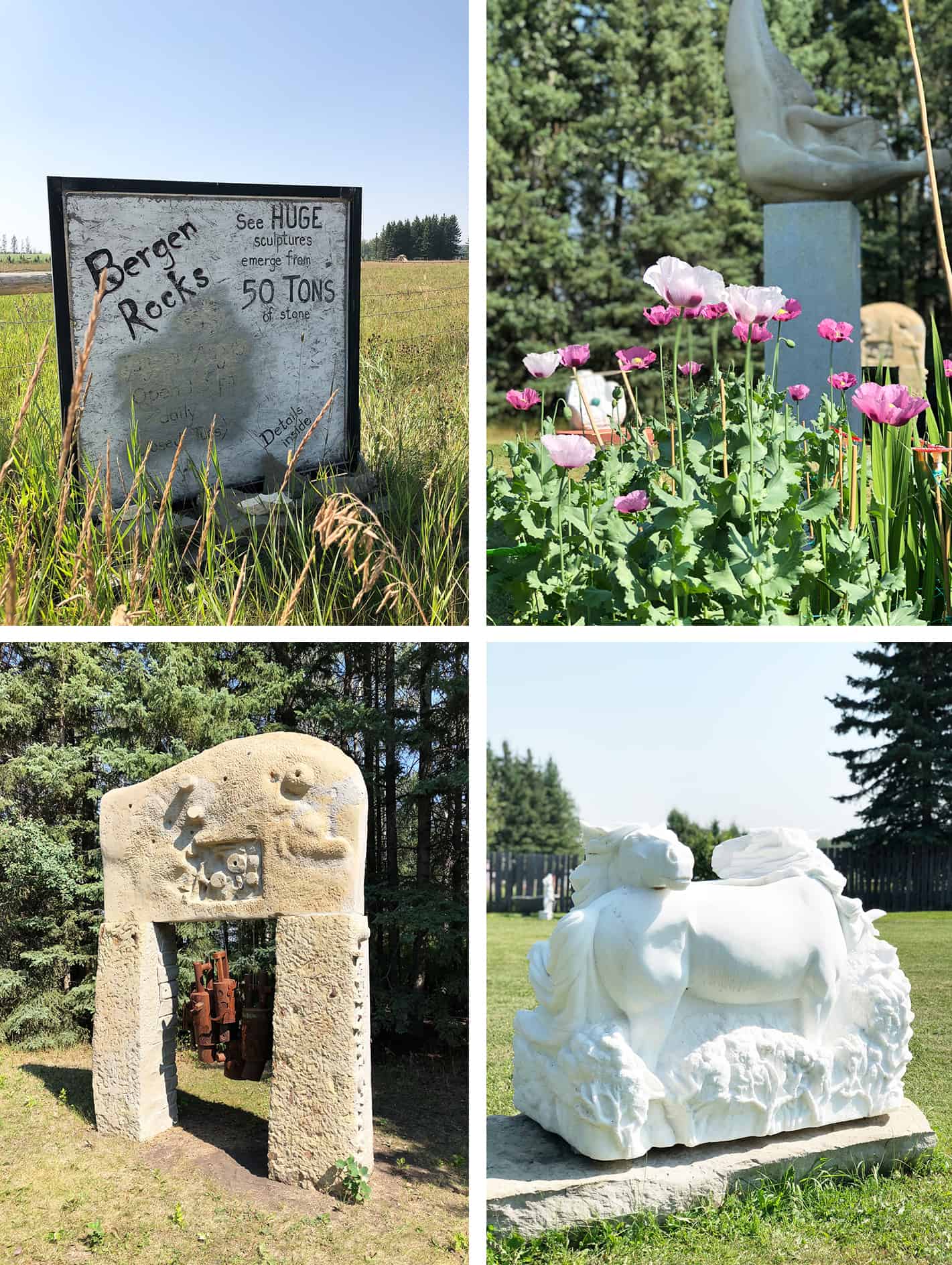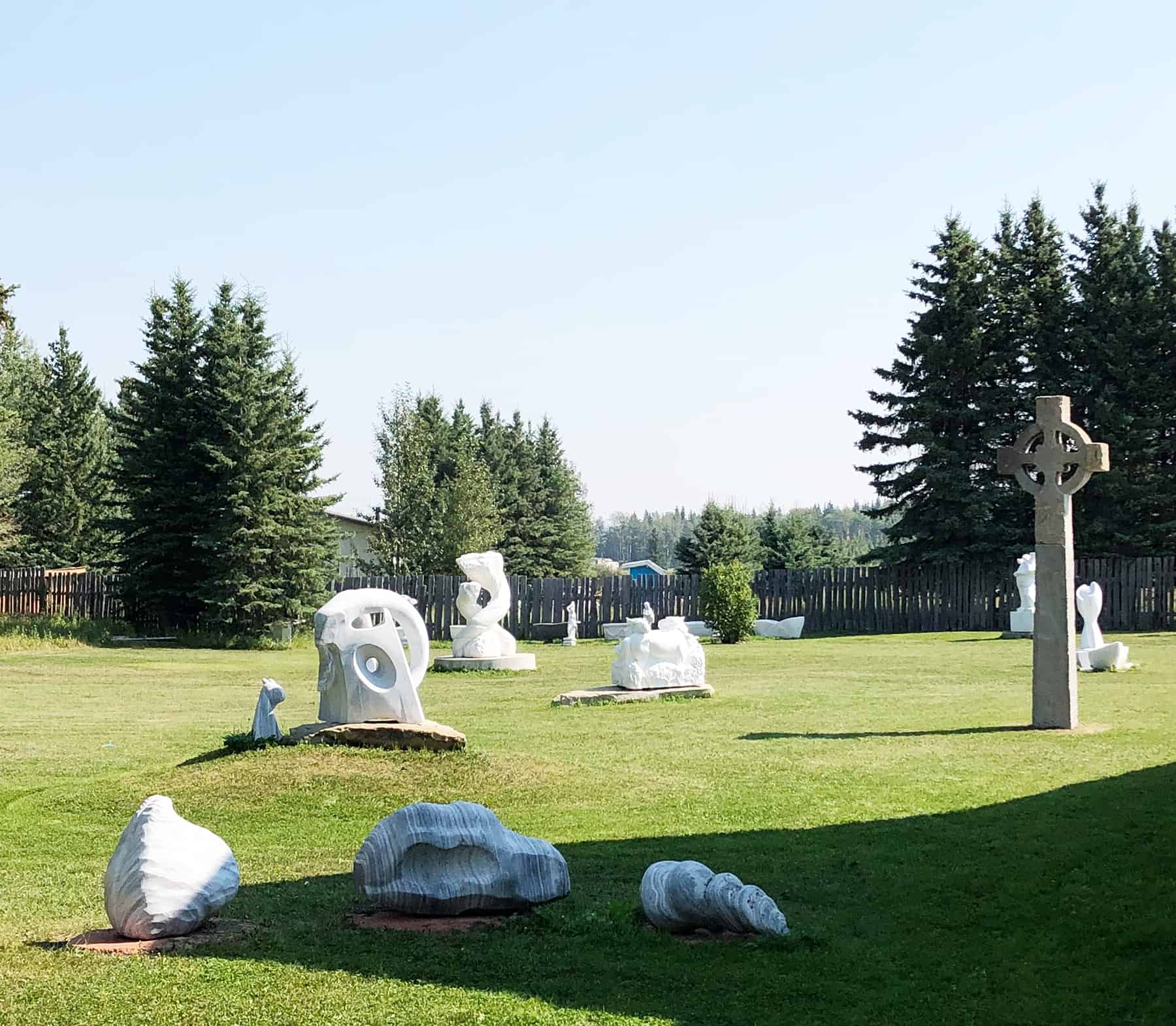 Hike and Bike in Snake Hill Recreation Area
If you love to hike, bike, cross country ski or snow shoe, Snake Hill Recreation Area is a definite must-visit!  Snake Hill Recreation area is a conservation area located right in Sundre.  With more than 17 kms of groomed nature trails, you can hike, bike and cross country ski to your hearts content!  Keep your eyes open for wildlife too…we saw a momma moose and her baby on our morning hike.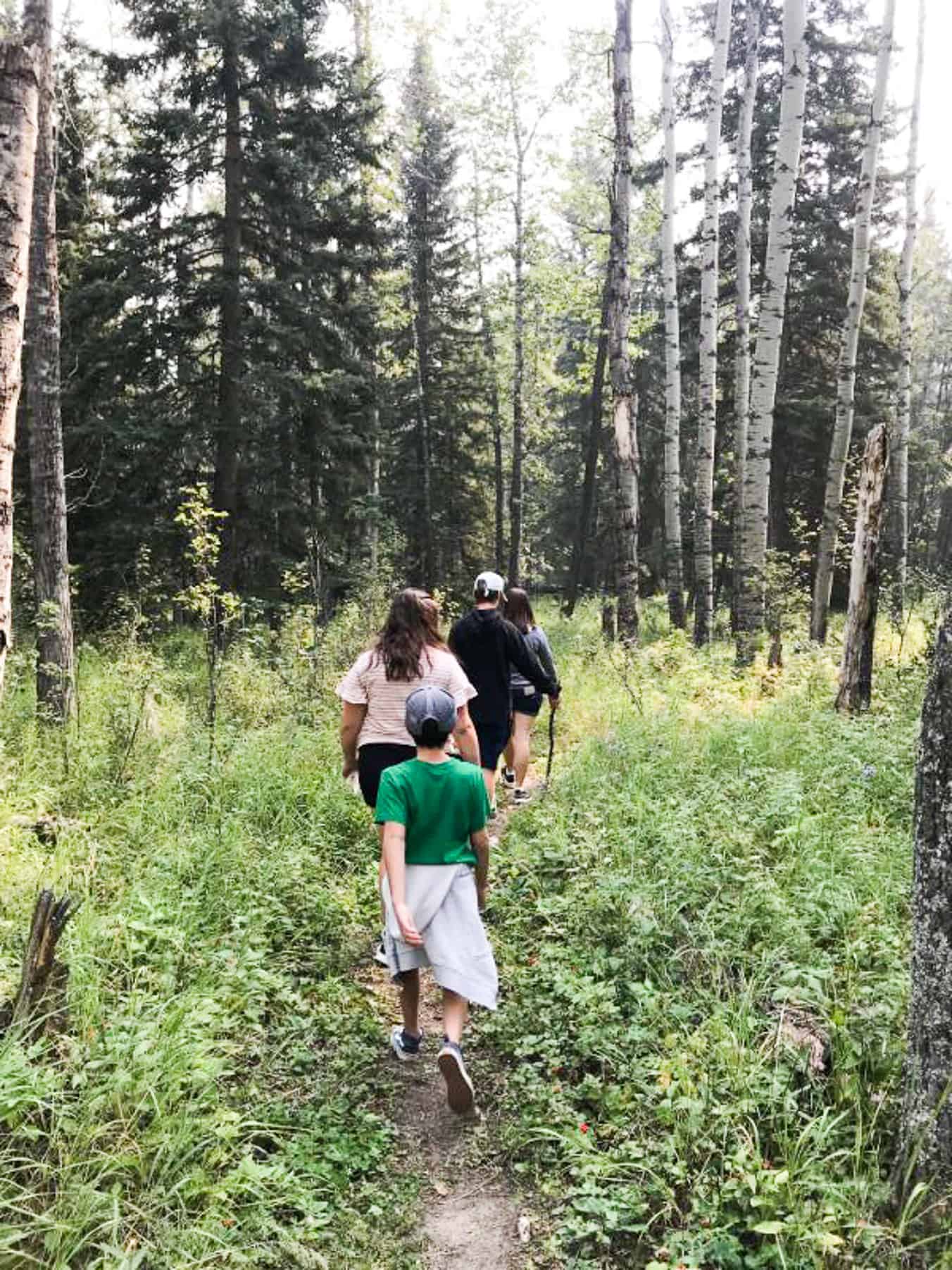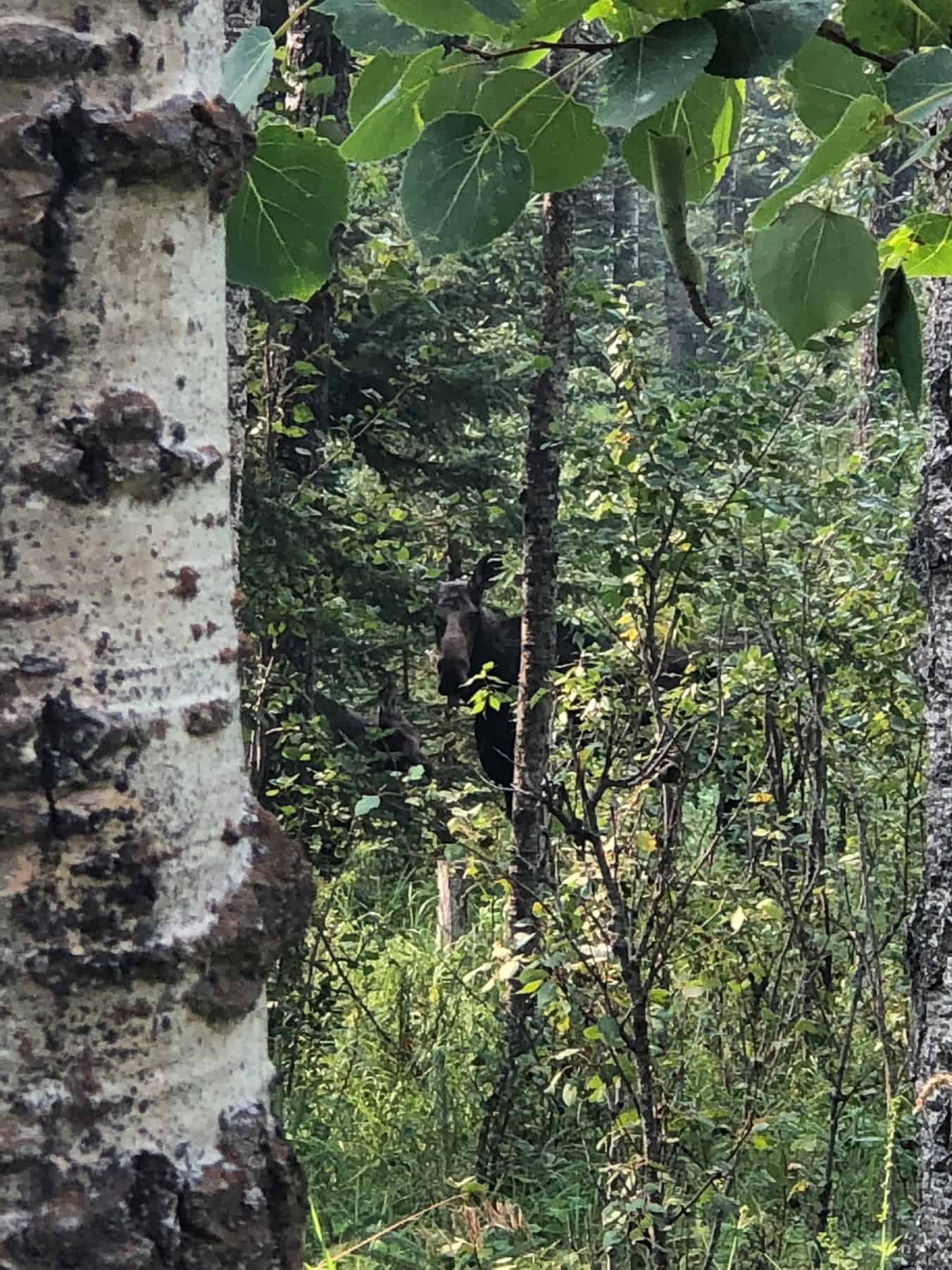 Hello moose!
Visit the Wild Horses of Alberta Society
Located about 15 minutes west of Sundre, the Wild Horses of Alberta Society is a must visit.  The Wild Horses of Alberta Society is a charitable organization that works to rescue and rehabilitate wild horses that have been found injured or abandoned. They have an established adoption program and provide education and training on the gentling and handling of these wild animals.
Our visit here was such an amazing experience.  The staff are so welcoming and friendly, and are proud to share the work they are doing.  They took the time to introduce the horses they were working with, and took us out to see the herd of wild horses that live in the area.  It was so great.
Visit tip!  Make sure to reach out ahead of time to book a time for your visit.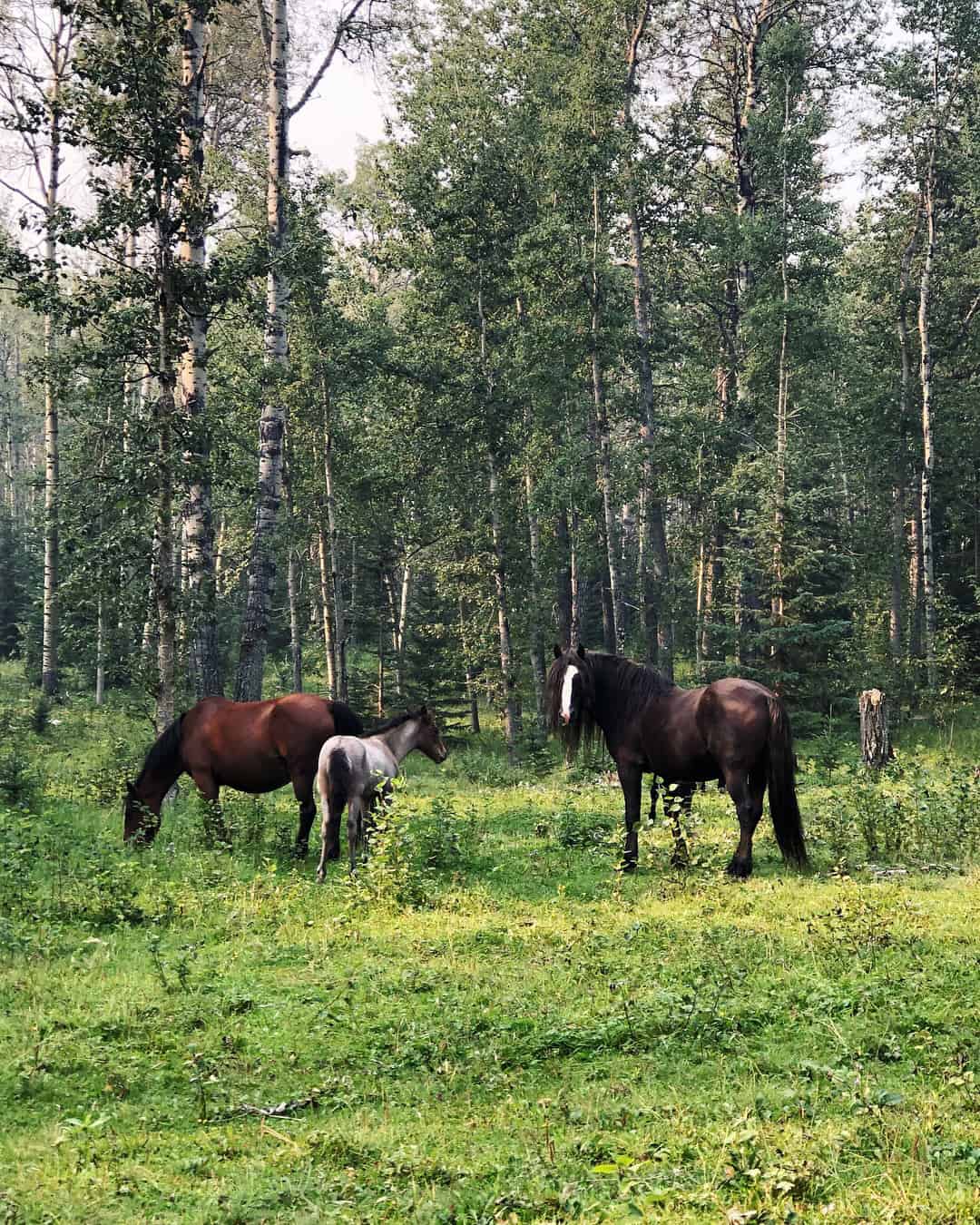 Where to Eat
Kodiak BBQ & Deli
Located right in the heart of Sundre, Kodiak BBQ & Deli is a delicious option for eat-in or take-out, daily lunch specials, and breakfast!  After a full morning exploring, we stopped in at Kodiak for lunch and ordered their home-smoked pulled pork, beef on a bun, salads and tasty sides. Yum!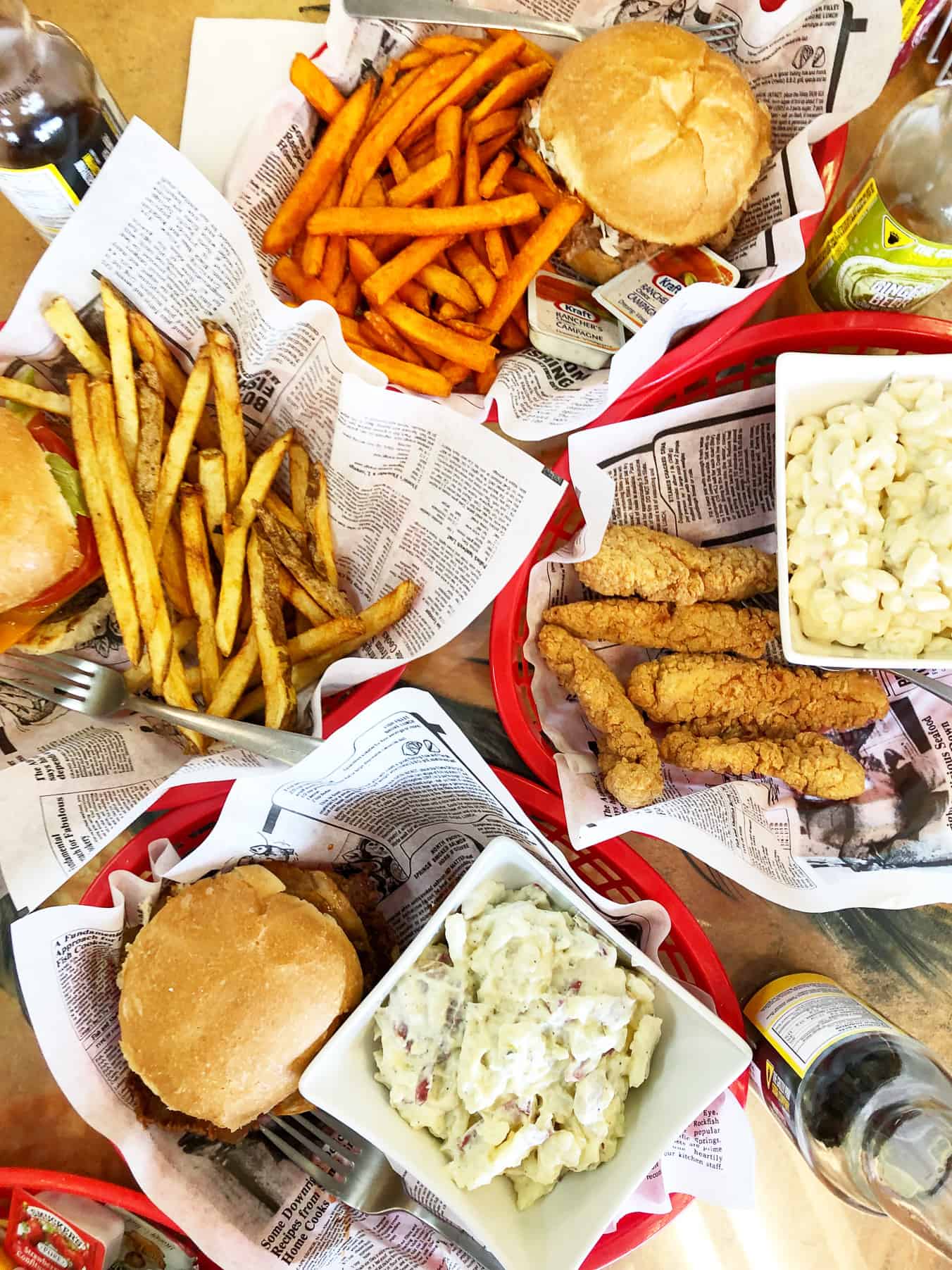 Sundre Golf Club Restaurant
The Sundre Golf Club restaurant serves breakfast, lunch, and dinner so you can stop in before your golf game, grab a snack at the turn, or have dinner after your round.  This full service restaurant is available for golfers and non-golfers alike.  We visited for dinner and it did not disappoint.  Hint…try the alfredo and sweet chili chicken bites!
Where to stay
Tall Timber Leisure Park
If you're looking for a great place to camp, look no further that Tall Timber Leisure Park!  Located on the east side of Sundre, Tall Timber Leisure Park has 48 overnight 30 Amp power and water sites, as well as 10 seasonal, fully serviced sites.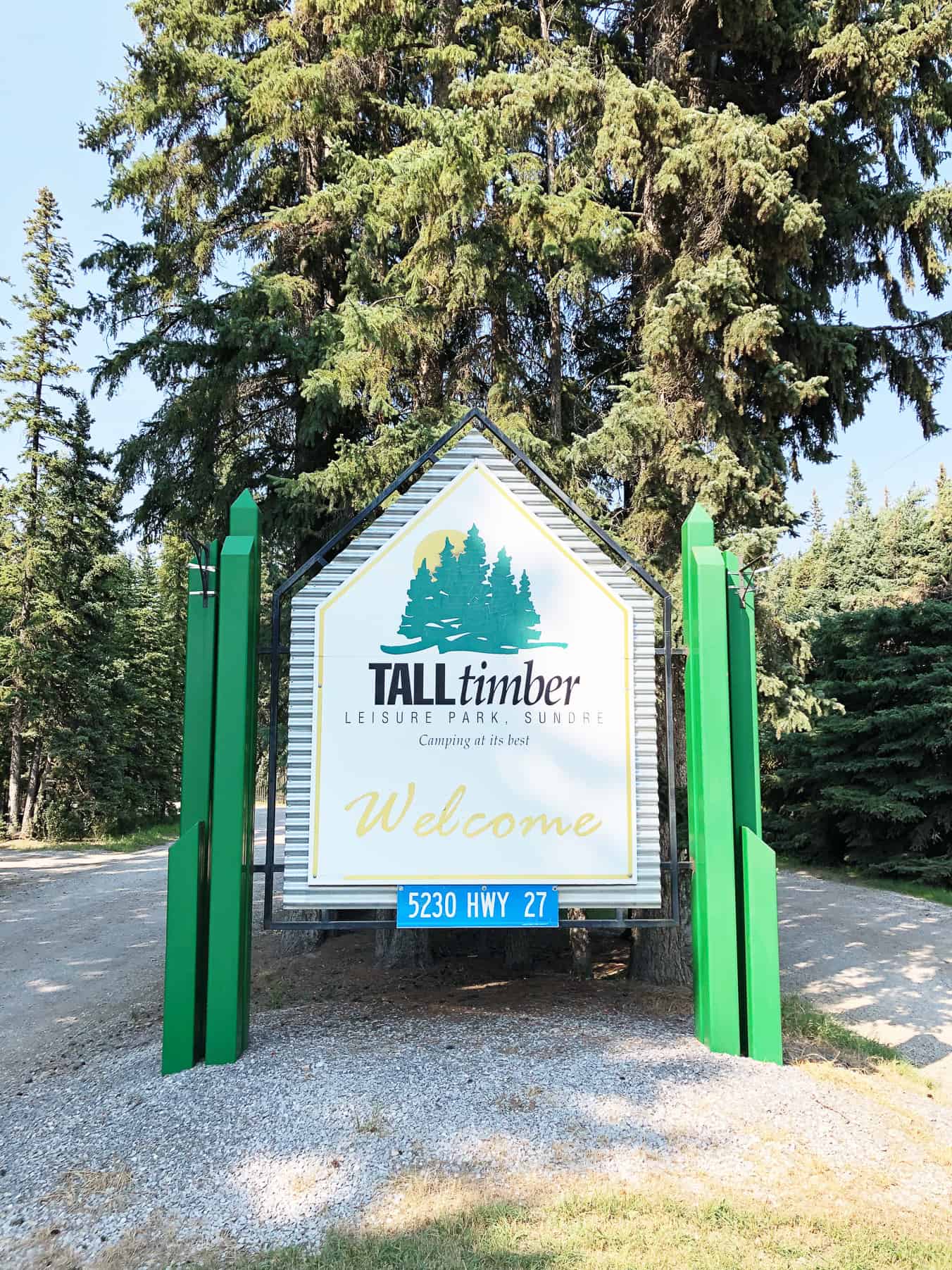 The first thing you notice upon entering Tall Timber Leisure Park are all the trees…evergreen and deciduous forest make for a fantastic country camping atmosphere.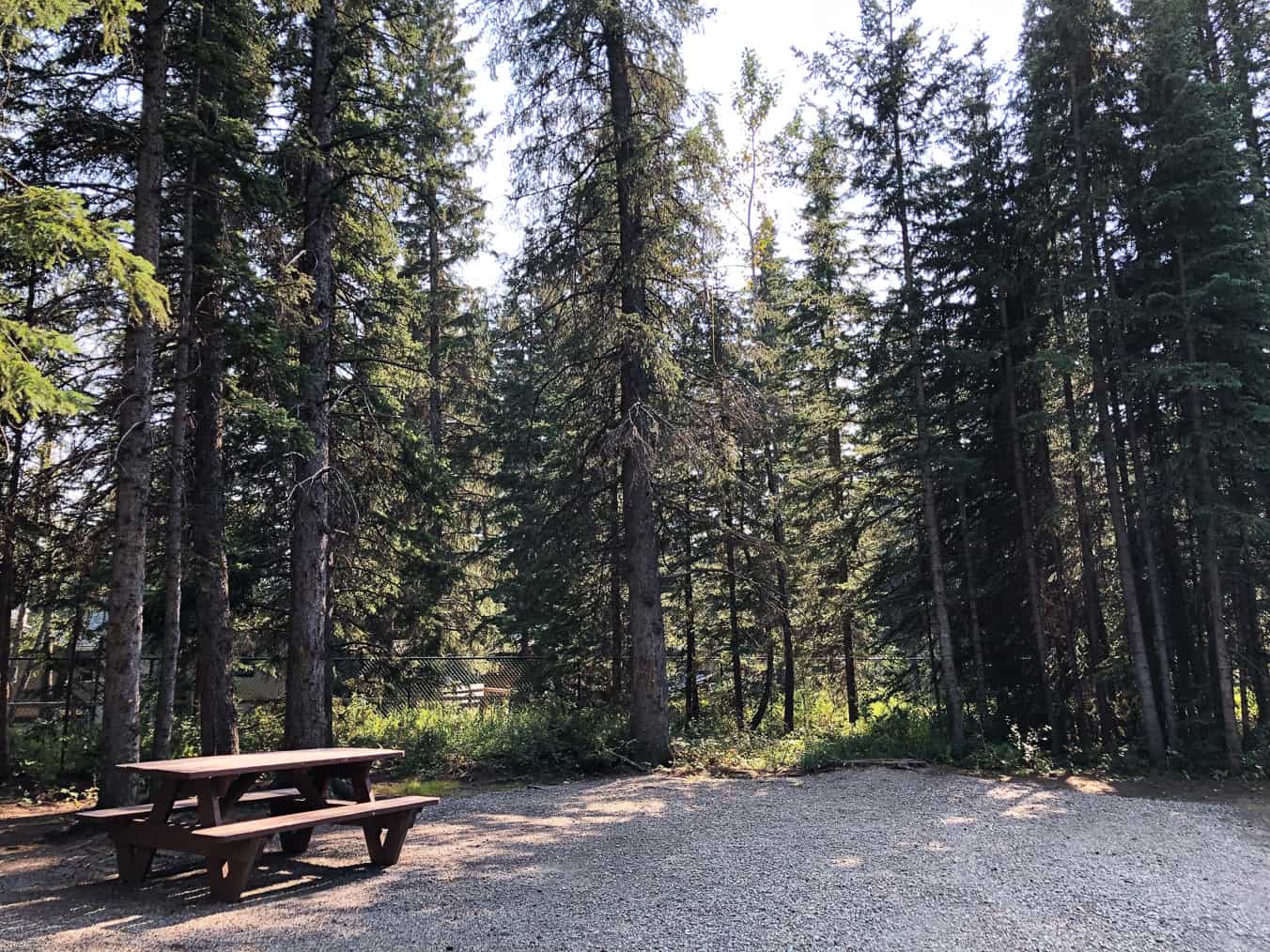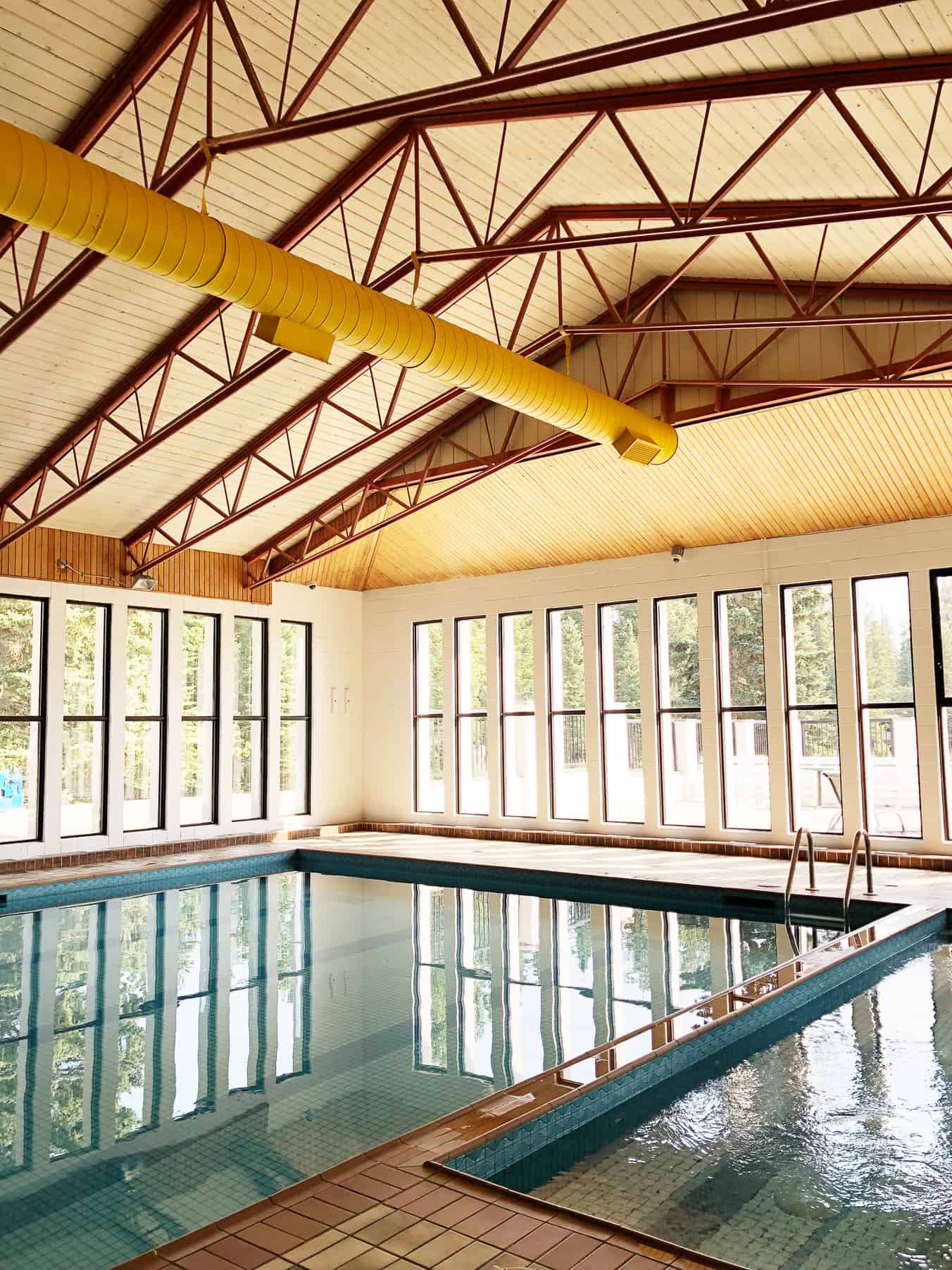 Even more impressive are all the amenities…indoor swimming pool and hot tub, multiple play parks, showers, laundromat, ball diamonds, basketball courts, walking and biking paths, and a bookable community centre great for large gatherings.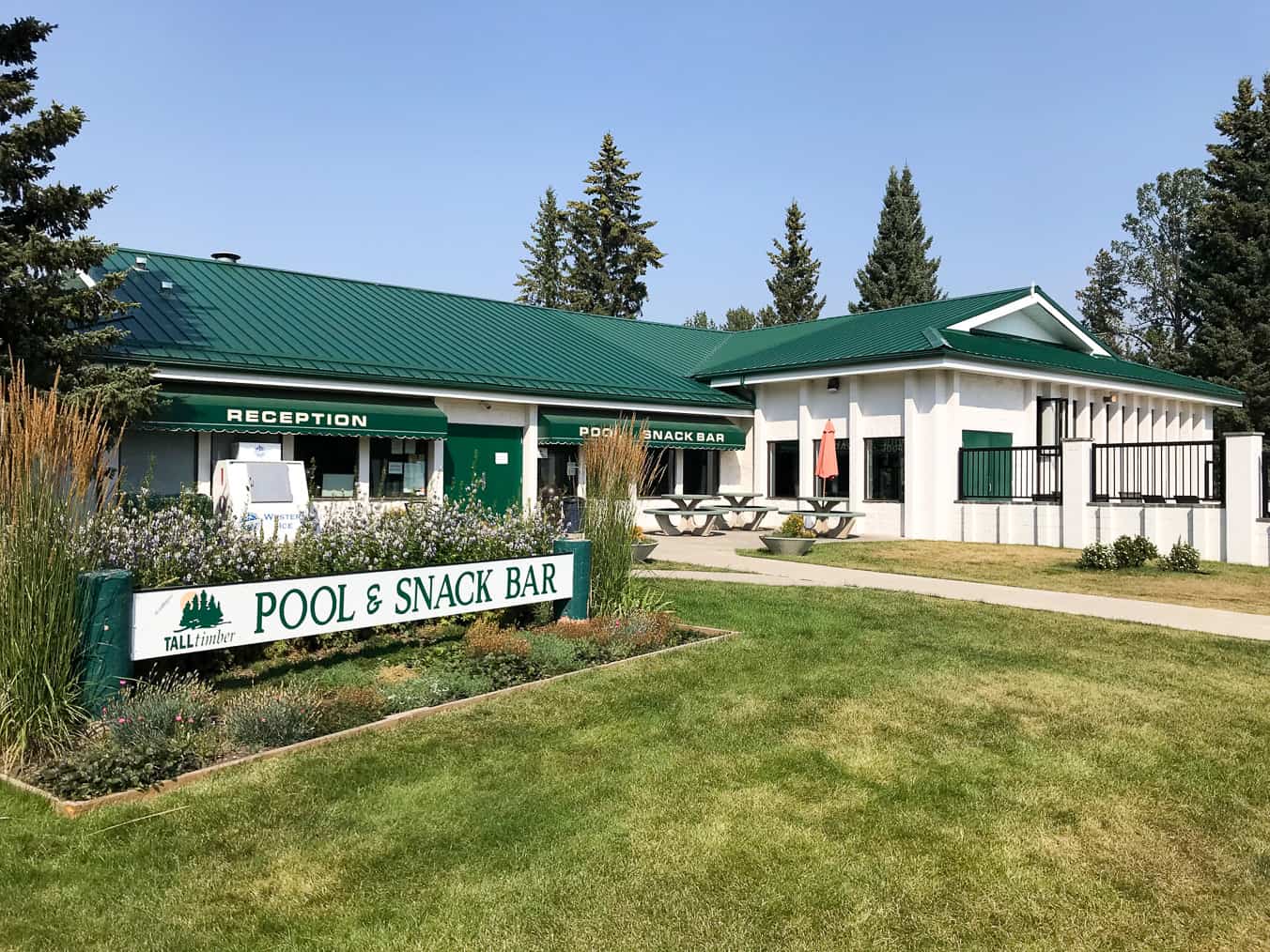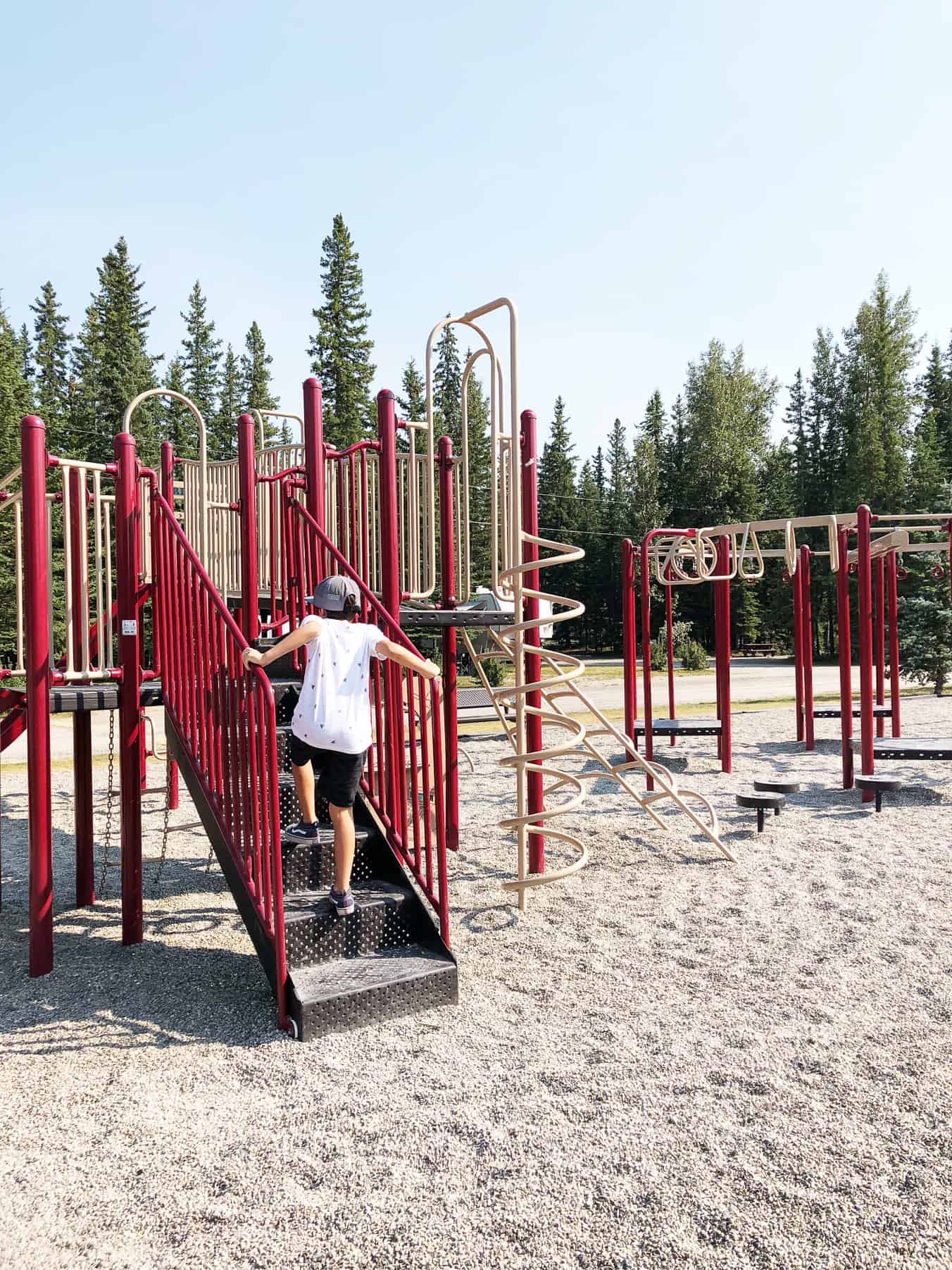 All of this in a forested setting and minutes from everything Sundre has to offer. Sites are available by advance booking, and with such a beautiful campground it is best to book early as weekends fill up fast!
Best Western Plus Mountainview Inn & Suites
On our visit to Sundre we stayed at the Best Western Plus Mountainview Inn & Suites.  Sundre was full of pleasant surprises and the Mountainview Inn & Suites was no exception.  The property is a Best Western Plus, and the Plus is GOOD! With an indoor pool and hot tub, fitness centre, complimentary breakfast, free wi-fi, and beautifully designed rooms, this is a great option.  The cookies at the front desk were a nice, delicious touch as well!
The rates are reasonable and when you include the free breakfast and all the other hotel amenities, it is a great option for a weekend trip to Sundre!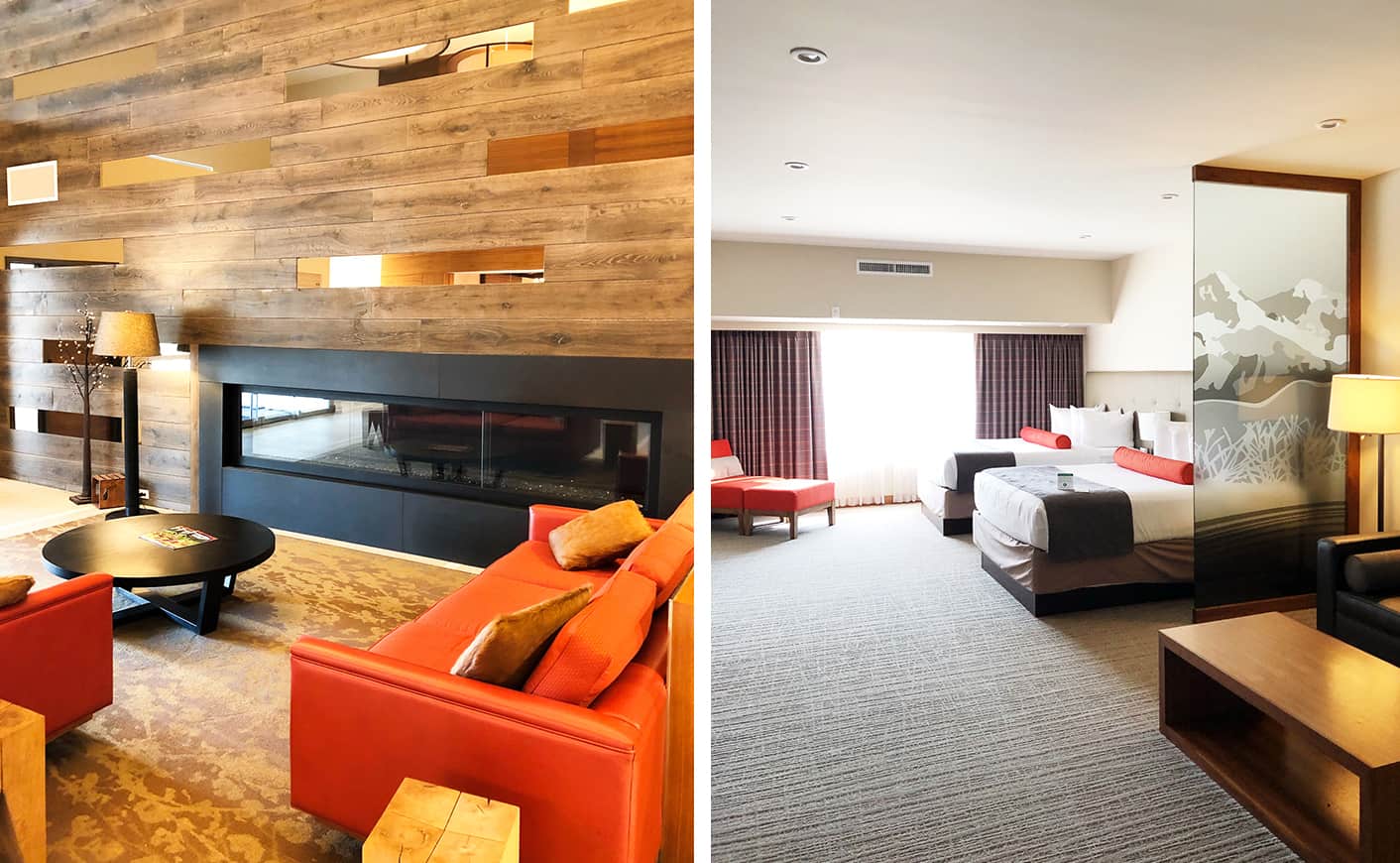 The rooms are clean and spacious, and the beds are comfy.  There's also a pool here which the kids loved…we especially enjoyed the hot tub after a full day of exploring!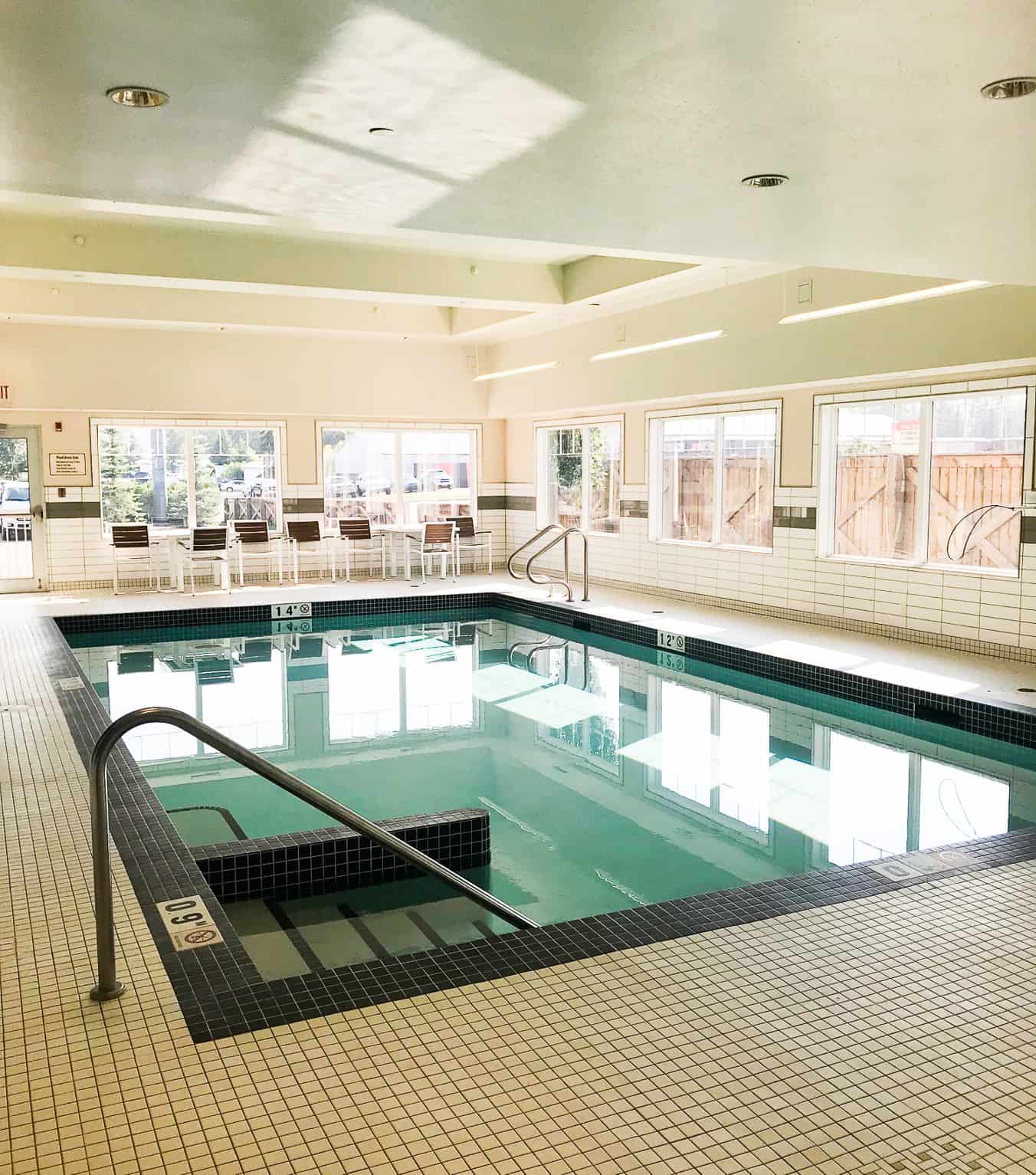 One of the best things about our stay here was the complimentary breakfast.  When we look for hotels to stay in with our kids, a complimentary breakfast is high on our list of requirements. Mountainview Inn & Suites offers a full breakfast…cereal, pastries, waffles, eggs, bacon, sausages, coffee and juices!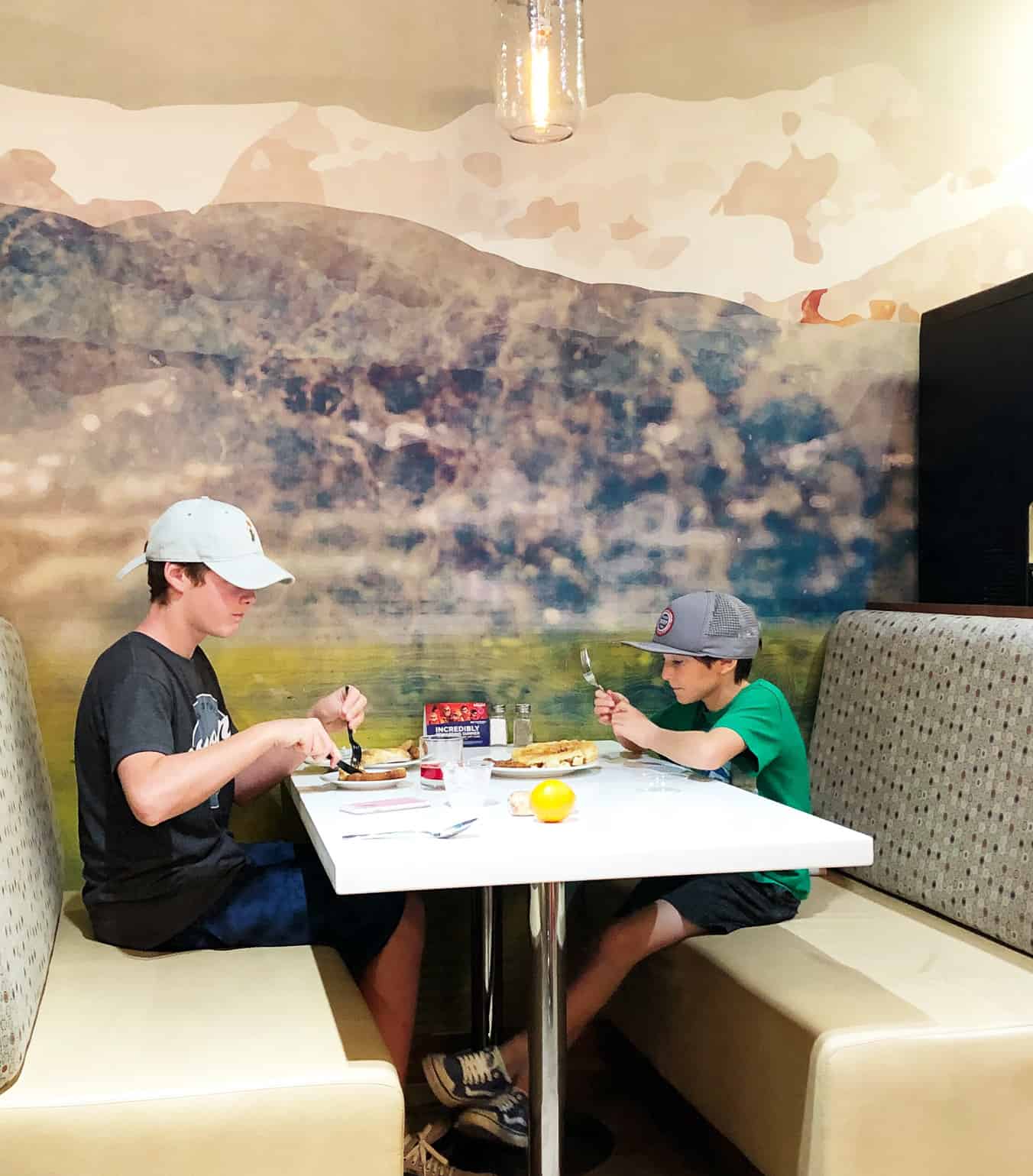 We really enjoyed our time exploring Sundre, and will definitely be back.  Next time we'll be trailer in tow, and camping…it's an impressive place to camp and explore!
Explore Sundre
More things to do in Sundre:
Pin this post to help you plan your trip to Sundre!