7+ Alberta Farmers' Markets to Visit
If you love fresh fruit and vegetables, here are 7+ Alberta Farmers' Markets to Visit this summer!  UPDATED for 2018
– – – – – –
One of our most favourite parts of summer is being able to access tonnes of locally grown produce.  We try to visit our local markets as often as we can, and wherever we're staying we try to visit new ones as well. There really is nothing like being able to eat veggies and fruit straight from the garden or orchard…the taste alone is worth waiting for.  It's like you can taste the sunshine in them.  Over the course of the summer months, and into the fall, we will visit our local farmers markets many times and stock up on as much seasonal produce as we can.  I buy bags full of fresh potatoes, carrots, beets, swiss chard, herbs, fruit, tomatoes, peppers, beans, onions…I could go on and on.
There are some great markets all over our province, and we've highlighted just a few for you to check out this summer!
Brimming with growers, farmers, makers, bakers, and artists!
Where farm fresh food, and tasty treats meet novelties and unique finds! Crossroads Market is where you go when you are looking for loads of produce!  We go and load up on all kinds of fresh vegetables and fruit…you can find everything farm fresh here!
Located about 30 minutes SE of Calgary, the Saskatoon Farm has over 4 acres of organically grown vegetables every season. Picked fresh daily and offered for sale at their on-farm market. Produce become available at the beginning of July and continues well into the fall.
This market has over 130 vendors every Saturday.  You can find an assortment of locally grown produce, as well as handmade goods, specialty foods, jewelry, decor, arts and crafts, clothing, accessories, decor, pottery and more.
With over 50 exhibitors, you can find fresh fruit and vegetables, home made baking, crafts, art work, hand made clothing, and more!
The Red Deer Farmers' Market offers fresh produce and many other goods.  We really enjoyed this market when we have visited!  We left with loads of fresh veggies, delicious coffee and beautiful cut flowers.
The Canmore Farmers' Market has a variety of local and regional goods, including fresh fruit and vegetables, elk meat, fresh poultry and baked goods, as well as crafts and other locally-produced items.
Ok, this one technically isn't in summer, but it's worth adding to your list!  At this market event, you can load up on fresh fruit and vegetables at historic low prices!  It's awesome.  Tip: bring a wagon with you!
Want to find a Farmers' Market in your area?
Download the Alberta Approved Farmers' Market App HERE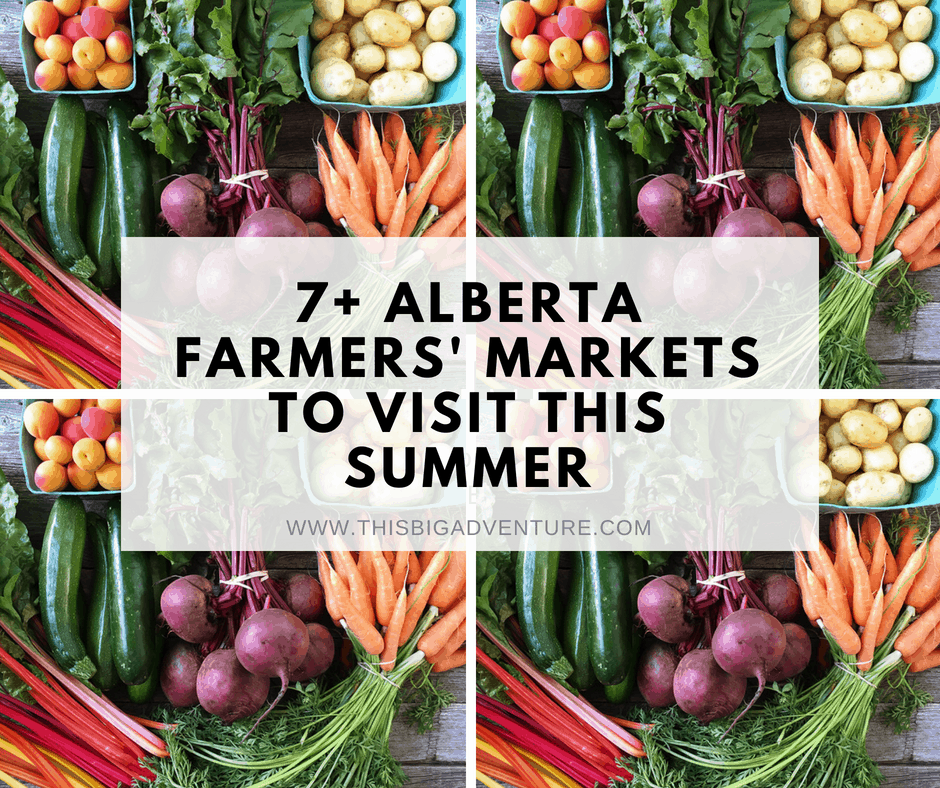 Do you have a favourite farmers' market you'd like to see on our list?  Share it in the comments below!