Stay: Lamphouse Hotel, Canmore
Newly renovated and situated on Main Street in the heart of downtown Canmore, Lamphouse Hotel, a boutique hotel for the modern mountain adventurer, has reopened!  This boutique hotel is a great spot for a weekend getaway.  And you can't beat the views!
Disclosure:  I was gifted a nights stay at Lamphouse Hotel.  All opinions are my own.
Now that people are looking at Canmore as more of a destination rather than a stop over on the way to Banff, Canmore is growing now more than ever.  In fact there are so many places to stay in Canmore that it can actually feel quite overwhelming trying to decide where to put roots down for a night or two.  But if you're looking for a modern boutique hotel, then Lamphouse Hotel is a great option for you!
The Lamphouse Hotel is a newly designed and newly renovated hotel with a distinct urban, Canadiana feel.  And its central location means you are within walking distance to shops, restaurants and pubs.  Yet, you're still steps away from adventure in the Rocky Mountains.  This would be a great place to stay if you're looking for a weekend getaway!  Adventure during the day, urban amenities at night.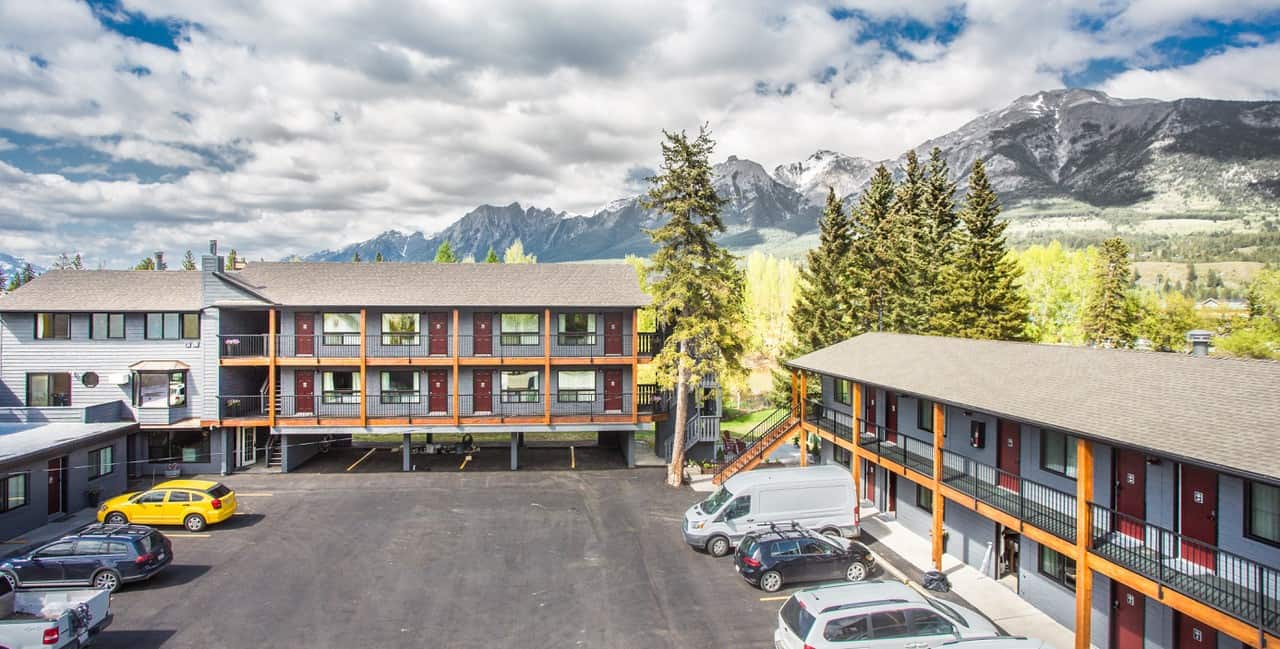 This image courtesy of Lamphouse
Originally Lamphouse Hotel was the Bow Valley Motel, but a new set of owners have taken over and have completely renovated the space.  In fact, this new resort group has opened 3 locations in Canmore: Basecamp Resorts,  Basecamp Lodge, and the Lamphouse Hotel.
The vision for Lamphouse Hotel is to offer a unique place to stay, with a high-end boutique feel. What does that mean exactly…well let me tell you about my recent stay here…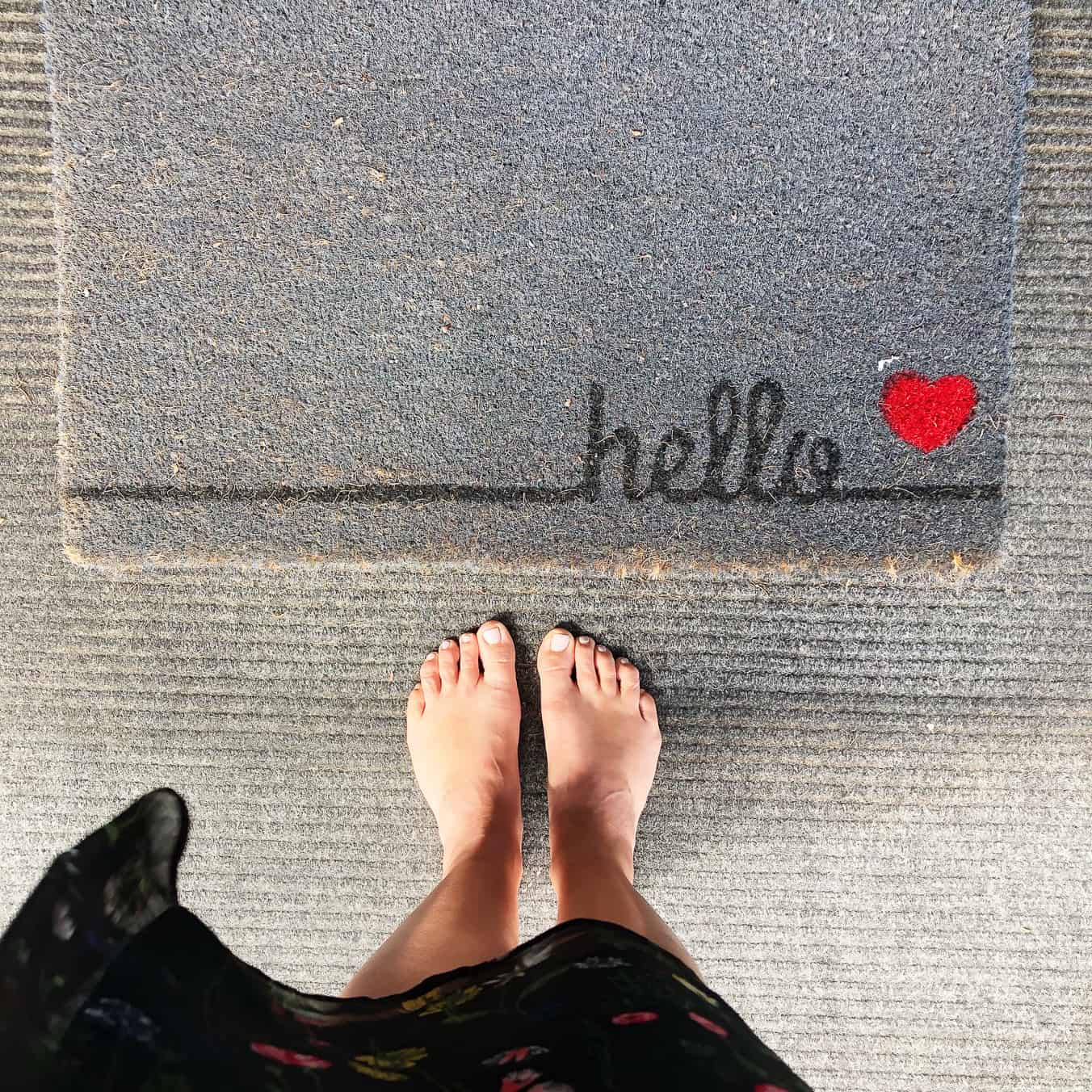 When I arrived at Lamphouse, right away I loved all the little details at this hotel.  From the warm welcome from the owner, to the cute welcome mats, to the continental breakfast crate in your fridge, to specialty toiletries and fresh baked goods delivered to your door in the morning.  Not to mention the beautiful rooms.  This is a unique and very welcoming place to stay!  Come have a look…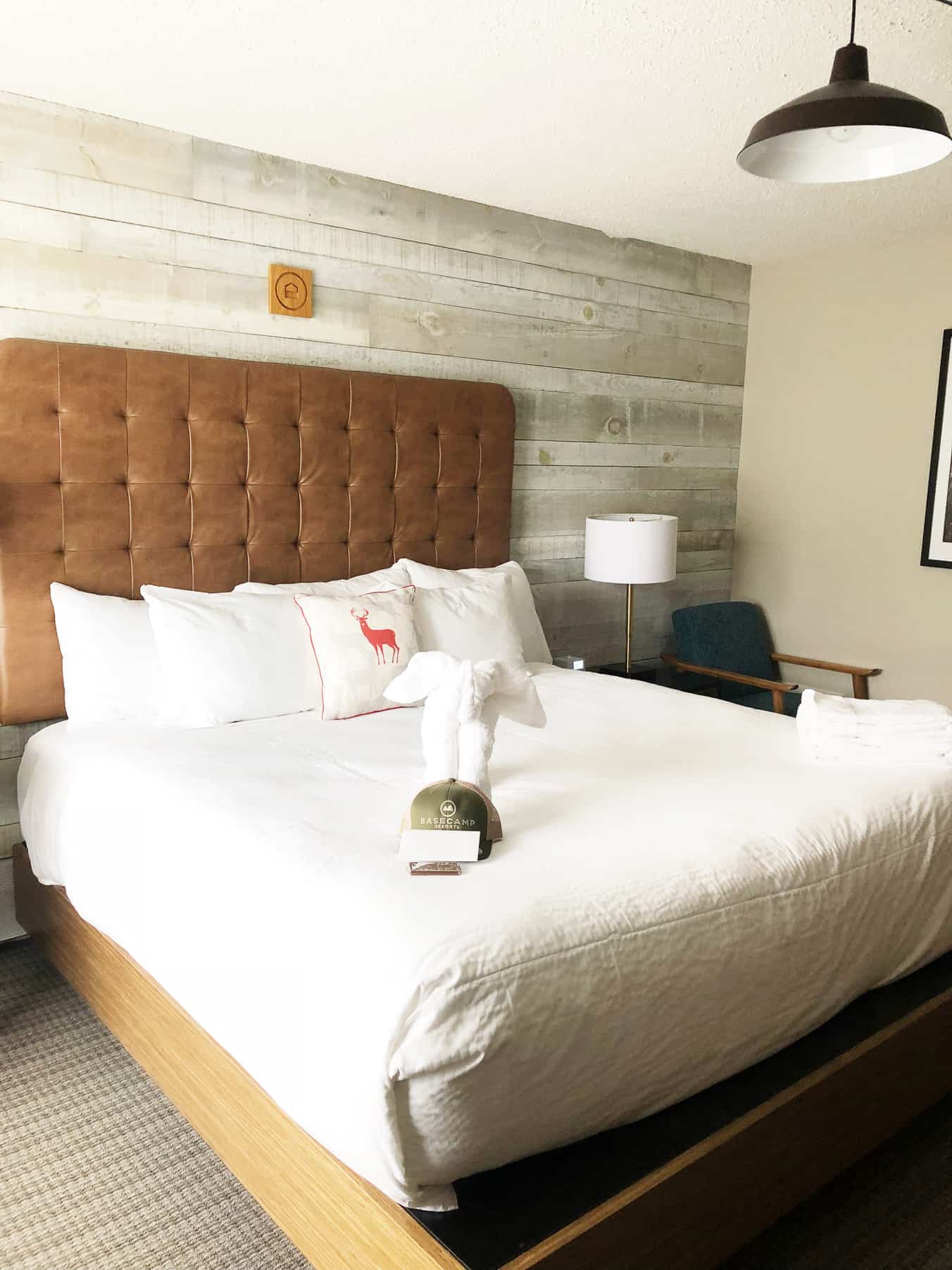 All of the King, Queen and Double Queen rooms are decorated in a similar way, with a modern yet rustic Canadian feel.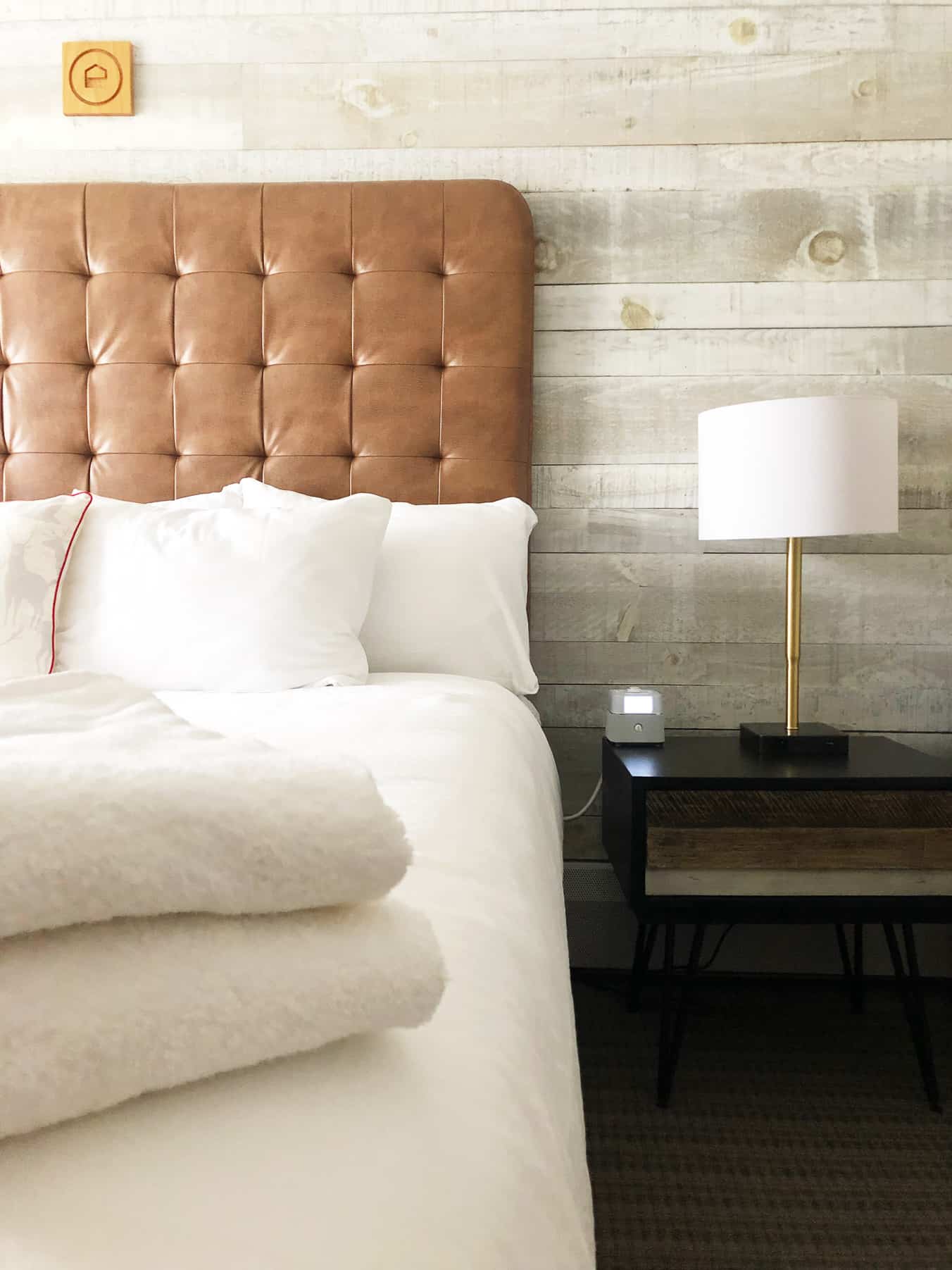 Comfy beds, soft duvets.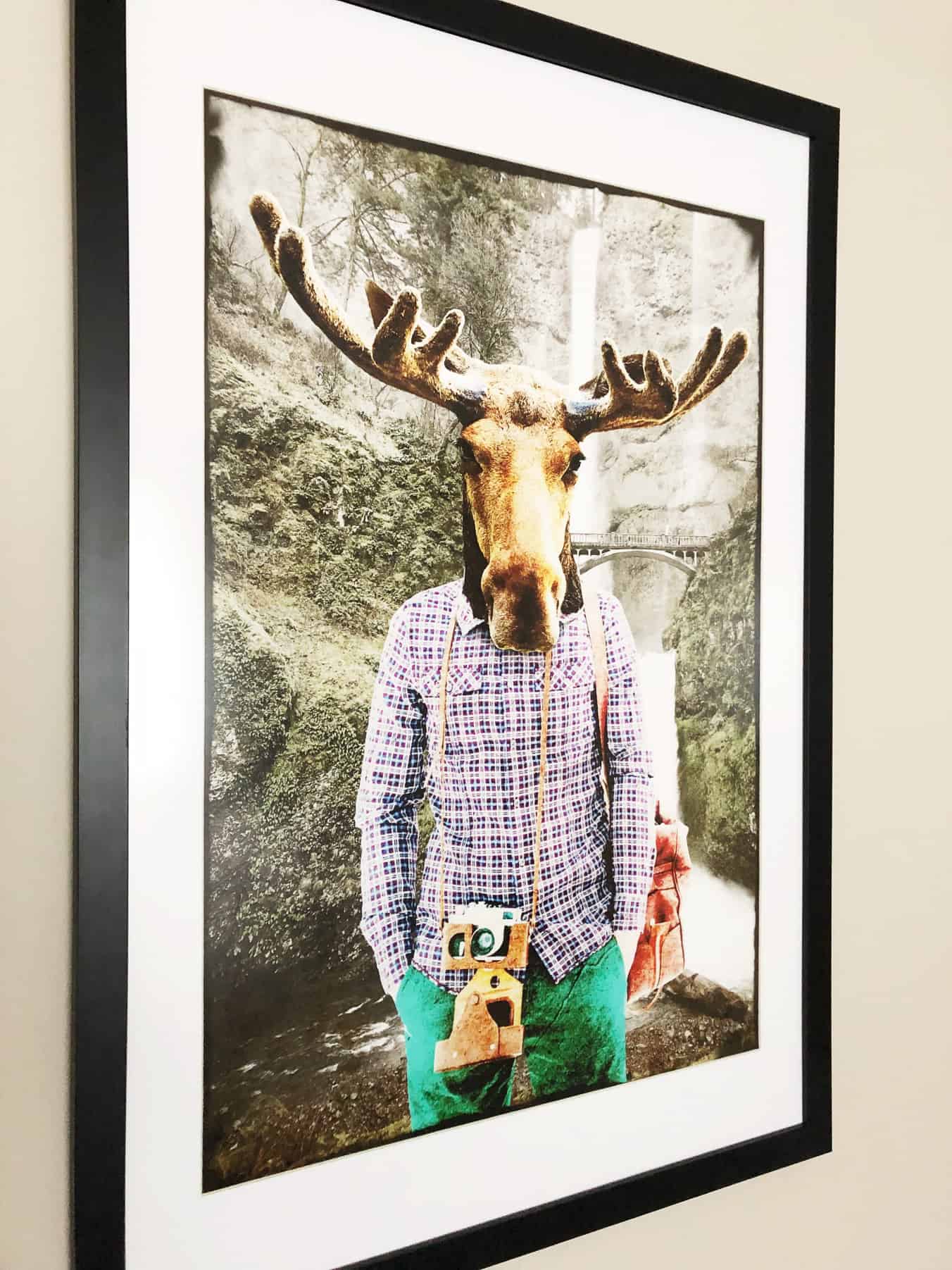 With Canadian wildlife on decorative pillows, to wood planked feature walls and fun Canada-inspired art, you're definitely in Canada!  The attention to detail in the decorating is really quite fantastic…the owner had everything custom made and built.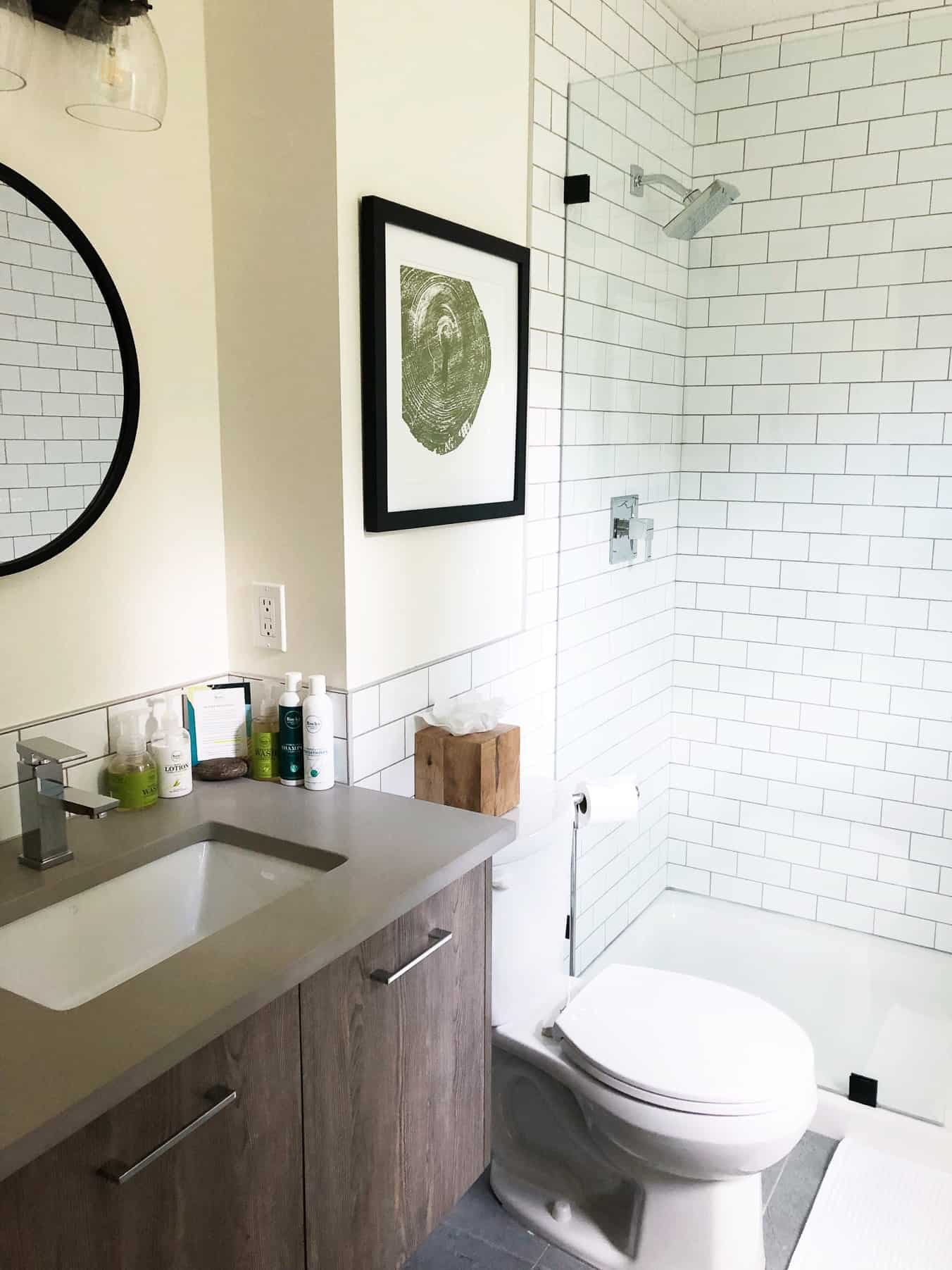 I have to say that I was very impressed with the bathrooms…clean, modern and beautiful!  Look at that gorgeous shower!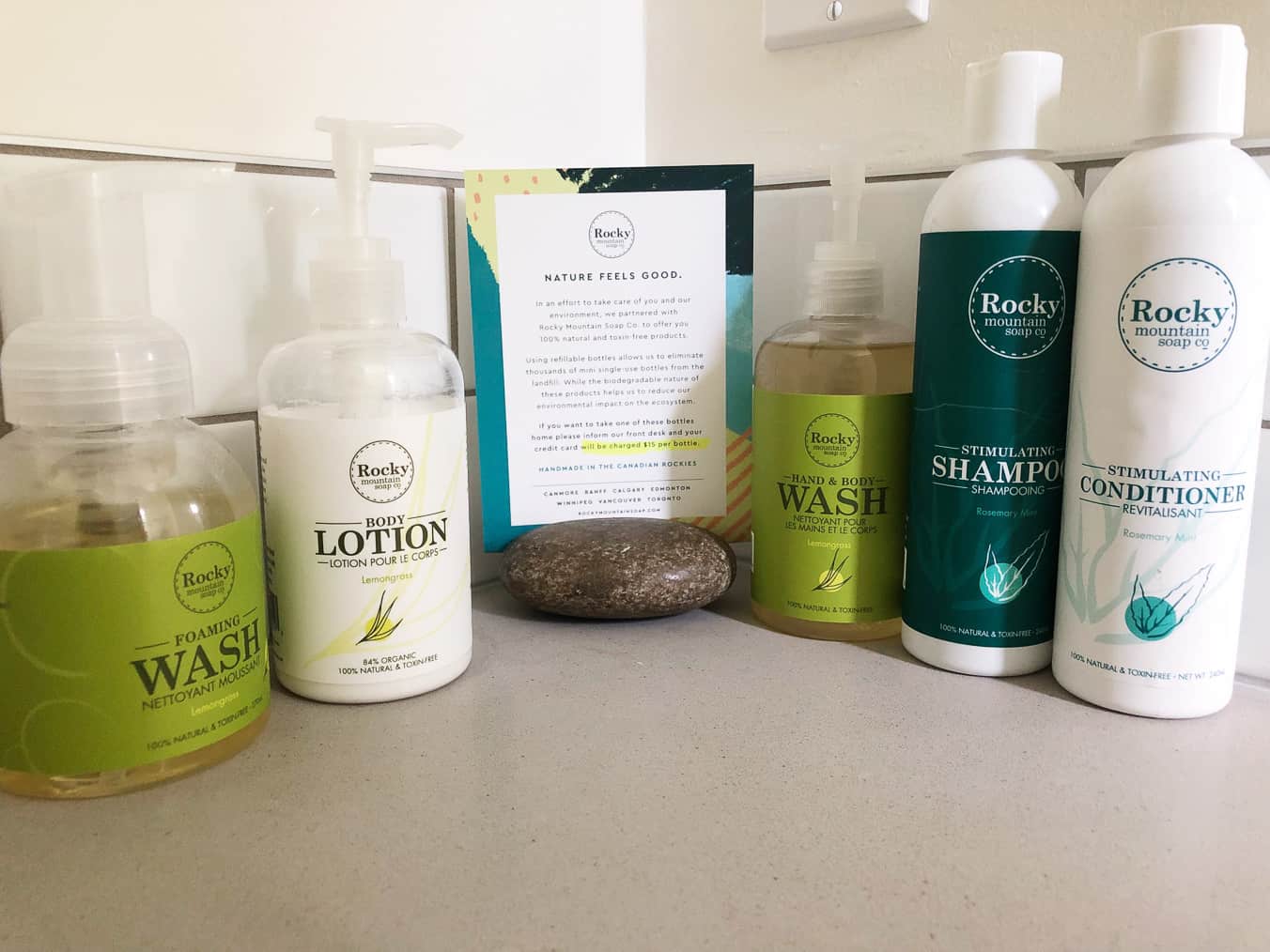 I especially loved that they offered the use of locally made toiletry products, including shampoo, conditioner, soap and lotions…just don't be tempted to take them or you'll be charged $15 each, on your room bill!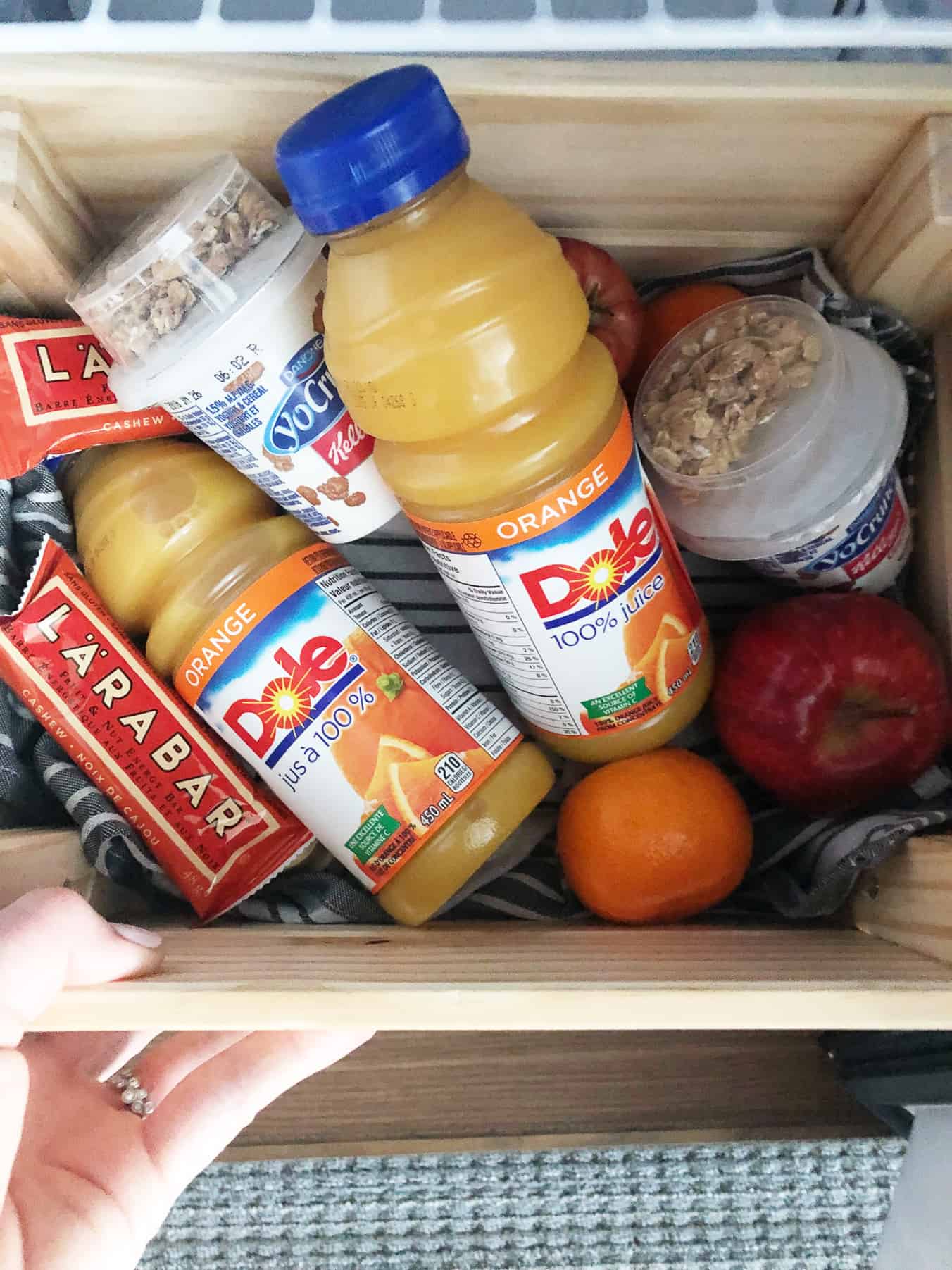 For me, one of the most impressive details of my stay, was the continental breakfast crate in my fridge!  And…fresh baked goods delivered to my door in the morning!  Where else can you get that?!   And don't worry…if you're heading out early you can grab your bakery goodies in the front office.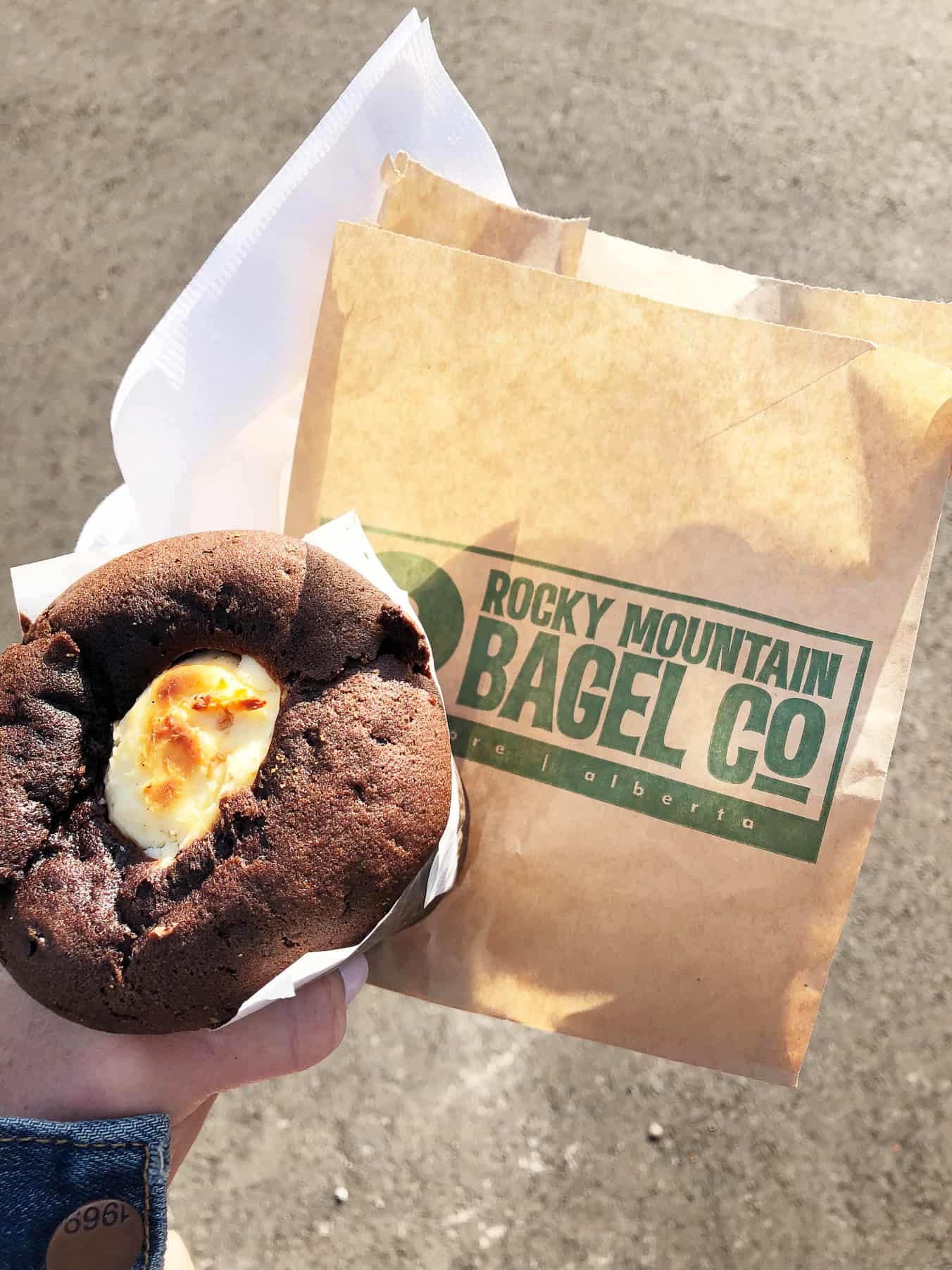 The Straight Goods:
I really enjoyed my stay here at Lamphouse.  The location is excellent…I had the chance to walk around main street, do some shopping and eat at restaurants nearby.  But it was the continental breakfast and fresh baked goodies that really won me over…oh and this view right next door might have had something to do with it too!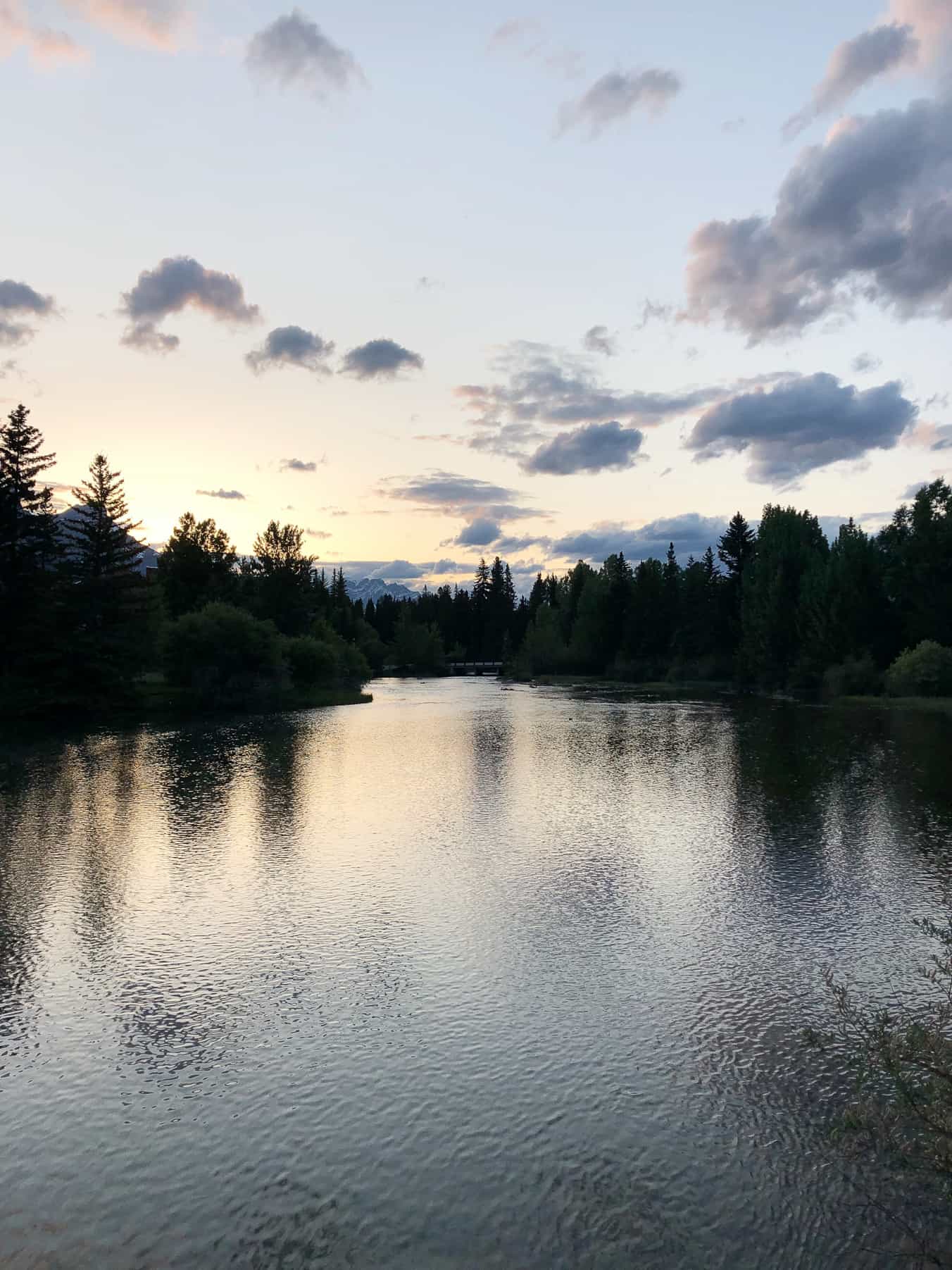 Tips for your stay:
If you stay in the off season (November), room rates decrease dramatically.
This is a great place to stay, but maybe not with the kids. The boutique feel of this hotel means there's not much for the kids to do here.  But that's not to say kids aren't welcome, because they certainly are!
There are several restaurants, pubs and shops in the area so you have all kinds of options for wining, dining and shopping.  And they're all within walking distance.
The fresh baked goods are delivered to your door around 9AM, but if you are leaving earlier you can access them in the main office.
Lamphouse Hotel Details:
Reservations:  To make a reservation, visit their website.
Address:  Lamphouse Hotel is located at: 610 8 St Canmore, AB
Things to Do in Canmore: