Located just 15 minutes outside of Canmore, AB, the Grotto Canyon Ice Walk is a breathtaking walk along a frozen creek bed, leading to picturesque frozen waterfalls.  Wear your ice grips, and keep an eye out for Hopi pictographs!
Recently my friend Tiffany sent me a text with a map to Grotto Creek and said that we should head out to do an ice walk there.  So early on a Thursday morning, we headed out to Exshaw, Alberta for our ice walk experience.  And what an experience it was.  This little gem of an ice walk is well worth the trip…it truly was beautiful.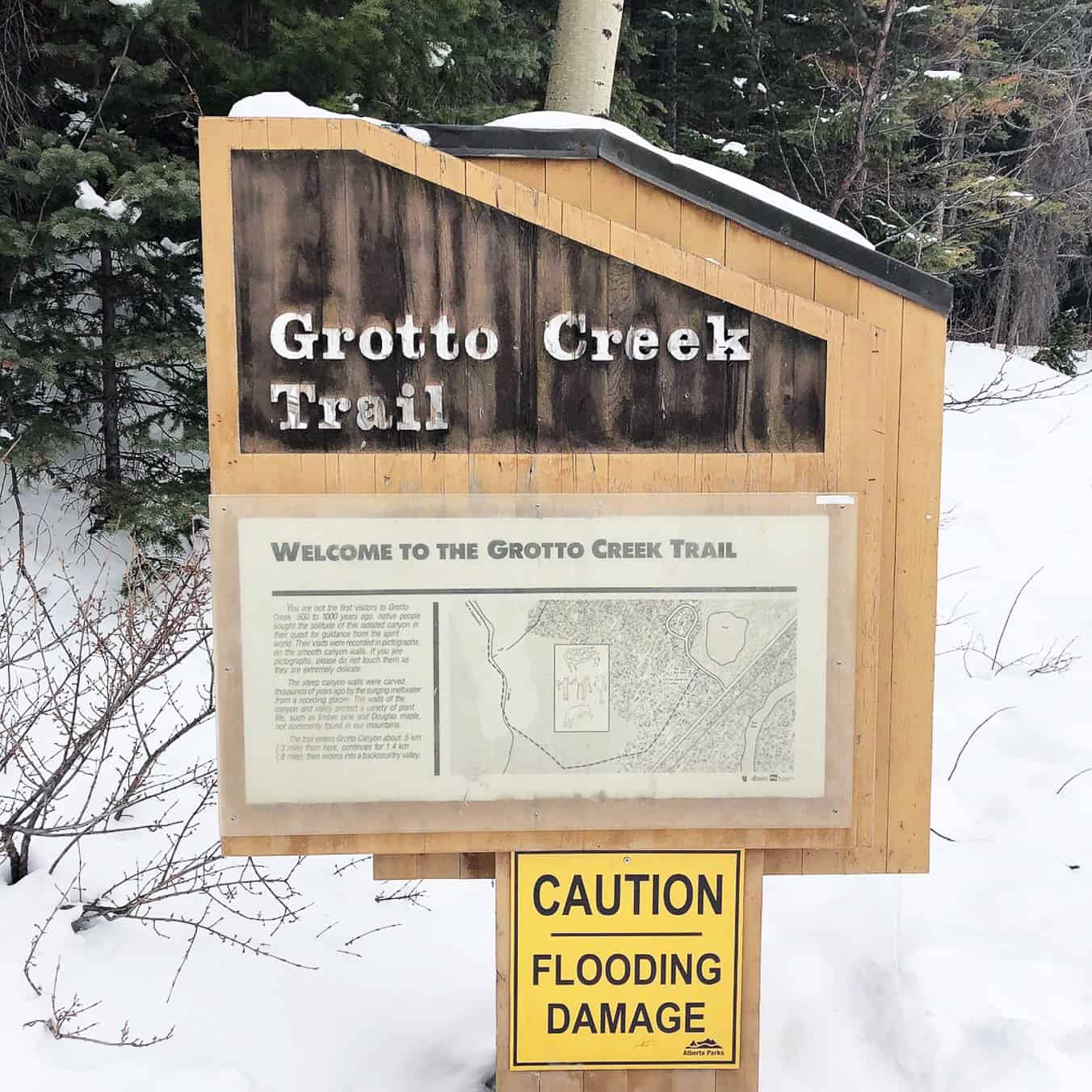 Where is it located?
Grotto Creek, which is where you will do the ice walk, is located just over an hour west of Calgary (and about 15 minutes east of Canmore).  The quick location from the city makes this ice walk a perfect day trip adventure.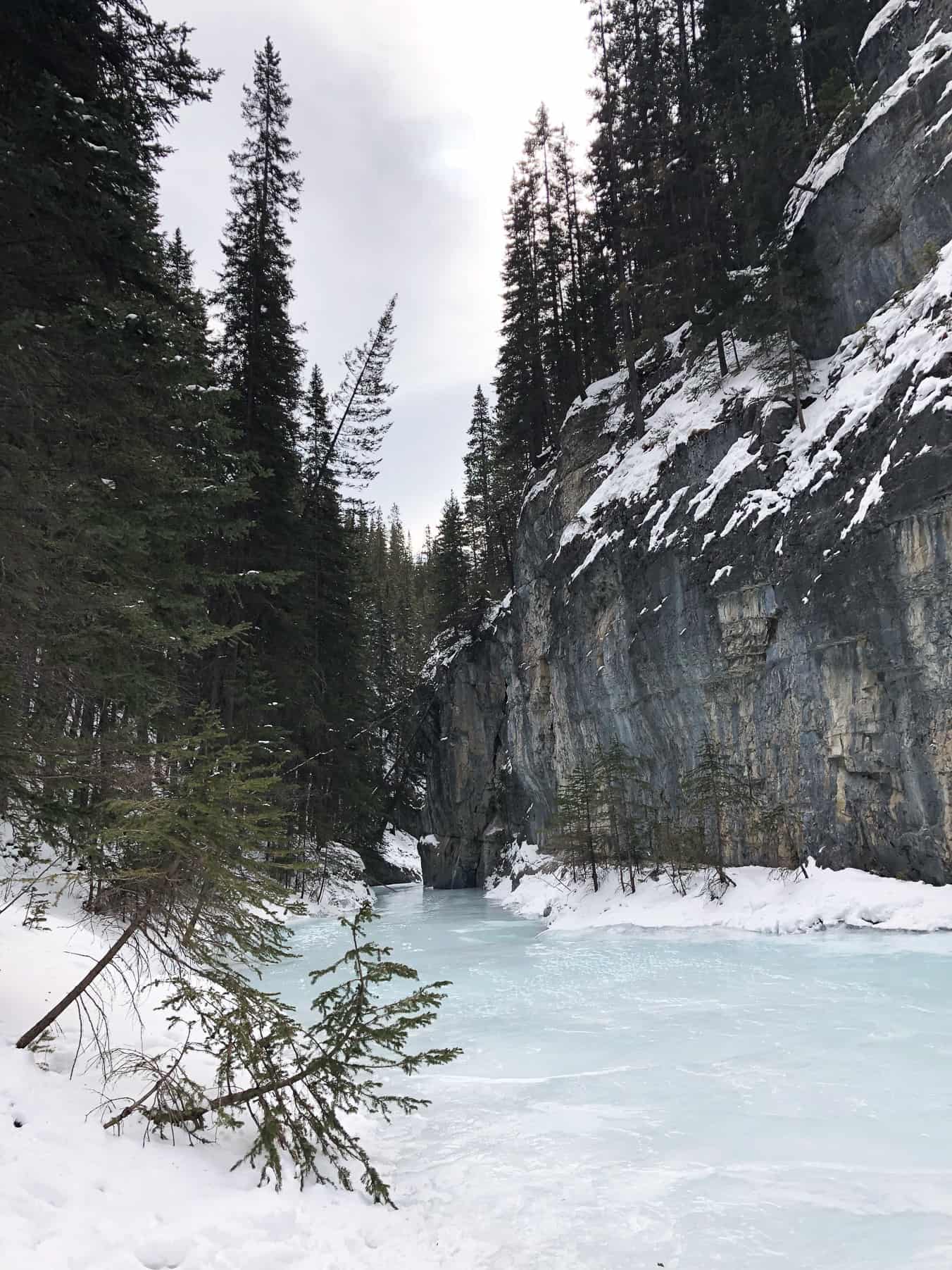 How to Access Grotto Canyon
To access Grotto Canyon and the ice walk and falls, you have to go on foot.  The first 1KM of the walk to the canyon will take you along power lines and an industrial plant, but don't let that discourage you!  Trust me, keep going because the views are about to get beautiful!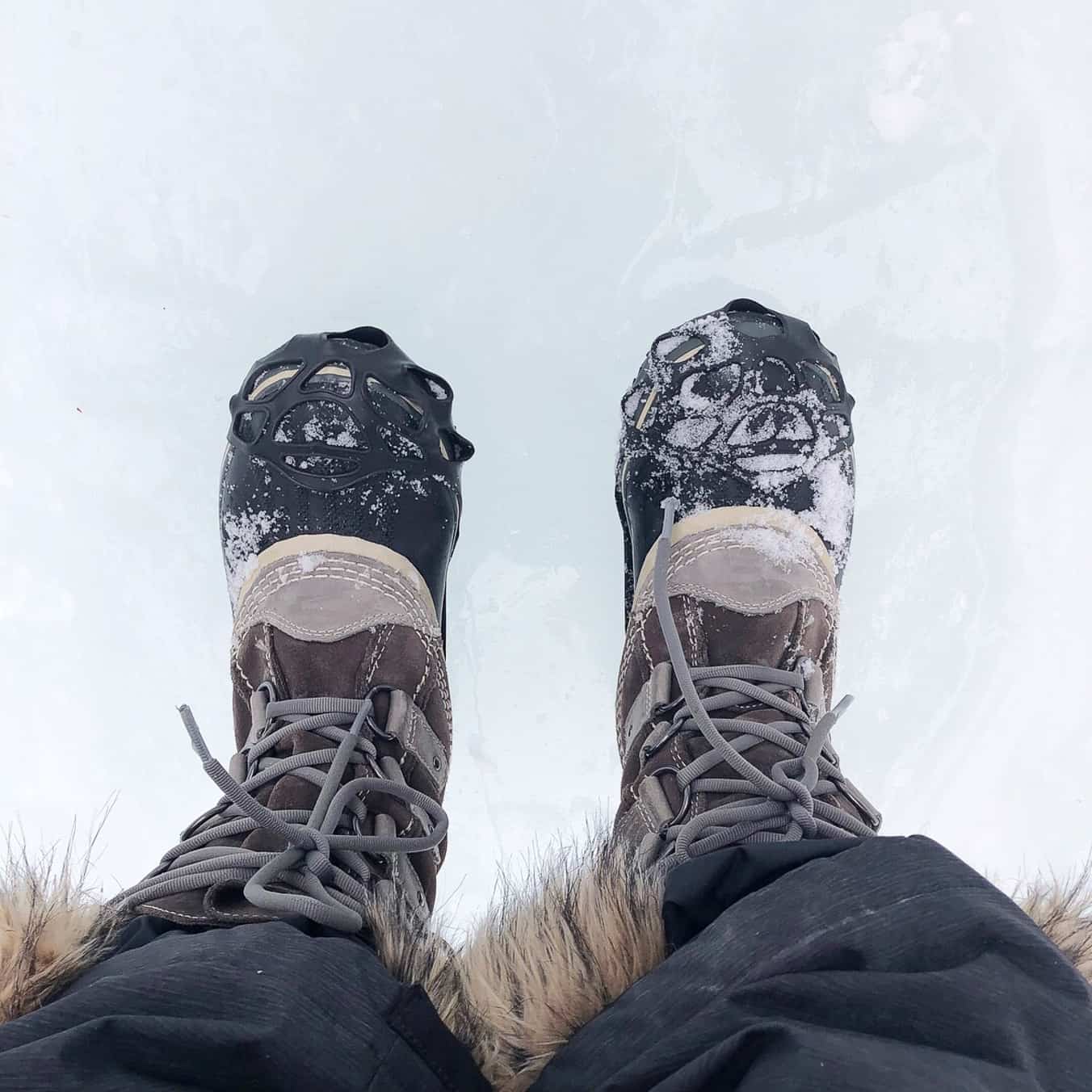 Once you get to the creek bed, put on your ice grips/cleats/spikes!  Trust me.  You need them.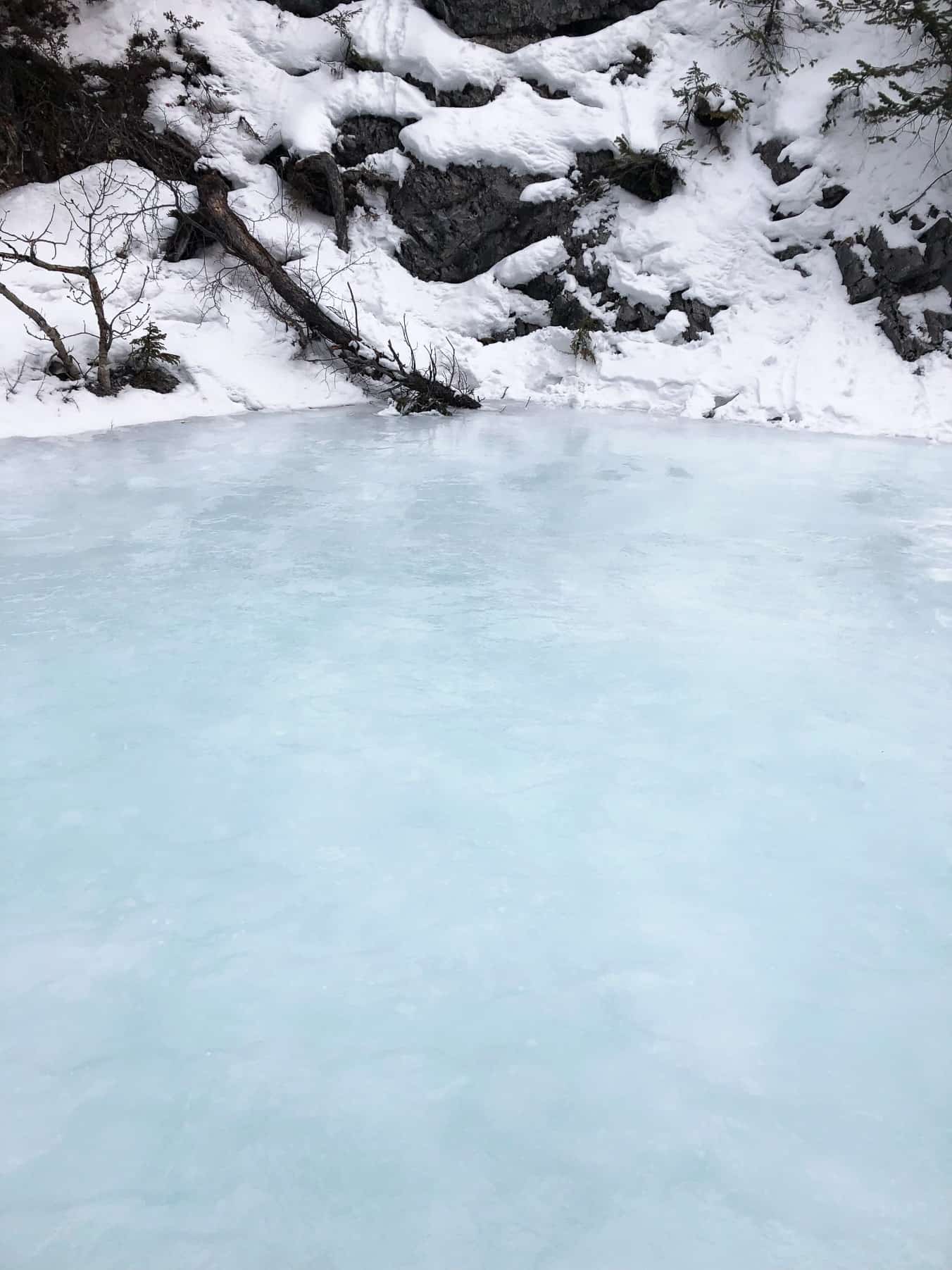 Because the ice walk is just what it says…you'll be walking on ice almost the entire way to the falls.  This was such a fun experience!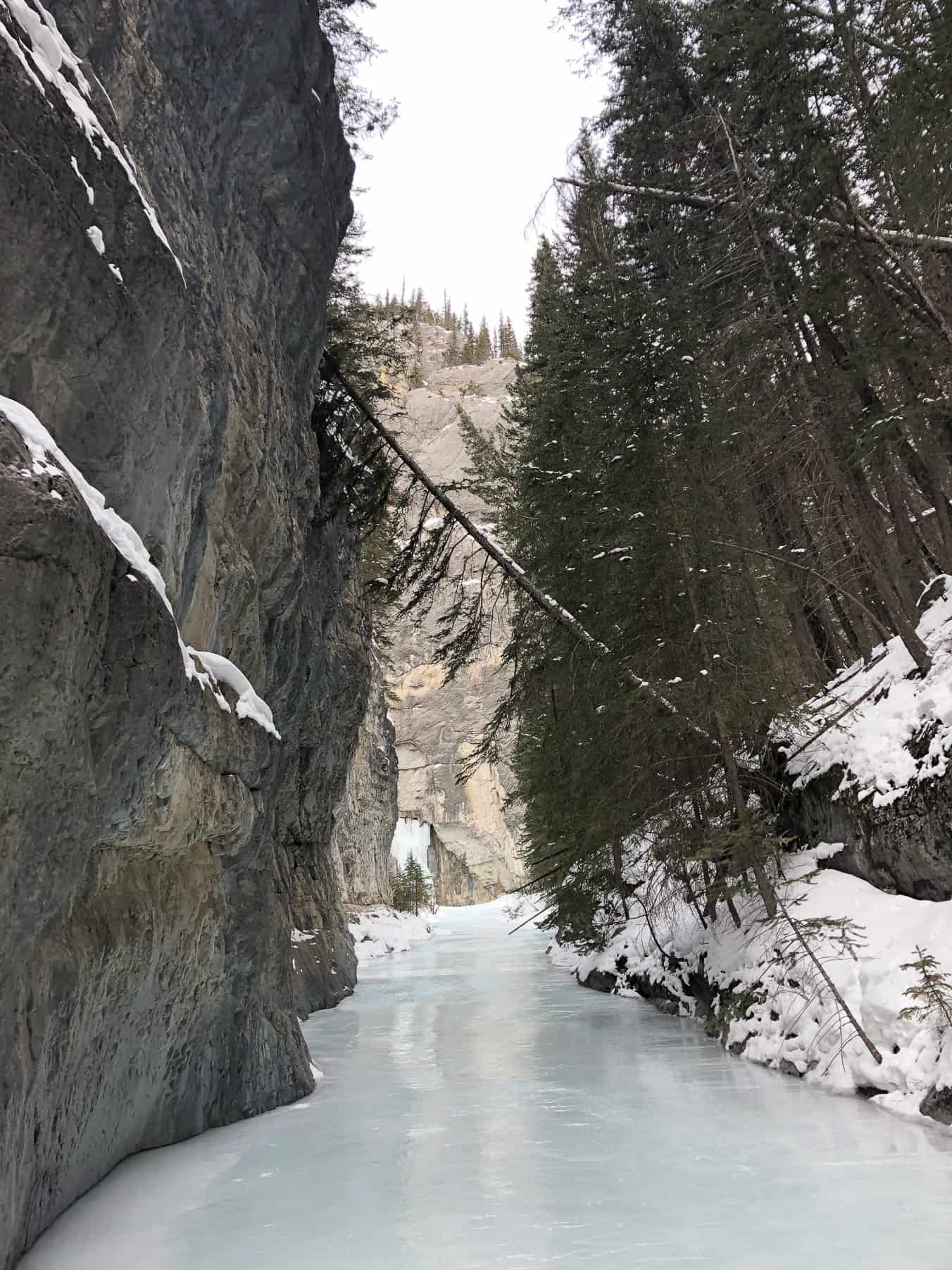 And the views along the walk are amazing.  As you walk along the frozen creek bed, the limestone walls get higher and more steep…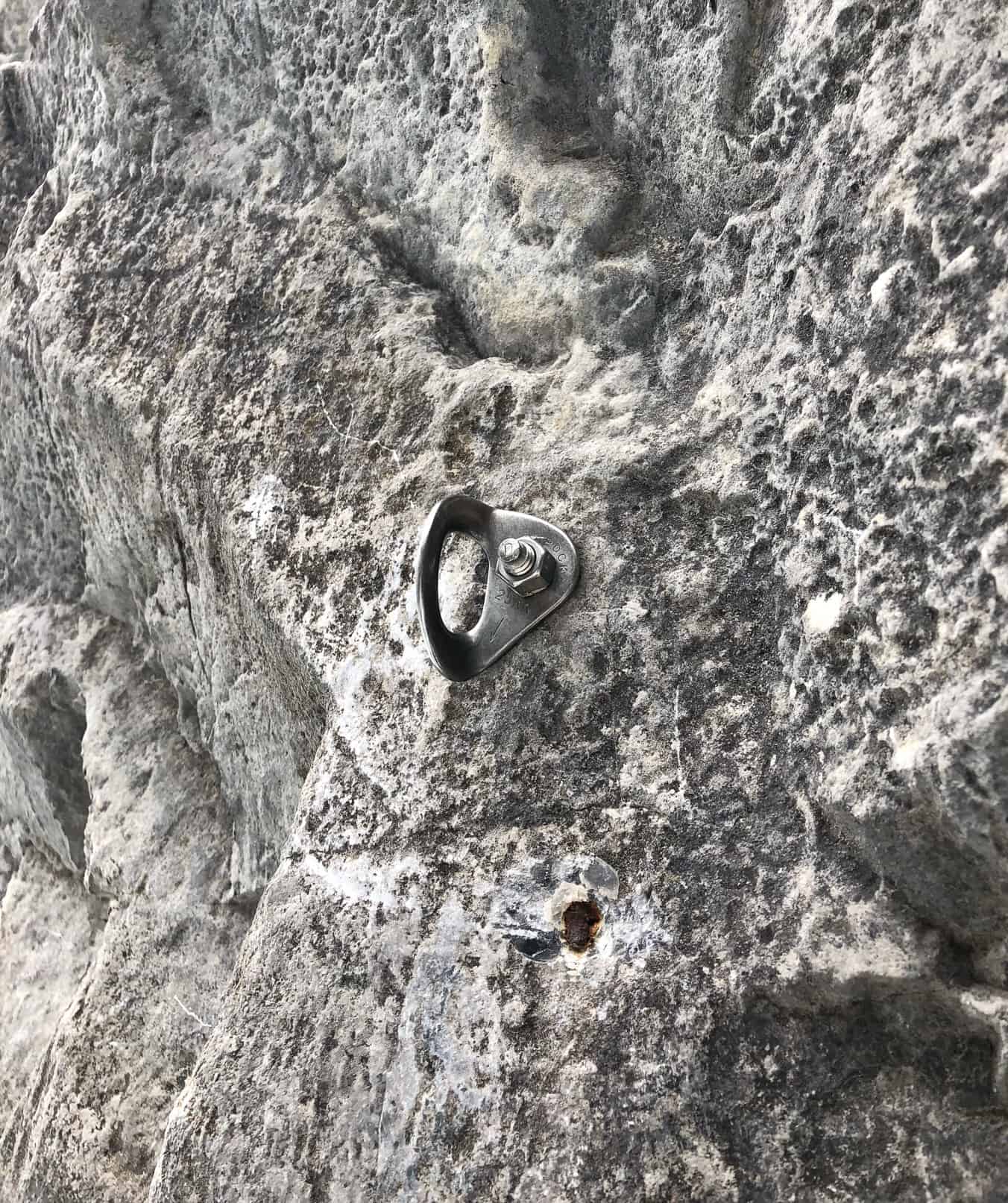 And as the walls get steeper, you will notice rock climbing hangars along the way…this is popular area for rock climbing.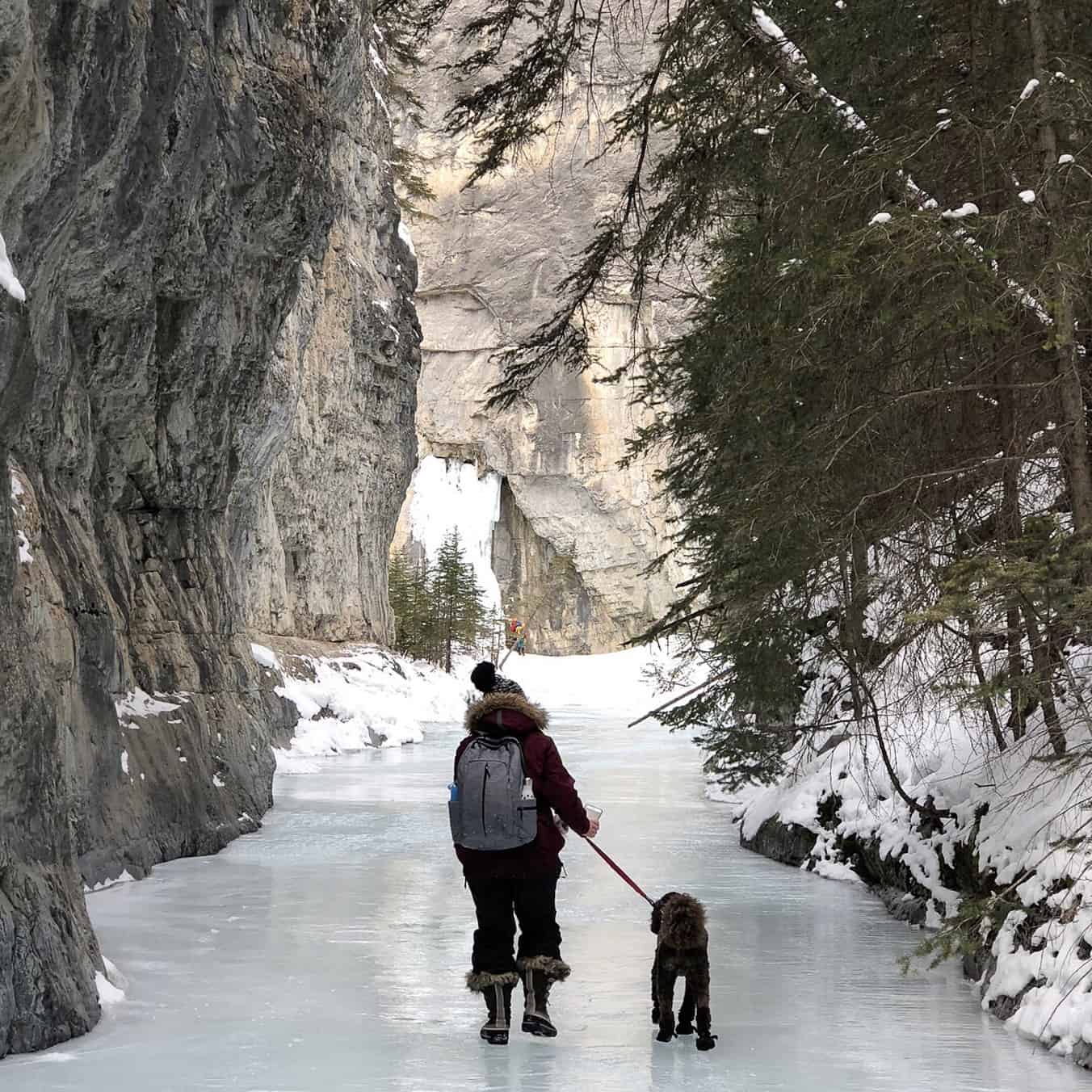 But I'll just stick to the ground, thank you very much.  😉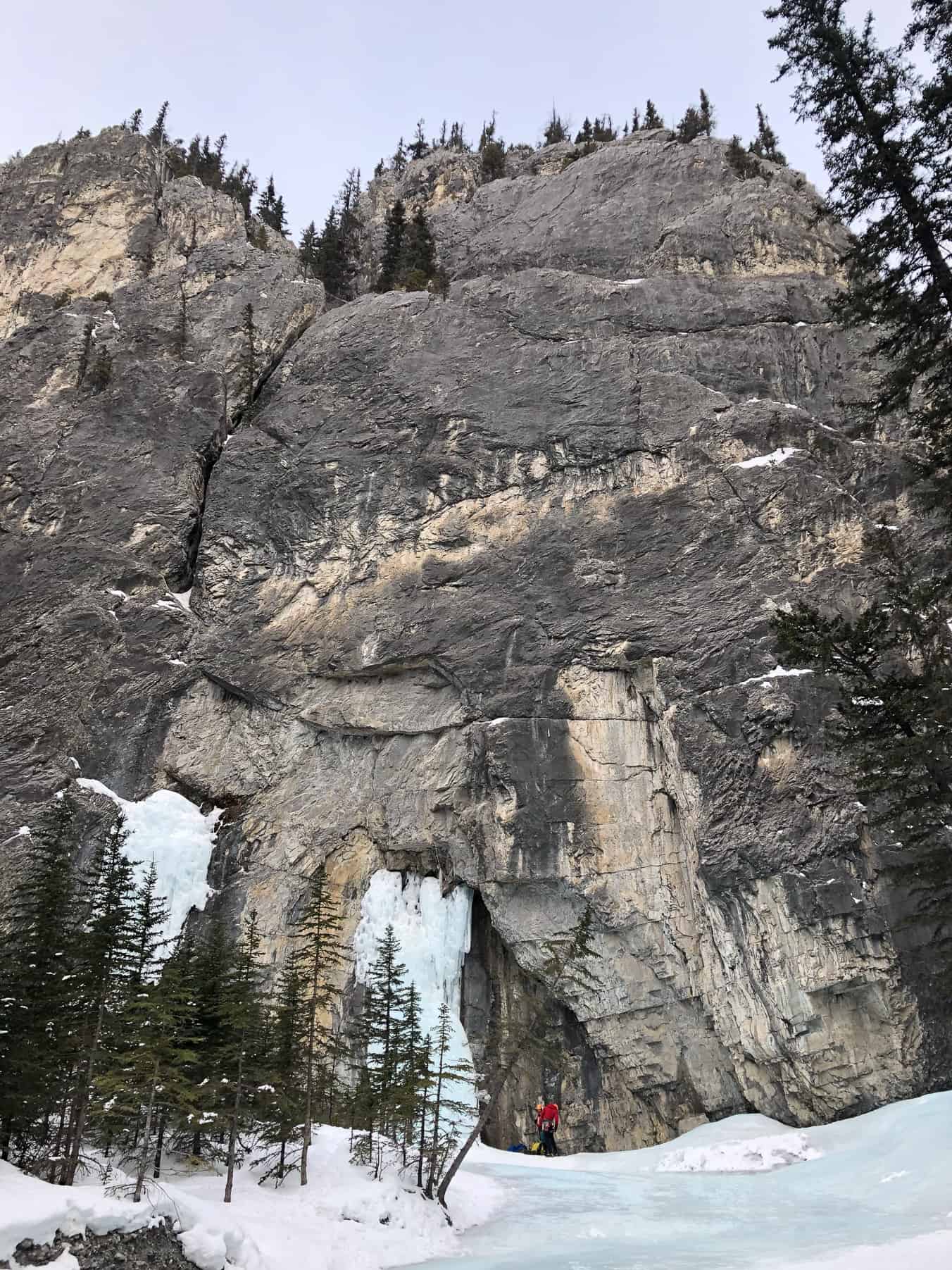 As you near the end of the canyon, you will come up on ice falls, and if you're lucky you might even get to watch ice climbers in action!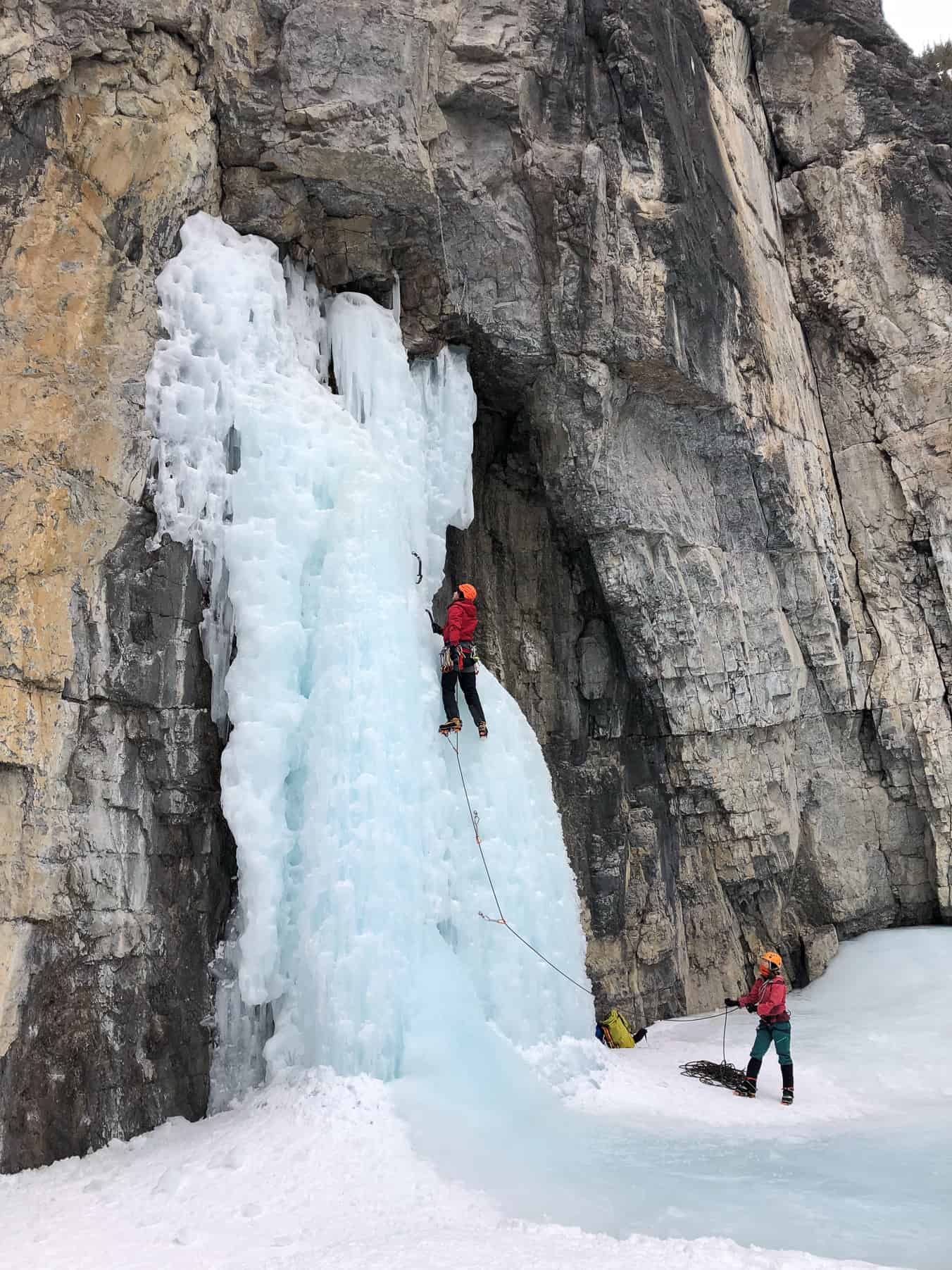 It was fascinating to watch them climb.  And side note…look at the colour of the frozen waterfalls…so beautiful!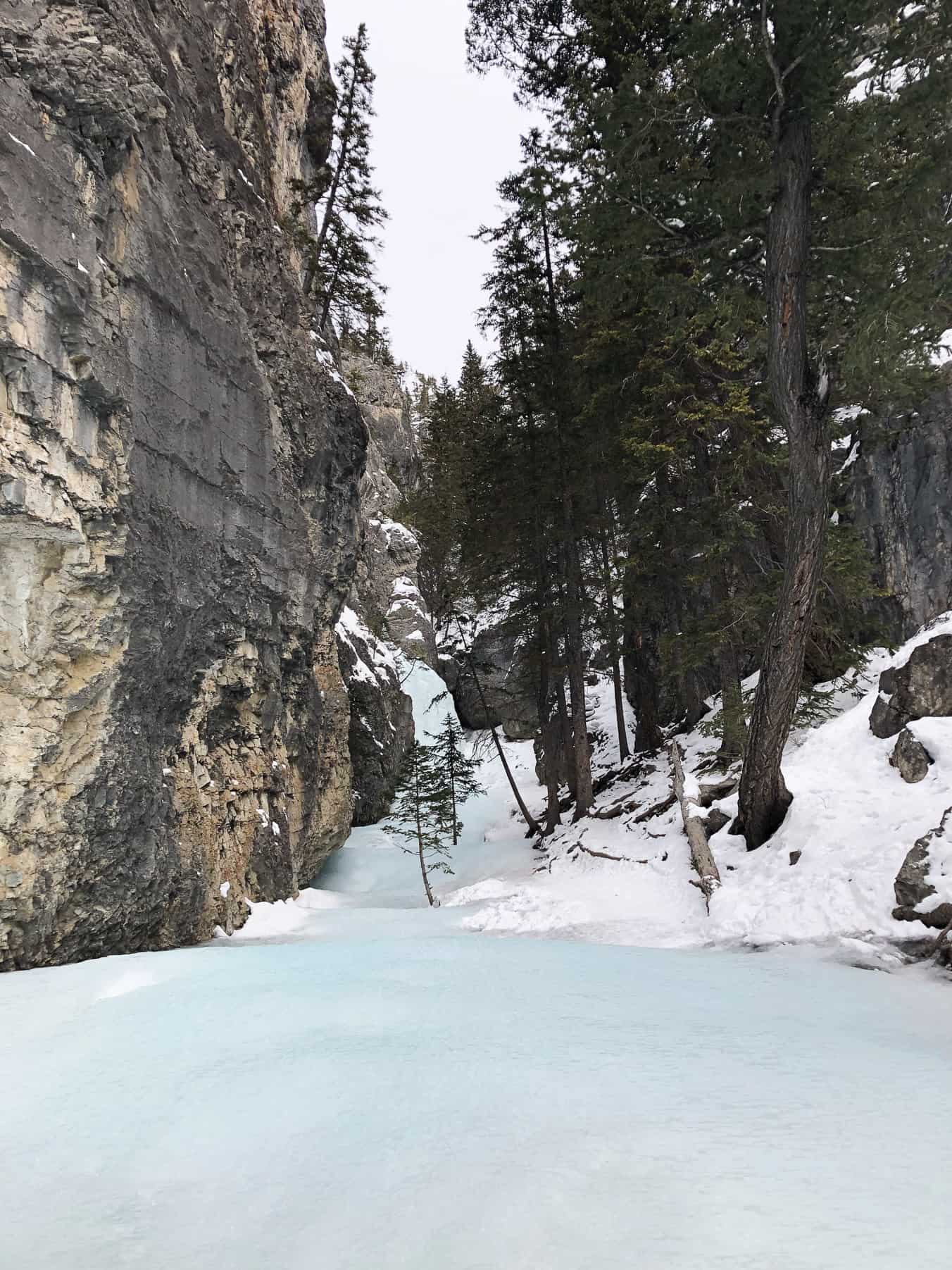 And if you're really lucky, you might even get to see Hopi pictographs…I forgot to look for them when I was there (ARG!!!), but apparently they are located just before the falls, on the left, about eye level.
– – – – – – –
I really, really enjoyed this ice walk.  It was peaceful, inspiring and stunning.  I can't wait to go back and take the kids, I think they would love this SO much.
Grotto Canyon Ice Walk Details
Here are more details on the Grotto Canyon Ice Walk…I hope get the chance to experience it for yourself!
Location: Access the trailhead at the Grotto Lake parking lot, which is about 12KM from Canmore on highway 1A. The ice walk is approximately 1KM from the parking lot.
Rating:  Intermediate.  It is ice.
Length:  4.2 km round trip.  The trail is in and back out on the same trail.
Time:  ~ 2 hours
Type:  Ice walk
Things to Do:  Ice walk, skate, hike, climb
More Details:  Visit the Alberta Parks website
Grotto Canyon Ice Walk Tips & Tidbits
Ice grips/cleats/spikes for your shoes are highly recommended.
If you're going with kids, consider having them wear a helmet.  It's ice almost 80% of the walk.
If you like, take your skates!  Once you get to the creek bed, you can pretty much skate the whole way to the frozen falls.
Pack a lunch and spend the day here exploring!
I took our dog with me and she was able to do the walk with no problems.  I did have little boots on her because the ice was wet when we were there.
The Straight Goods:
This ice walk is a really great experience, but be prepared, it is icy.  About 80% of the walk is on ice, so because of that it is highly recommended that you have ice grips/cleats/spikes for your shoes.
And don't be discouraged by the walk to the creek because the end goal is what you're going for!  The trail to the creek is alongside the Baymag Mineral Processing Plant which isn't very aesthetically pleasing, but trust me, the creek is worth walking this part of the trail.
I think depending on when you go, the creek could be covered in snow.  We were lucky when we were there, the creek was complete ice.
Make a Day of it in Canmore!