Winter Glamping at Mount Engadine Lodge, Kananaskis
Tucked away in the Spray River Valley of Kananaskis Country, Mount Engadine Lodge is an absolute gem. And a must visit in winter!
You can visit Mount Engadine Lodge year round, but we visited in winter and would definitely do it again! There's something so magical about staying in a mountain lodge in the thick of winter…cozy, warm and so fantastic.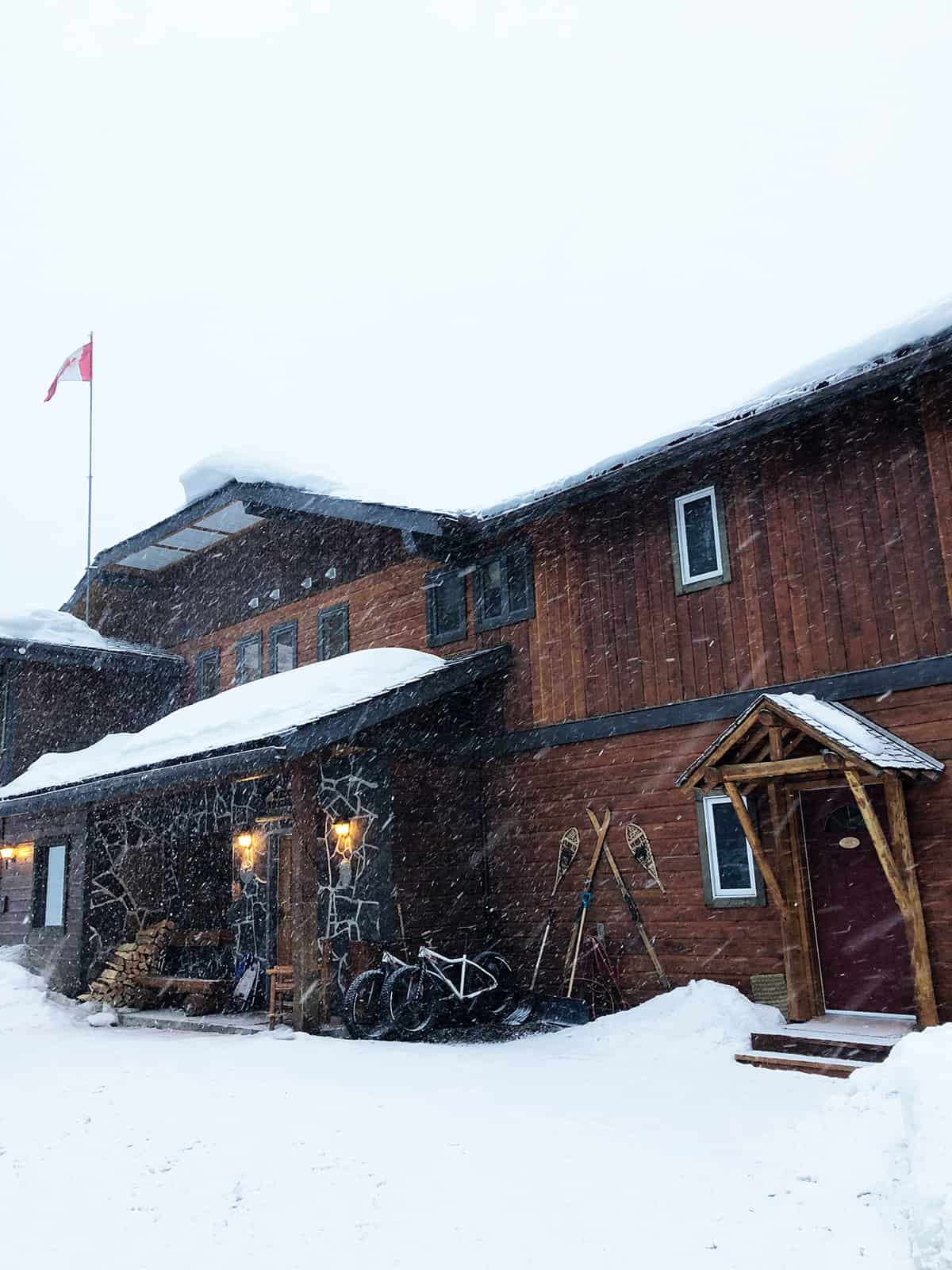 Mount Engadine Accomodations
Mount Engadine Lodge comfortably sleeps 39 people and offers nine private rooms, five glamping tents and a rustic yurt. All of these options will accommodate families, solo travelers, romantic getaways and a weekend away with friends. There's truly something for everyone here. On our recent stay, we opted for a romantic getaway in the glamping tents and they did not disappoint.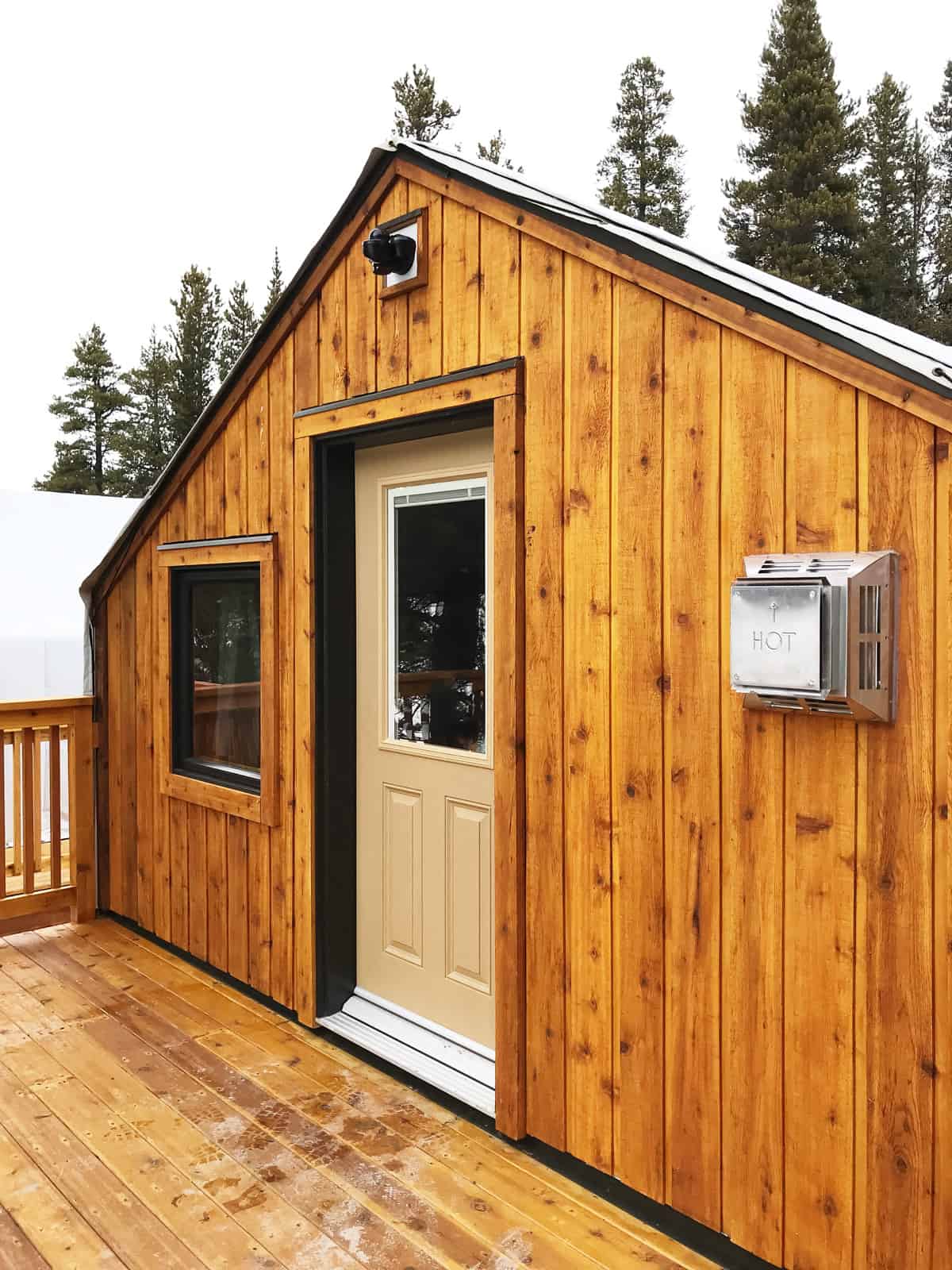 Glamping Tents
Don't worry, you'll definitely be warm and cozy in the glamping tents. Each tent is equipped with a private outdoor deck, gas fireplace, sitting area, king sized bed with loads of cozy blankets, and a full bathroom with it's own heater, running water, shower, toilet and 100% natural toiletries. So you definitely have everything you need. And it's warm…we were actually roasting during the night because we kept the fireplace on, but it was just so nice.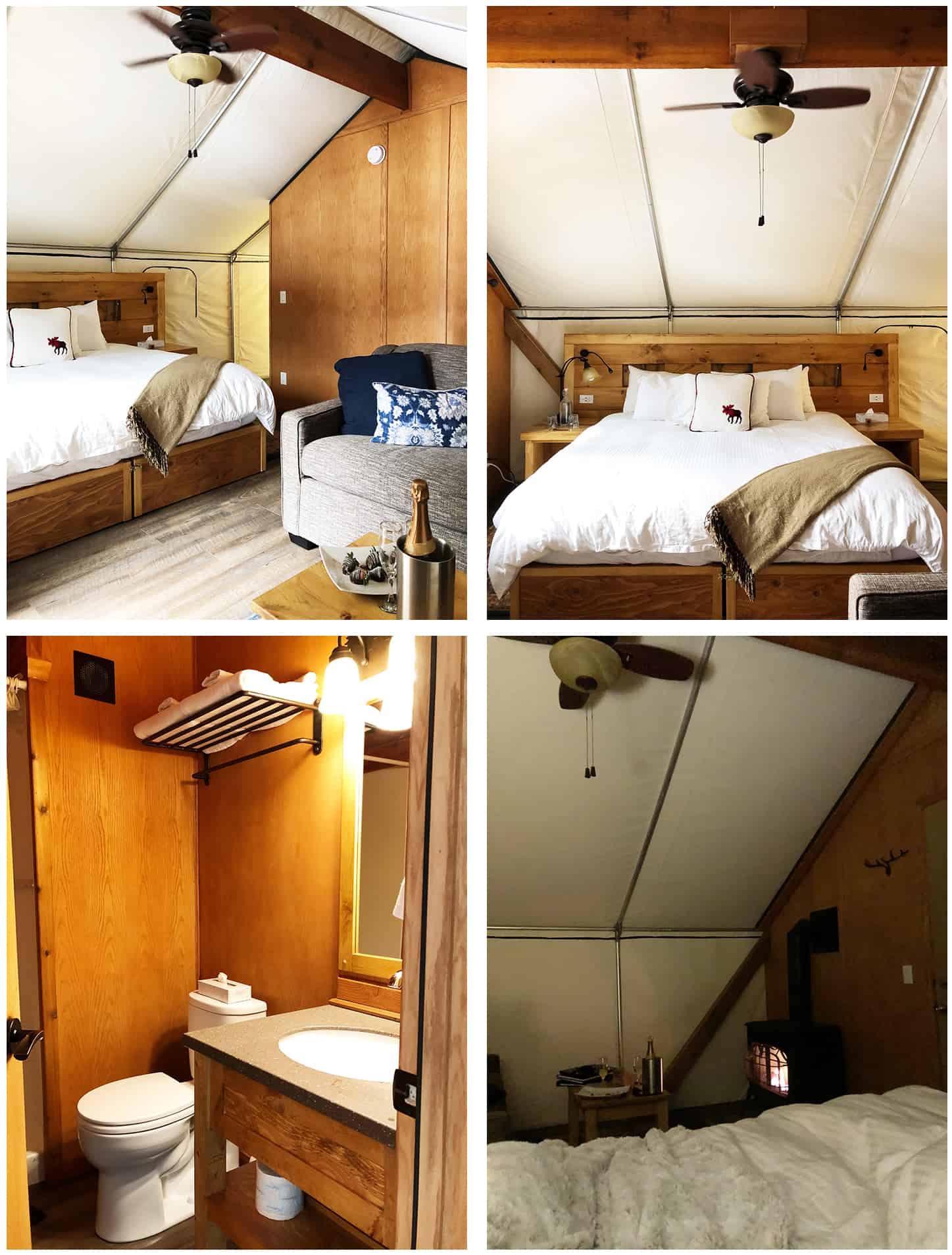 An All Inclusive Stay
One of the nicest things about staying at Mount Engadine Lodge is that your stay is all-inclusive, which means that all meals are included in the price of your stay. We loved the all inclusive approach, it's nice to have everything laid out and thought out for us. Just show up and you get fed. Best ever.
What's Included With Your Stay:
The price includes your stay, a daily afternoon tea (which includes a charcuterie and dessert plate), gourmet dinner, full breakfast and custom packed lunches (these are great if you take a hike during the day)
You have free access for use during your stay of fat bikes, snowshoes, ice grips for hiking, cozy hand knit slippers to wear in the main lodge, board games to play, books to read, tea any time you like and more!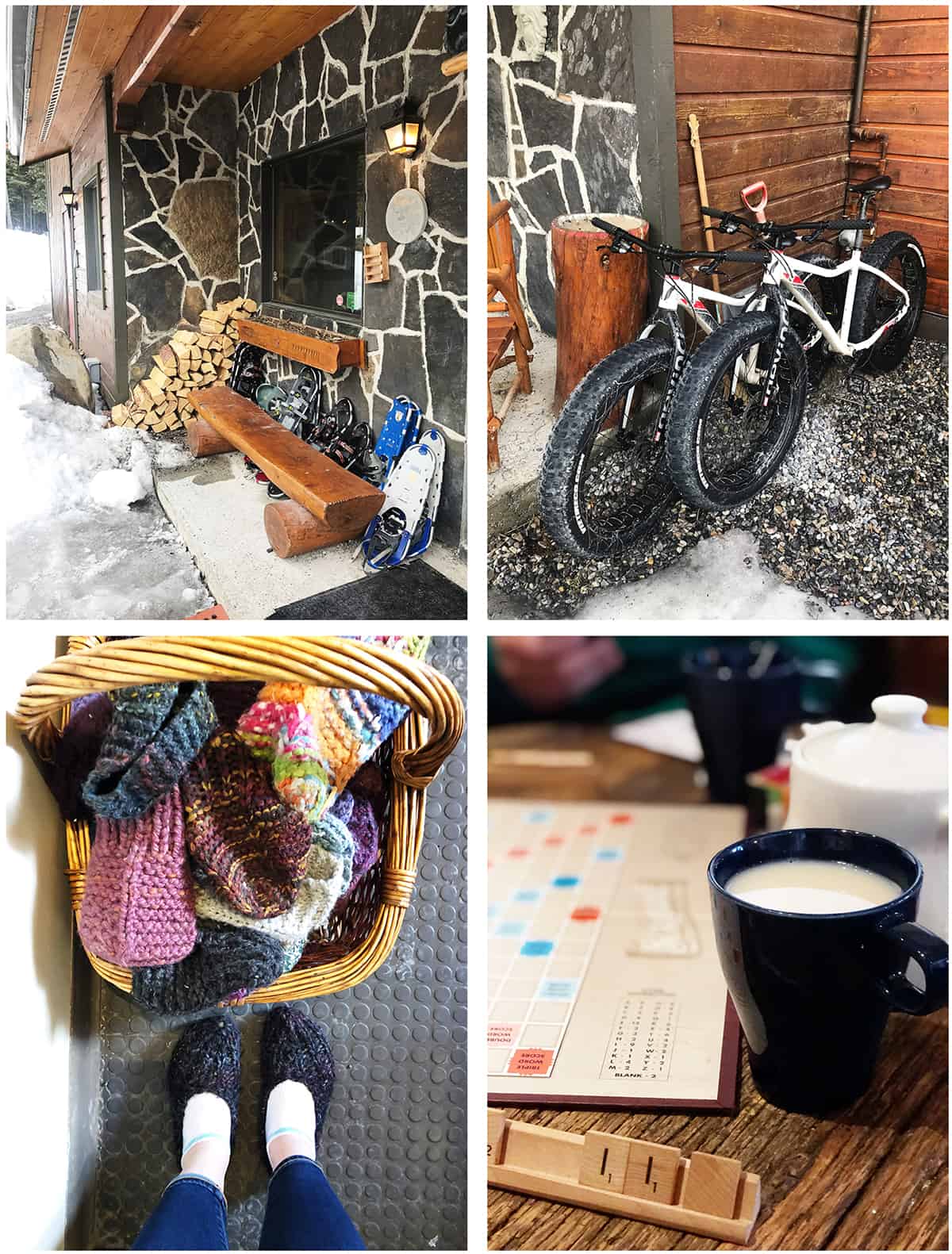 The Main Lodge
The main lodge is the centre of Mount Engadine. In here you can cozy up to 1 of 2 fireplaces, it's where you will dine, visit, lounge, share a drink, read a book, play a game…basically make yourself at home. We actually spent quite a bit of time in the lodge.
Details on Mount Engadine Lodge:
Location: 1 Shark Road 35km south of Canmore, on Smith Dorrien Highway
Reservations: Book your stay here.
Hours: The lodge is open year round.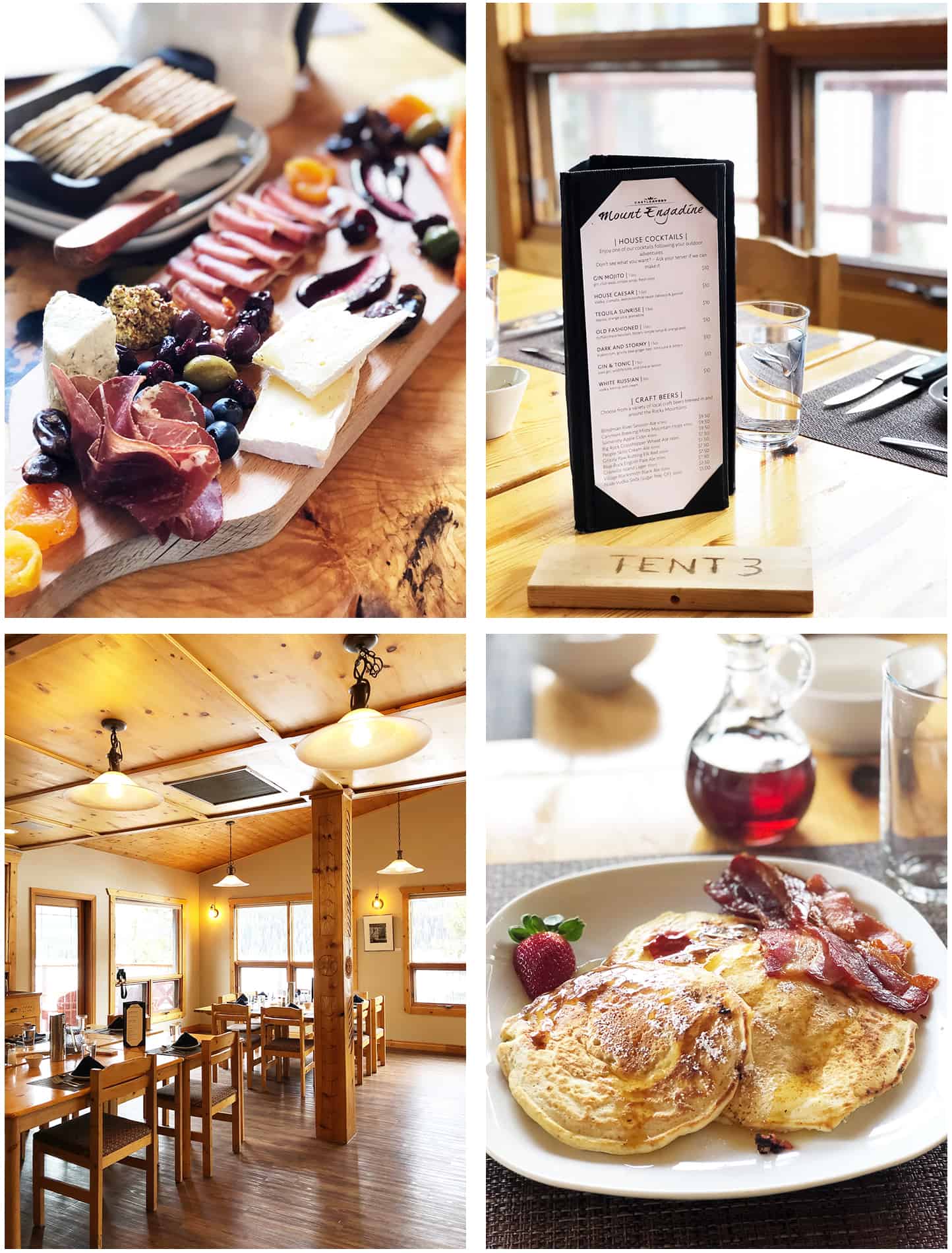 Visitor Tips and Things to Note:
While the lodge is family friendly, honestly, I wouldn't go with kids. I think it's nice to be able to enjoy time away without kids, and Mount Engadine is the perfect place to do this. So leave the kids at home…trust me. But you can bring them.
Meals are served as family style dining which means that you share a table with other guests. But if you prefer not to do this, I'm sure you can just speak to someone at the lodge to make other arrangements.
Afternoon tea (which includes tea, a charcuterie plate and dessert) runs from 2 until 5 PM, but I would highly recommend you go early because you don't want to be full for dinner!
There are no in-room phones, computer jacks or TV's to distract you…and this is a good thing! Don't worry, if you need WiFi you can access it in the main lodge.
Pets are welcome! Woohoo! There is a $20 fee per pet, per room.
Mt. Engadine is EcoStay certified.
This Big Adventure's Final Thoughts:
We will definitely come back to Mount Engadine. It was one of the nicest getaways my husband and I have ever been on. It was quiet, cozy, beautiful and so enjoyable. We're already planning on when to go again. I'm thinking fall would be ah-mazing!!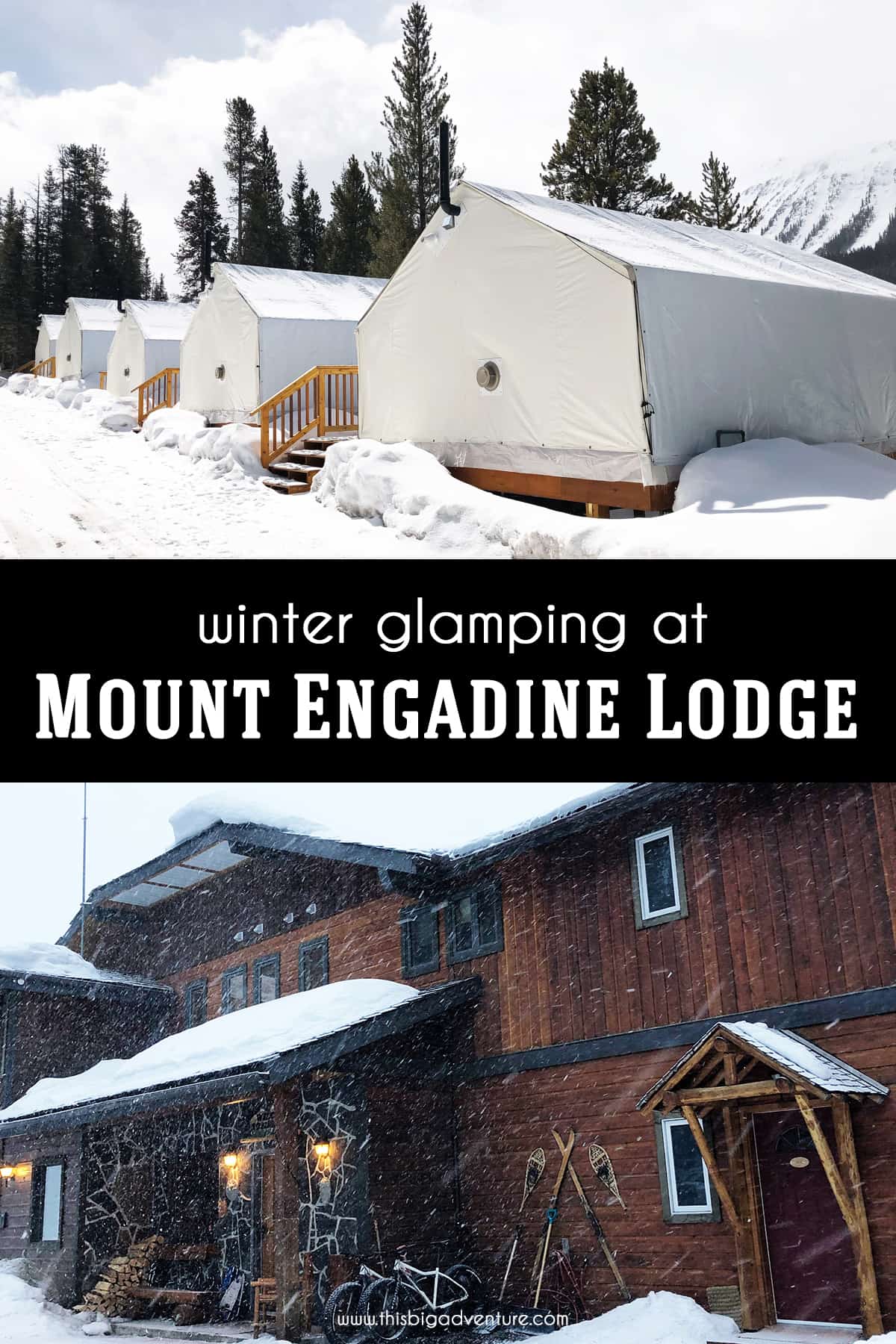 Check this out too!
If you love Kananaskis, you might enjoy some of our other posts about things to do in the area…camping, spas and more! CLICK HERE TO READ MORE