Visit and Picnic: Chinook Honey Farm
Located just south of Calgary, Chinook Honey Farm is a great place to visit with your family!  Take a tour and learn all about bees and honey farms, and stay for a picnic while you're there.  This is a great little adventure you can fit into a morning or afternoon.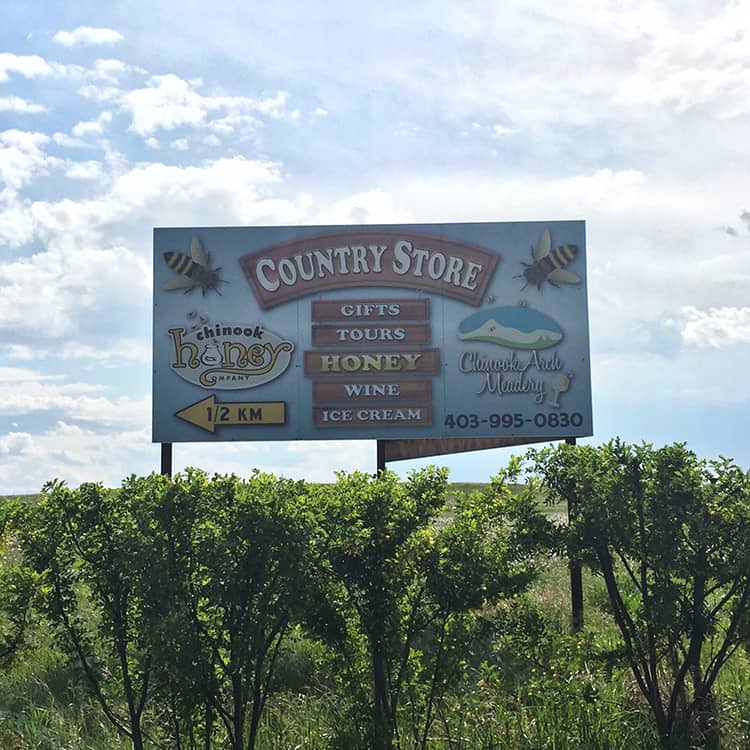 Last summer we had the opportunity to tour Chinook Honey.  We have always wanted to visit a bee farm, so we were really excited about our tour.  Chinook Honey is a family farm run by the husband and wife team, Art & Cherie Andrews.  Beekeeping started out as a hobby for them, but their apiary quickly expanded, and now includes a learning centre, retail store, ice cream, and a mead tasting room.  You can read more of their story here.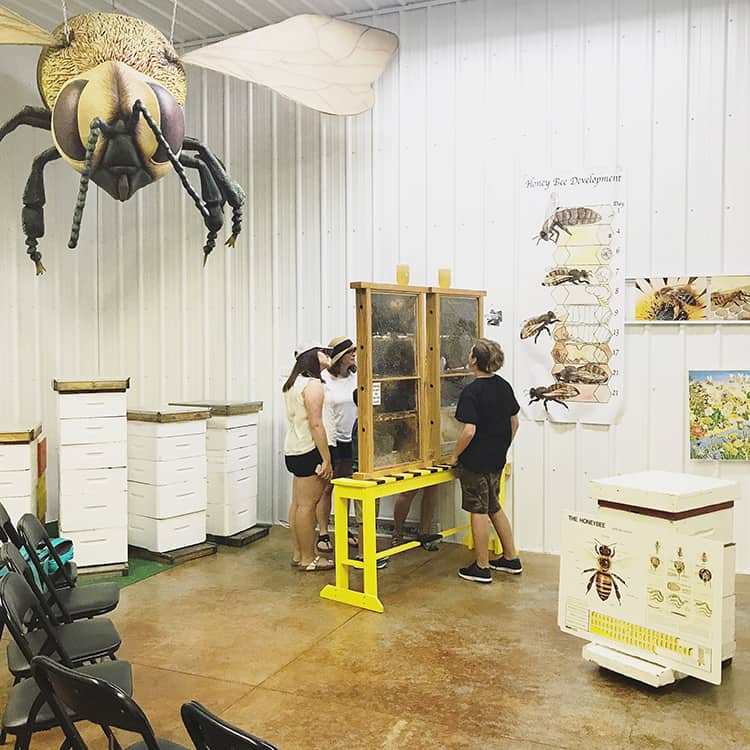 The Learning Centre at Chinook Honey
At the beginning of our visit, we headed into the learning centre to learn all about bees, and beekeeping.  This part of the tour is so great…we learned so much about bees that we didn't know.  In the learning centre, you will also have the opportunity to spy on the bees in the glass demonstration hives.  The kids were so fascinated by this!
Fun facts!
Did you know the Queen can lay up to 2,000 eggs per day?
Each hive can host up to 60,000 bees!
Worker bees average lifespan is 40 days.  And the Queen can live up to 5 years!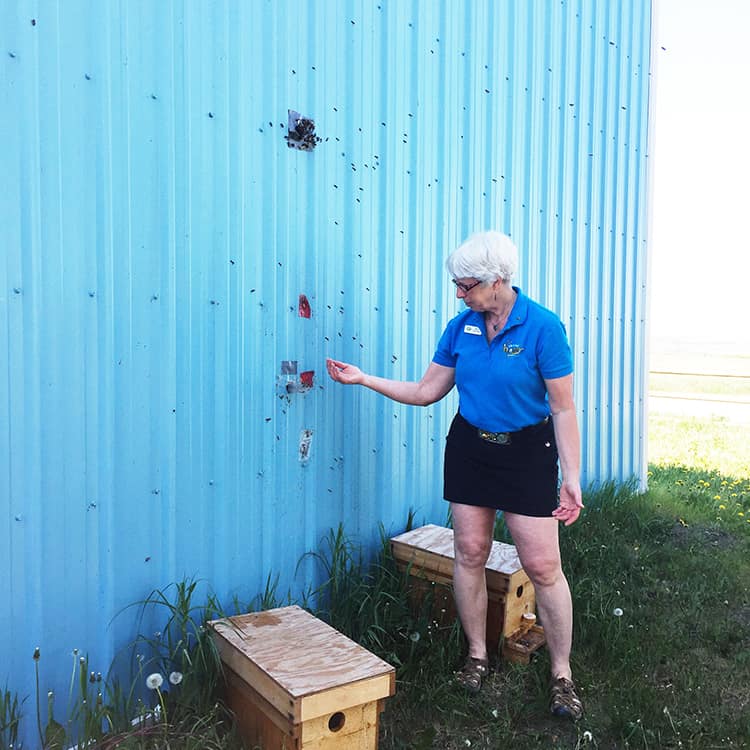 This is Cherie who is showing us how gentle the bees are if you don't bother them!  This is a really neat set up they have here…if you look at the picture above of us in the learning centre at the observation hive, you can see there are tubes going out of the hive to the outside of the building. The bees in these demonstration hives can move freely from their hive to the outdoors.  Where Cherie is standing in this picture above, is where the bees can come and go.  As long as the Queen is in the hive, the bees always come back.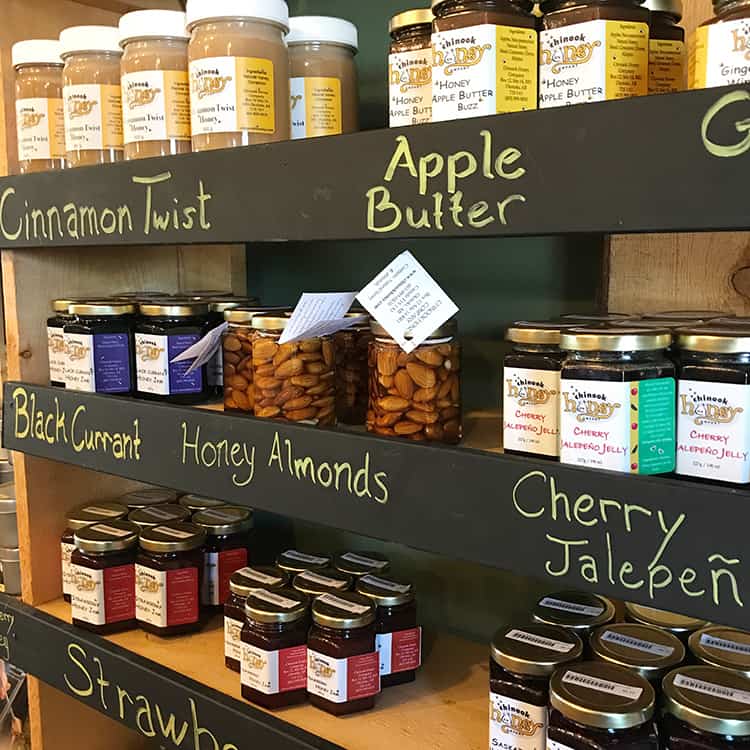 Chinook Honey Retail Space
When you're done touring the farm, head into the Chinook Honey retail space and taste test many different kinds of honey, honey comb, and mead, as well as jams and spreads made with their honey.  We bought quite a few different things to bring home with us.  The raw honeycomb, and orange blossom honey were the best!
The retail store also has many gift ideas, a mead tasting bar, and you can also buy ice cream here, which is perfect for hot summer prairie days!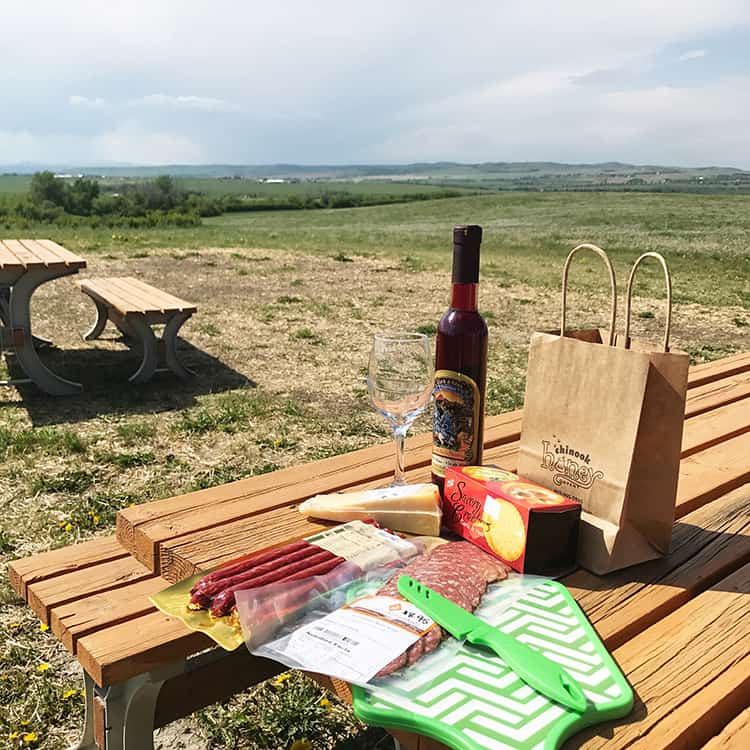 Have a Picnic at Chinook Honey Farm
One of the really nice things about visiting Chinook Honey, is that you can have a picnic there!  In the retail space they offer a nice selection of deli meats, cheeses, and crackers (they also provide the cutting board and glasses which is really helpful).  First we loaded up on Rhubarb Crumble Honey Ice Cream, then we bought a few deli things and sat out at their picnic tables to have a little snack.  This would be such a great thing to do on a weekend, if you're looking for somewhere fun to enjoy a picnic lunch!  You can also bring your own picnic lunch with you.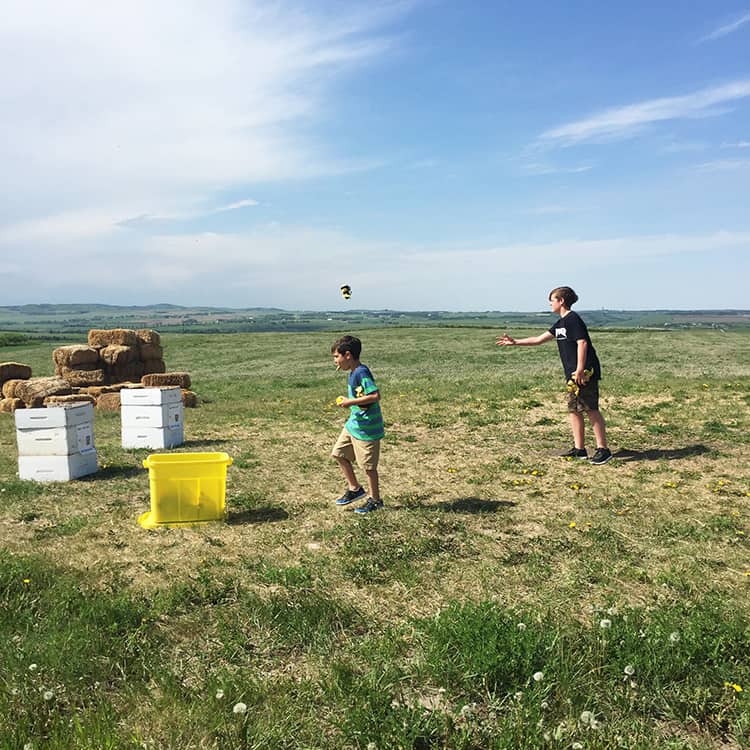 There's also a space for the kids to play while you're picnicking, which is great.
Chinook Honey Details:
The Straight Goods:
Chinook Honey was a great spot to spend a few hours.  You could easily spend about 2 to 3 hours here, which would include a picnic lunch.  This would be an ideal stop on a road trip into Southern Alberta.  And it's great to support local farmers in this way!
Things to do in the area around Chinook Honey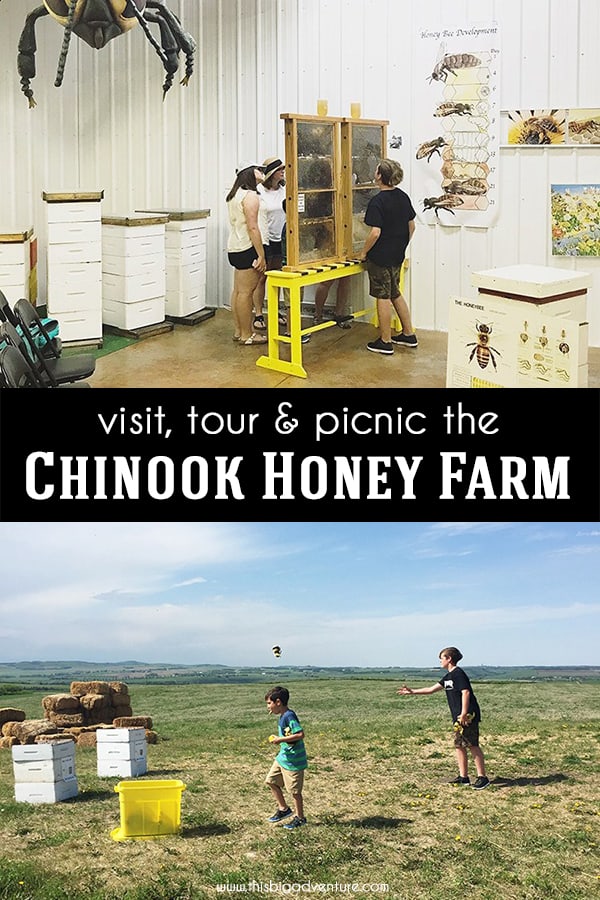 Disclosure:  This Big Adventure partnered with Tourism Calgary on our trip to Chinook Honey.  However, this post is a true documentation of our trip, in our own words, with our own pictures and opinions.  We just love to promote all the wonderful places our beautiful city and province has to offer!