Road Trip: An Adventure Filled Day Trip From Calgary!
Just about one hour outside the city limits of Calgary, there are some fun and fascinating places to visit!  Come with us and take a quick tour of Bar U Ranch, Chinook Honey and Aspen Crossing!
– – – – – –
We've always been road trippers and day explorers.  There's just something so fun about being on a road trip and stopping to explore along the way.  The great thing about roadtripping is discovering interesting places, meeting new people and learning new things.  And we're lucky because there are so many things to do and see, all within an hours drive of Calgary.  In a short period of time you can take a hike, discover delicious places to lunch, tour a farm, then end the day with camping or glamping in any of the amazing campgrounds in the area.
Recently we had the opportunity through Tourism Calgary, to take a day trip from Calgary, into Southern Alberta.  In one day we packed in a lot of adventure!  We visited Bar U Ranch, toured Chinook Honey then ended the day with a glamping stay at Aspen Crossing.  It was a wonderful, adventure filled day and we can't wait to share it with you, in hopes that you will feel inspired to visit these great attractions that are close to Calgary!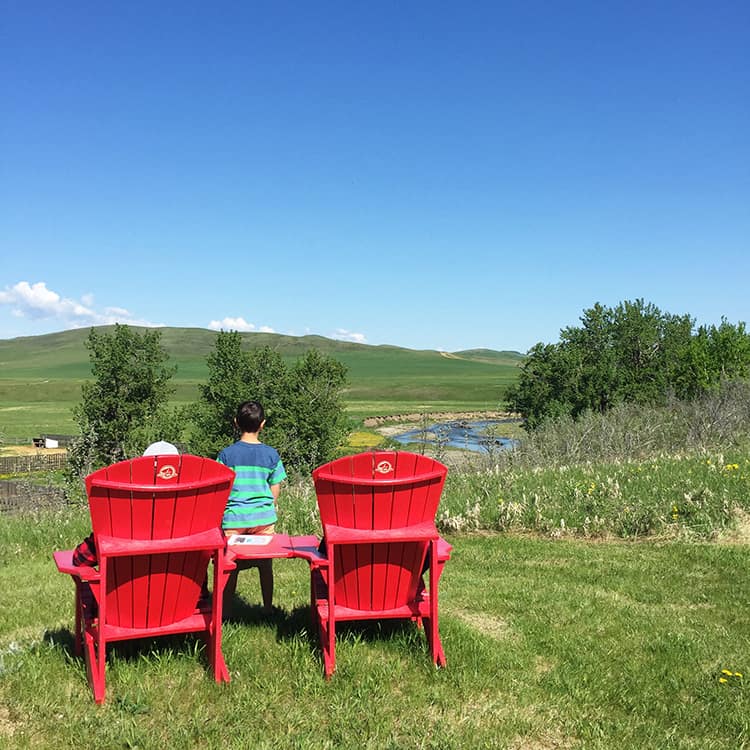 Fun Fact!  There is a set of Parks Canada #ShareTheChair red chairs at Bar U Ranch!  Have a seat, take a picture, and share on social media!
First stop, Bar U Ranch National Historic Site:
On a beautiful and sunny spring morning, we packed up our family and drove south about an hour to Bar U Ranch. I'm a sucker for our Canadian history (my kids practically grew up at Heritage Park in Calgary), so I was super excited about this stop!  As well our 7 year old is a budding history buff, so he was especially interested in Bar U Ranch.  On the tour he said "Wow!  It's so neat to know we're standing in the same places as people from a long time ago!"  Love that.
As you drive up to Bar U Ranch, you are greeted by the largest cowboy sign you'll probably ever see…so of course I had to jump out of the truck to snap a picture!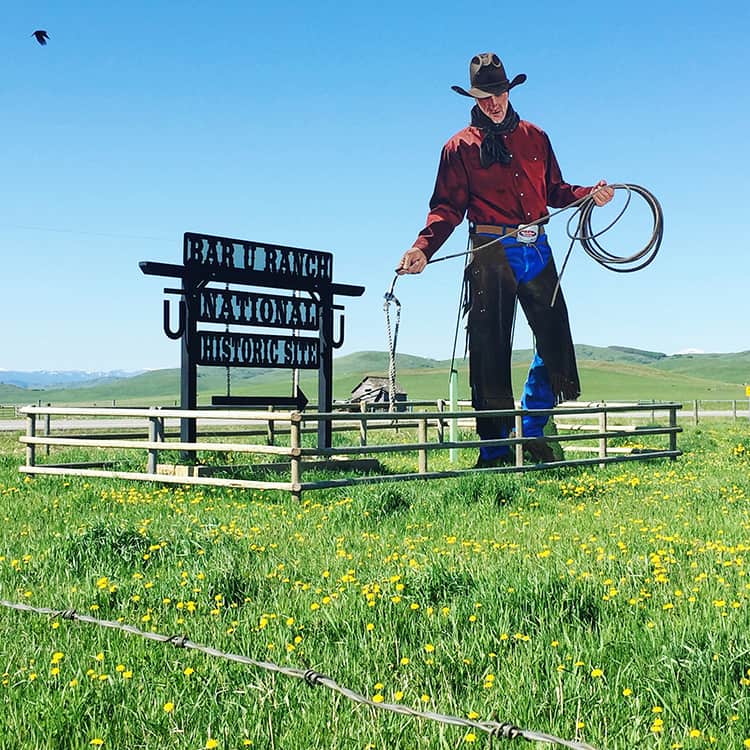 So a little history about Bar U Ranch.  Bar U Ranch was created in 1882, initially as the Northwest Cattle Company.  At the time it was one of the first corporate ranches established in southern Alberta.  Now Bar U Ranch is a Parks Canada National Historic Site which commemorates the importance of ranching to Canada.  We were surprised to find out how important of a role Bar U Ranch played in the creation of ranching in Canada, and now we feel very thankful that it is preserved.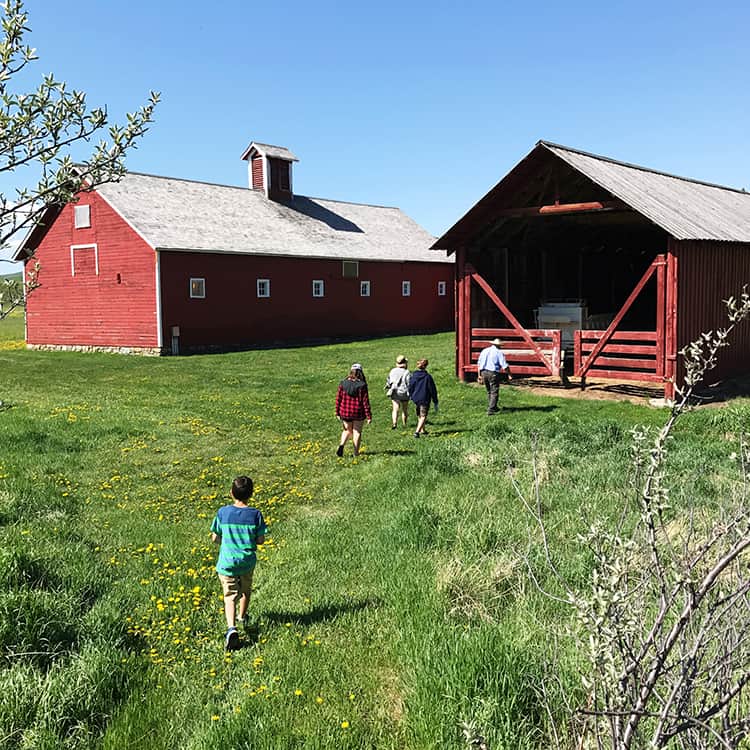 Once we arrived at Bar U Ranch, we met up with our tour guide for the day, Bruce.  As soon as we met Bruce, we knew we were in for a fantastic and information filled day.  He is very passionate and proud of Bar U Ranch…his family has been a part of the ranch and area for many years.  We felt very honoured to be on this tour with him.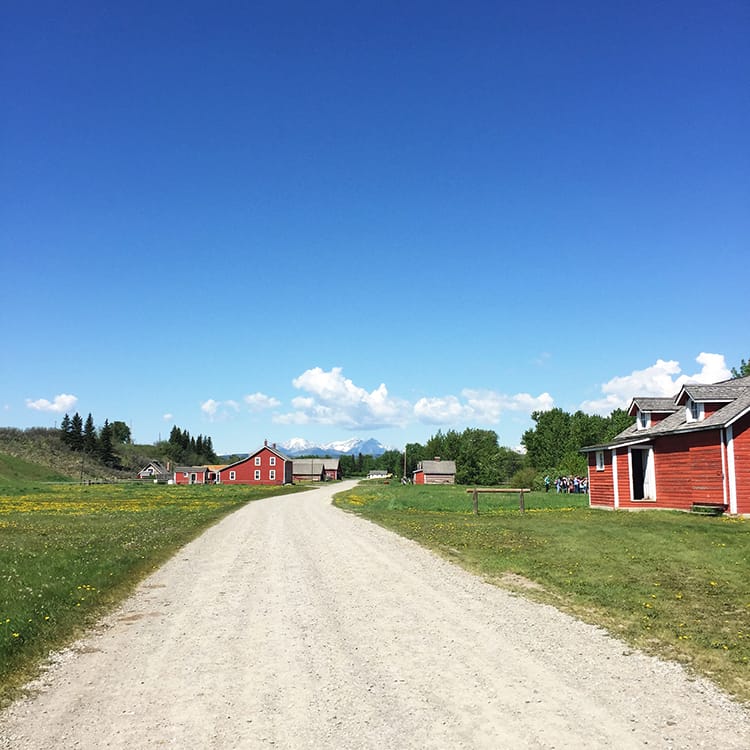 We started our tour overlooking the ranch which is nestled in a little valley.  From here you can see the largest collections of original buildings in Canada, all waiting for you to explore!  We stopped in at almost all the buildings including the ranch office, the Percheron Foaling Barn, equipment sheds, the blacksmith shop, harness repair shop, Saddlehorse barn, cookhouse, and root cellar.  My kids were especially fascinated by the root cellar and ice house.  Ok, maybe it was me that was fascinated by the ice house…but I could hardly believe that at one time the ranchers would cut out ice blocks from the river to place in the ice house, and the ice would last all summer!  Amazing.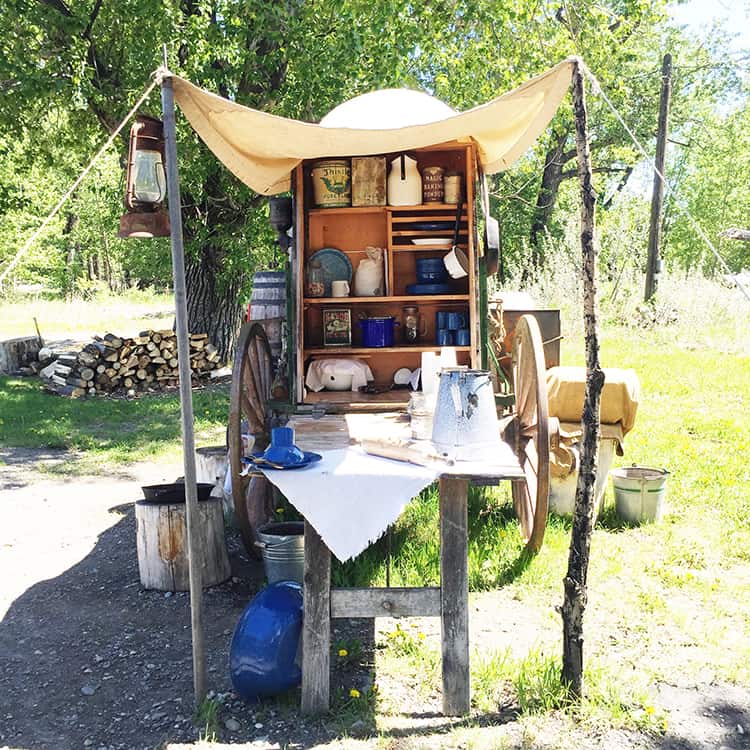 Then we headed over to the Round-Up camp to enjoy a cup of coffee made over an open fire.  And while we were there we had the opportunity to listen as a park interpreter shared legends and more stories about the history of Bar U Ranch.  It was like campfire storytelling…relaxed and really fun.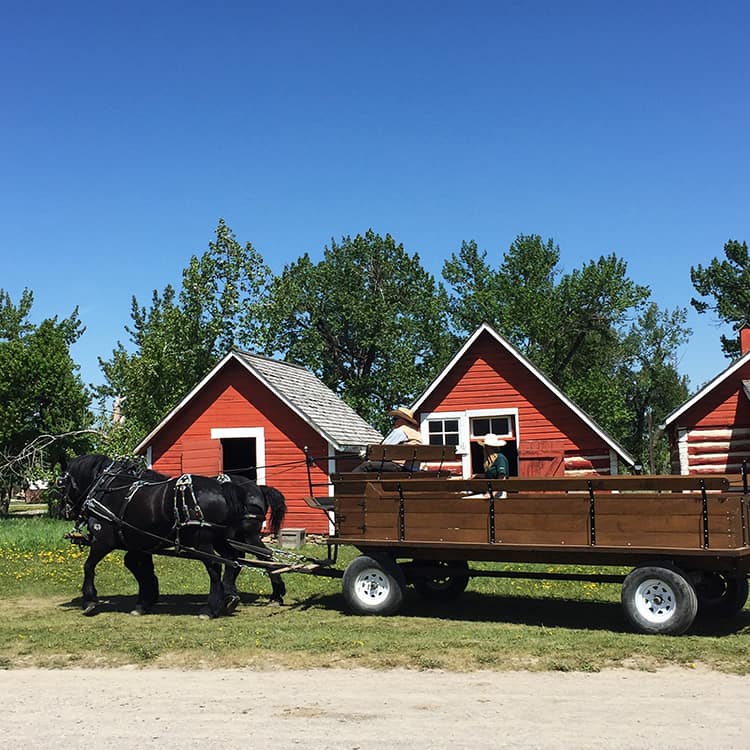 There are so many things to do here, so you could easily spend an entire day.  As well as the site tour, and round up camp, you can visit the learning centre, learn how to rope, and also take a horse drawn carriage ride (the wagons are pulled by Percheron horses which made the Bar U Ranch world famous).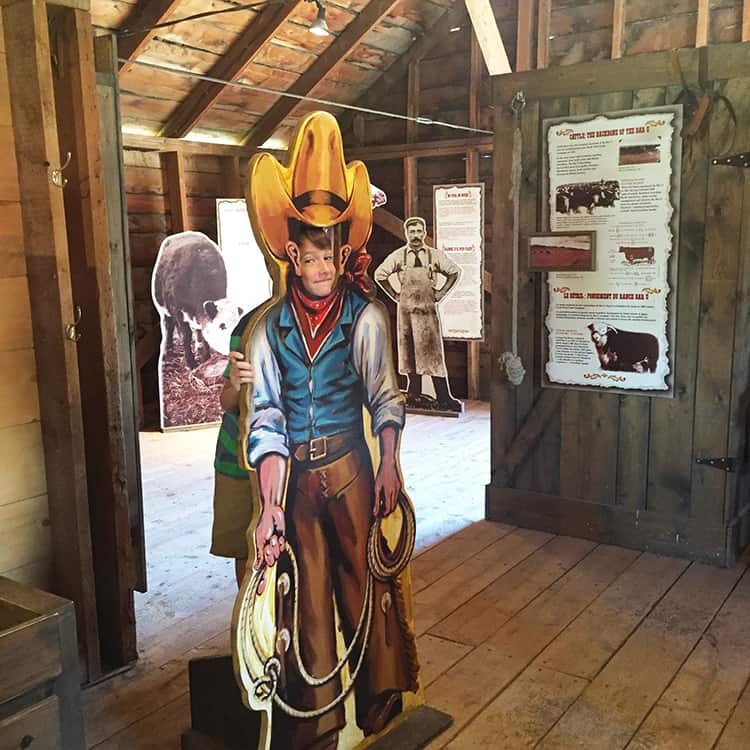 After our very informative tour, we had lunch at the Bar U Ranch Cafe, where we enjoyed ranch-style food like roast beef sandwiches, cabbage and bacon soup, burgers, beef on a bun and chili.  It was delicious!  We highly recommend the beef on a bun!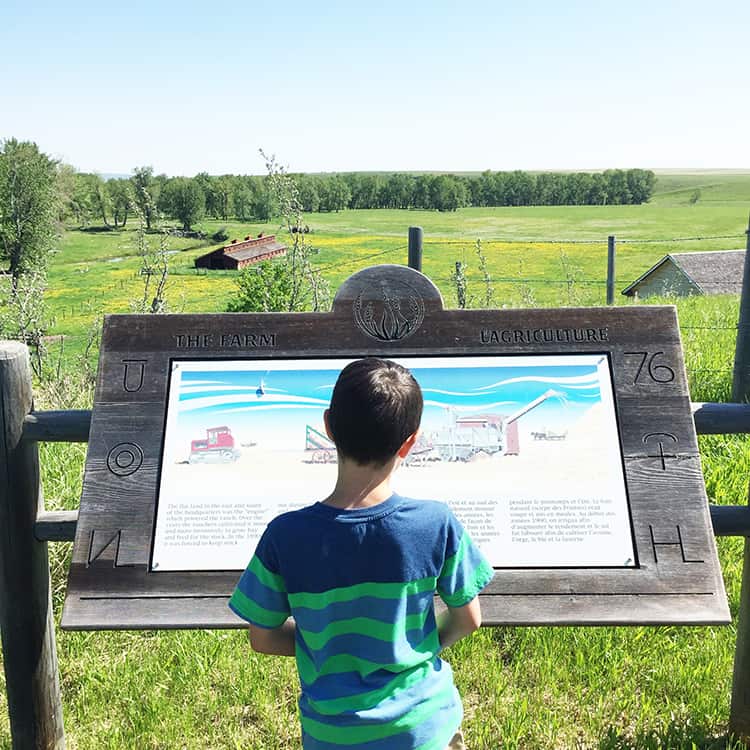 A great thing to note is that Bar U Ranch has many different activities planned throughout the year. There is a chuckwagon cook-off and pack horse race for Father's Day, Canada Day celebrations, concerts, trail rides, rodeos, and a Harvest weekend in the fall!  See more details here.
We really, really enjoyed Bar U Ranch, and will definitely be going again…I feel like we still had so much more to see.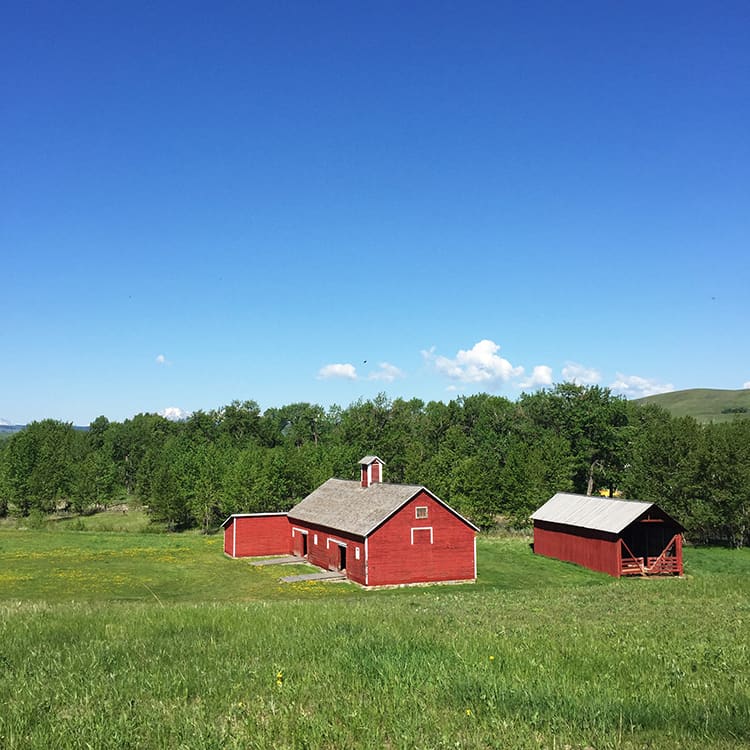 Next stop:  Chinook Honey
After our time at Bar U Ranch we drove to our next stop, Chinook Honey.  We have always wanted to visit a bee farm, so we were really excited about this stop!  Chinook Honey is a family farm run by the husband and wife team, Art & Cherie Andrews.  Beekeeping started out as a hobby for them, but their apiary quickly expanded, and now includes a learning centre, retail store, ice cream, and a mead tasting room.  You can read more of their story here.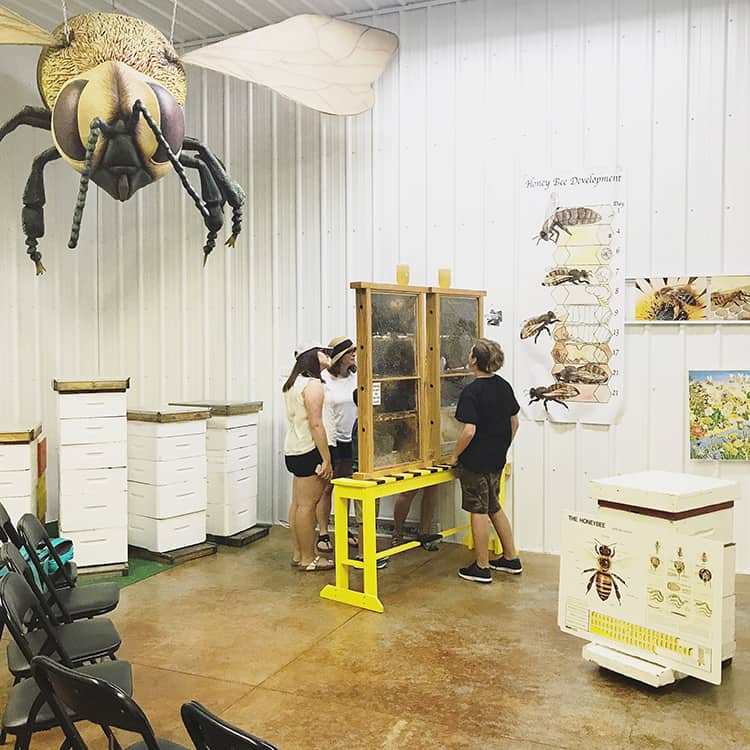 When we arrived at Chinook Honey we met with Cherie, who took us into the learning centre to learn about bees.  We really enjoyed this part of our time here, and learned so much about bees that we didn't know.  Bees are such fascinating and intricate creatures with a very complex society.  We were truly blown away by them.  The most interesting part was being able to spy on the bees in the glass hives.  We were able to see the Queen bee, larvae, bee dances and bees busy cleaning the hive and attending to the Queen…so amazing.
Fun facts!
Did you know the Queen can lay up to 2,000 eggs per day?
Each hive can host up to 60,000 bees!
Worker bees average lifespan is 40 days.  And the Queen can live up to 5 years!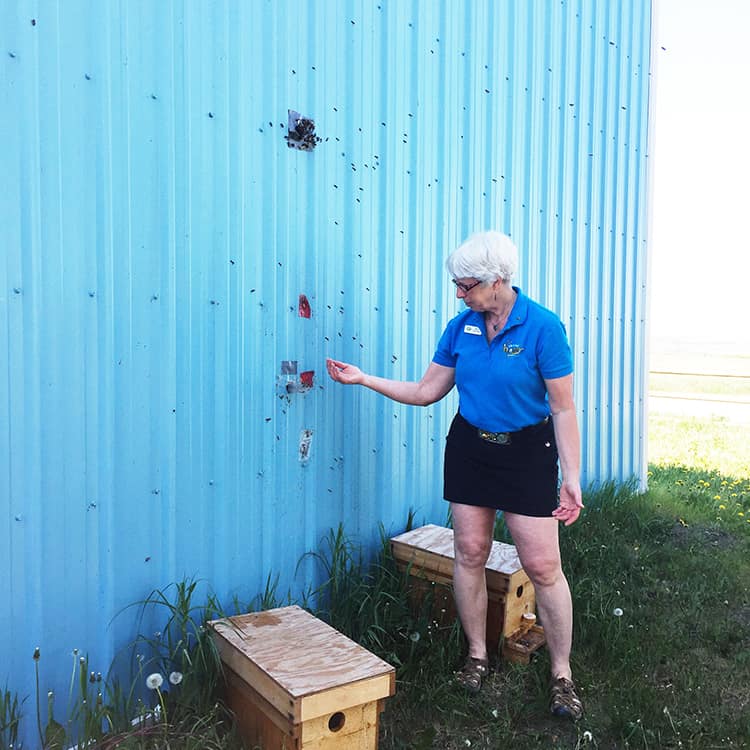 Here is Cherie showing us how gentle the bees are if you don't bother them!  This is actually a pretty neat set up they have here…if you look at the picture above of us in the learning centre at the observation hive, you can see there are tubes going out of the hive to the outside of the building.  The bees in these demonstration hives can move freely from their hive to the outdoors.  Where Cherie is standing in this picture above, is where the bees can come and go.  As long as the Queen is in the hive, the bees always come back.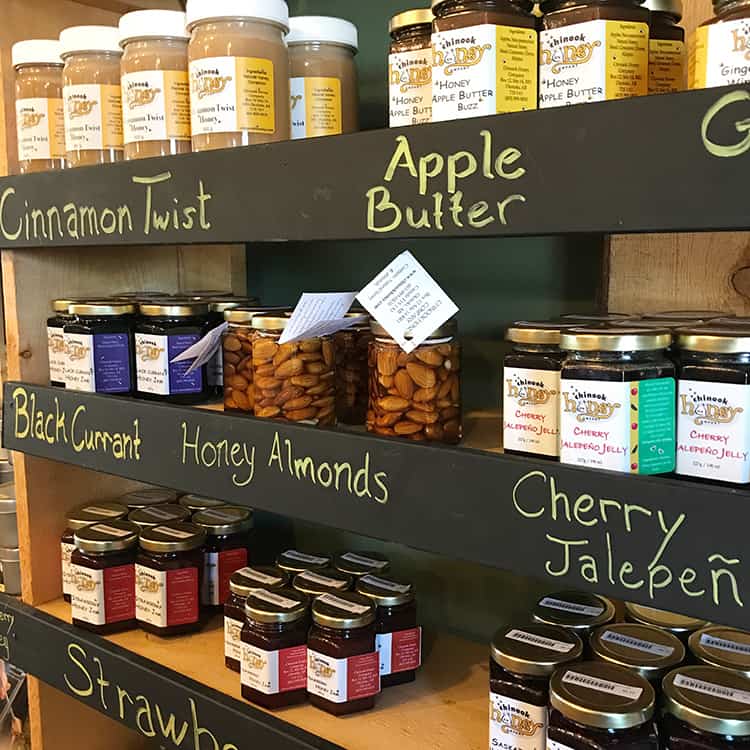 After our learning demo, we walked through the retail space and taste tested many different kinds of honey, honey comb, and mead, as well as jams and spreads made with their honey.  We bought quite a few different things to bring home with us!  The raw honeycomb, and orange blossom honey were the best!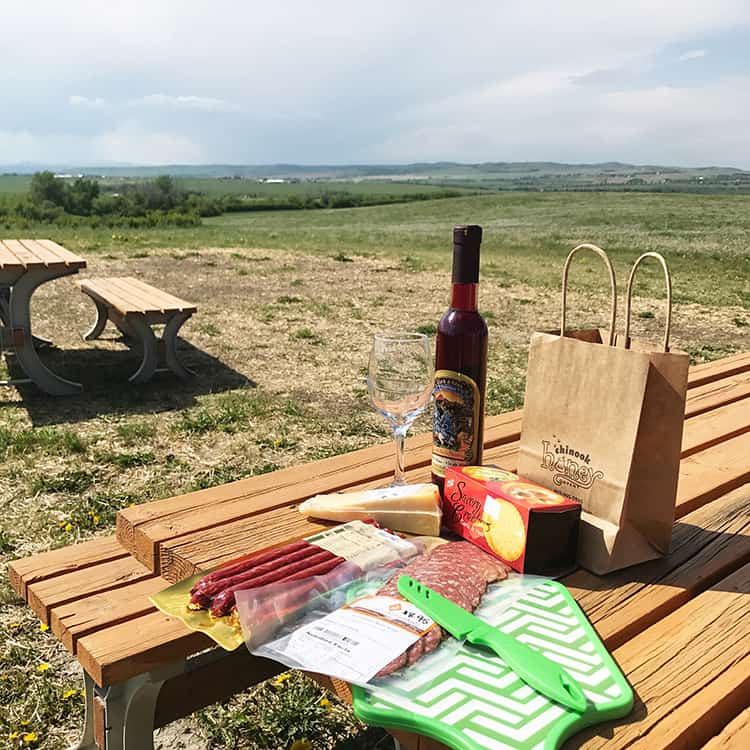 One of the really nice things about visiting Chinook Honey, is that you can have a picnic there!  In the retail space they offer a nice selection of deli meats, cheeses, and crackers (they also provide the cutting board and glasses which is really helpful).  First we loaded up on Rhubarb Crumble Honey Ice Cream, then we bought a few deli things and sat out at their picnic tables to have a little snack.  This would be such a great thing to do on a weekend, if you're looking for somewhere fun to enjoy a picnic lunch!  There's also a space for the kids to play which is great.  Chinook Honey was a great spot!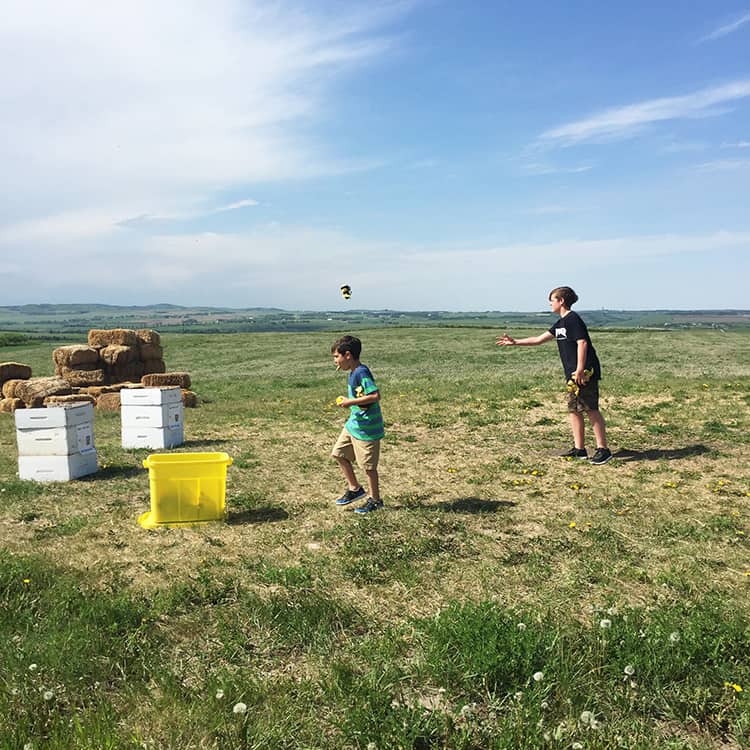 The kids playing a little bean bag toss while we stopped for our picnic!
Glamping at Aspen Crossing:
After our very busy, action-packed day, we headed to Aspen Crossing for the night.  We have camped in a tent at Aspen Crossing once before, but this time we got to glamp in one of their Caboose Cabins.  Camping in a caboose has been on our Alberta Travel Bucket List for quite some time now, so this was a super exciting experience for us!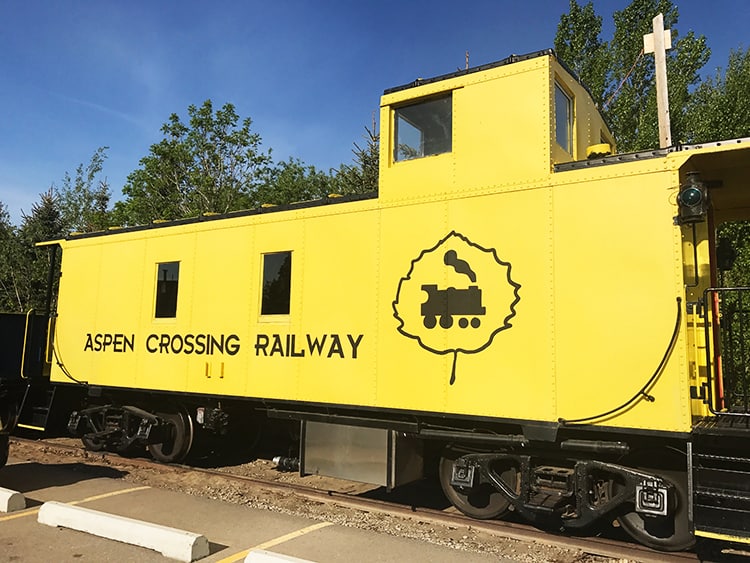 Aspen Crossing is located just southeast of Calgary, about 1 km west of ​Mossleigh, AB on Highway #24. It's less than an hours drive and definitely a must-visit place!  There is a campground, greenhouse, gift store, restaurant, fishing pond, caboose cabins, as well as different events throughout the year.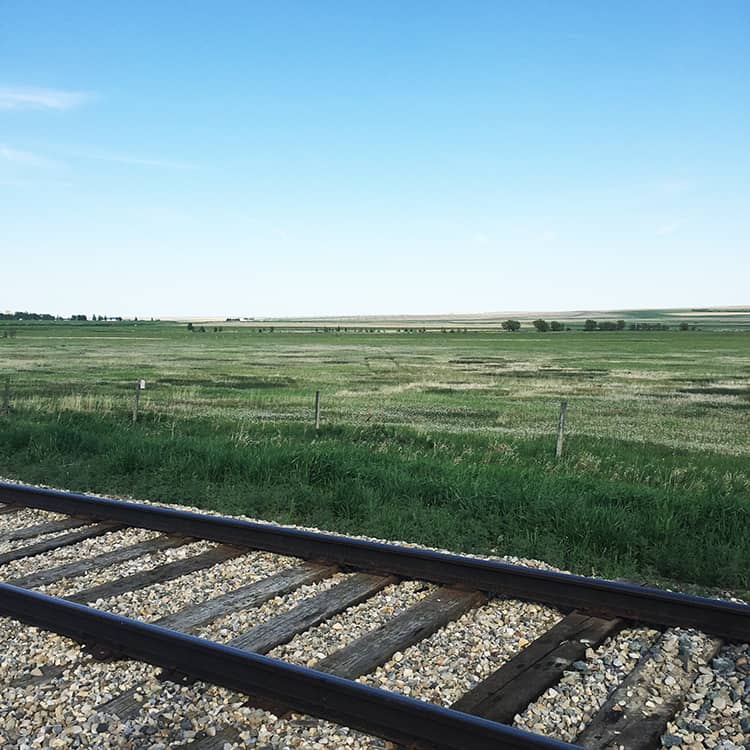 One of the things we love most about Aspen Crossing is the landscape.  The prairie is a beautiful and magical place, which makes it one of our most favourite places to camp.  I mean, just look at this view…stunning!  The campground itself though is in a stand of trees, so the sites are nice and private.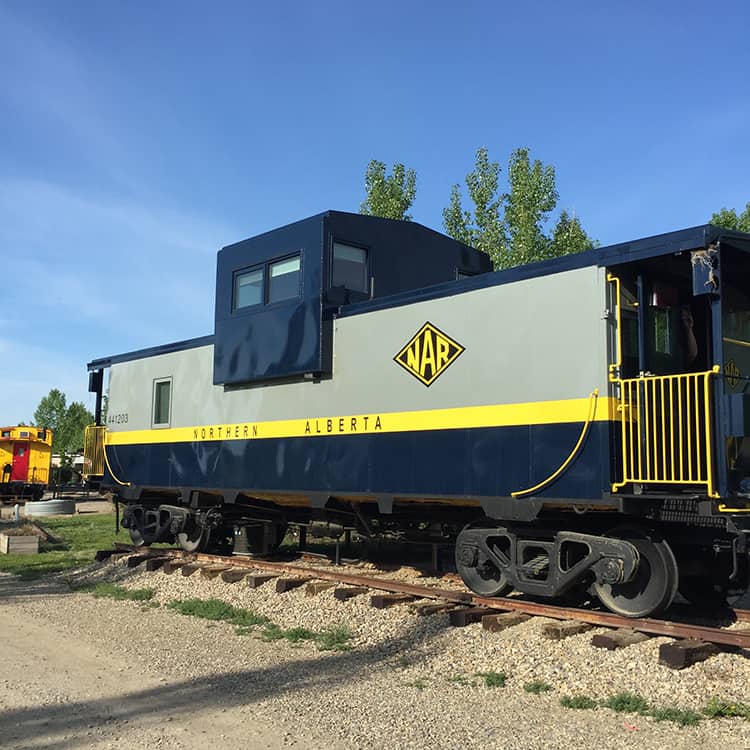 But this trip we weren't tenting, we were glamping in the Northern Alberta Railway Caboose Cabin.  When the kids saw this caboose they were beyond excited!  I mean, it's a kids dream to have a true train car experience like this!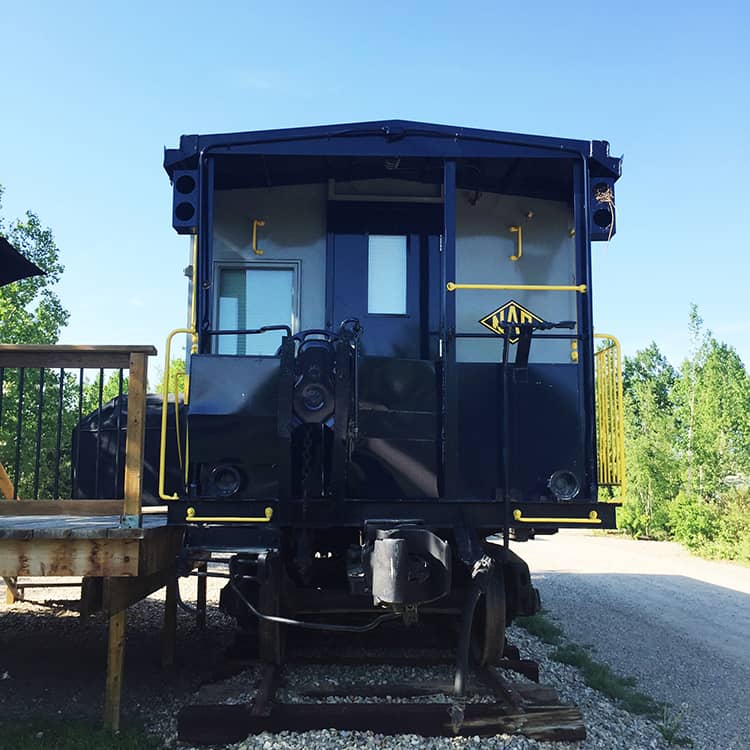 Not only are they amazing to look at, but the caboose cabins are true comfort while camping!  Each caboose is outfitted with all the modern amenities:  TV, microwave, flush toilet, shower…basically all the luxury of a modern hotel, but in a campground.  True glamping!​  We really, really loved having the bathroom right in the caboose.  If we could have one thing every time while camping, it would be a proper bathroom.  Ok, maybe a great bed too…like how about a king sized bed?!  Yes. Please.  What a nice surprise this was.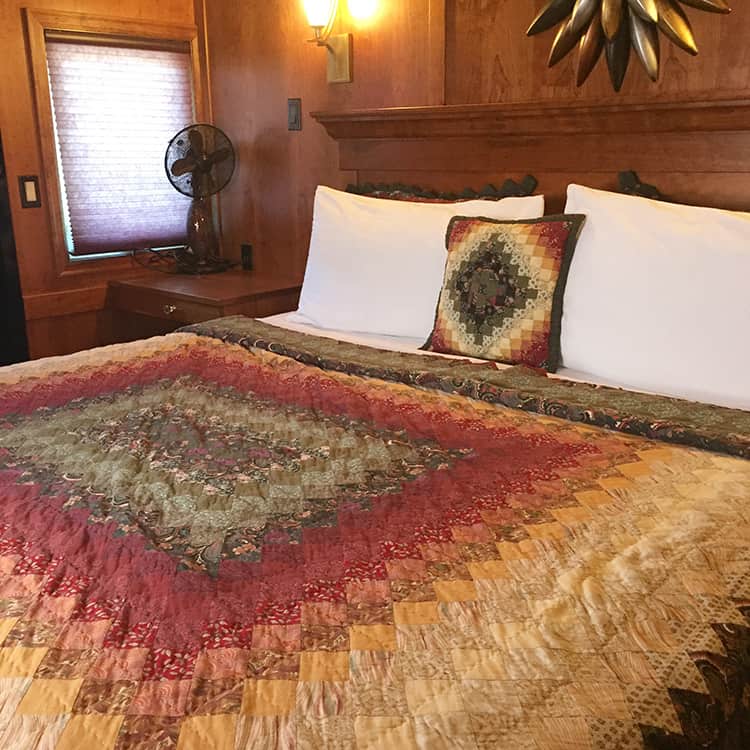 The Northern Alberta Railway Caboose Cabin sleeps up to 6 people, so it was a perfect fit for our family of 5.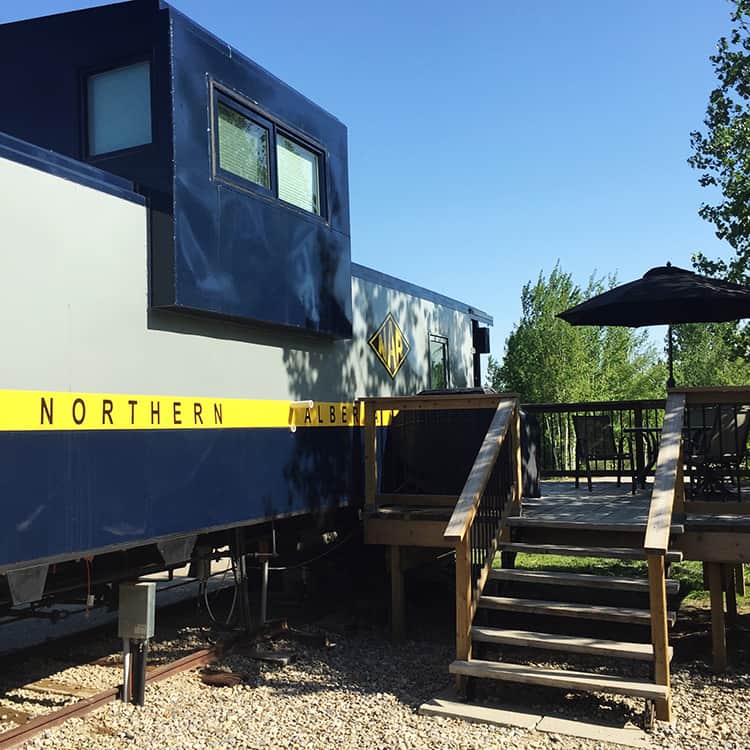 We also had a private deck area, as well as a fire pit, which was really nice.  So you could plan to BBQ right here on the deck during your stay.  Steaks anyone?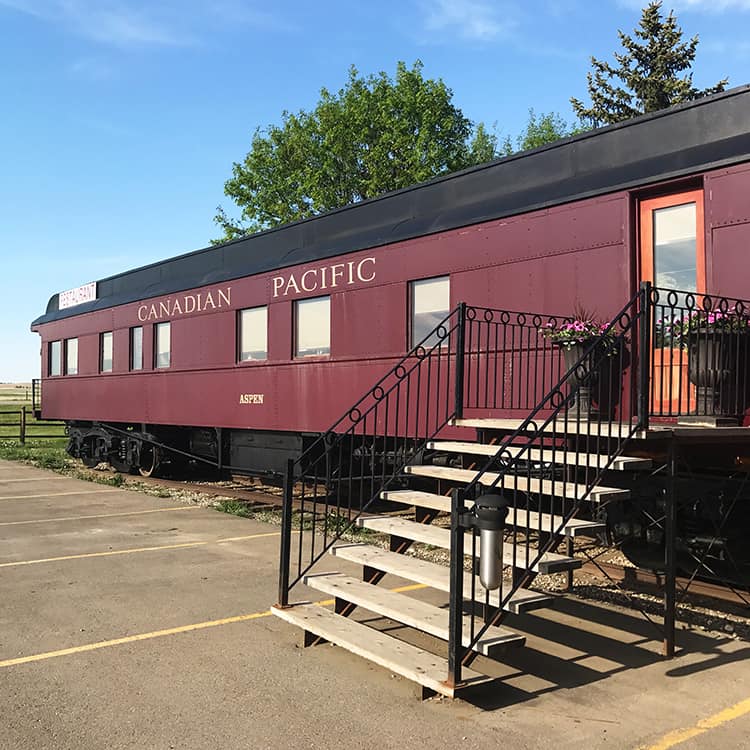 But on this trip we enjoyed a delicious dinner in the 1887 Diefenbaker Dining Car Restaurant, located right at Aspen Crossing.  This traditional train car was once the private business car for former Prime Minister John Diefenbaker!  What an interesting setting to have dinner in!  It was nice and close to the campground too, so we were able to walk there.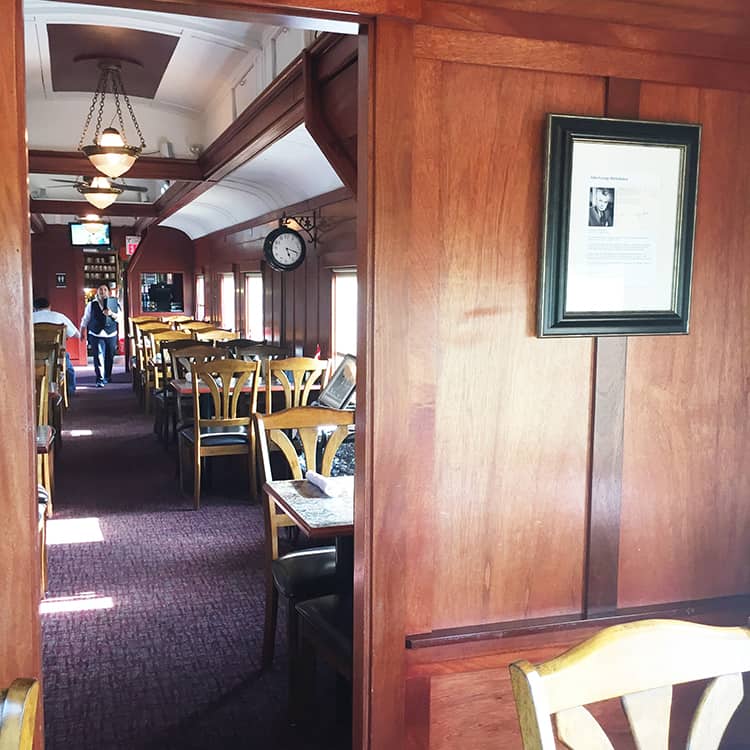 So neat!  It felt like we were taking a train ride across the prairies while enjoying dinner.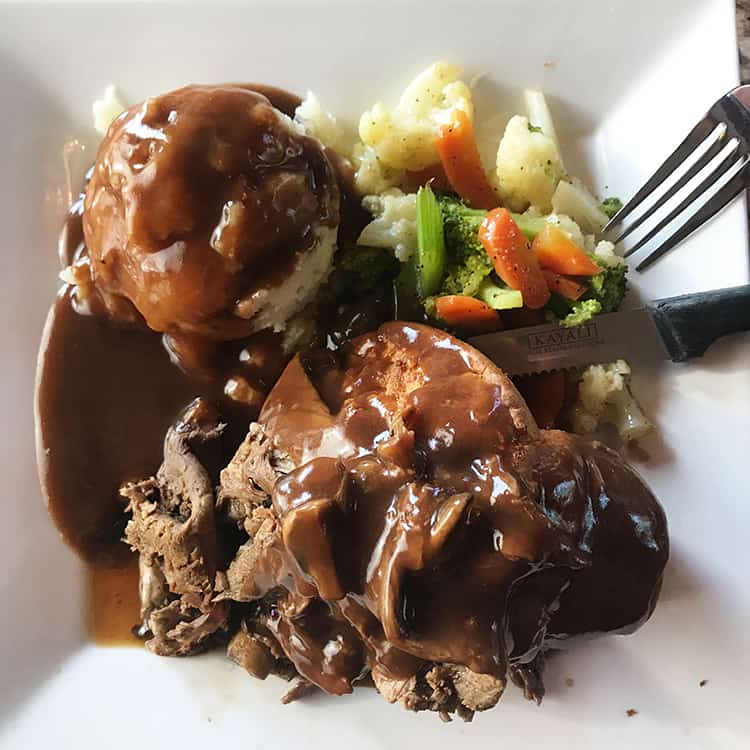 Speaking of dinner, we ordered the Beef Filled Yorkshire Puddings and they were delicious! The kids had fettuccine alfredo and really enjoyed that as well.  We left happy and stuffed.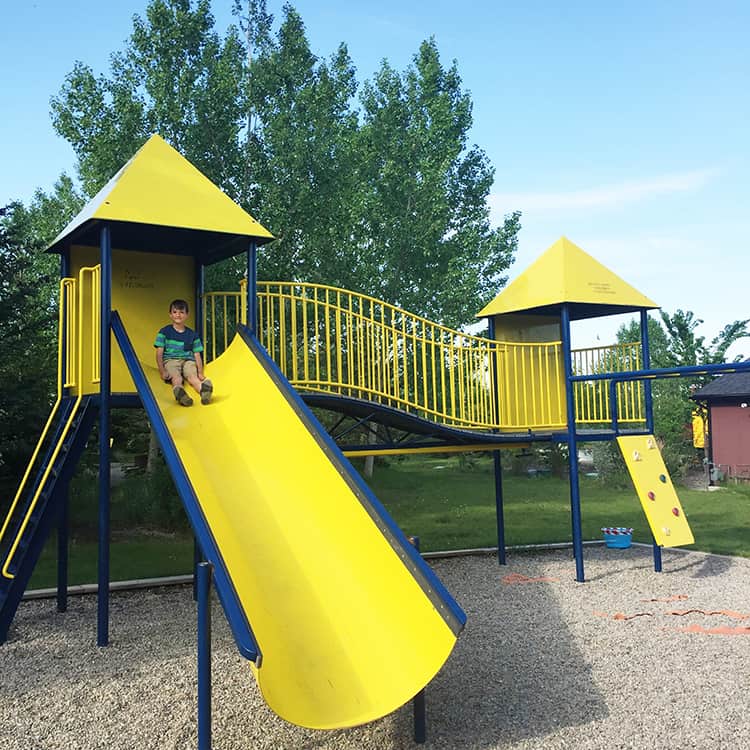 After dinner we hit the park so the kids could burn off some energy.  Then we sat around the campfire to make s'mores for dessert, and spent the night stargazing, before we headed off to bed in our comfy caboose cabin!  What a fantastic evening!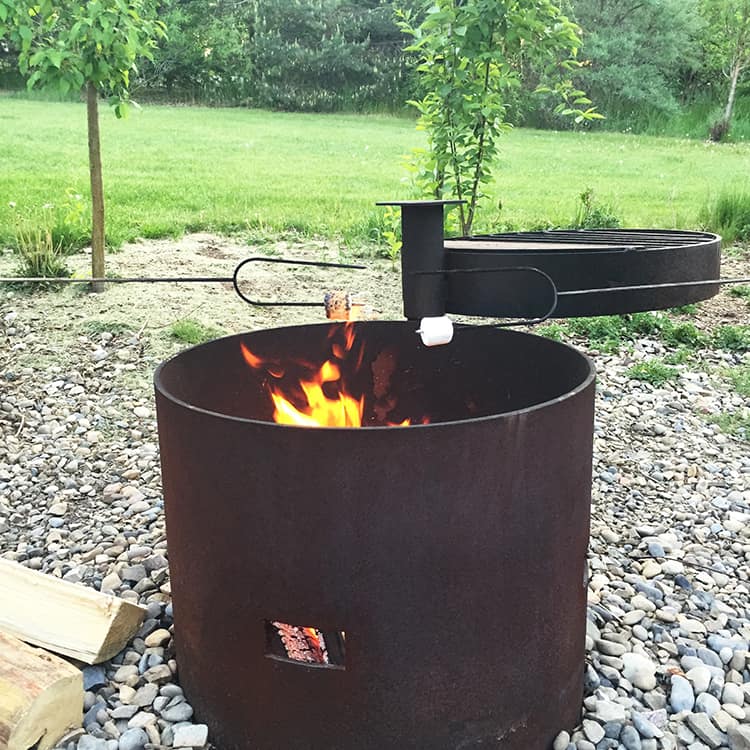 What an amazing day we had!  The great thing about a trip like this is how much adventure you can pack into one day, and still be so close to Calgary.  Or if you wanted, this trip could easily be spread out over a weekend.  Either way, it was such a fun time!
If you would like to visit Calgary and surrounding areas, visit Tourism Calgary at visitcalgary.com, and follow them on Twitter, Facebook and Instagram!  They share a tonne of ideas for things to do, places to see, things to eat and places to stay!

Disclosure:  This Big Adventure partnered with Tourism Calgary on this road trip!  This post is a true documentation of our trip, in our own words, with our own pictures and opinions.  We love to promote all the wonderful places our beautiful city and province has to offer!