Snowshoeing at Ann & Sandy Cross Conservation Area
Add Snowshoeing at Ann & Sandy Cross Conservation Area to your list this winter! This beautiful Alberta conservation area has over 20 KM of trails to take.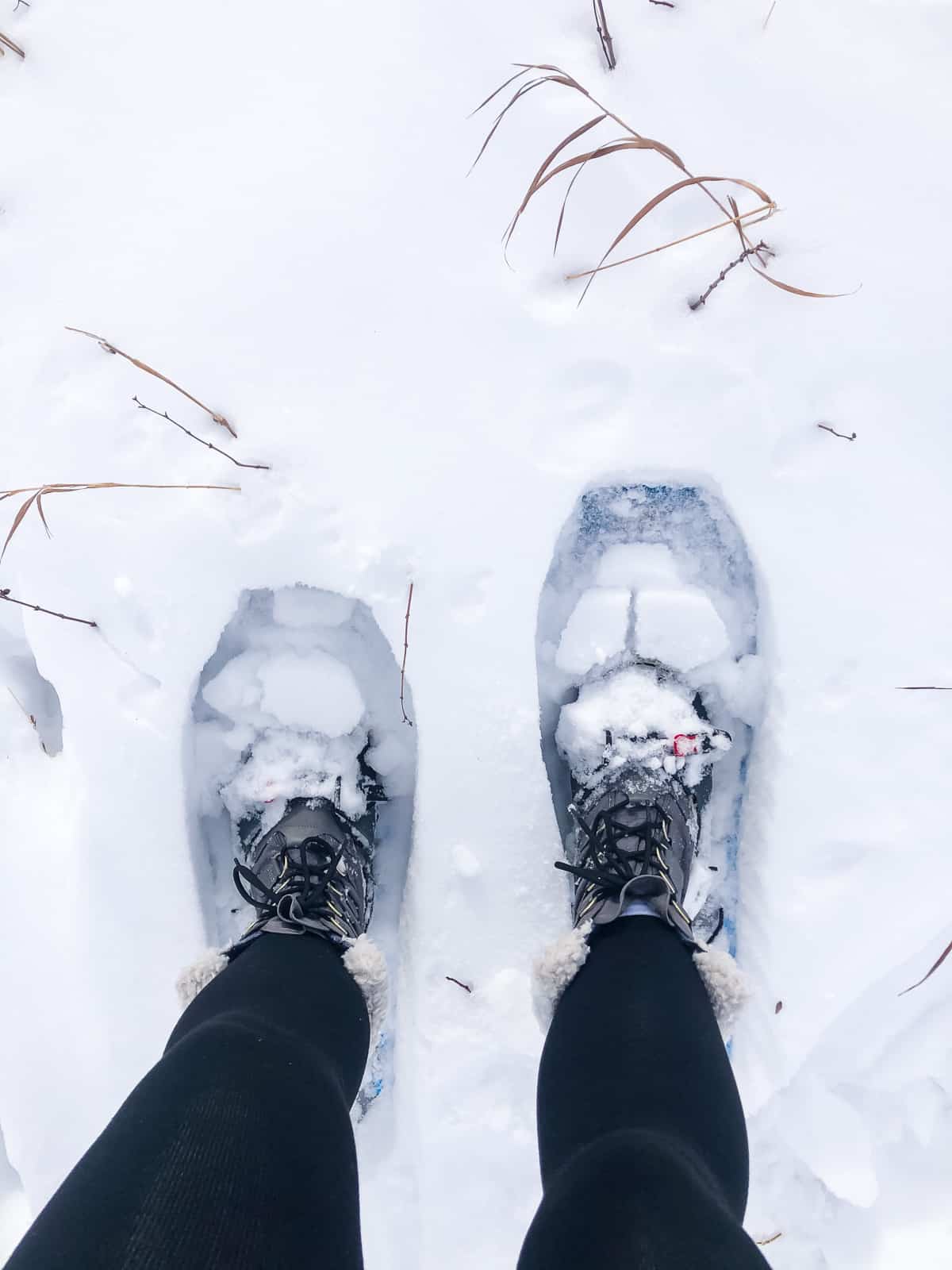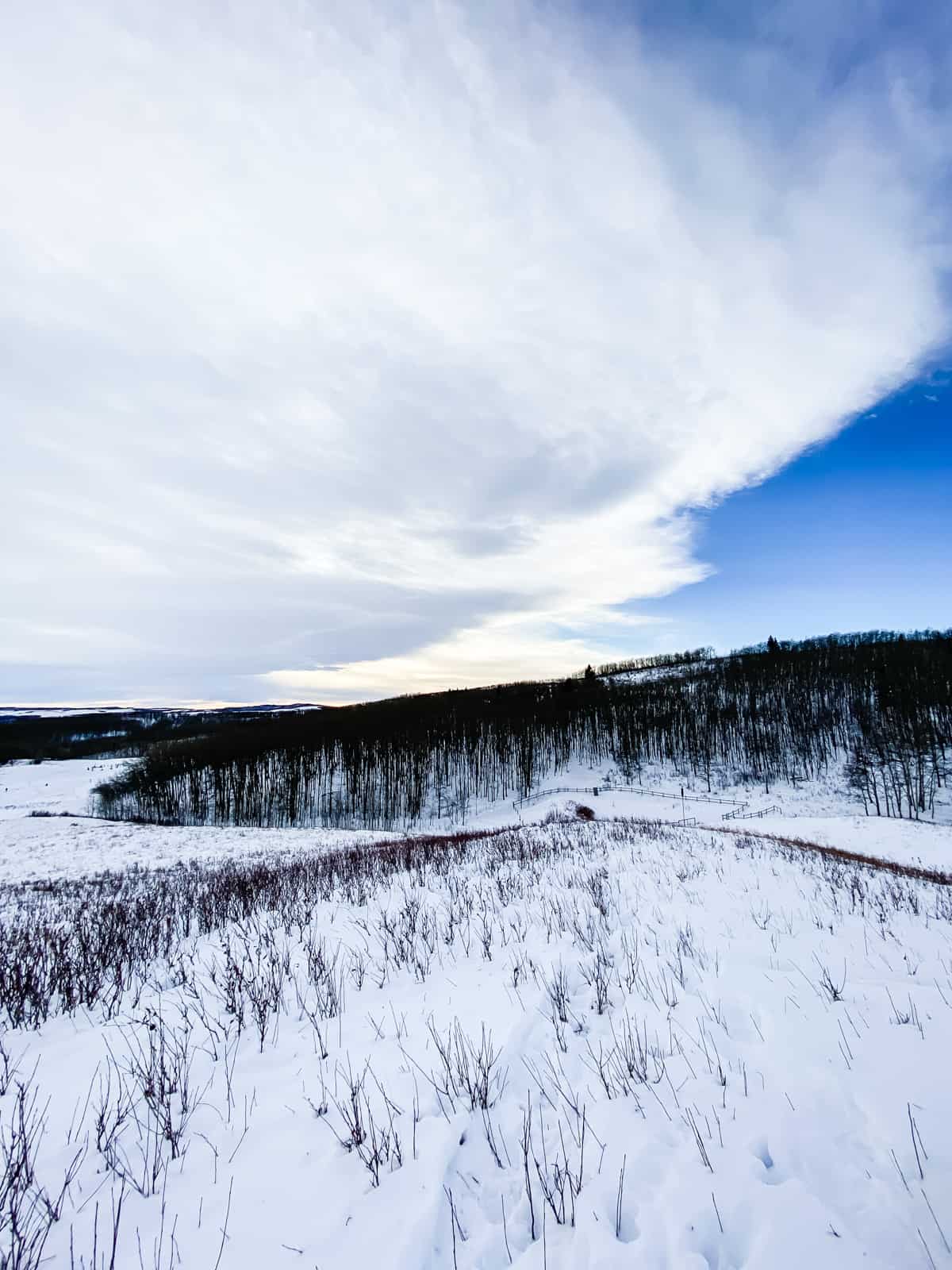 The Trails at ASCCA
Located just southwest of Calgary, the Ann & Sandy Cross Conservation Area (ASCCA) is made up of 4,800 acres of rolling foothills land. Here you will find over 22 KM of hiking trails, including 8.1 KM of self-guided interpretive trails.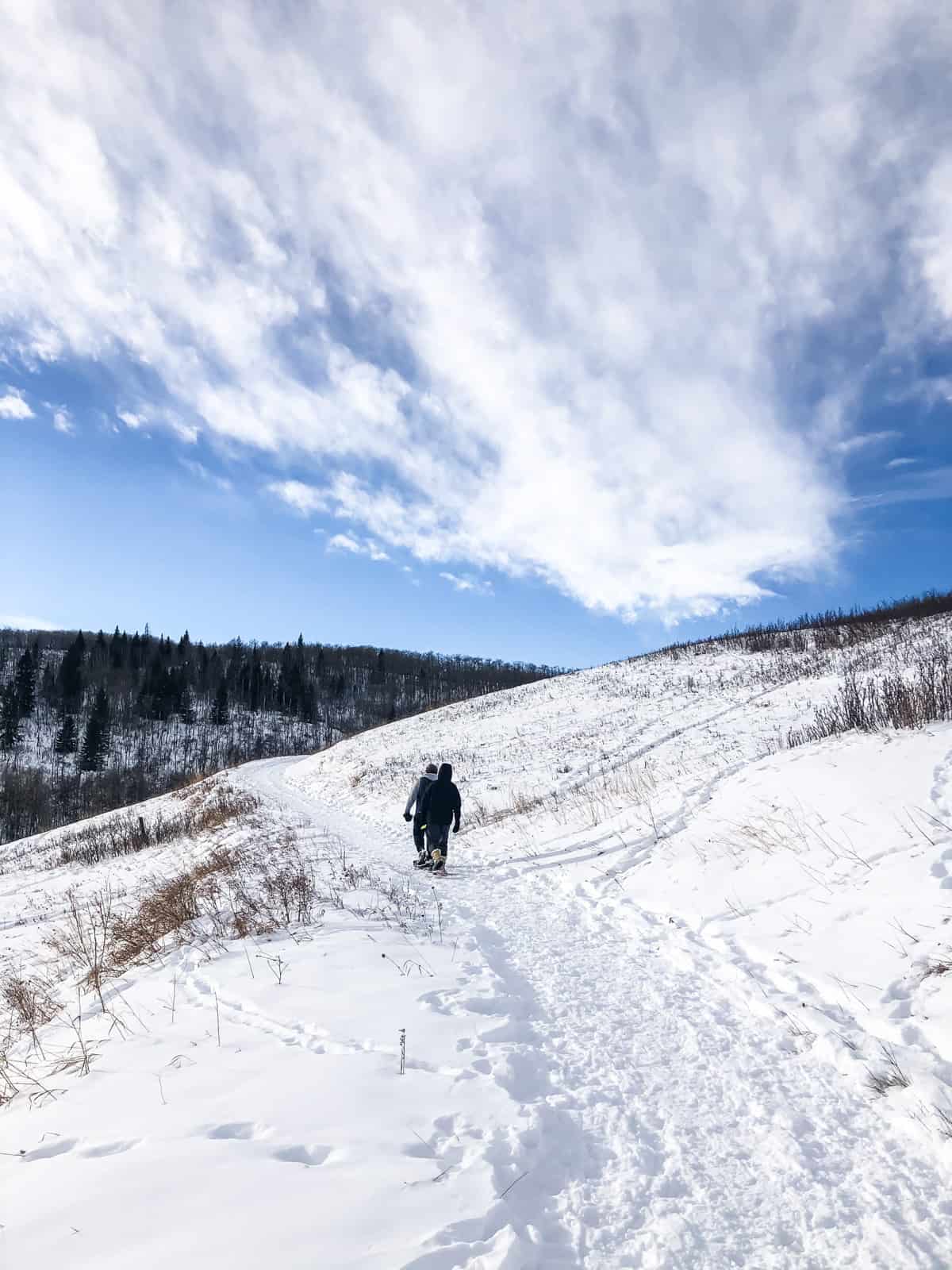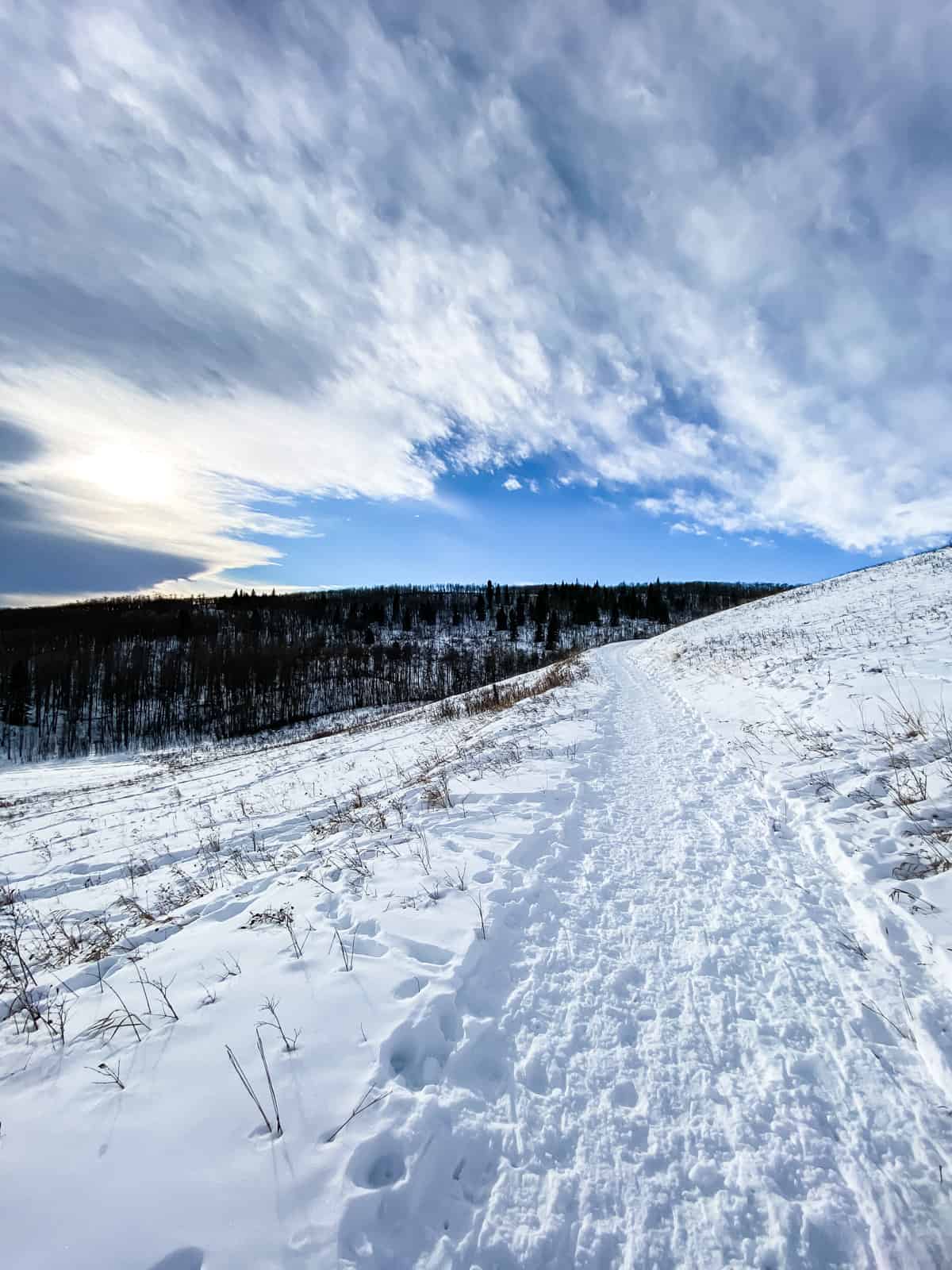 A Wonderful Place to Snowshoe
Ann & Sandy Cross Conservation Area is one of our most favourite places to visit around Calgary. We only live about 15 minutes from here so we visit it often. Each season is beautiful and SO worth visiting. It's especially wonderful in winter for hikers and snowshoers like us! With its wide open and mountain views, this place is magic.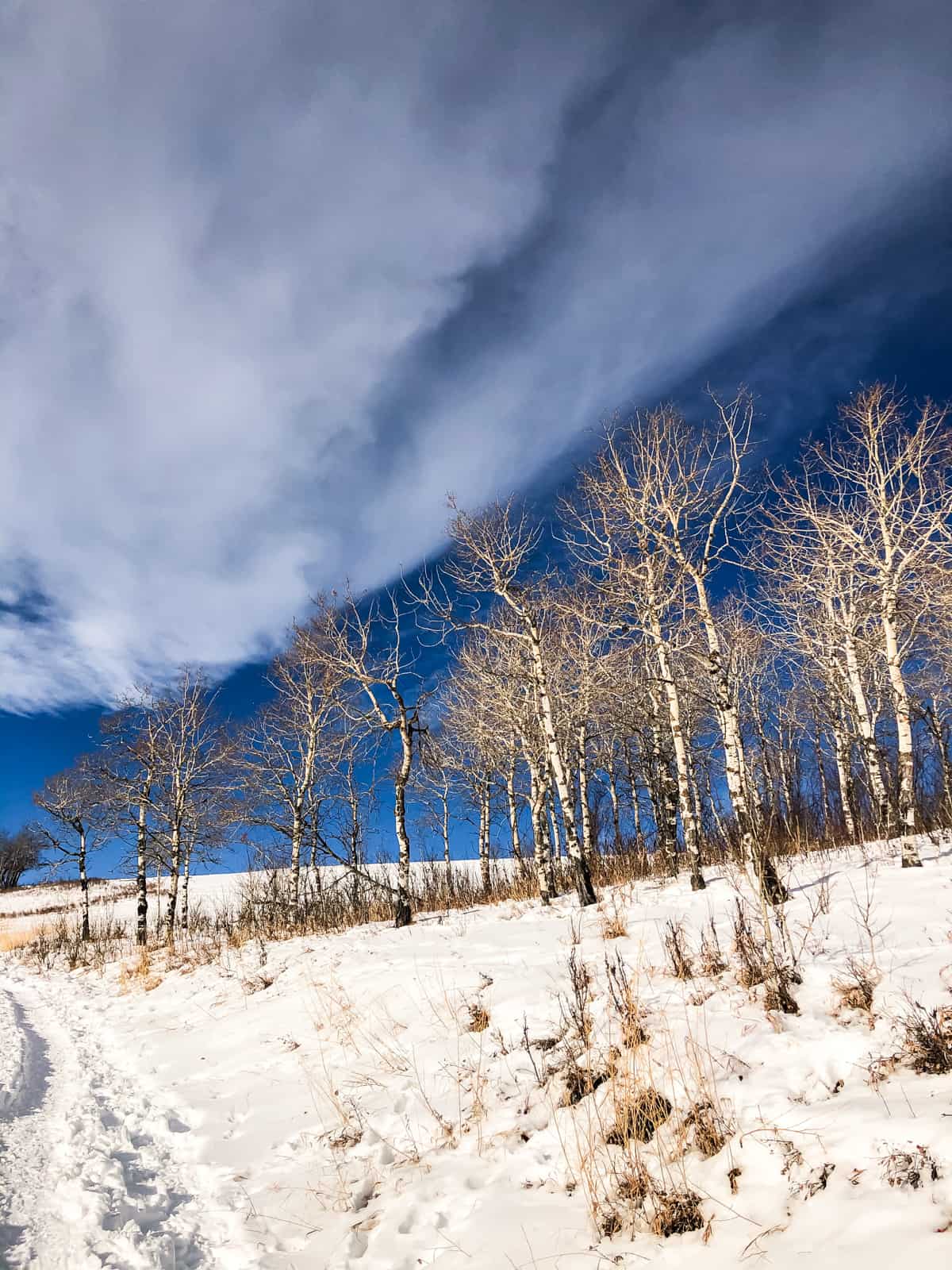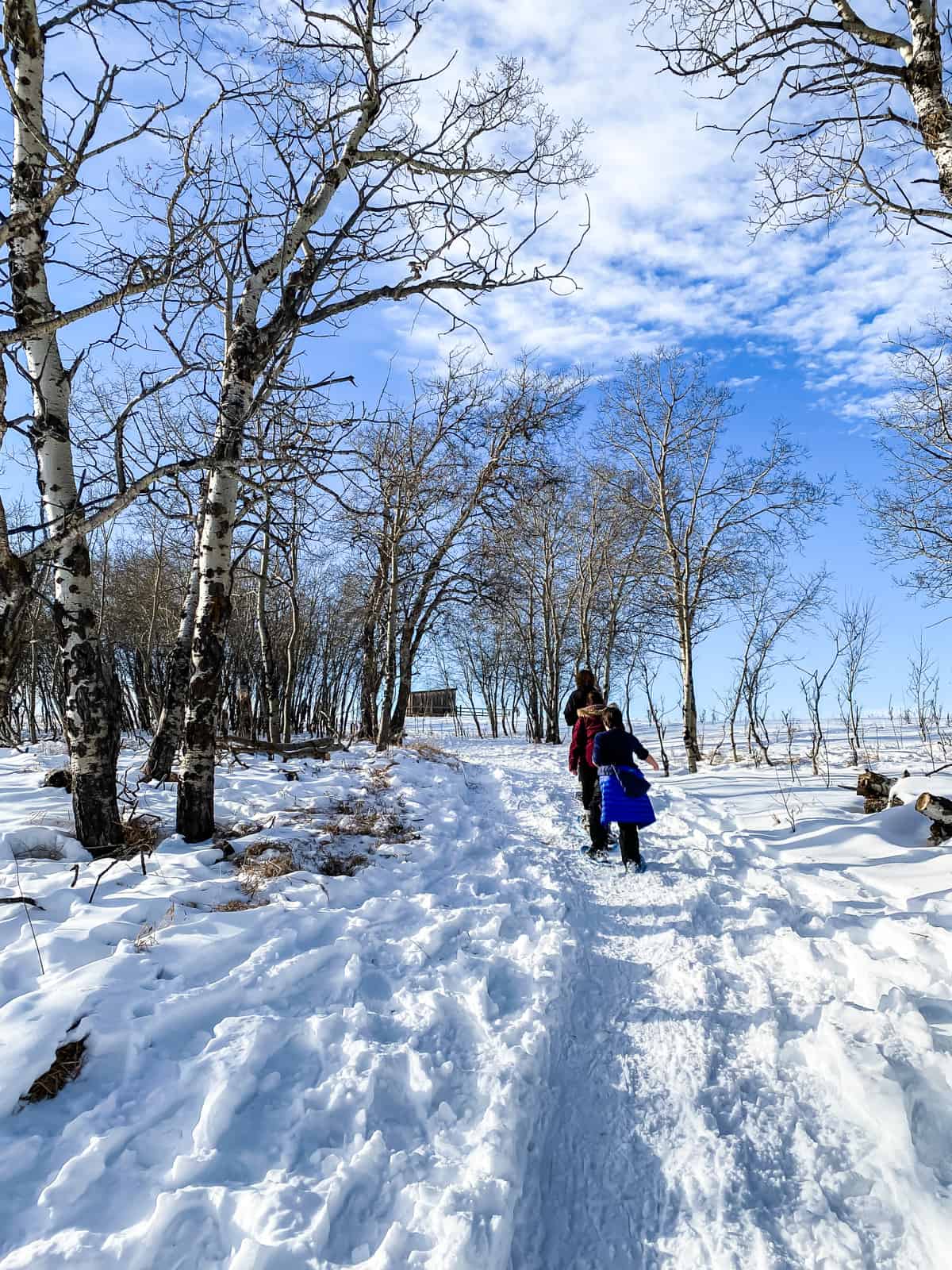 Stay on the Trails
There are 5 trails, with over 20 KMS of trail options, that run throughout ASCCA. So you can go as far (or not) as you wish. Here is a link to all of the different trails, so you can see what you might like to do ahead of your visit. Even though this is a wide open area, you have to STAY ON THE TRAILS in order to protect and conserve this special area.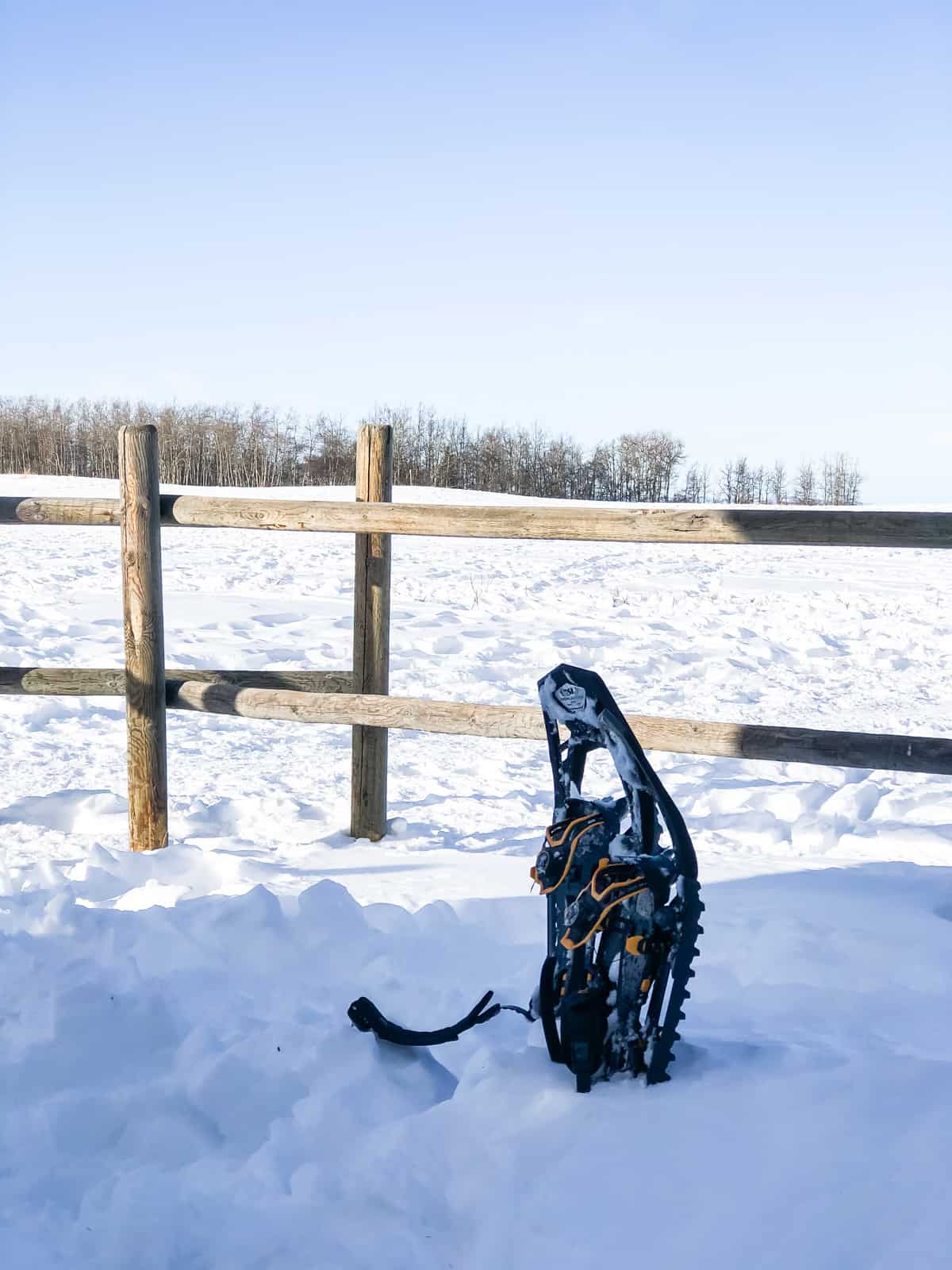 Snowshoeing at ASCCA
Snowshoeing at Ann & Sandy Cross can be very different depending on when you go, like anywhere that you might go to snowshoe. After a fresh snowfall the trails are wonderful and powdery. After a few chinooks, sunshine and lots of snowshoe traffic, the trails are a little more packed. Just be prepared for that…you might be tempted to snowshoe off into one of the pristine fields, but please stay on the trails.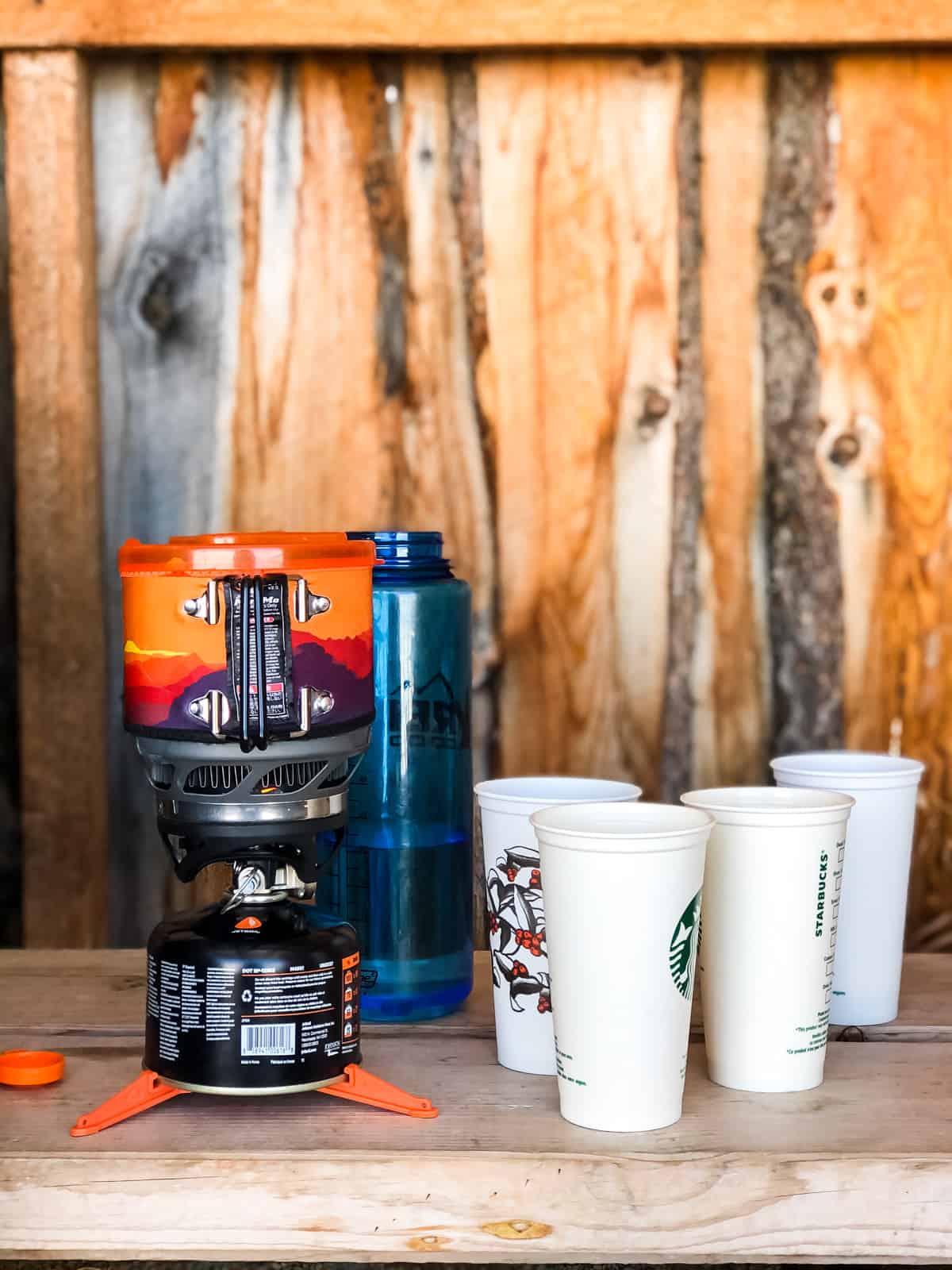 Picnics + Snack Breaks
There are a couple of shacks and park benches throughout the park that you can use to take a break and enjoy a picnic lunch or snack. We like to stop at the one at the head of the Ranchers Trail for hot chocolate!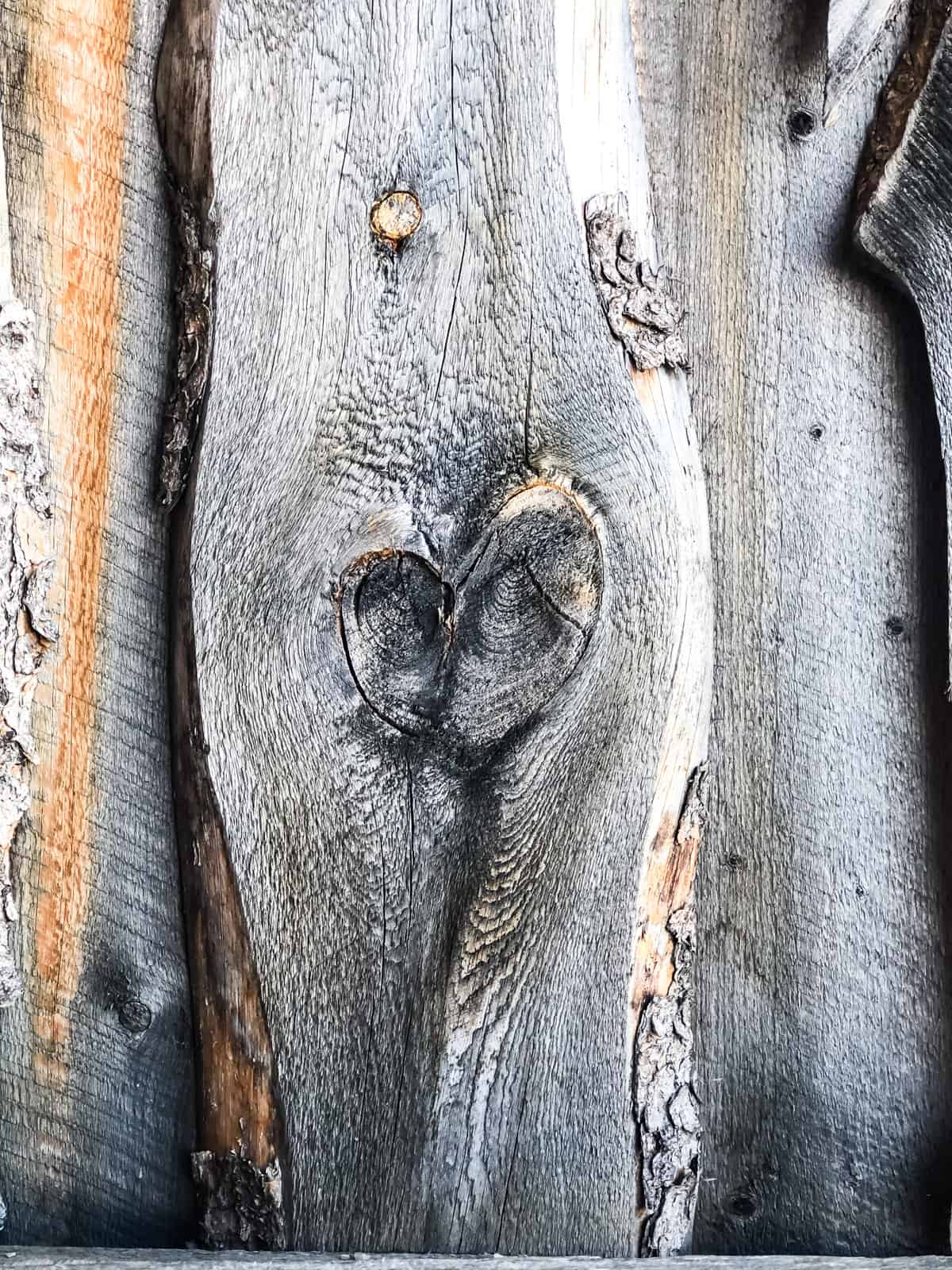 Ann & Sandy Cross Conservation Area Trail Information:
Visit the website for more information.
Book your visit here. You have to book a time through the website before you visit. This is to ensure that the area doesn't get too busy.
Daily use parking passes: You have to pay a $10/car parking fee for each visit, unless you decide to purchase a yearly pass (which is so worth it if you visit many times). Please pay this. The money is used to maintain this special conservation area.
Buy a yearly park pass here. The cost is $120. There is an early bird rate of $100 from September 1 to December 15 each year. A pass purchased in September will be valid from September until the end of December the next year.
Register: Make sure to register when you arrive. The kiosk is located at the parking lot.
Hours: The park is closed between 11 PM and 4 AM.
Activities Allowed: Hiking and snowshoeing. NO skiing or biking.
Washrooms: There is a bathroom at the head of the trail.
There are picnic tables and benches available for use.
Garbage: There are no garbages, so pack out what you pack in.
Pets: Dogs are NOT allowed.
STAY ON THE TRAILS.
Wildlife: This is a conservation area so you may come across wildlife. Follow their Facebook page for any wildlife updates (bears, moose…)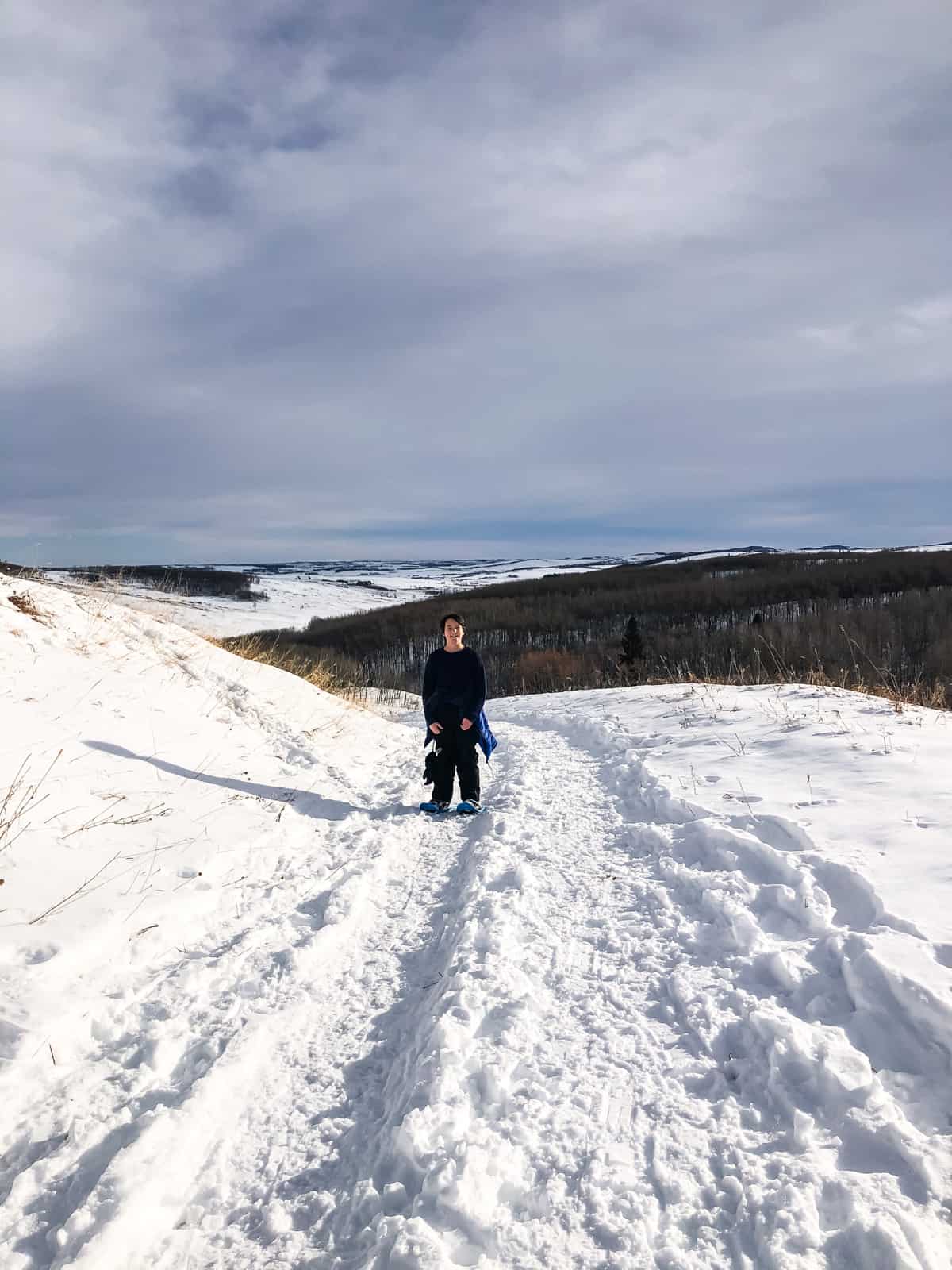 More Snowshoeing:
Have an adventurous day!
PIN IT!