7 Reasons To Take Your Family to Calgary Folk Fest
Thinking of taking your kids to a music festival this summer?  Here are 7 Reasons To Take Your Family to Calgary Folk Fest!
The Calgary Folk Music Festival is one of our most favourite festivals to attend!  In fact, my husband and I have been part of the festival for almost 15 years now, as both paying patrons and as volunteers!  This festival feels like home for us, and taking our kids feels like second nature. We've been with our babies, with our toddlers and now our big kids love music festivals!  Folk Fest is all kinds of family fun!
Because we love the festival so much, we wanted to share 7 big reasons why you should take your family to Calgary Folk fest, and have the best time ever.
Kids are welcome!
First and foremost, kids are welcome at the Calgary Folk Music Festival!  You will see kids of all ages at this festival, from teeny tiny babies to teenagers.  The family friendly culture is one of the things that makes the Calgary Folk Fest so great!
It's Affordable
Kids 12 years old and under are free, and youth and students receive discounted prices! This is amazing.  Find ticket price details here on the Calgary Folk Fest website.
The music! Start their love of folk music festivals early
The best thing about the Calgary Folk Music Festival, is of course, the music!  So much of our family's favourite music is from bands we've discovered at folk music festivals.  It's so much fun to experience great music with your family!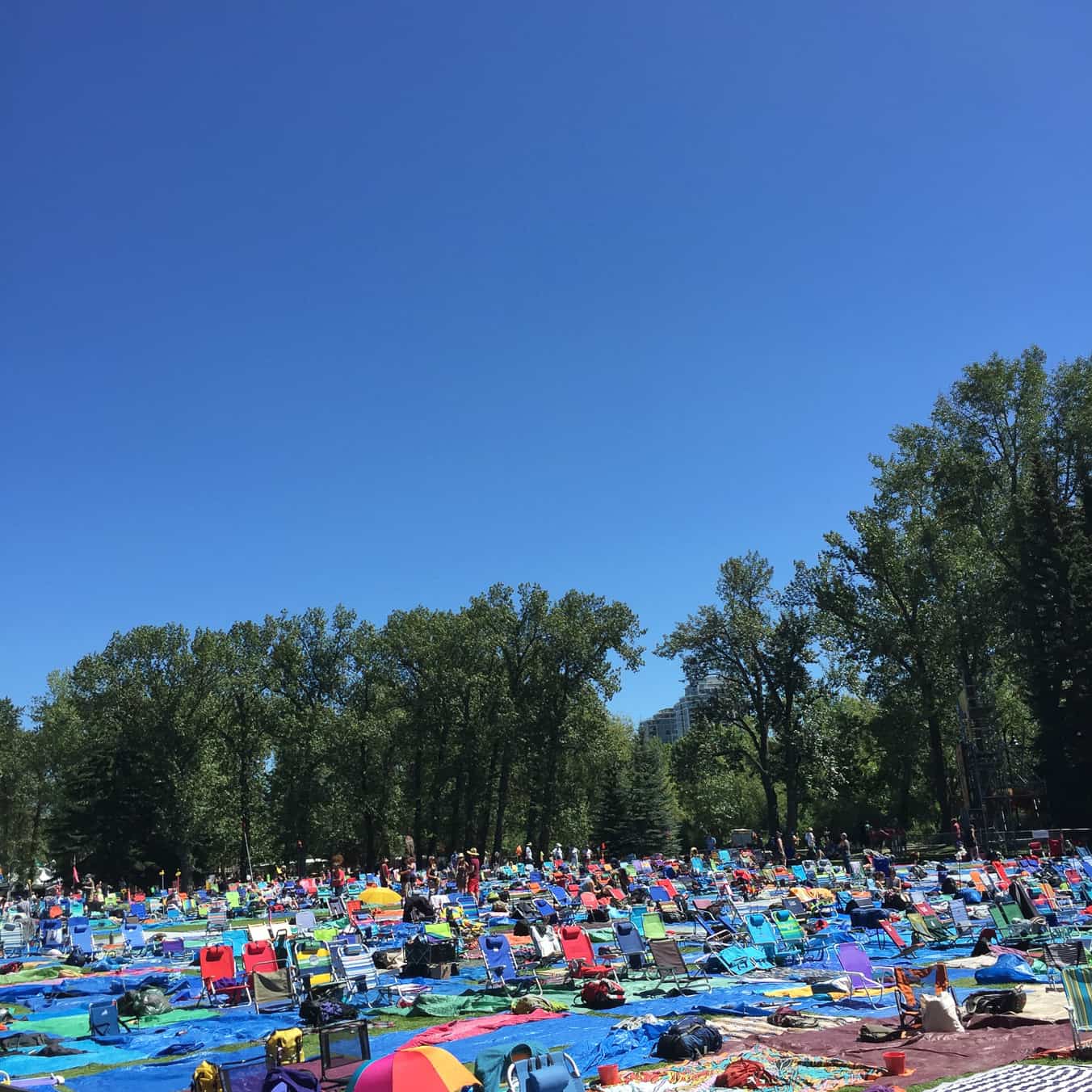 Set up camp for the day!
Put your tarp out in the main field and use it as a home base each day that you are attending the festival. It's always nice to have a space you can return to throughout the day where you can keep all of your stuff, and this is especially true when you are there with your family.  This lets you wander the island to check out the Arts Market, the food trucks, the Family Zone and all the stages, but still have a space that is yours that you can return to.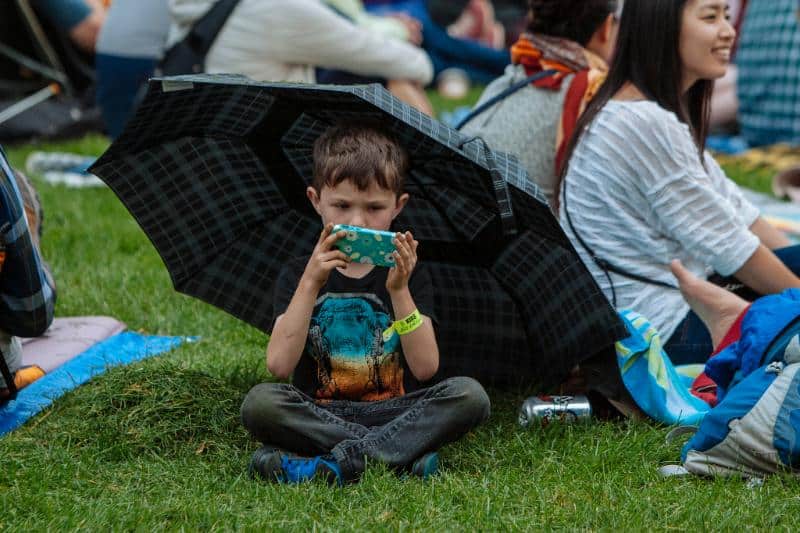 photo by Lynne Hawrelko
The Family Zone
On site there is a special area just for families, called the Family Zone.  This fun activity filled area is open on Saturday and Sunday from 11 AM to 4 PM.  There are bouncy castles, face painting, crafts, games, a cardboard box city that everyone can help build! You will also get the chance to see Rattle & Strum and The Hula Hoop Circus performers. A Library Book Truck will also be on site, and you can get a FREE library card, check out books and enjoy stories read by very special guests.

Eat Drink and Be Merry!
You are welcome to bring your own food and non-alcoholic drinks to the festival, which helps to keep your weekend low budget!  But if you want to experience the delicious food trucks that line food alley on the festival site, you have that option too! There are so many great spots to enjoy great food.
The setting!
You can't beat the setting of Calgary Folk Fest.  Nestled along the river, Prince's Island Park is a beautiful space to take in an outdoor music festival with your family.  Picnic under the trees, stretch out in the sun on the main field, and enjoy music under the stars.