25 Genius Road Trip Tips for Parents
Over the years we've had quite a few long road trips with the kids!  They're champs, and travel really well. We've learned that with the right entertainment, the right stops and a bit of planning, road trips can actually be quite easy!
With hundreds of hours on the road, we've learned a few things along the way. Use these road trip tips to make your next road trip with kids easier:
Print a map
Or buy one from the store and give the kids markers to follow along the route. They can write cool things that they've seen, and turn it into an awesome memory, or simply use the marker to trace along the route. Bonus: you can avoid the "Are we there yet?" conversation for the 50th time.
Grab a notebook
And give it to kids who are able to write. They can use this to write notes back and forth, and you'll be surprised just how much writing practice you can cram into the trip. My tip? I make a note of those sight words, and spelling words lists on my phone to work those into the notes, or a suggested story.
Mobile Pajama Party
To get rid of the first 4-6 hours on our journey (or longer, if you're usually up late, leave after dinner for the road trip, and drive. Do bedtime in the car, and shave an easy six hours off of your road trip with this pajama party (in the car!). The lull of the road should make it simple for the kids to fall asleep around their regular time, making for a quiet first lag of the trip.
Washable Markers
For the windows and whiteboards. There's nothing like the mess of paper shards from cutting, and a layer of paper on the floor from road trips. We've switched it to window markers and whiteboards and have reduced some of the mess, and let the kids create over, and over, and over.
Print another map
And coordinate it with small prizes or 'treats' along the way. Give the kids a copy of the map, and have them search for the destinations as you go along the way. It's a way to keep the 'getting there' part of the road trip exciting, especially if you're in it for a two day trip.
Active stops
Make frequent stops with the kids, but do more than fill up the tank…empty theirs. Choose stops where they can run, jump, climb, play and explore to run off some of that energy that comes with being cooped up in a vehicle half the day.
Headphones
I repeat, get each of your kids a set of headphones (with child-friendly settings if you've got some like ours that tend to listen too loudly). You're not going to want to have to listen to two or three different music or movies, in addition to what you're trying to listen to.
Hand over the Camera
Hand over the camera to the kids, and let them take photos of the vacation how they see it. We grabbed a digital photo for the kids to use during the 'getting there' part of the drive, and saved their Instax Mini cameras for when we were at those 'wow' destinations.
Wear easy off shoes
Admit it, when you're in the vehicle for hours, you take your shoes off too, so avoid the waiting game while they're getting them back on (or you have to get them on for them) and put shoes like flip flops or slip on sandals that are easily taken off and put back on.
Invest in Road Trip Bingo
Or use the internet to print off and laminate (you can do this at Staples) some road trip bingo cards that can be played (and cashed in for prizes) along the way. Or print off this Road Trip Eye Spy Checklist.
Yoga/Stretch
Before you get back in the car from the fun stops where kids can run and jump, yoga and stretching are a great way to relax. Bring along a video on the iPad or learn 5-6 poses that you can lead the kids in.
Take away the iPads for at least a week before you leave
Put them away, reset them and put entirely new movies and games on there (except for the games that the kids play for longer amounts of time, or any favourites), fill it with new books and hand them over on the road trip. The new experience is going to help the iPads to entertain the kids for longer.
Make a 'snack necklace'
Pack a small container, or bag, with food that can be stringed on a necklace. Not only can the kids create the necklace, but they can take time to eat it after.
Skip the books
They usually get sticky, or muddied up, on road trips. We like to download books to iBooks or to the Kobo for the kids, so they can read, without ruining the books.
Pack a box of freezer bags
These are good for leftover snacks, for collections picked up along the way like shells and sticks, for souvenirs and to keep track of memories, and for wet clothes. The box of freezer bags is going to be the most useful thing you pack for a long road trip with kids.
Let the kids pack
Give them a small bag and let them pack their own toys for the trip. This will help with the trip, as they can pick a few of their favourite small toys to play with.
Gel Clings
An easy way to occupy younger kids. They can create a scene for the window to play with, and you can toss them out at the end of the trip. Find them on clearance after holidays, and stash them away for an upcoming road trip.
Trick them into learning
Play I-spy games with variants like I spy something that starts with… or, I spy something that has 3 + 4 items on it, or I spy specific letters, based on where your child is at.
Glow Sticks
Glow sticks are fantastic if you're traveling at night. They're fun to play with in the car, but not bright enough to be distracting while you're driving.
Personalized blankets
Each of our kid has a road trip blanket that they can use while we're in the car. They use them together to make a small tent in the backseat (to play with their glowsticks), wrapped up as a pillow, or to cover up with and get cozy while they watch a movie.
Find a children's storybook
Find one on tape, one that's going to keep the kids attention. You can pull it out and listen to it together (or stream it, as there are many on Youtube) and get twenty minutes of the kids captivated by a story you don't have to tell.
Give each kid a bag
You know, the freezer bag we talked about above?  Let them capture their own souvenirs from each of the stops, it's interesting to see what they choose to remember the trip by.
Letter magnets
Letter magnets and a metal container or lunch bag makes it easy to spell and play with the magnets along the way. Find cool magnets and letters, and use this as a busy box for little kids, and spelling practice for kids that are a bit older.
Pack Bandaids
Great for those klutzy kids, but also fantastic for kids that are starting to go stir crazy. If you've got little kids, you know how much they love bandaids, so a package of bandaids in bright colors or their favourite colors are bound to give them at least fifteen minutes of entertainment when you get desperate.
Fill up a small 'road trip bin' for each of the kids
Clear plastic containers can be purchased for a couple of dollars. Filling it up with small activities, treats and snacks, and a package of stickers so they can decorate the bin, helps them to keep toys and activities in order while you're on the trip.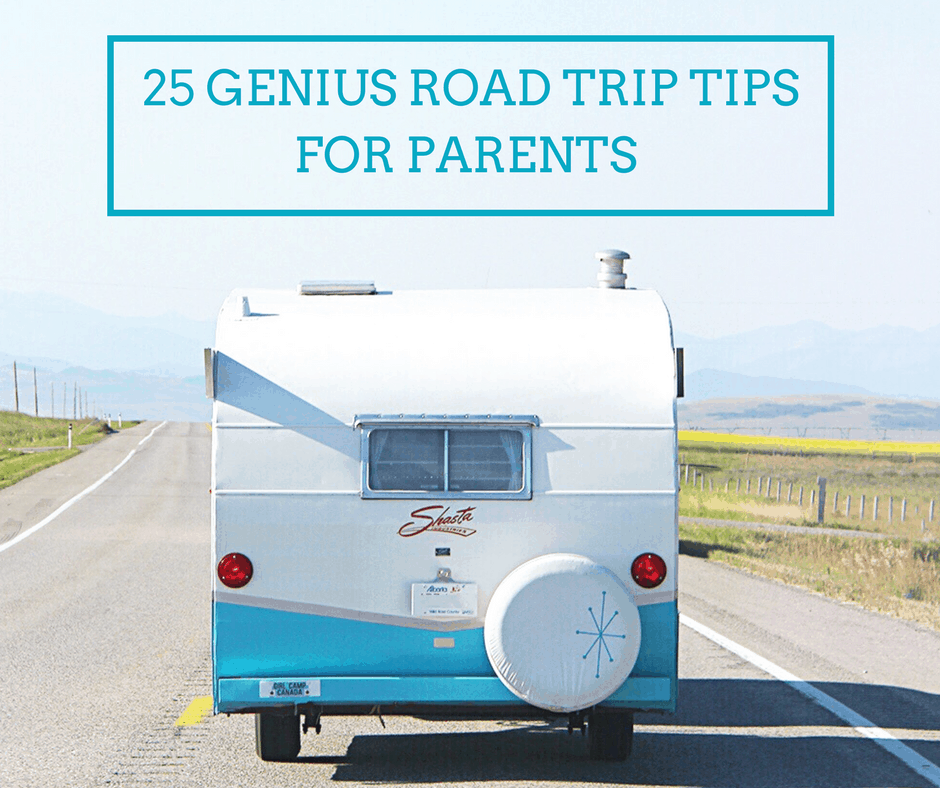 More Road Trip Fun!