Tips for Staying in a Trapper's Tent
Staying in a Trapper's Tent is a unique and fun experience!  Make your stay as enjoyable as possible with these packing tips!
This summer we crossed 'staying trapper's tent' off our Alberta Bucket List, after our trip to Rocky Mountain House National Historic Site.  We liked it so much, we are heading out for another trapper's tent adventure, this time in Kananaskis Country, and we can't wait!
Staying in a Trapper's Tent is a really unique and fun camping experience.  Trapper's tents are large canvas tents, that can sleep up to 6-8 people.  They're big and tall enough that you can move around in them easily while standing up. They're especially great when the weather is bad…there's tonnes of room for hanging out, playing games.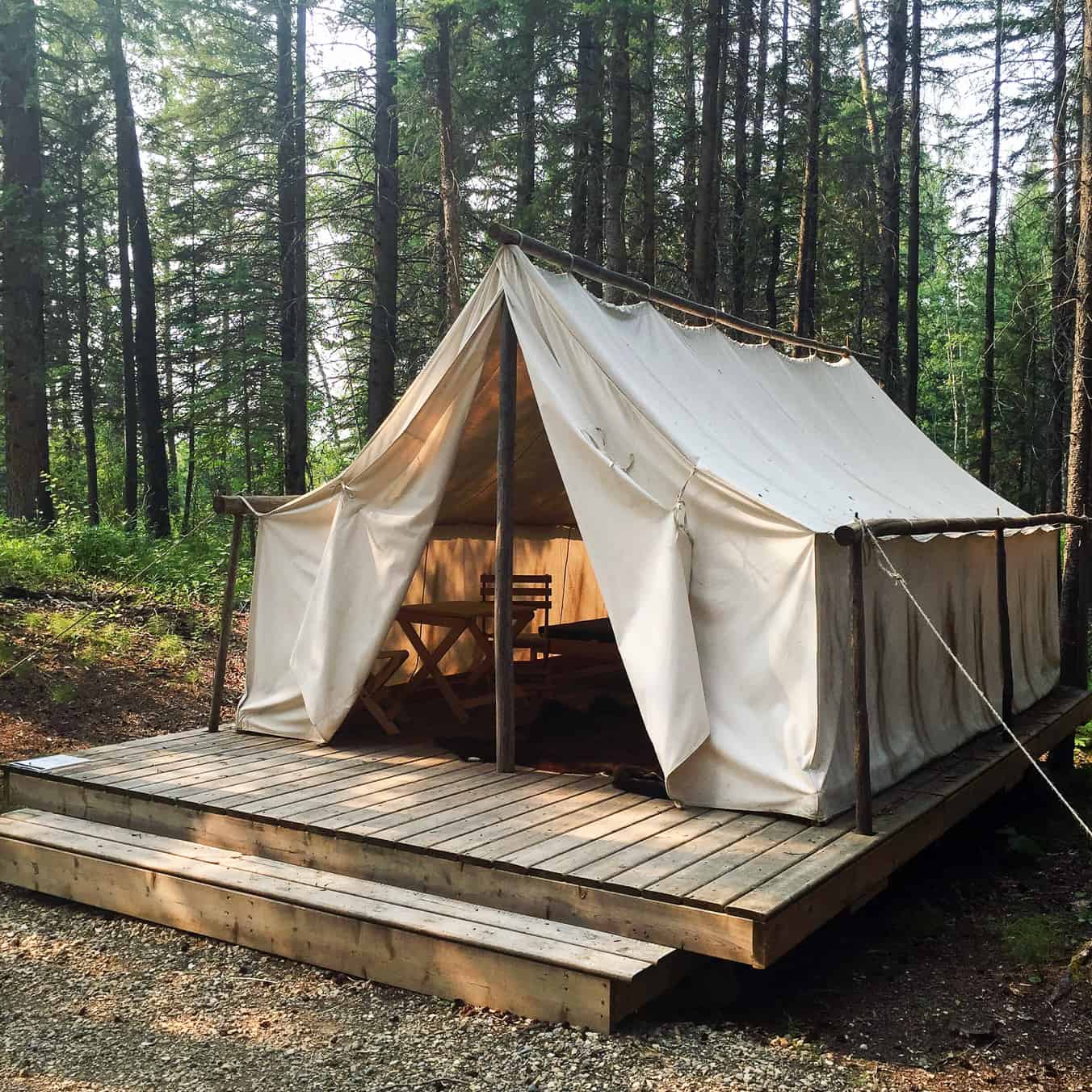 But I will admit staying in a trapper's tent requires a bit of extra work.  We're used to just hooking up our tent trailer which is loaded up with all of our supplies, and heading off on adventures.  But for a trapper's tent, you have to bring all of your own supplies with you.  So that means packing up the car and crossing your fingers you haven't forgotten anything.
On our first trip the biggest thing we wished we would have focussed more on, was our bedding.  Most trapper's tents come with beds and some bed mats, but that's it.  And we knew that, but we didn't bring enough bedding, and ended up freezing our butts off at night…even with the day time temperatures over 25 degrees C.  The nights are cold.
So we thought we'd share our experience with you, so you can pack and have the best time ever!  And sleep better than we did!  Lesson learned. 😉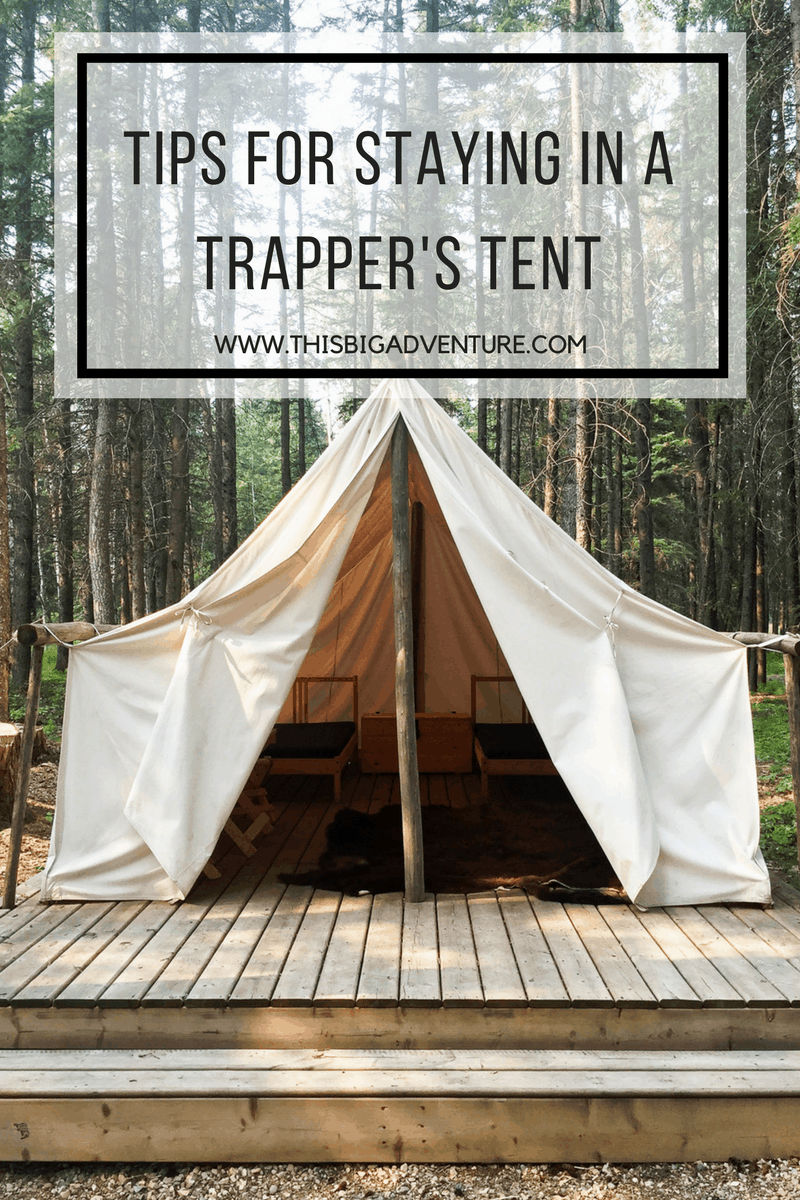 Tips for Staying in a Trapper's Tent or Tipi:
Bring extra blankets!  Make sure everyone has a sleeping bag PLUS at least 1 extra warm blanket. Even when the days are hot, because it cools down a lot a night.  And being cold at night is not fun…ask me how I know 😉
If you can fit them, bring extra sleep mats.  Check to see if sleep mats are provided for your stay.  But even if mats are provided, think about bringing more, because trust me when I say, an extra sleep mat is really really nice.  Next time we will be bringing along our memory foams from the camper!
Check ahead of time to see what supplies come with the tents.  Some places provide minimal dishes, soap and a few cooking utensils.  On our first stay, we had a few items, but if we hadn't brought our camping supplies, we would have had a really hard time cooking meals.  Not to mention the fact that we're a family of 5, and there were only place settings for 4.
Packing Checklist:
1 sleeping bag and 1 blanket PER person
Pillows
Extra sleep mats
Camping stove
Cooler and ice for your food
Matches and paper
Axe
Garbage bags
Tin foil
Dish washing tub and soap
Plates, cups and cutlery
Food Prep: cutting boards, knives, mixing bowls
Cooking: pot for boiling water, frying pan, stir spoons
Roasting sticks for the campfire
Food.  You can refer to this Camping Food Checklist for ideas.
Dishtowels and dishcloths
Towels and hand towels
Lanterns, flashlight or headlamps
Camping chairs
First Aid Kit
Toiletries, sunscreen, bug spray
Drinking water.  Bring a big jug.
Games, books and a deck of cards
Warm clothes, sweaters and a jacket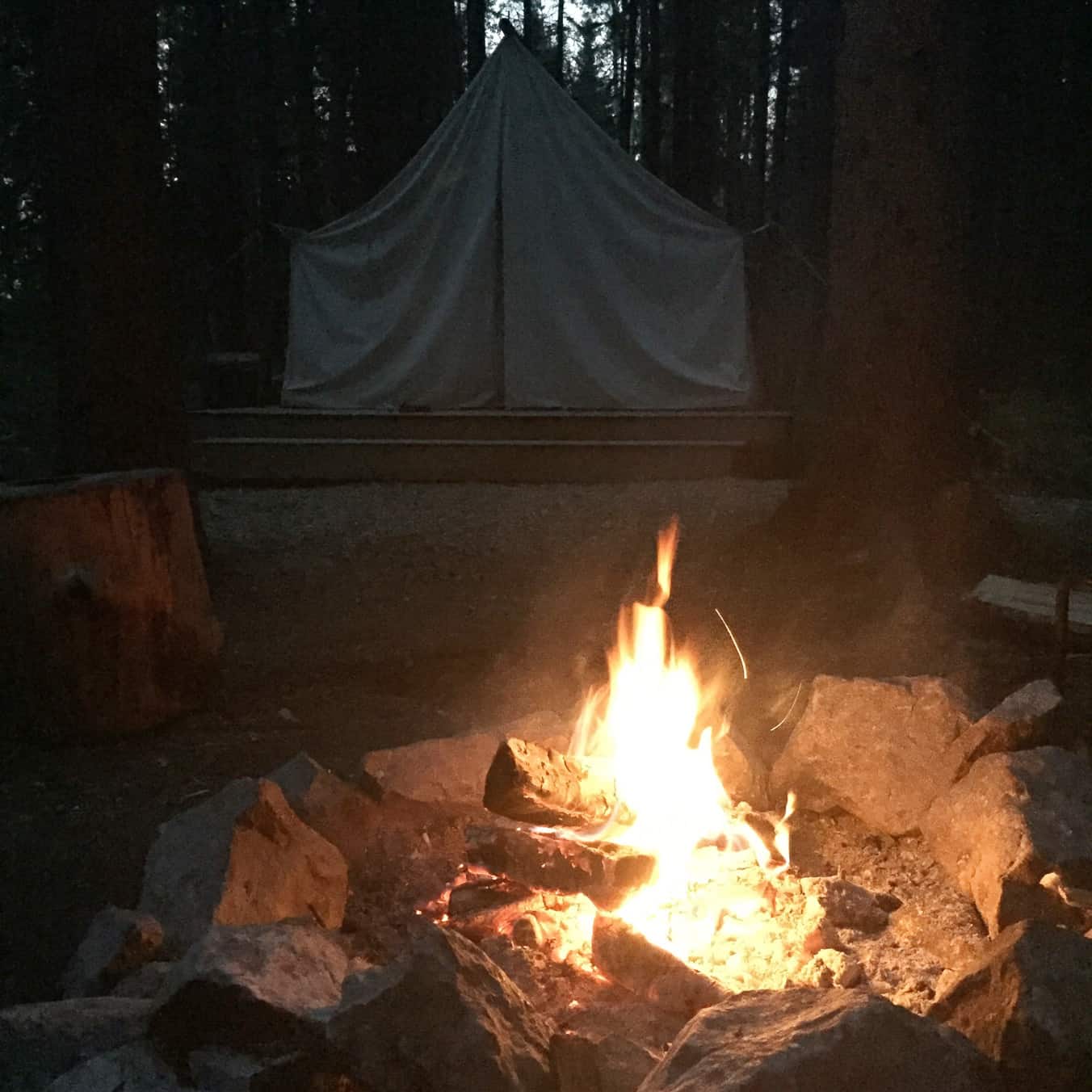 And don't forget to pack the s'mores!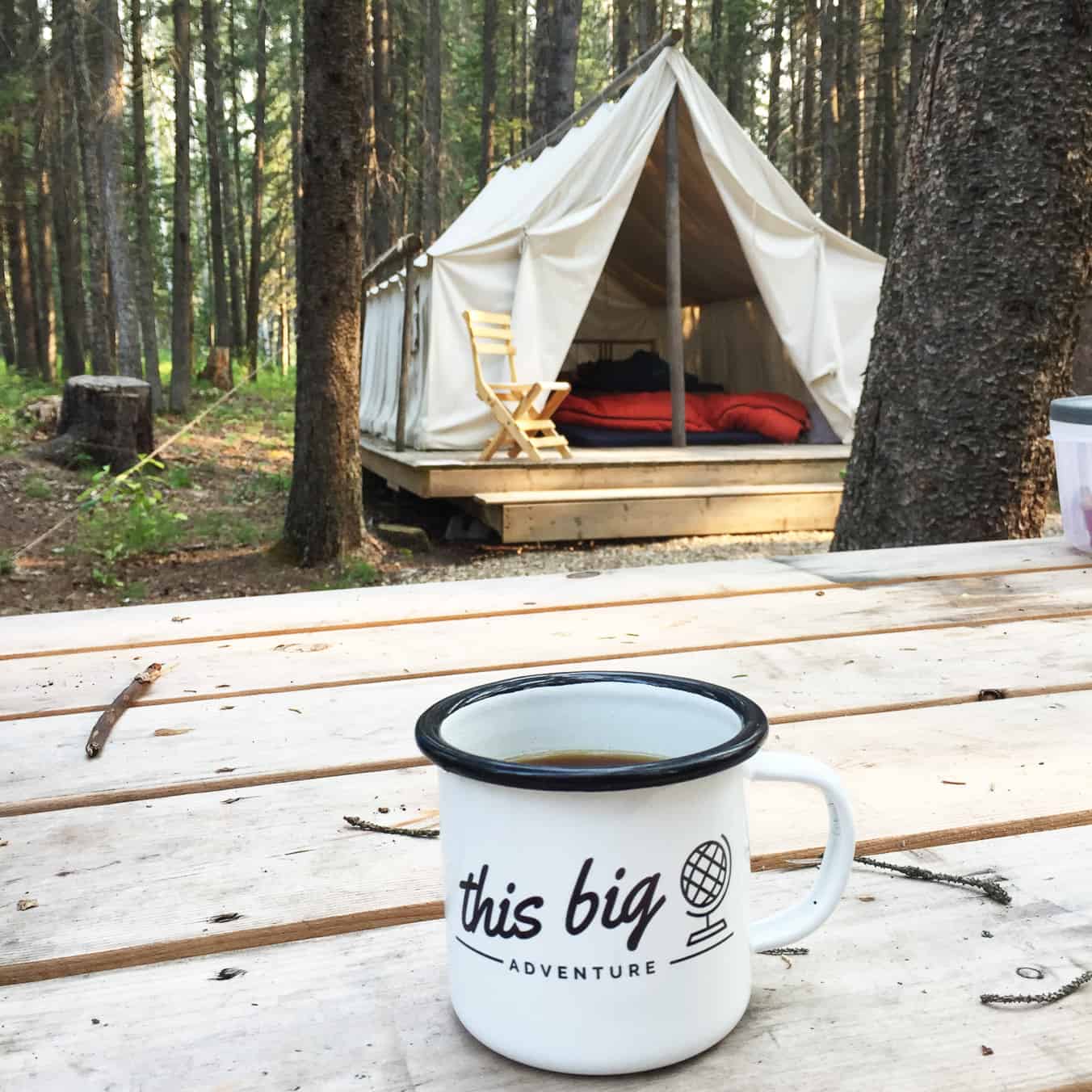 If you ever get the chance to stay in a Trapper's Tent, do it!  It's a really great experience!
PIN IT!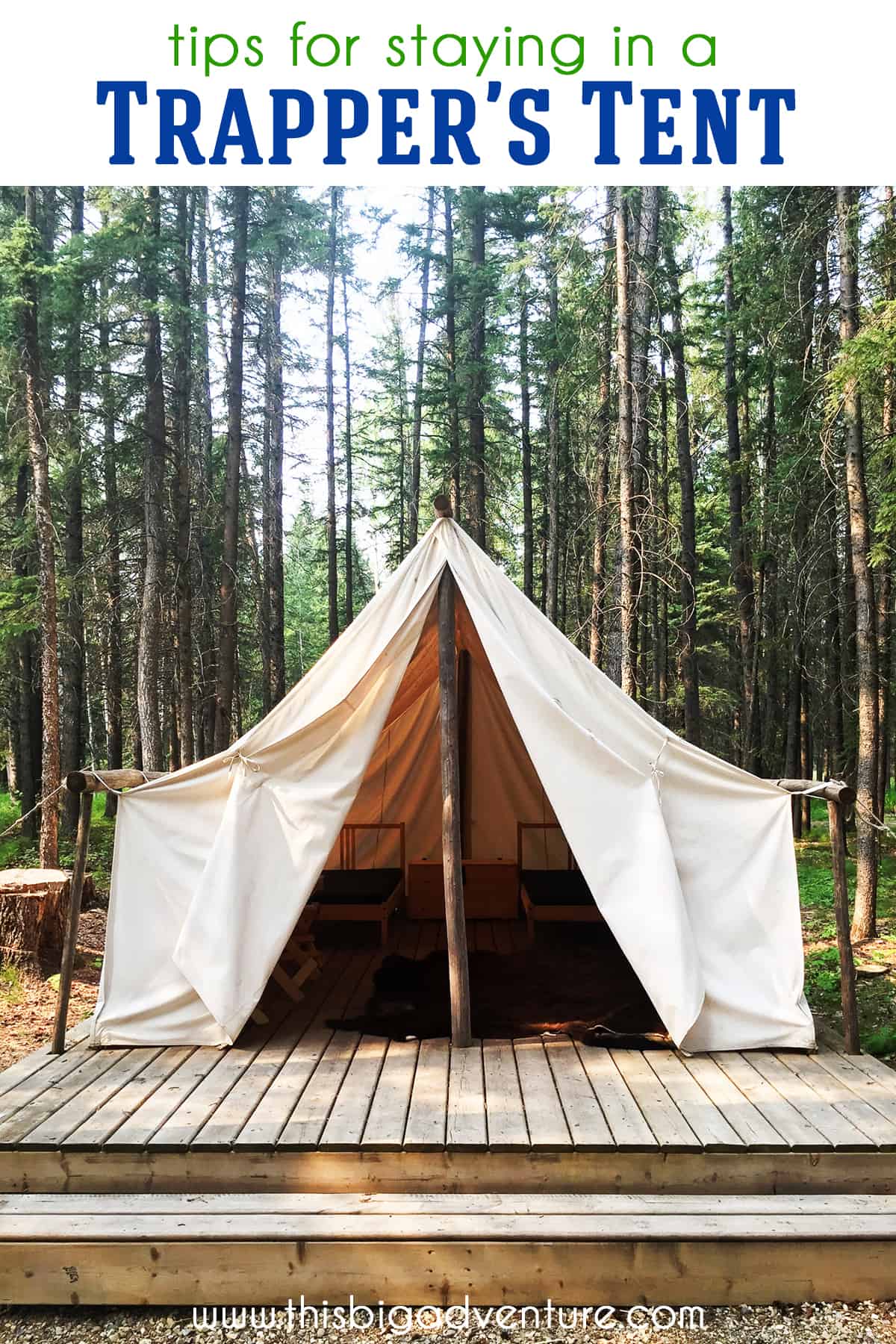 Make sure to follow our This Big Adventure Pinterest board for more camping, hiking and exploring ideas!