Located just a quick drive from Calgary (109 KM, and just over 1 hour), Bar U Ranch is a fantastic spot to visit!  Learn all about the history of ranching in Alberta, take a tour, have a picnic and so much more.  You can easily spend the day here!
On a beautiful and sunny spring morning, we packed up our family and drove south about an hour to Bar U Ranch. I'm a sucker for our Canadian history (my kids practically grew up at Heritage Park in Calgary), so we were all very excited about visiting Bar U Ranch.  Especially our 7 year old who is a budding history buff!  On the tour he said "Wow!  It's so neat to know we're standing in the same places as people from a long time ago!"  Love that.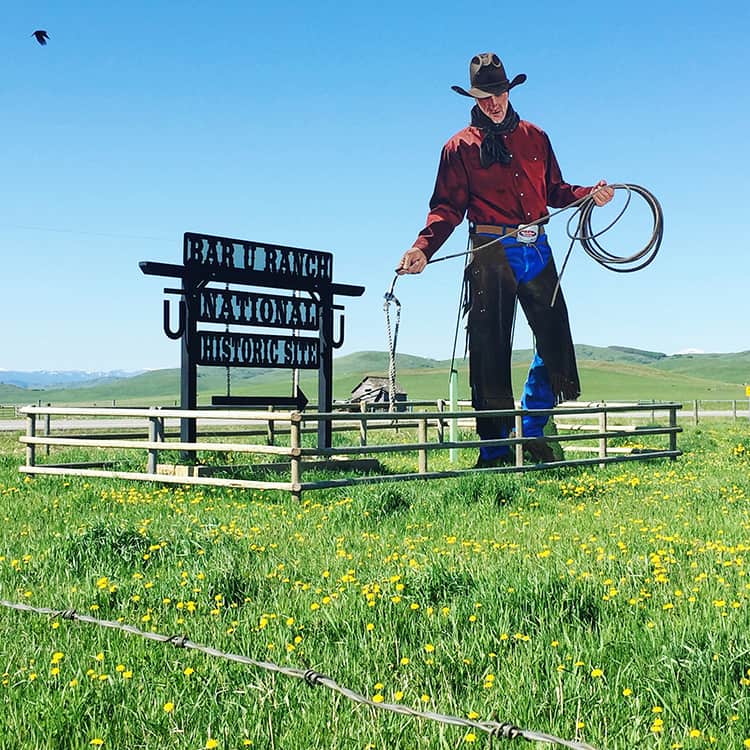 As you drive up to Bar U Ranch, you are greeted by the largest cowboy sign you'll probably ever see!  
About Bar U Ranch
Bar U Ranch was created in 1882, initially as the Northwest Cattle Company.  At the time it was one of the first corporate ranches established in southern Alberta.  Now Bar U Ranch is a Parks Canada National Historic Site which commemorates the importance of ranching to Canada.  We were surprised to find out how important of a role Bar U Ranch played in the creation of ranching in Canada, and now we feel very thankful that it is preserved.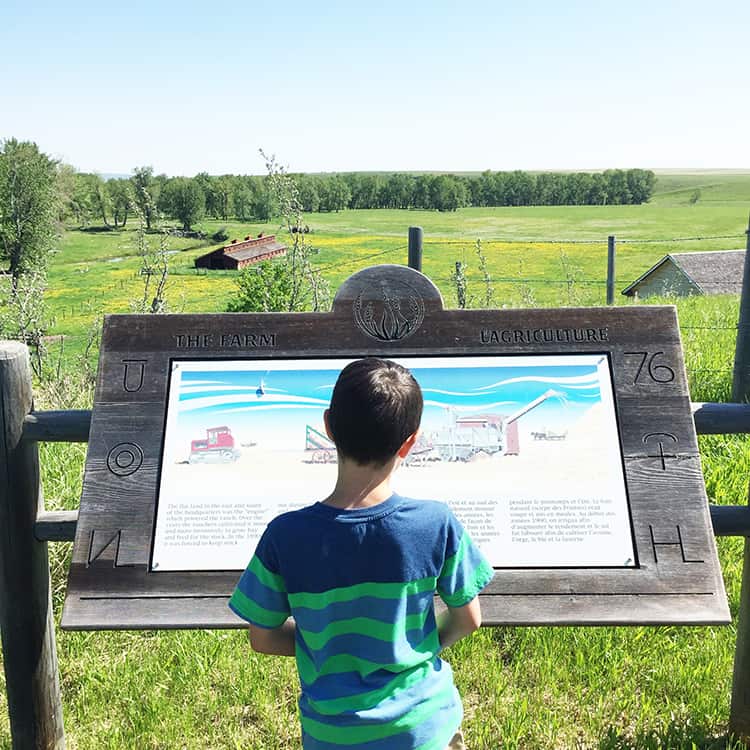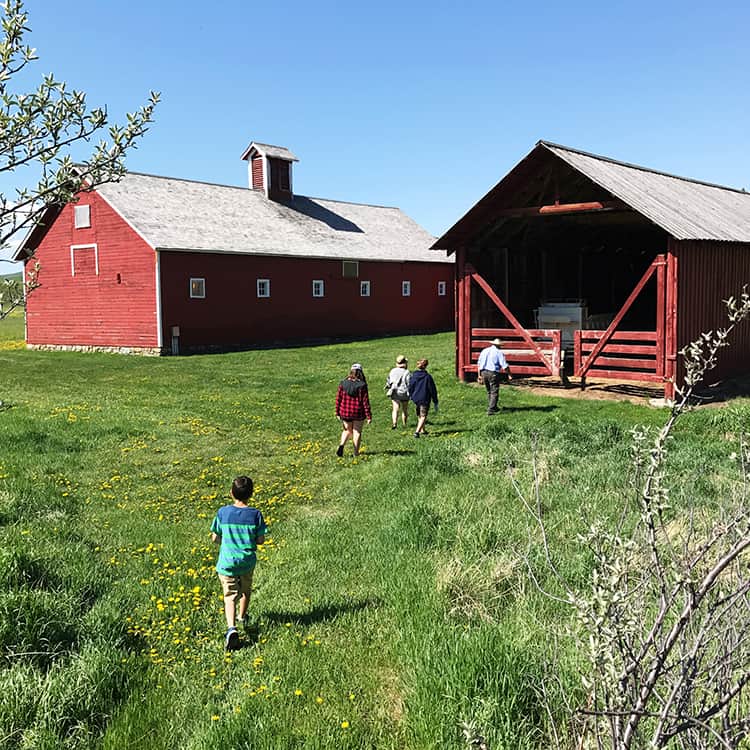 Exploring Bar U Ranch
When visiting Bar U Ranch you can take a self guided tour, or take a guided tour with a park interpreter.
For our visit to Bar U Ranch, we had the pleasure of taking a guided tour with one of the park interpreters, Bruce.  As soon as we met Bruce, we knew we were in for a fantastic and information filled day.  He is very passionate and proud of Bar U Ranch…his family has been a part of the ranch and area for many years.  We felt very honoured to be on this tour with him.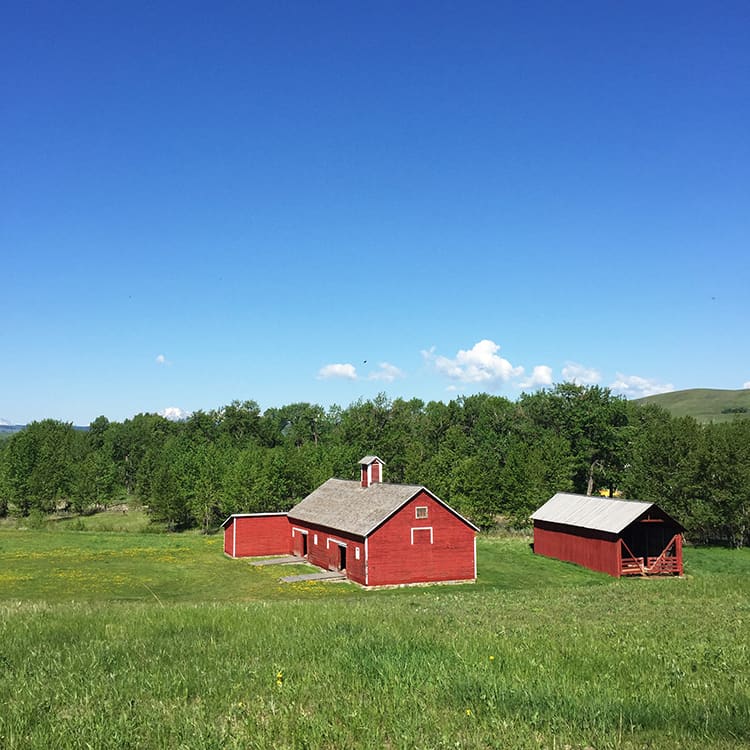 We started our tour overlooking the ranch which is nestled in a little valley.  From here you can see the largest collections of original buildings in Canada, all waiting for you to explore!  We stopped in at almost all the buildings including the ranch office, the Percheron Foaling Barn, equipment sheds, the blacksmith shop, harness repair shop, Saddlehorse barn, cookhouse, and root cellar.  My kids were especially fascinated by the root cellar and ice house.  Ok, maybe it was me that was fascinated by the ice house…but I could hardly believe that at one time the ranchers would cut out ice blocks from the river to place in the ice house, and the ice would last all summer!  Amazing.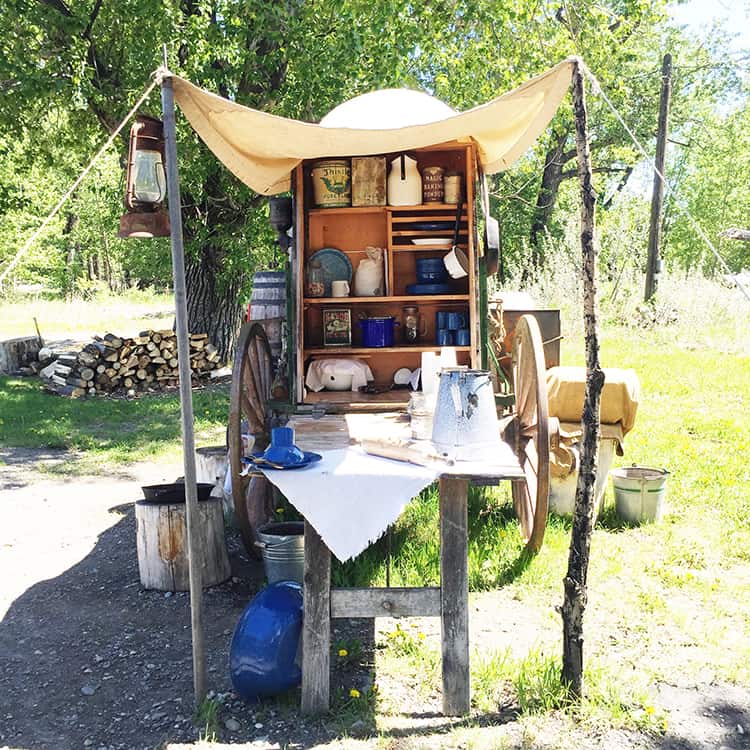 Then we headed over to the Round-Up camp to enjoy a cup of coffee made over an open fire.  And while we were there we had the opportunity to listen as a park interpreter shared legends and more stories about the history of Bar U Ranch.  It was like campfire storytelling…relaxed and really fun.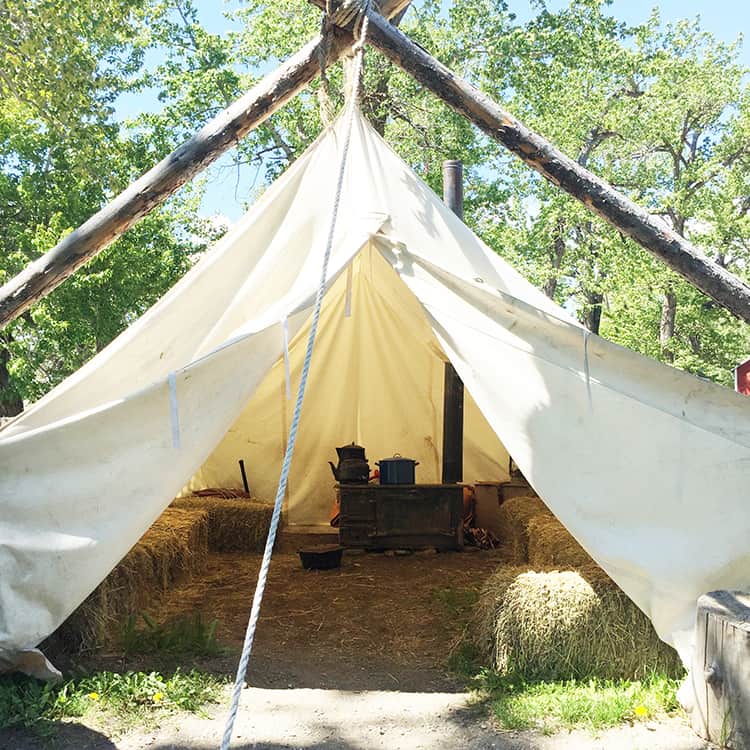 There are so many things to do at Bar U Ranch, making it easy to spend an entire day.  As well as the site tour and round up camp, you can visit the learning centre, learn how to rope, and also take a horse drawn carriage ride (the wagons are pulled by Percheron horses which made the Bar U Ranch world famous).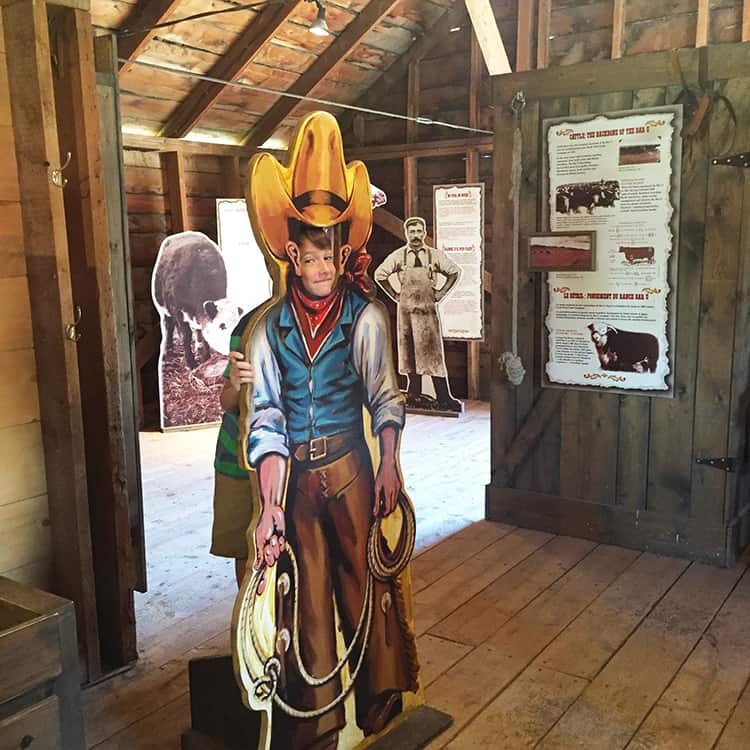 Then stop in at the Bar U Ranch Cafe for lunch, where you can enjoy ranch-style food like roast beef sandwiches, cabbage and bacon soup, burgers, beef on a bun and chili.  We had lunch here and it was delicious!  We highly recommend the beef on a bun!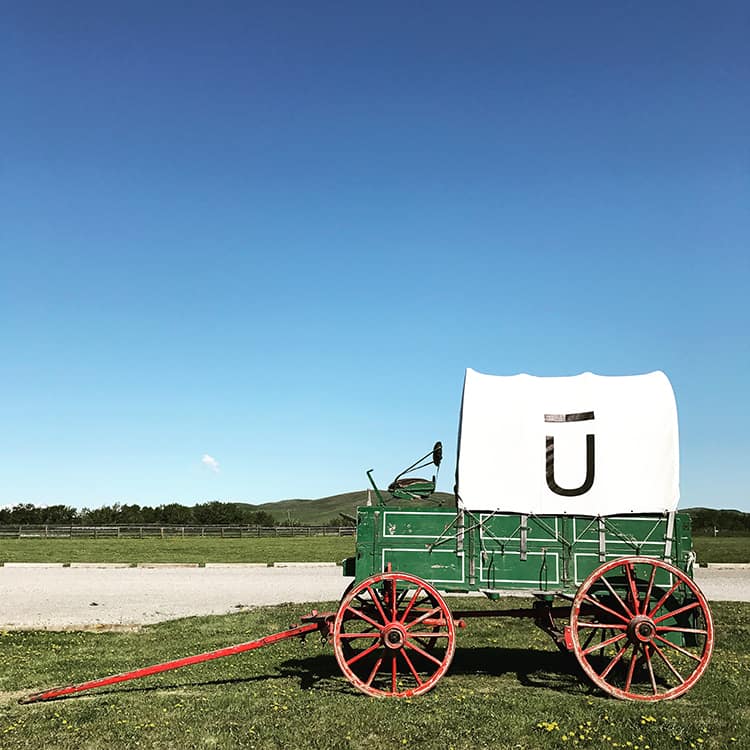 We really, really enjoyed Bar U Ranch, and will definitely be going again…I feel like we still had so much more to see!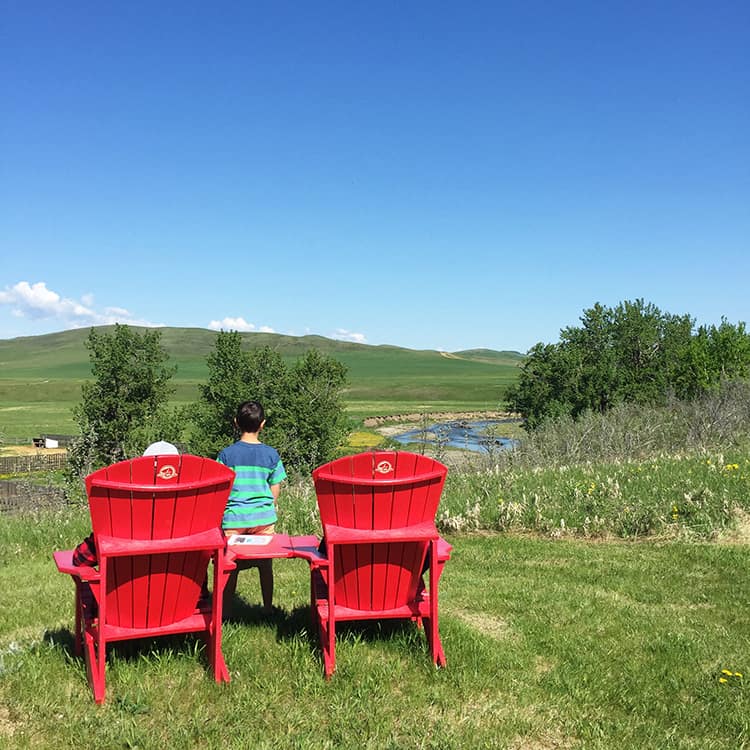 Visit Fun Fact!  There is a set of Parks Canada #ShareTheChair red chairs at Bar U Ranch!  Have a seat, take a picture, and share on social media!
What to do at Bar U Ranch
Take a self guided tour around Bar U Ranch and through the historic buildings.
Or take a guided tour for an in-depth visit of Bar U Ranch
Enjoy a meal at the Bar U Ranch Cafe.  We had lunch here and it was delicious…pulled pork buns, chili, sandwiches and more!
Or enjoy a Cowboy Cuisine meal at the Bar U Ranch Cookhouse dining room
Or bring your own picnic to enjoy!
Sit fireside and listen to tales of ranching in Southern Alberta, with a cup of campfire percolated coffee!
Take a horse-drawn carriage ride around the historic site…the Percheron horses are so beautiful and played a big role in Southern Alberta ranching history
Learn how to rope!
Interact with park interpreters and learn about Bar U Ranch and ranching history of Southern Alberta
Attend one of the many seasonal special events, like Canada Day, a rodeo and harvest weekend.
Visit the gift shop and buy a souvenir from your visit.
Find the Parks Canada red chairs and take pictures!
Bar U Ranch Visit Details
Where to Camp Near Bar U Ranch
(Out of these campgrounds, we have only camped at Aspen Crossing)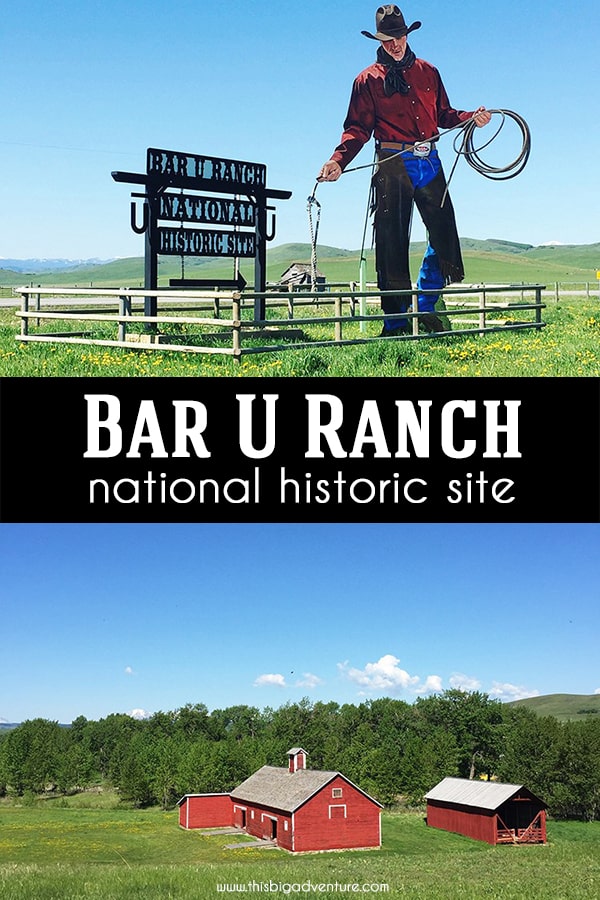 Disclosure:  This Big Adventure partnered with Tourism Calgary on our visit to Bar U Ranch. This post is a true documentation of our visit here, in our own words, with our own pictures and opinions.  We just love to promote all the wonderful places our beautiful city and province has to offer!