Aqua Splash Park, Sylvan Lake
UPDATE!  The Aqua Splash Park in Sylvan Lake is CLOSED for the 2020 summer season. But we'll definitely be adding this to our Alberta Bucket List for 2021!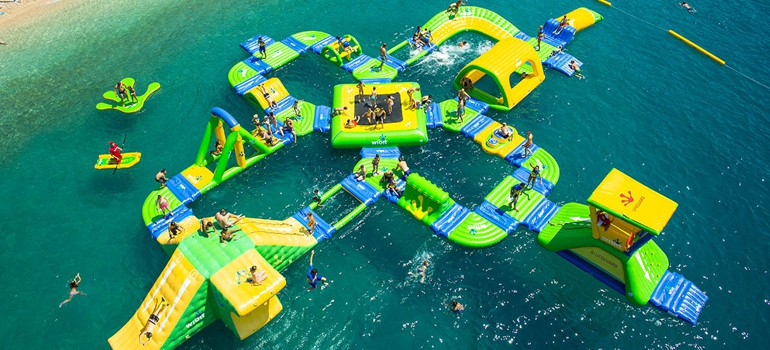 This summer the Aqua Splash Park will be open once again in Sylvan Lake!  this popular outdoor floating waterpark is a quick and easy day trip from both Edmonton and Calgary.
I don't know about you, but we just added a second line to our summer bucket list! The fun, interlocking, modular style water park is one of the hottest new trends in water play and the Sylvan Lake location is the first of its kind in Alberta.
Sylvan Lake Aqua Splash Park Features:
15 foot tower
15 foot overhanging climbing wall
15 foot slide
Oversized trampoline
Monkey swing bars
Climbing Tower
Huge launch bag
Wiggle bridge
90 degree sloped Speed curve
Slides & Cliffs
Trapeze swing
Easy access stairs
Large launch bag
Sloped round about
Podium
And more!
Park Details:
Visit here for the Park FAQ's
Follow their Facebook page for up to date information
All patrons are required to wear a life jacket
You can rent storage bins for your belongings while you're there
Refreshments are available for purchase
Visit here for Admission and Fee information
Participants must be a minimum of 3 Foot 6 inches in height
Children 5 years and under currently NOT PERMITTED
Make sure to stay up to date with all of the adventures you can have in Alberta, and beyond, with the kids. Follow This Big Adventure on Facebook and Instagram!