Alberta Bucket List: 150 Things to do in Alberta this Summer
Alberta Bucket List: 150 Things to do in Alberta this Summer.  Everything from carnivals, to U-picks, to hiking and biking, river floats, places to eat, and ghost towns to visit!
– – – – – –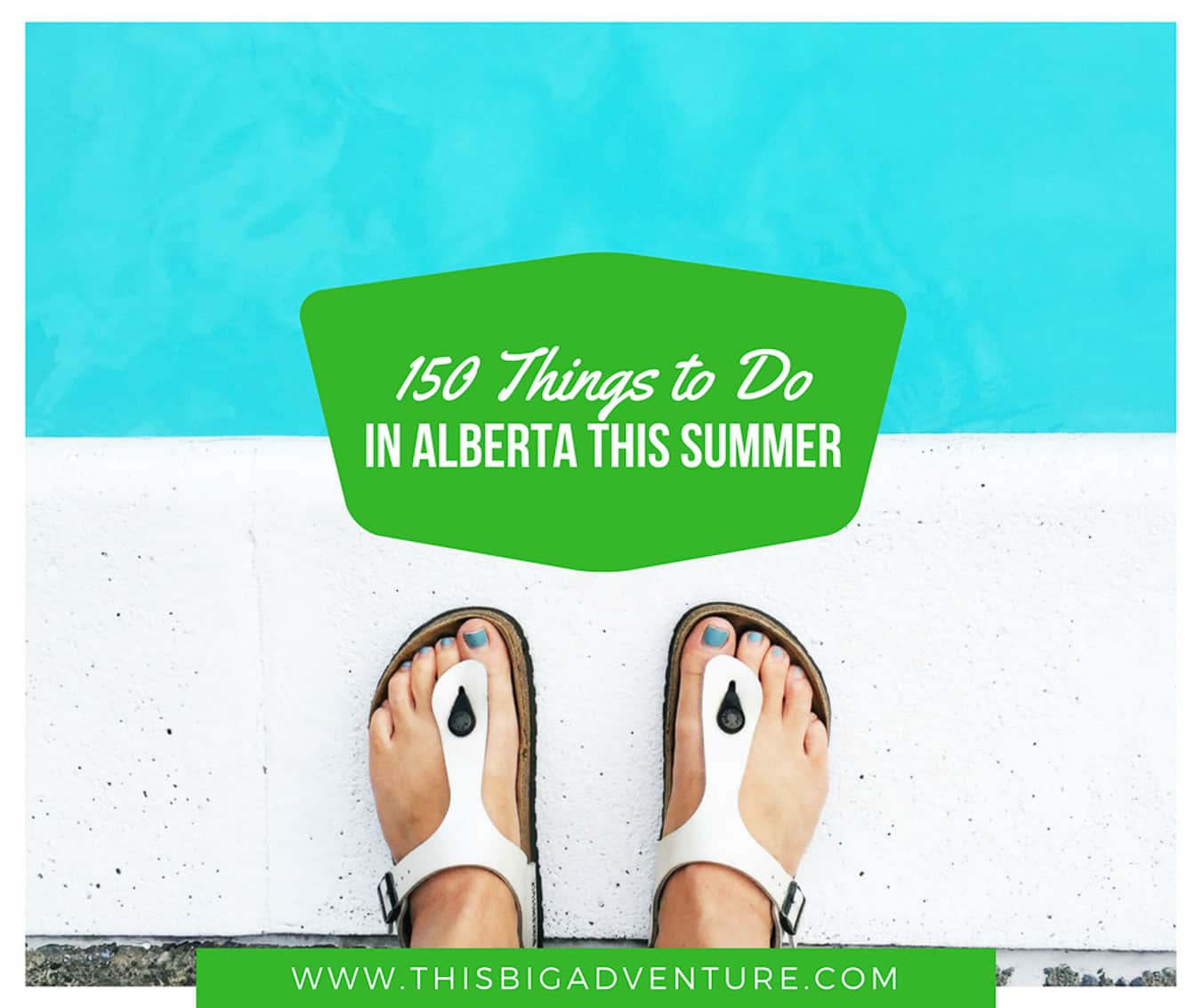 There are so many things to do in Alberta in the summer, but sometimes it's hard to figure out where to start first.  But don't worry, we've got you covered!  We have listed 150 things to do in Alberta this summer. Everything ranging from midways, to u-picks, to hikes, biking trails, river floats, places to eat, ghost towns to visit…there are a tonne of ideas here!
Have a campfire and make s'mores
Explore Cave and Basin after dark on the night lantern tour
Walk the glass floor at Glacier Skywalk in Jasper
Bounce on the Berry Bounce at Kayben Farms
Spend a day in Fish Creek Park, Calgary
Visit a Farmer's Market
Visit Bar U Ranch
Experience the Skyline Luge at Winsport Canada Olympic Park, Calgary
Find the Parks Canada red #ShareTheChairs and get pictures!
Stay in a Caboose Cabin at Aspen Crossing
Go to the Calgary Stampede!
Have a picnic at a honey farm
Hike Johnston Canyon in Banff
Visit Frank's Slide at Crowsnest Pass, Blairmore, AB
Hike Cat Creek Falls in Kananaskis (and walk on the broken road)
Take a tour and have a picnic at Ellis Bird Farm
Have a bouncing fun day at the outdoor floating Aqua Splash Park in Sylvan Lake
Camp on the lake at Kinbrook Island Provincial Park
Kayak and camp at Kelley's Bathtub in William A. Switzer Provincial Park
Take a bus tour of the badlands at Dinosaur Provincial Park
Take the kids to the Kinsmen Spray Park in Edson
Take the kids on a hike at Hard Luck Canyon near Whitecourt
Ride the slides at the Whitecourt Rotary Park River Slides
Skip rocks at the river
Sleepover with the dinosaurs at the Royal Tyrrell Museum
Walk the horse barns at Spruce Meadows in Calgary
Stop in for a donut at the Donut Mill in Red Deer
Track the Northern Lights
Spend the day at Devonshire Beach Slave Lake
Rent a canoe, kayak or rowboat and take it out on the turquoise waters of Maligne Lake
Ride the trails with your family at the Canmore Nordic Centre
Spend the day at the Outdoor Waterslides in Blackfalds
Take the kids to the Active Learning Park at Granary Road, Calgary
Go tubing at Milk River
Bike the trail from Canmore to Banff
Catch a $10 bus ride from Calgary to Banff on On It Transit
Get up close with Hoodoos in Banff
Stroll around the coal mine ruins of the Leitch Collieries Provincial Historic Site
Visit the Ink Pots in Johnston Canyon Banff
See the abandoned Hot Springs on the 'Source of the Springs' Trail in Jasper
Spend a night camping in a Yurt at Pigeon Lake
See the Columbia ice fields on a helicopter tour
Sleep outside on the trampoline
Take a scenic Drive along The Cowboy Trail
Explore Red Rock Canyon in Waterton
Go see a baseball game!
Mountain bike on a ski hill, at Winsport in Calgary
Fly high on the trapeze at Flying Trapeze outside of Calgary
Go to a midway / carnival
Visit the Medalta museum, arts facility and gallery in Medicine Hat
Walk the Peace Bridge in Calgary
Spend the day at Heritage Park, Calgary AB
Tour the Galt Museum & Archives in Lethbridge
See if Peyto Lake is really as blue at they say it is!
Take an evening Wine & Cheese Cruise on Lake Minnewanka
Ride the Banff Gondola
Soak in the Banff Upper Hot Springs
Soak in the hottest hot springs in the rockies, the Miette Hot Springs in Jasper
Visit the Gopher Hole Museum at Torrington, AB
Paddleboat in William Hawrelak Park, Edmonton
See a movie in a small town theatre!
Stuff yourself at Taste of Edmonton
Catch the fireworks festival, Globalfest in Calgary
Explore the Ukrainian Cultural Heritage Village.  And enjoy authentic food!
Take the back roads and add a ferry to your road trip!
Ride the High Level Street Car in Edmonton
Tube the Pembina River by Evansburg
Visit the Fort Museum at Fort Macleod
Take in all the rides at Calaway Park
Go whitewater river rafting!
Go deep in the mines at the Atlas Coal Mine National Historic Site near Drumheller
Take the kids go-karting!
Visit the Okotoks erratic, "The Big Rock"
For Star Trek fans, visit the Vulcan Trek Station
Go Caving in the Cadomin Caves
Take a guided caving tour of the Rat's Nest Cave near Canmore
Spend a lazy day floating down the Bow River in Calgary
Have a beach day at Sylvan Lake
Bird watch at the Inglewood Bird Sanctuary in Calgary
Go for a walk in your local park.  For us that's Fish Creek Park!
Float in a tube at Discovery Canyon, Red Deer
Have an historical adventure day at Fort Normandeau near Red Deer
Visit Glenbow Museum in Calgary
Stand on the glass deck at the top of Calgary Tower
Have a picnic
Get your car fix at the Reynolds-Alberta Museum
Take the kids to a splash park!
See the world's largest dinosaur in Drumheller
Go to a free pancake breakfast
Visit the world's largest perogy in Glendon
Spend the day at an outdoor pool
Camp under the stars in Elk Island National Park
Get up early and catch a beautiful Alberta sunrise!
Check out the Sunnyslope Sandstone Shelter near Didsbury
Walk amongst the dinosaurs at Jurassic Forest near Gibbons
Sleep in a tent under the stars
Visit the sheep grazing in Fort Saskatchewan
Climb, zip and jump at the Aerial Adventure Park near Fort McMurray
Walk on water in a water ball in Red Deer!
Go for breakfast in an old church, at the Holy Ghost Cafe and Music Hall in Coleman
Take in a Farm to Table foodie experience
Go rock climbing
Take the kids for ice cream at MacKay's in Cochrane
Meet friends for coffee on the patio at a local cafe!
Climb, zip and jump at the Snow Valley Aerial Park in Edmonton
Ride the VIA Rail through the Rocky Mountains
Camp in an oTENTik tent at Two Jack Lake
Take a road trip and listen to a playlist of 150 Canadian songs!
Go to an outdoor movie in your area!
Visit a new playground in your town or city
Visit the Icefields
On a rainy day, explore West Edmonton Mall
Go on a bird watching walk at Kimiwan Lake at McLennan
Attend a music festival!
Visit the Calgary Zoo
Catch a play or live music in the Badlands
Eat a Saskatoon Berry Butter Tart at The Saskatoon Farm
Take the kids to a petting zoo
Play mini-golf!
Visit a U-Pick and stock up!
Stop in at the Nanton Candy Store
Hike a short trail to Sulphur Gates in the Grande Cache area
Visit the eroded remnants of a prehistoric river in Kleskun Hill Natural Area
Get up early and go fishing!
On your way to Drumheller, stop in and take in the views at Horseshoe Canyon
Visit a Ghost Town
Go to a street performers festival!
Stop in for a soda at Marv's Classic Soda Shop in Black Diamond
Go for a day hike in Bragg Creek, then stop in town for a coffee
Pick your own flowers at a flower farm!
Go for a bike ride!
Attend an Under the Stars Program at Prairie Gardens Adventure Farm in Bon Accord
Visit different playgrounds in Alberta
Visit the working sheep farm, PaSu Farms for a bite to eat or some shopping
Go berry picking at Pearson's Berry Farm!  And buy a pie too!
Take an educational Sanctuary Tour through Yamnuska Wolfdog Sanctuary
Have dinner at one of your local food trucks!
Bonus!  Visit Rocky Mountain House National Historic Site
Where are you going first?