Camp: Dinosaur Provincial Park
Nope, it's not in Drumheller folks. Dinosaur Provincial Park is a UNESCO world heritage site, just over two hours southwest of Calgary. With interpretive tours, camping amidst the hoodoos and amenities like showers, it's one of our top places to camp with kids in Alberta.
One of the most common misconceptions about Dinosaur Provincial Park is that it's located by Drumheller.  It's not, in fact it is about 1 h 41 minutes (163.3 km) away.  But don't let that deter you in the least!  Dinosaur Provincial Park is AMAZING, and definitely one of our most favourite campgrounds.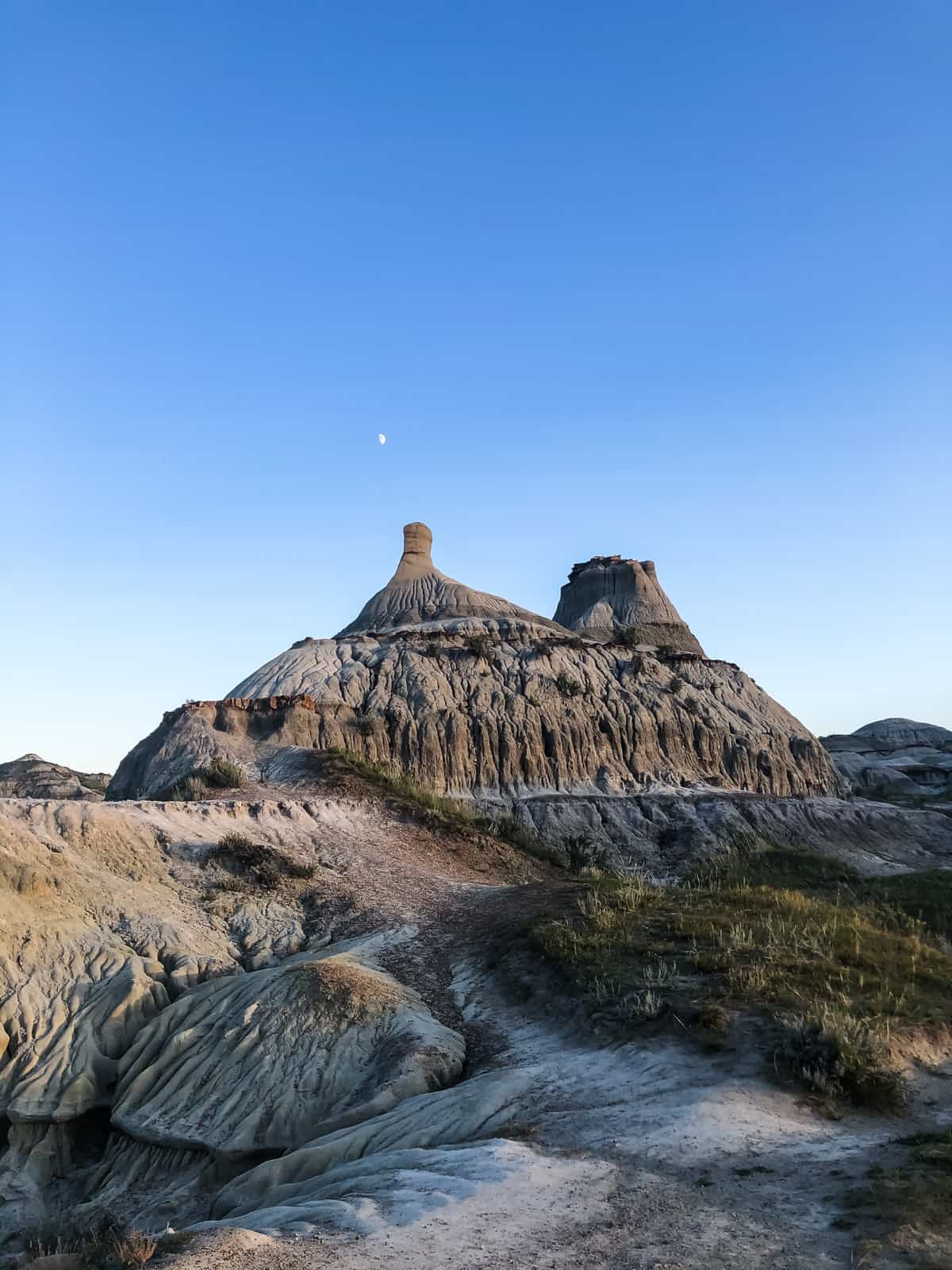 You'll know when you arrive as the landscape changes right in front of your eyes from prairies to ancient landscape.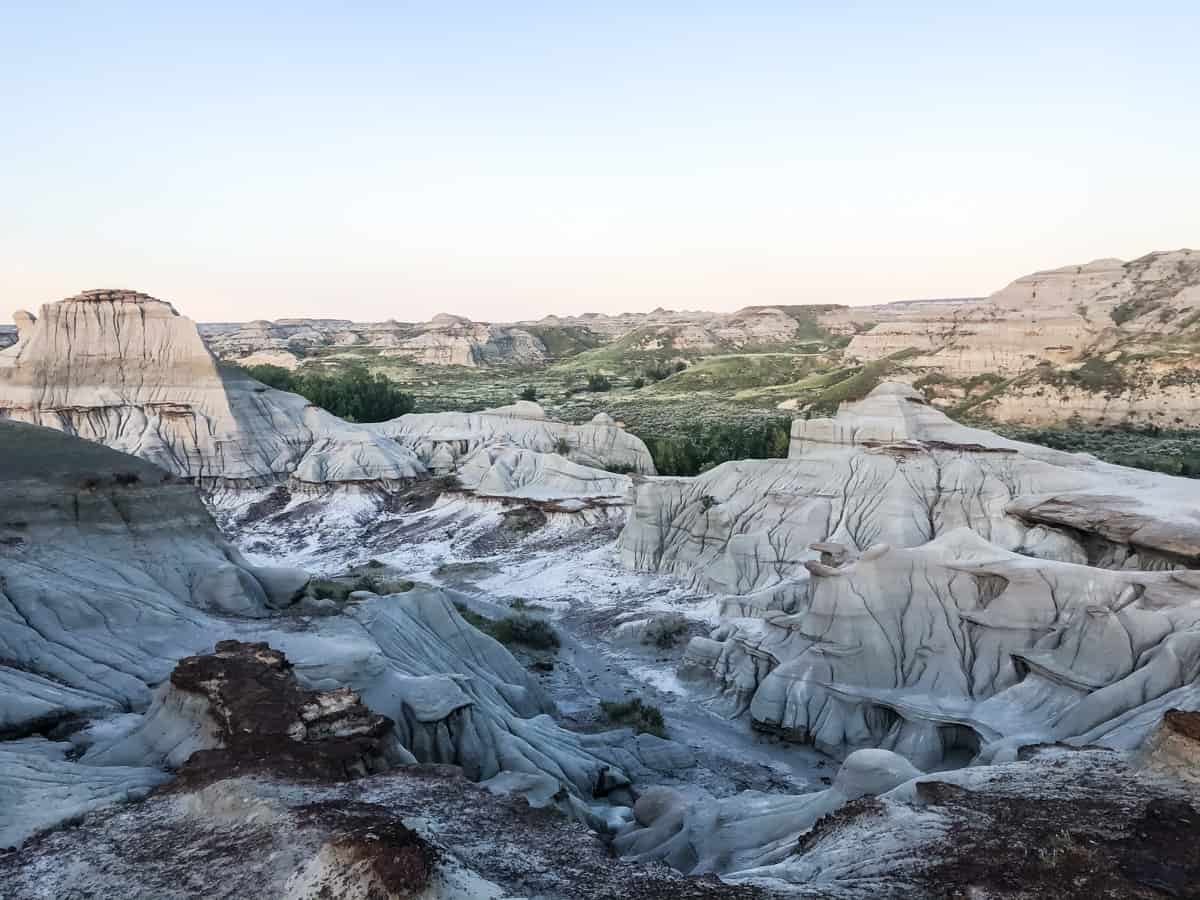 About Dinosaur Provincial Park
Dinosaur Provincial Park campground is along 20 km of the Badlands that are accessible by the public. Depending on where you're camping (south campsites are closer to the hoodoos), you're just a creek or trail away from exploring the Alberta Badlands!  This is amazing…how lucky are we?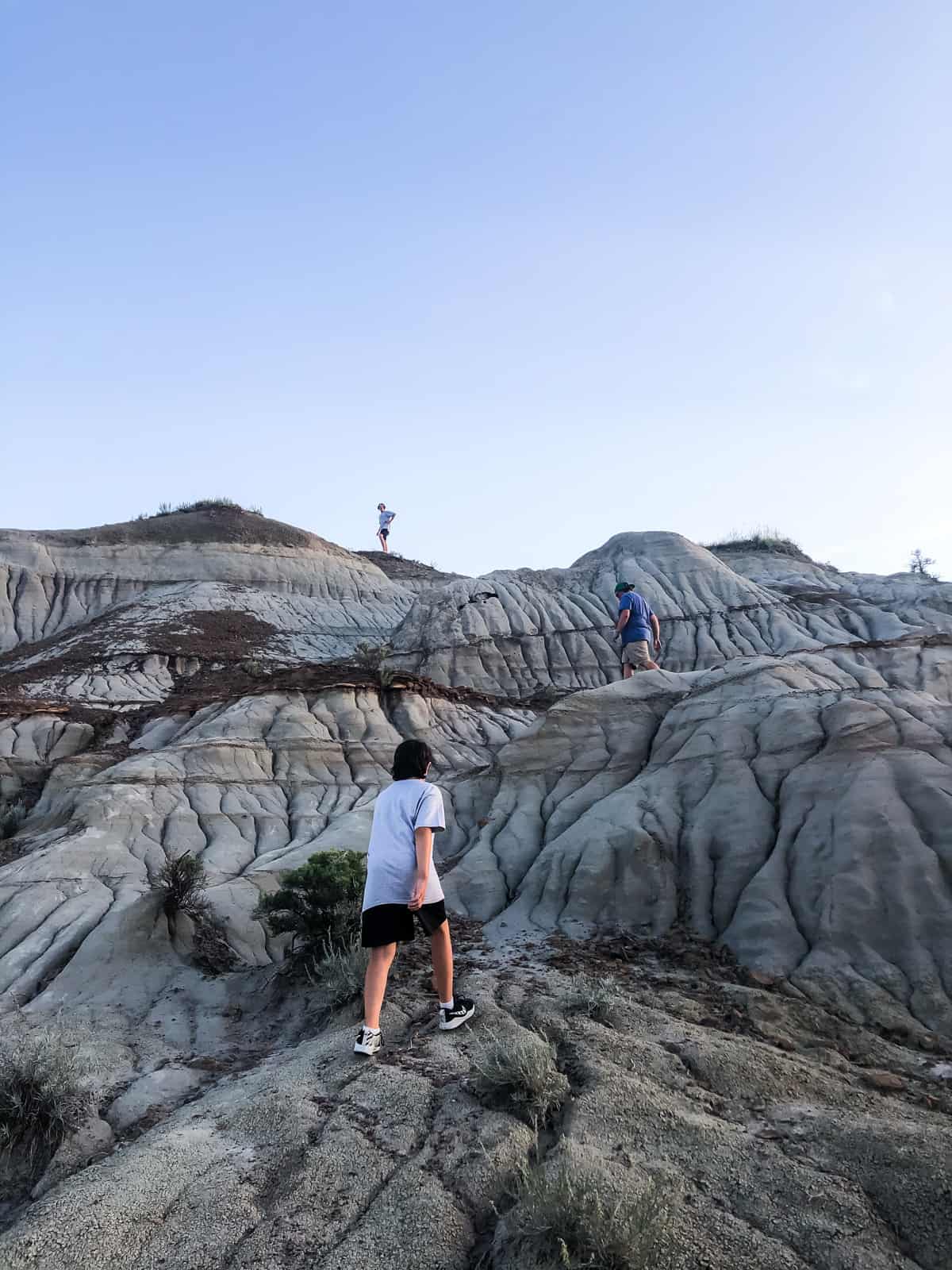 Location
Dinosaur Campground is located right in Dinosaur Provincial Park, 48 km northeast of Brooks off Hwy 876.  From Calgary it's 1 hour, 41 minutes.  From Edmonton it's 4 hours, 25 minutes.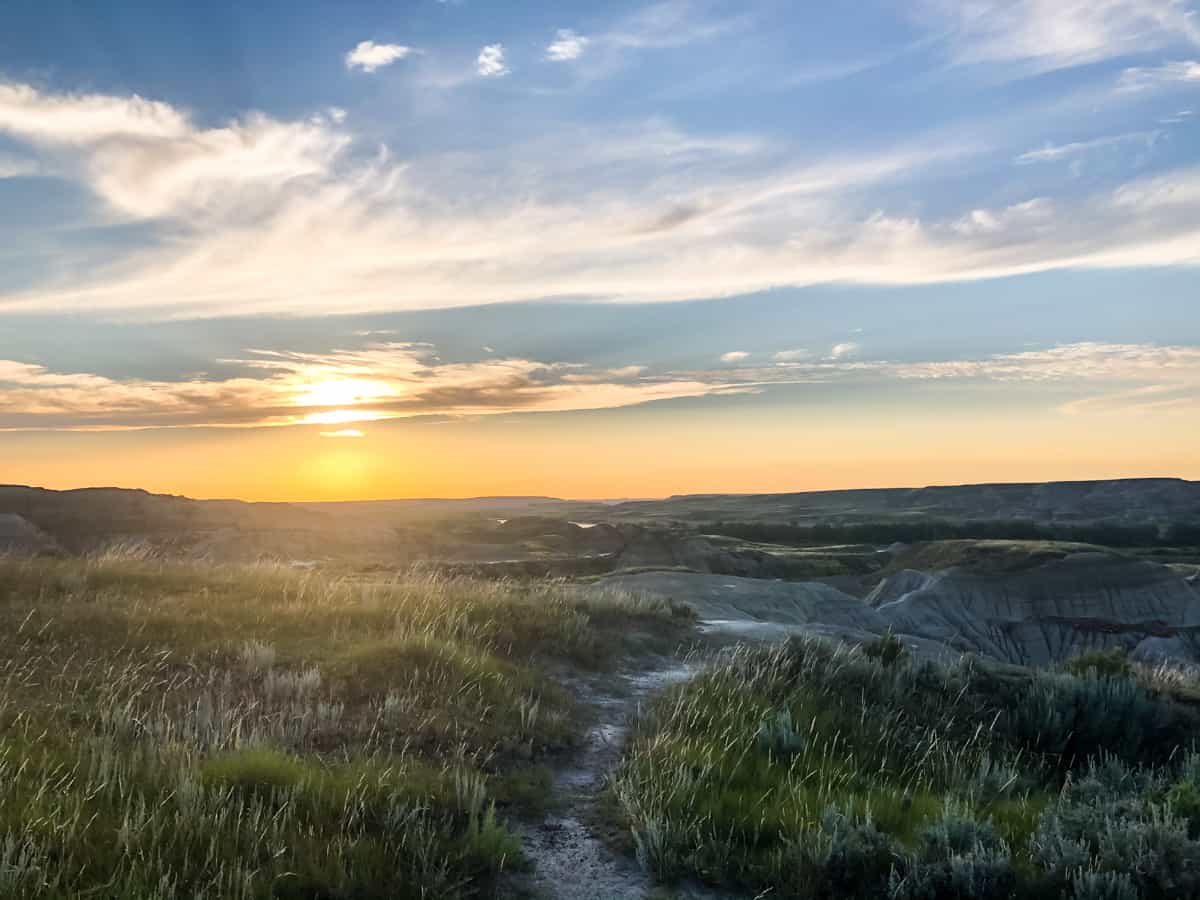 Camping in Dinosaur Provincial Park
The campground is nestled in a valley by the Red Deer River with many options for camping.  You can have a site shaded by cotton-wood trees, or pick a site that backs onto the creek or hoodoos.  No matter where you are, you have ample opportunity to explore this beautiful, unique landscape.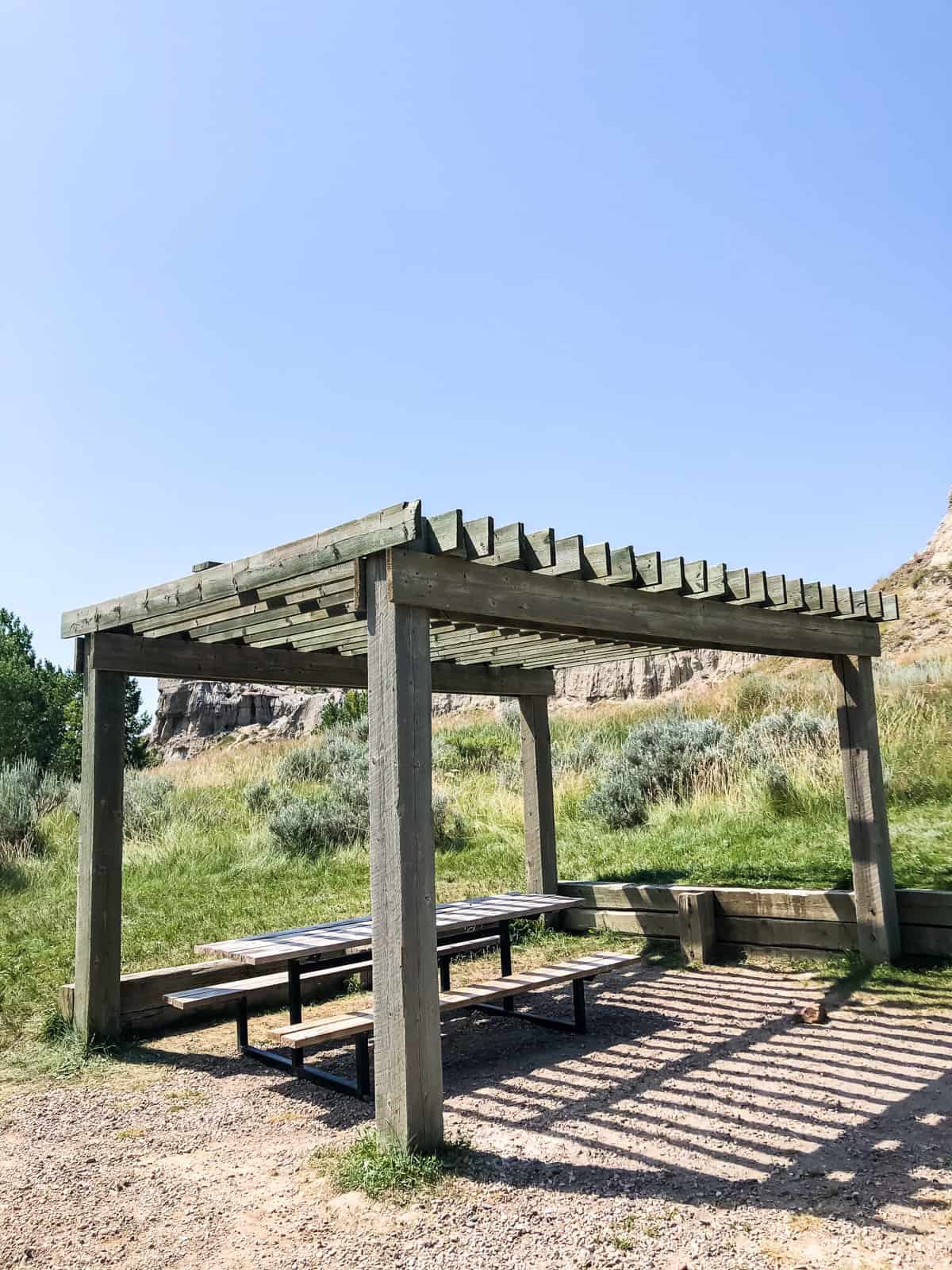 Choose Traditional or Comfort Camping
Both traditional and comfort camping are available. If you're looking for a unique camping experience you might want to try Comfort Camping at Dinosaur. With comfort camping you have tents with beds, refrigerators and everything that you need to feel at home in Dinosaur Provincial Park, without having to haul it all along with you.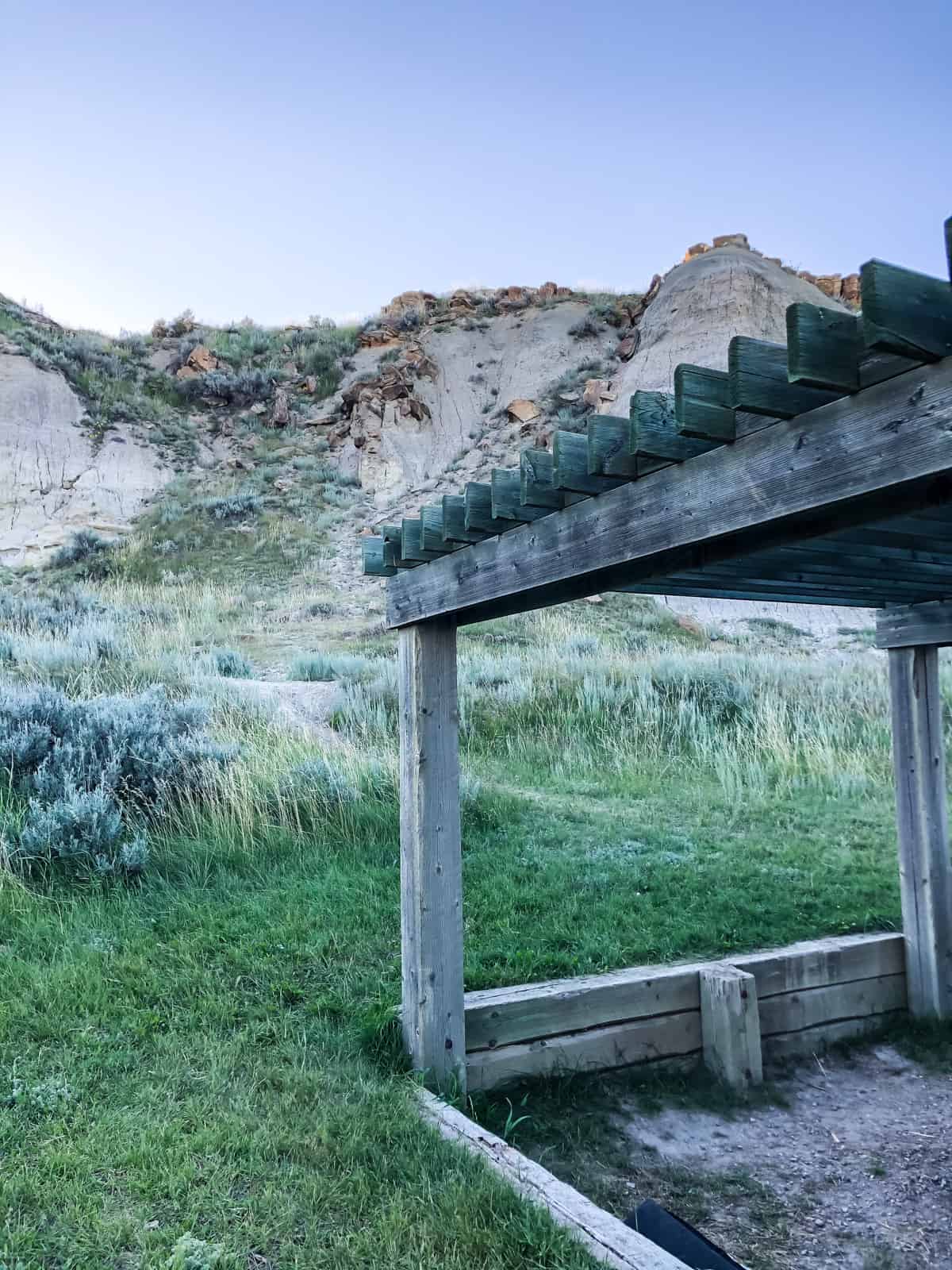 On our recent stay, we chose traditional camping and picked a campsite right next to the hoodoos with a pergola-like structure (which surprisingly offers a lot of shade).  It was fabulous.  Just steps away from trails and with unobstructed views of the hoodoos and sky.  We had the BEST night sky viewing when we were here.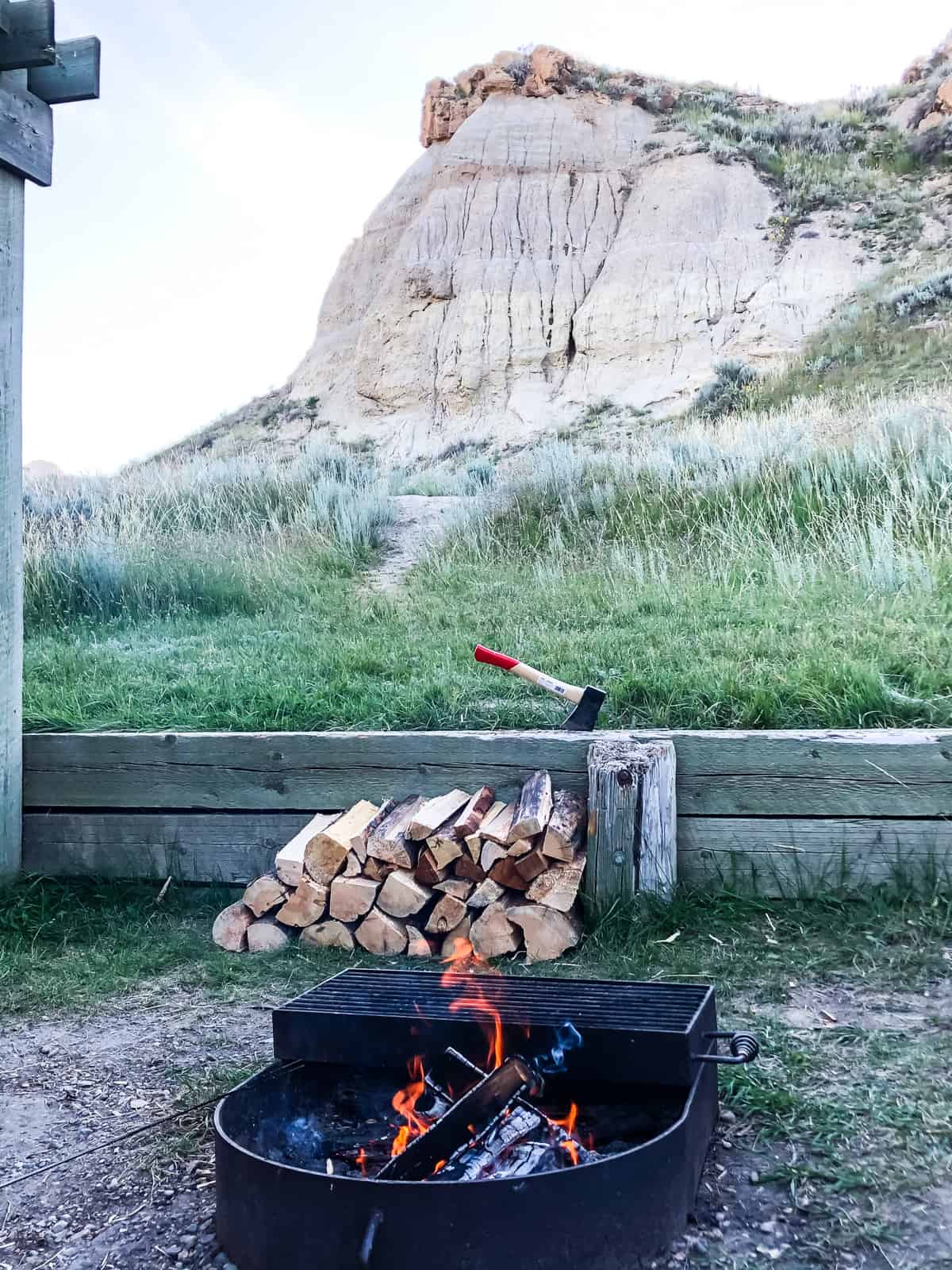 We loved it SO much, and will definitely book our spot in the same area.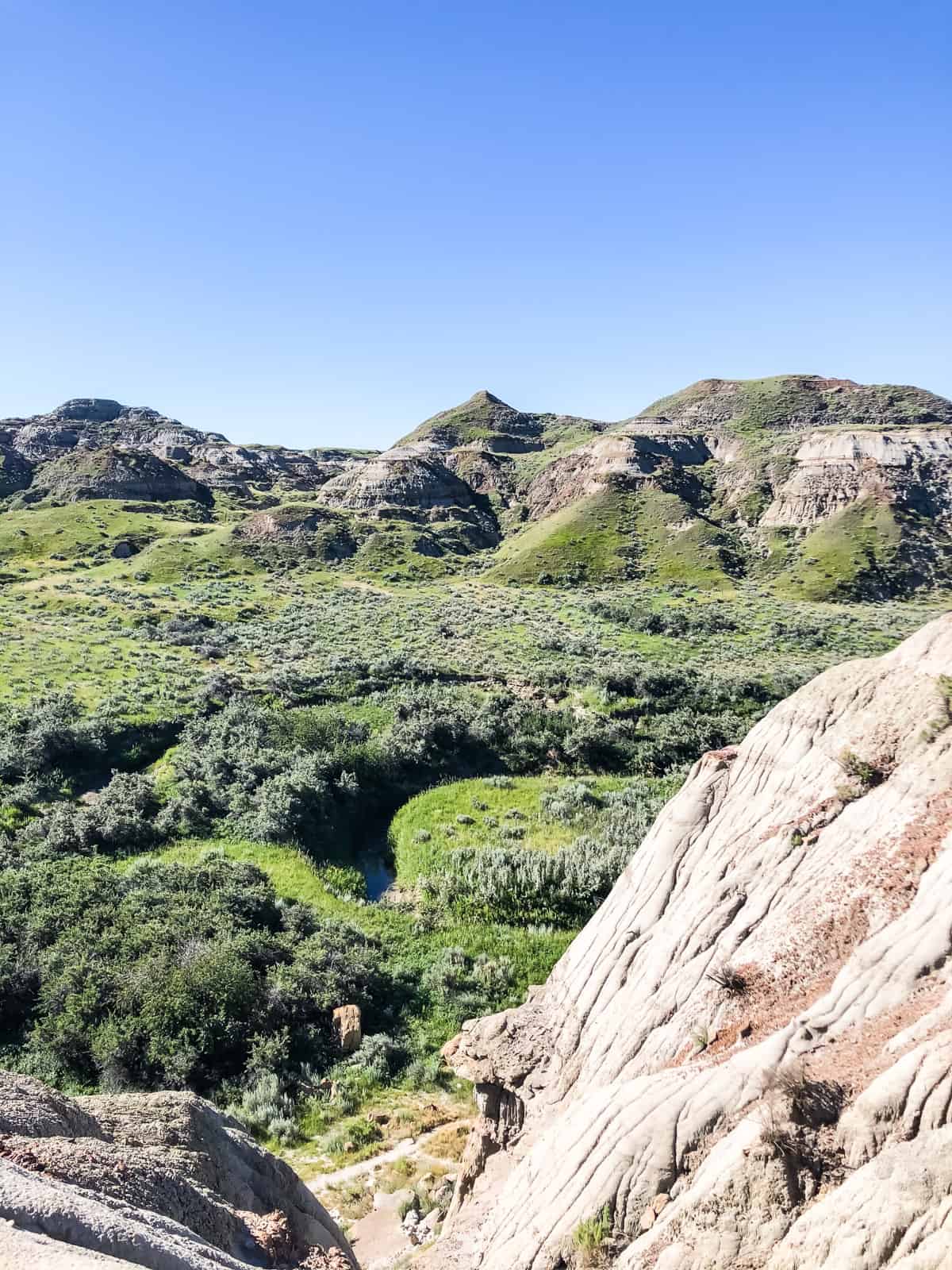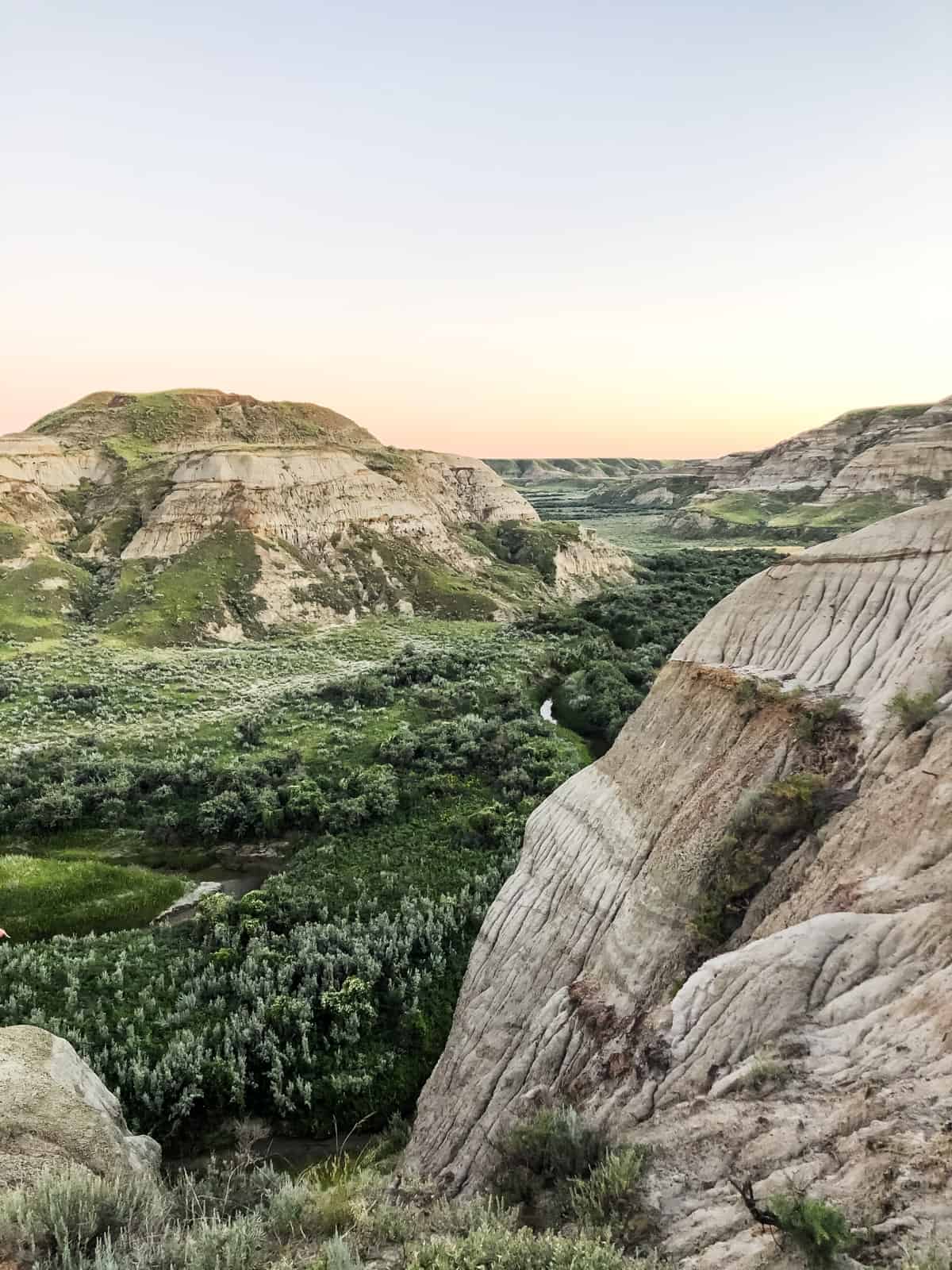 Things to do at Dinosaur PP
There are SO many things to do here!  With so much to do inside the campground, and around to explore, it's an easy weekend filled with fun.
Visit the visitor centre
Hike through the campground
Walk the Coulee trail and the 3 km Dinosaur Loop
Search for cacti
Explore the hoodoos
Visit the John Ware cabin
Play at the playground
Looked at dinosaur fossils
Have some ice cream
Star gaze.  Trust us, the night skies are INCREDIBLE.  We were lucky enough to be there when a meteor shower was going on.
Enjoy nights around the campfire.
Watch for birds and wildlife.  We saw so many birds and deer, and heard coyotes at night.
Take a guided tour or bus tour.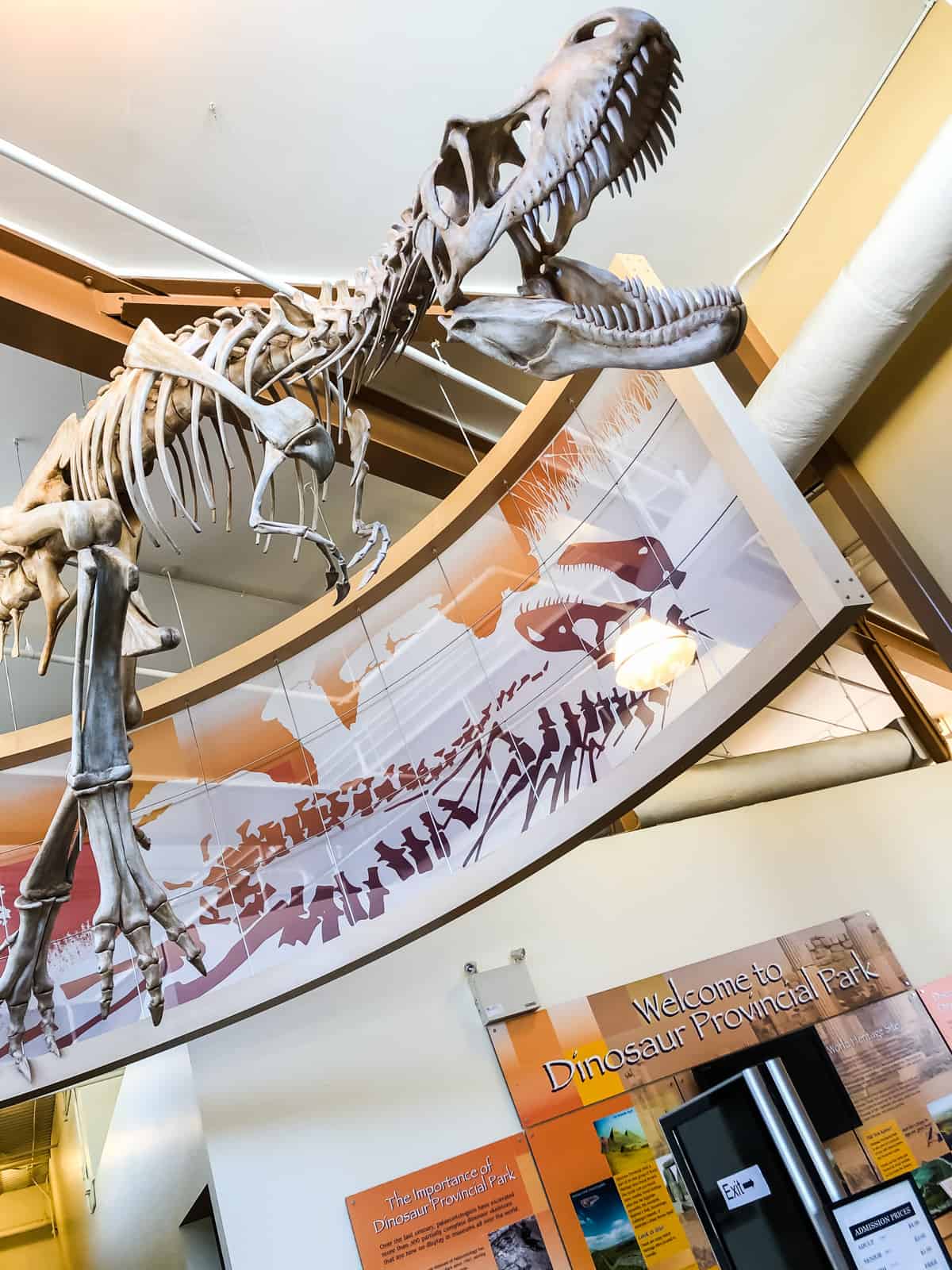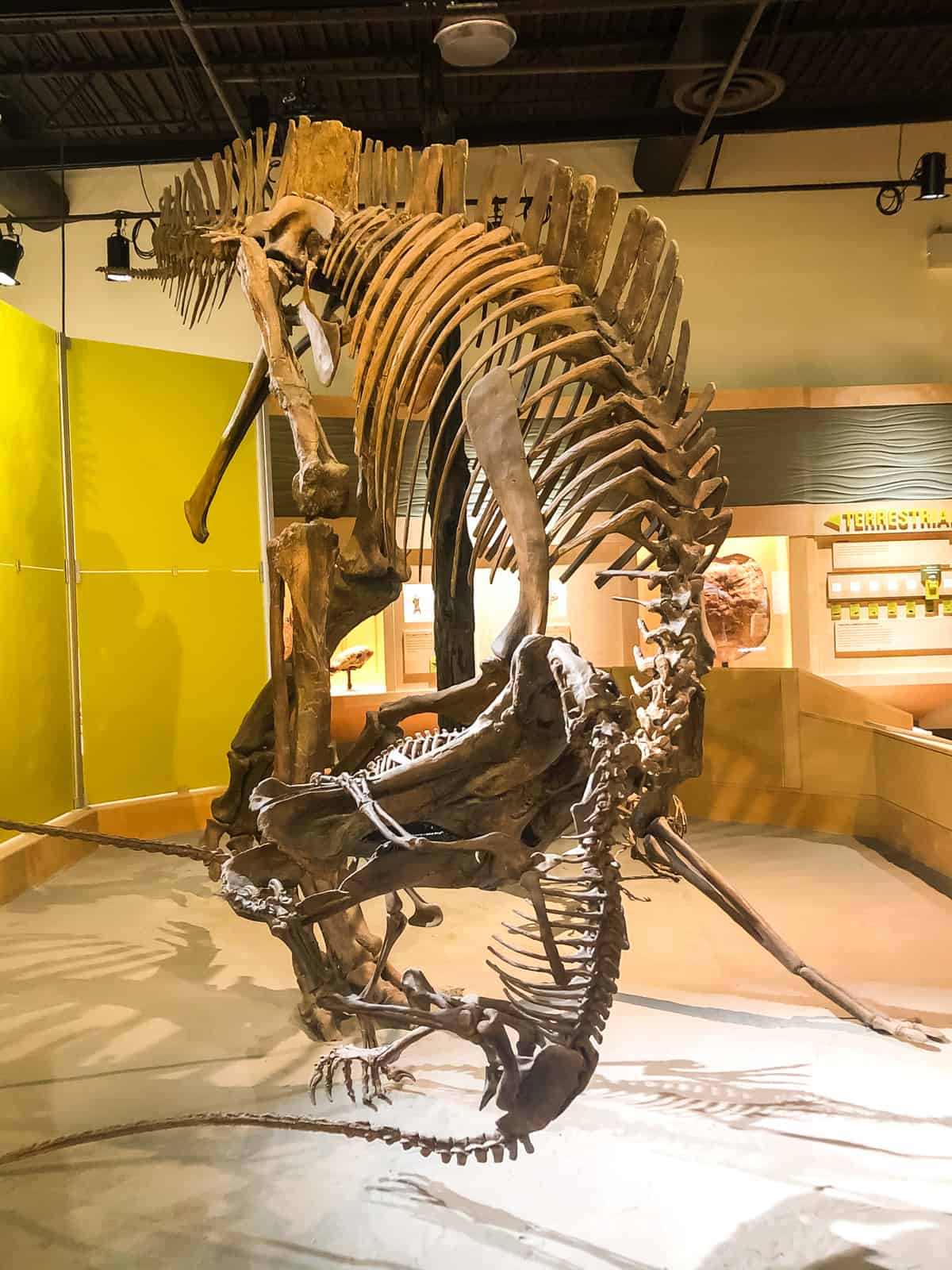 Inside the Visitor Centre at Dinosaur Provincial Park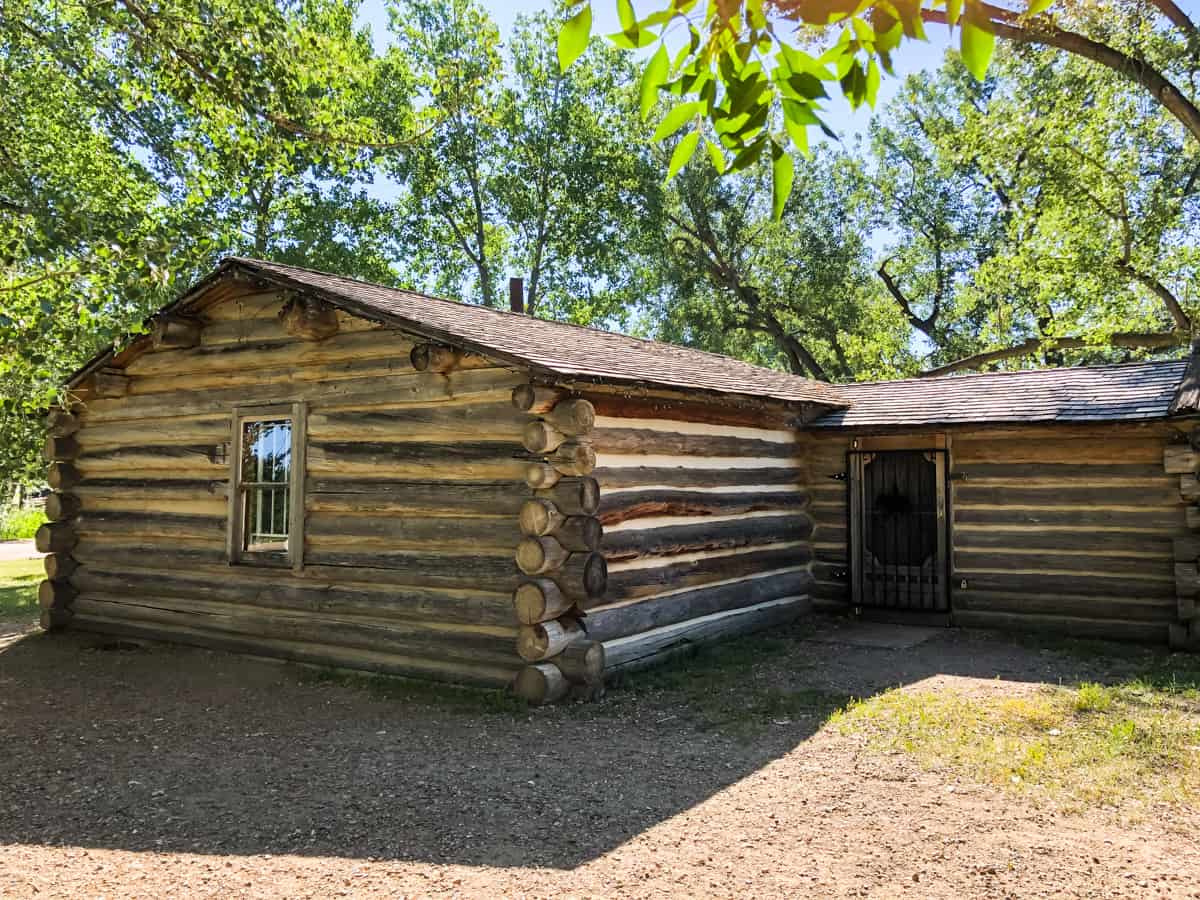 The John Ware Cabin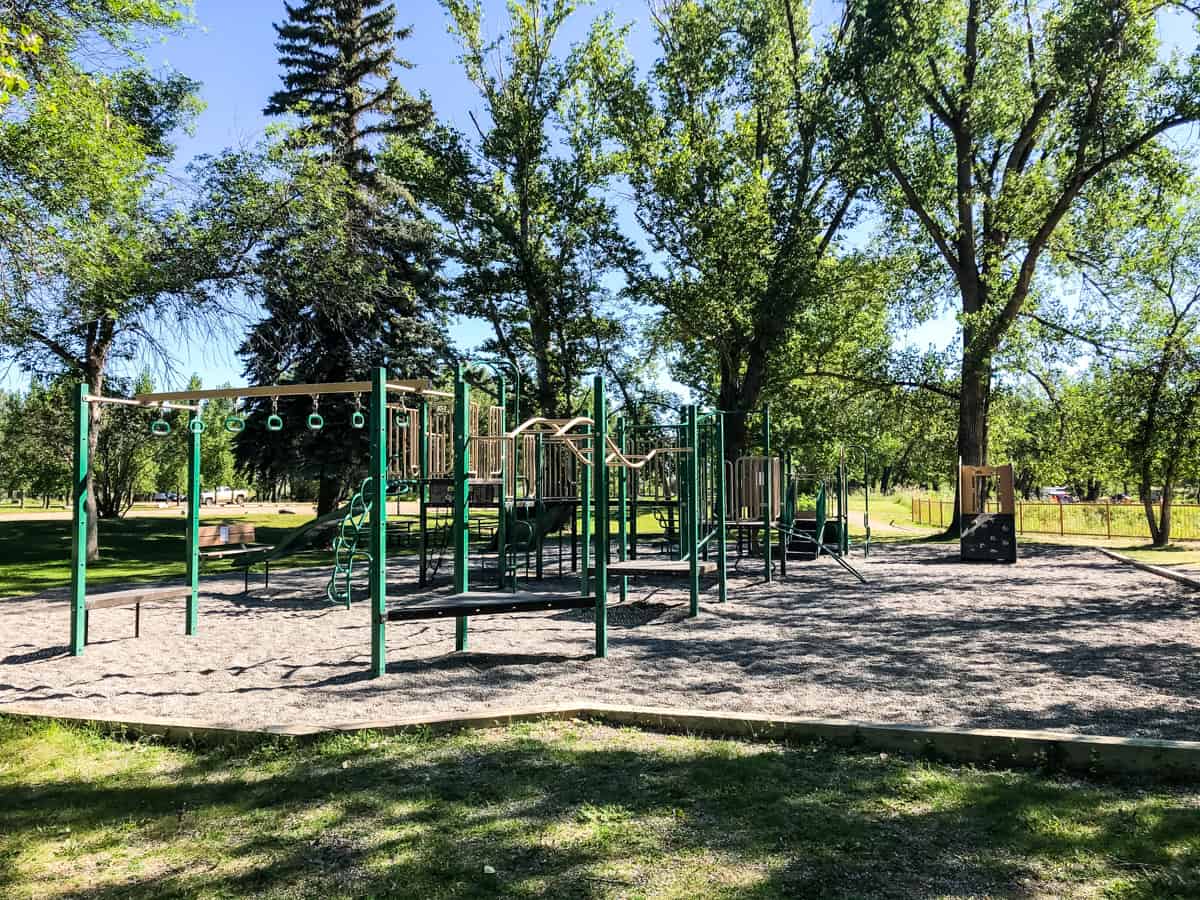 Playground at Dinosaur PP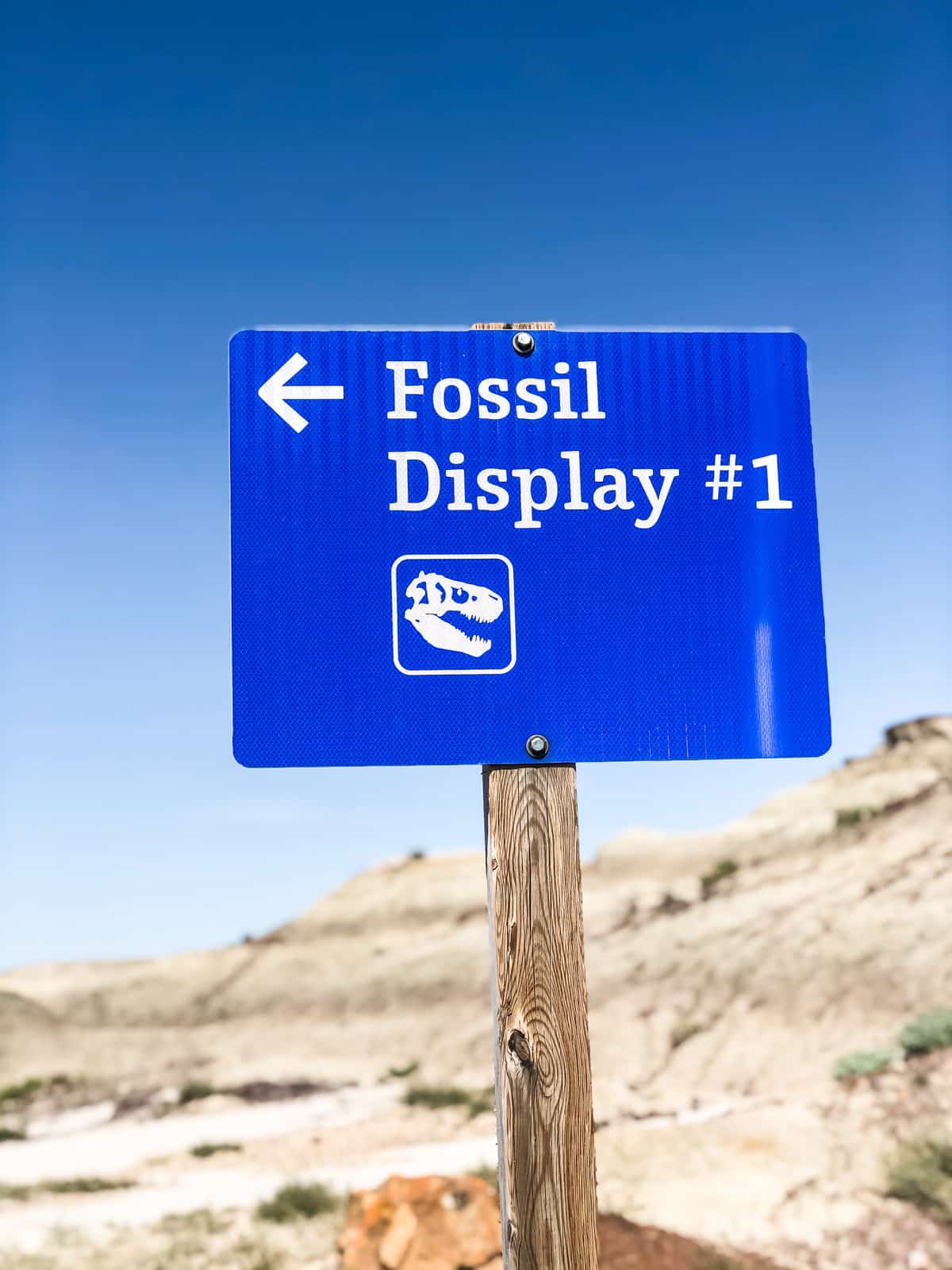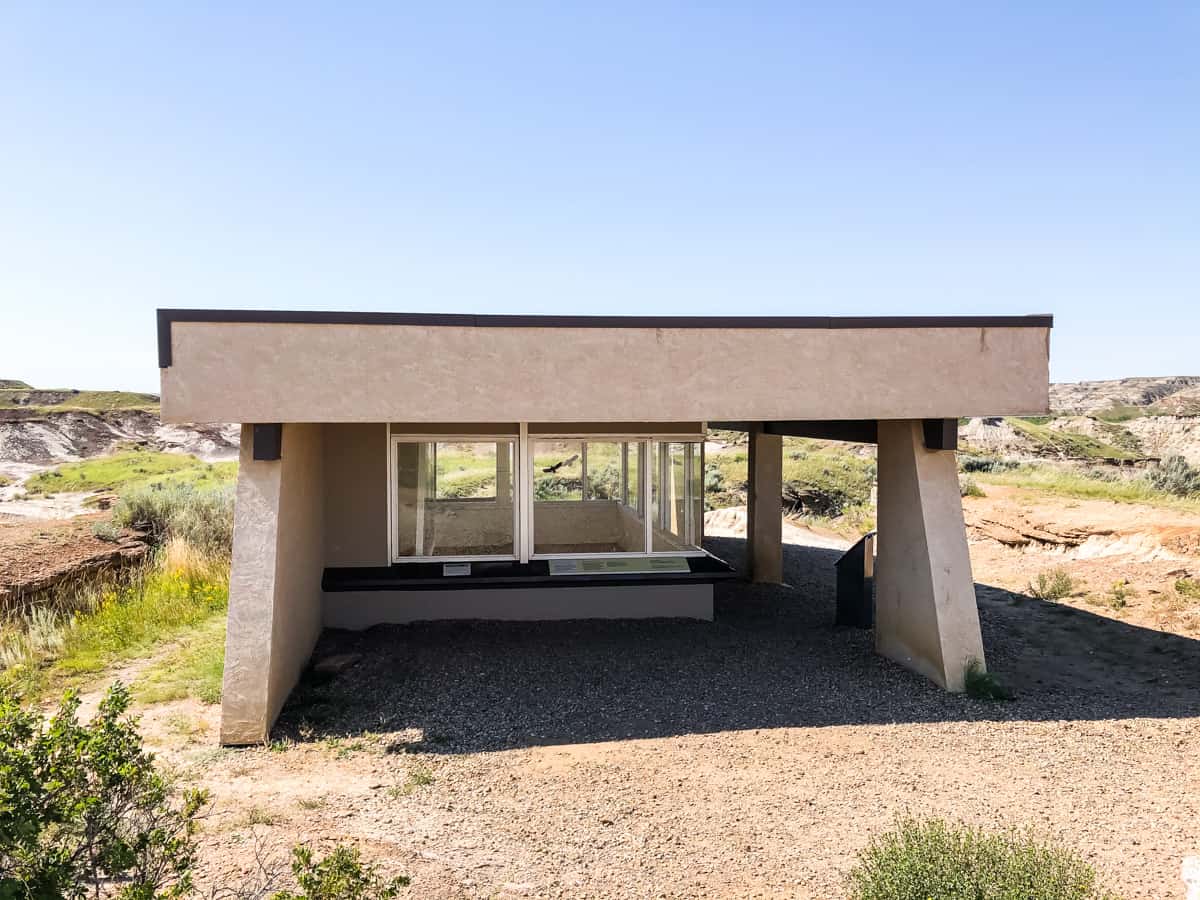 The dinosaur fossil displays on-site.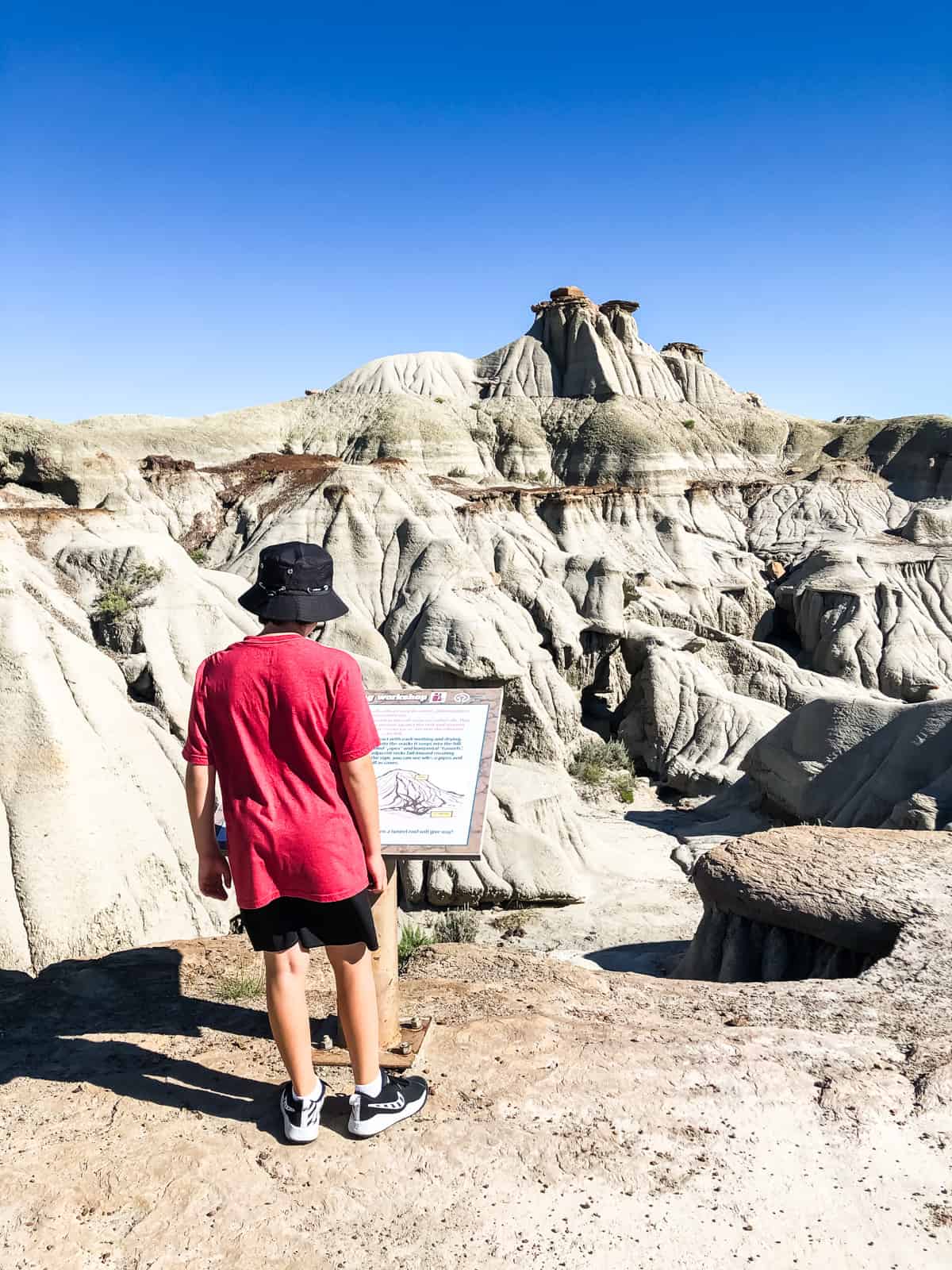 Self guided interpretive trails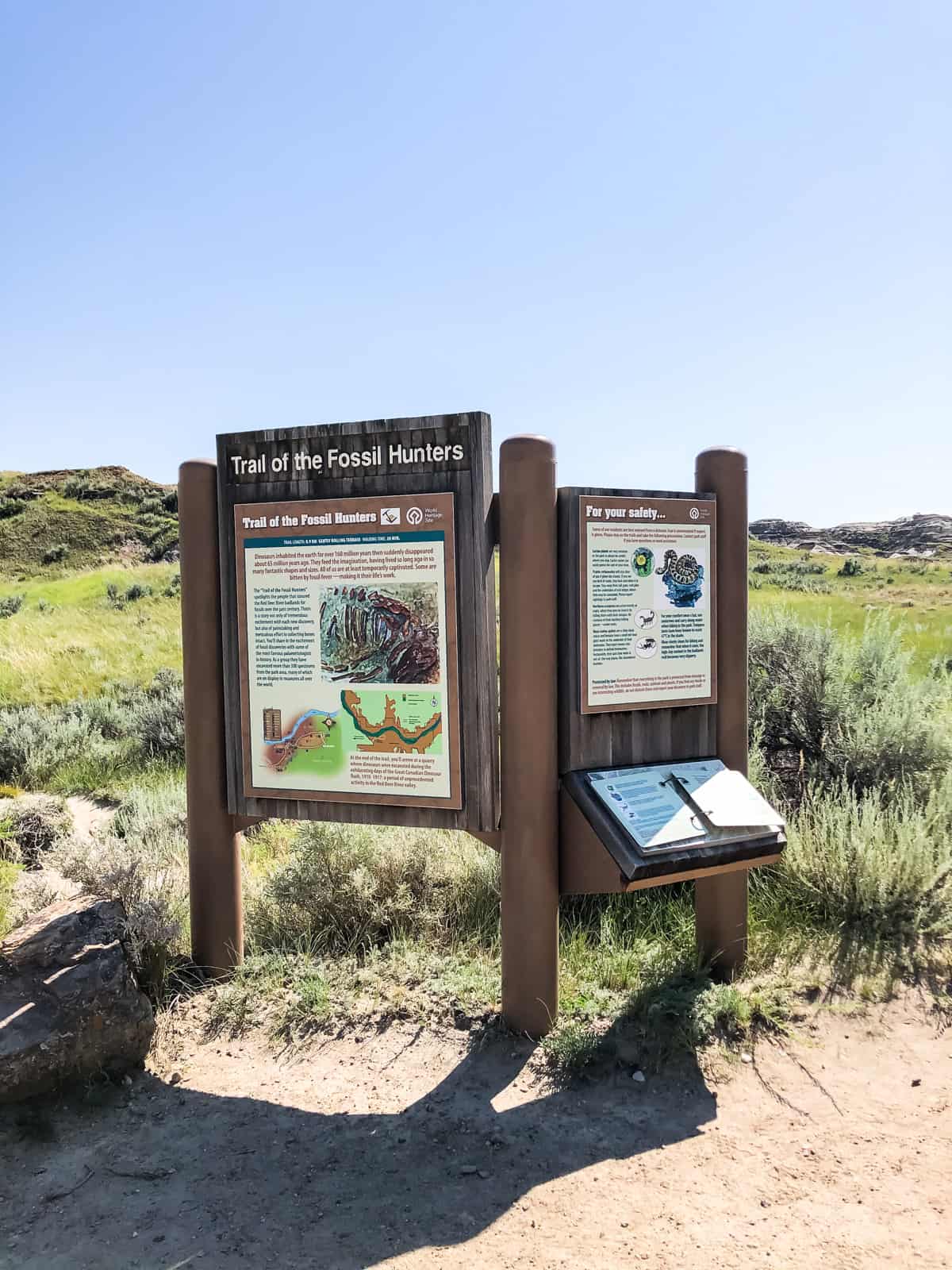 When to go:
If you want to avoid mosquitos go early in the season.  And if you don't like the heat, then right in the middle of summer might not be the best time to visit if you don't have air conditioning…we were there in late July and it was 34 degrees! Late September or early June would be perfect.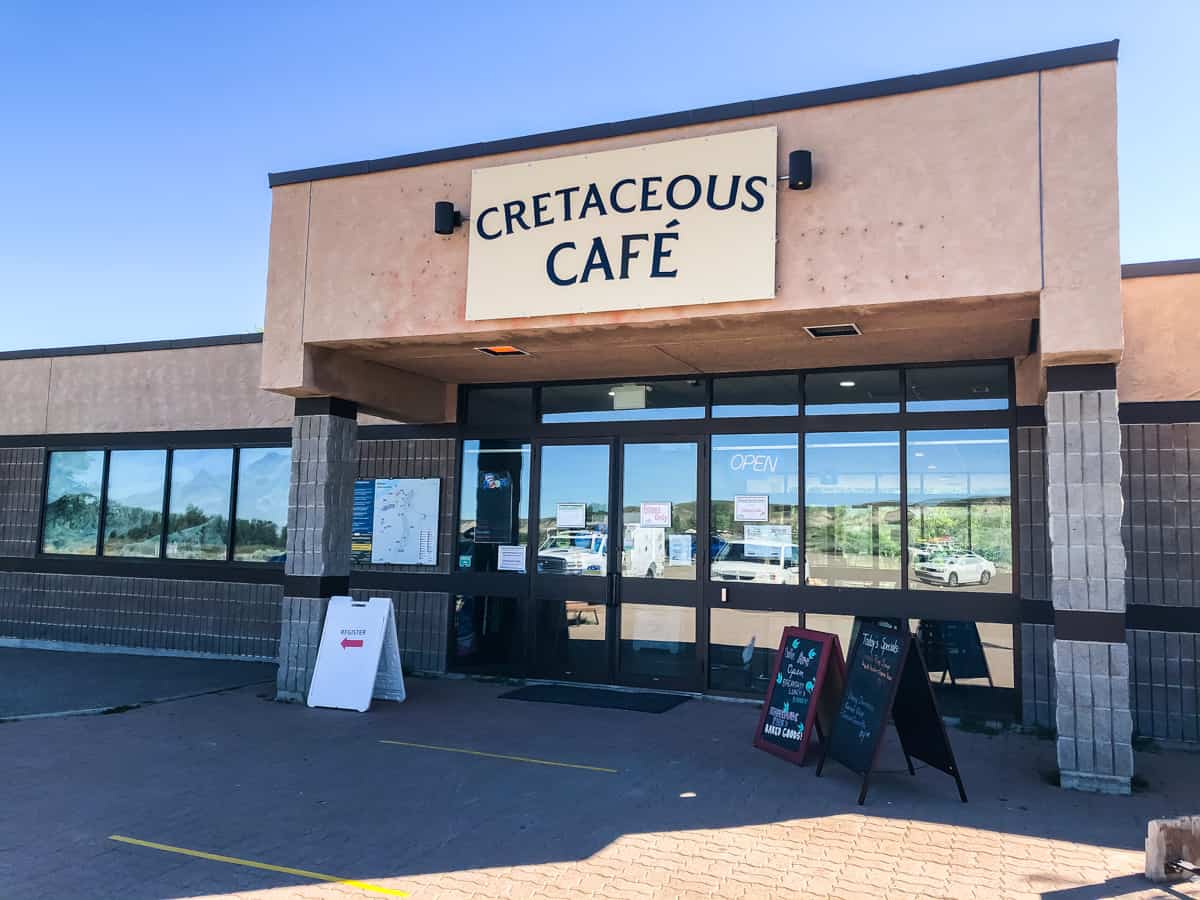 The Cretaceous Cafe where you can get minimal supplies, pie, meals and ice cream!
Dinosaur PP Campground Amenities:
Drinking water is available (taps around the campground)
Toilets:  Both flush and pit/vault
Showers are open.
Firewood is available for purchase.
Laundry facilities are available for use
Canteen for meals, snacks and ice cream!  You can also find the things you may have forgotten at home, like matches or dish soap.
Visit here for Comfort Camping details
Visitor Centre with fossil displays and loads of information on the history of the park.
Trails:  Both self-guided and self-guided with interpretive signs.
Programming:  There are a loads of tours (including bus tours) and programming options available.  Just make sure to book those before you go as they can book up quickly!
Fossil Displays
Playground for the kids
The John Ware Cabin.  Learn about John Ware and his remarkable life.
There is a Day Use Area here too if you're just stopping in.
Winter Camping:  There are 65 sites available for winter camping.
Sani-dump station
Dogs are allowed, but have to be on leash at all times.
Visit the park website for more details and to make reservations.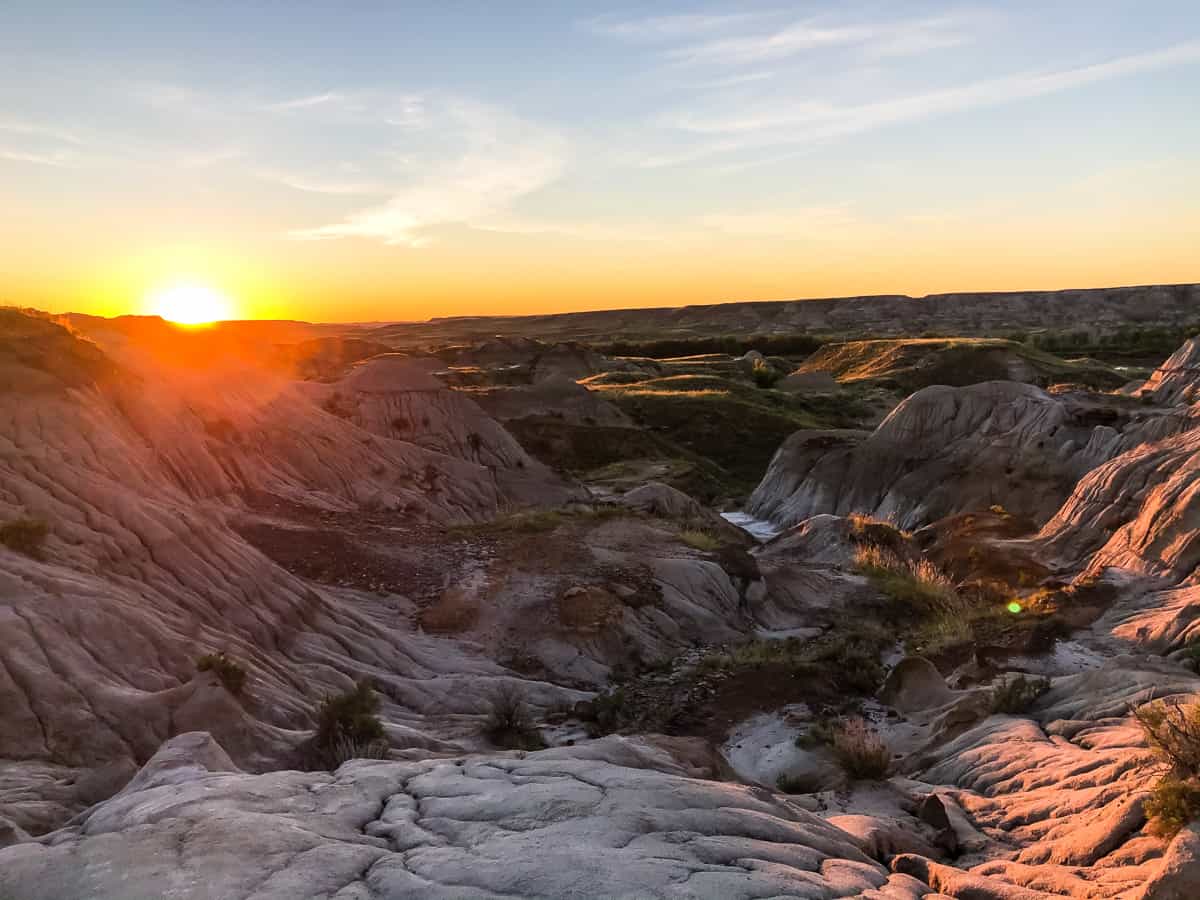 This Big Adventure's Thoughts:
Hands down, this is one of our most favourite Alberta campgrounds!  It has everything you could possibly need and more.  The views, the night skies and the landscape is incredible…we're truly lucky to have this in our backyard.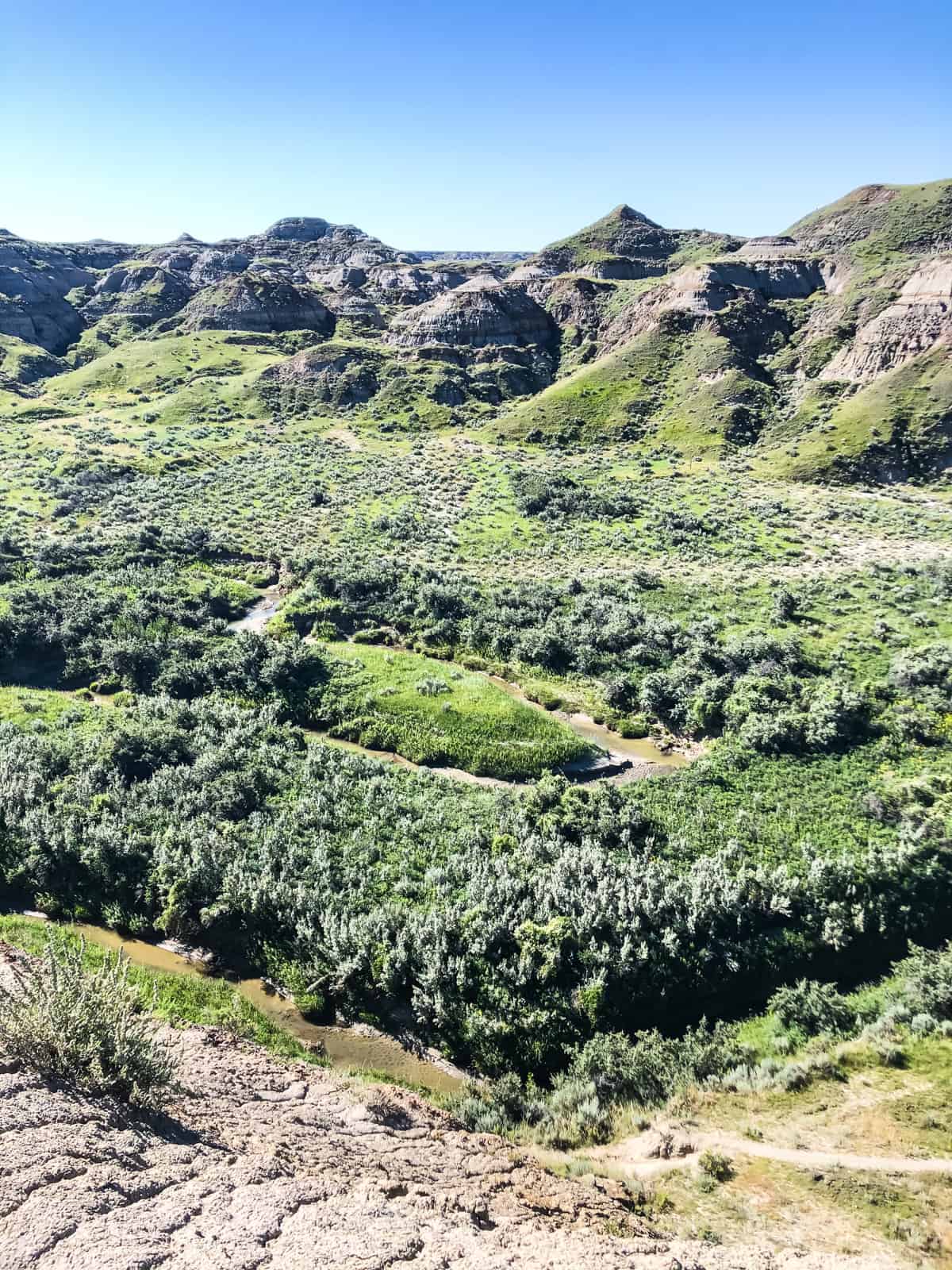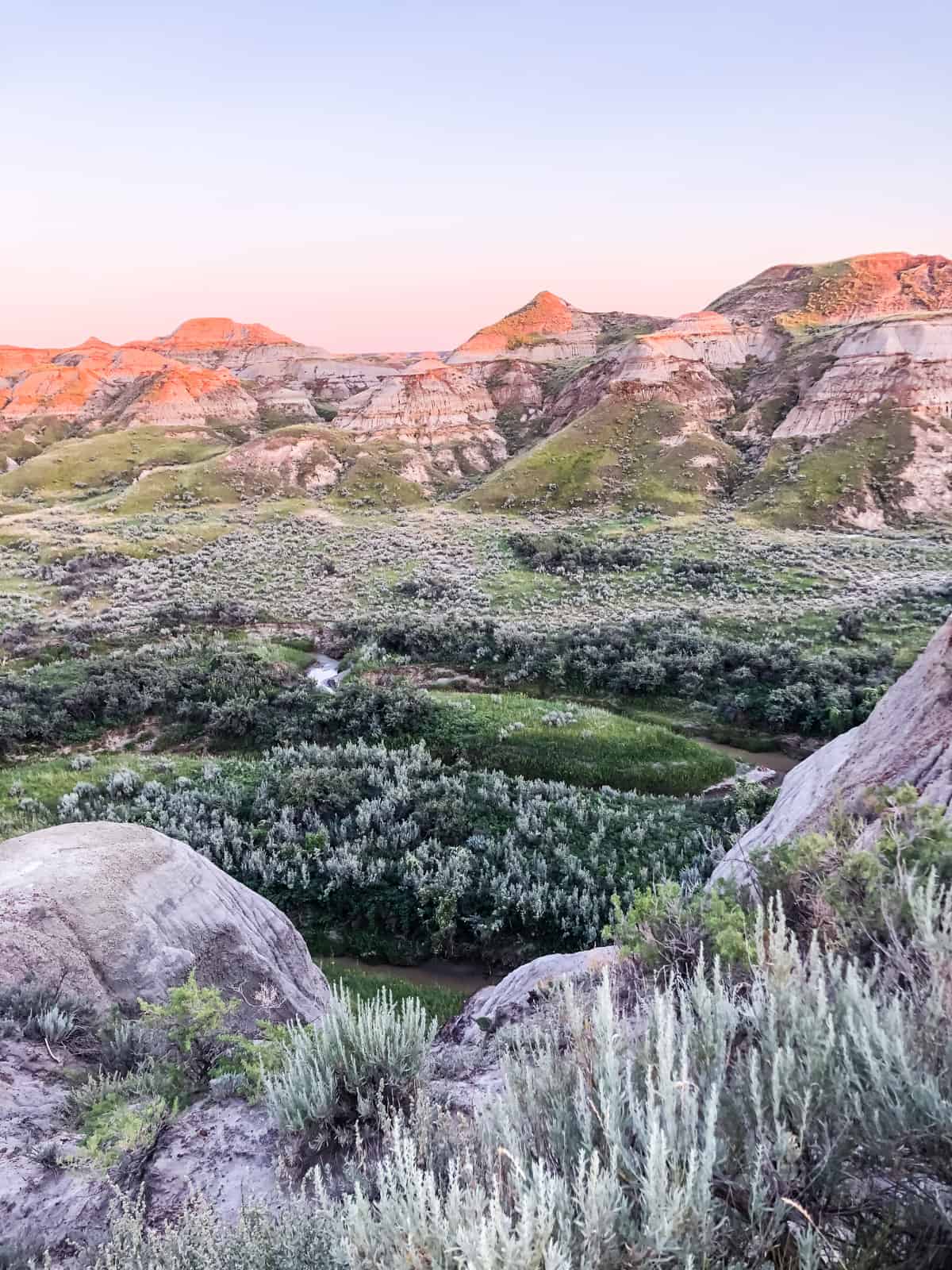 The sunsets are amazing here!
PIN IT!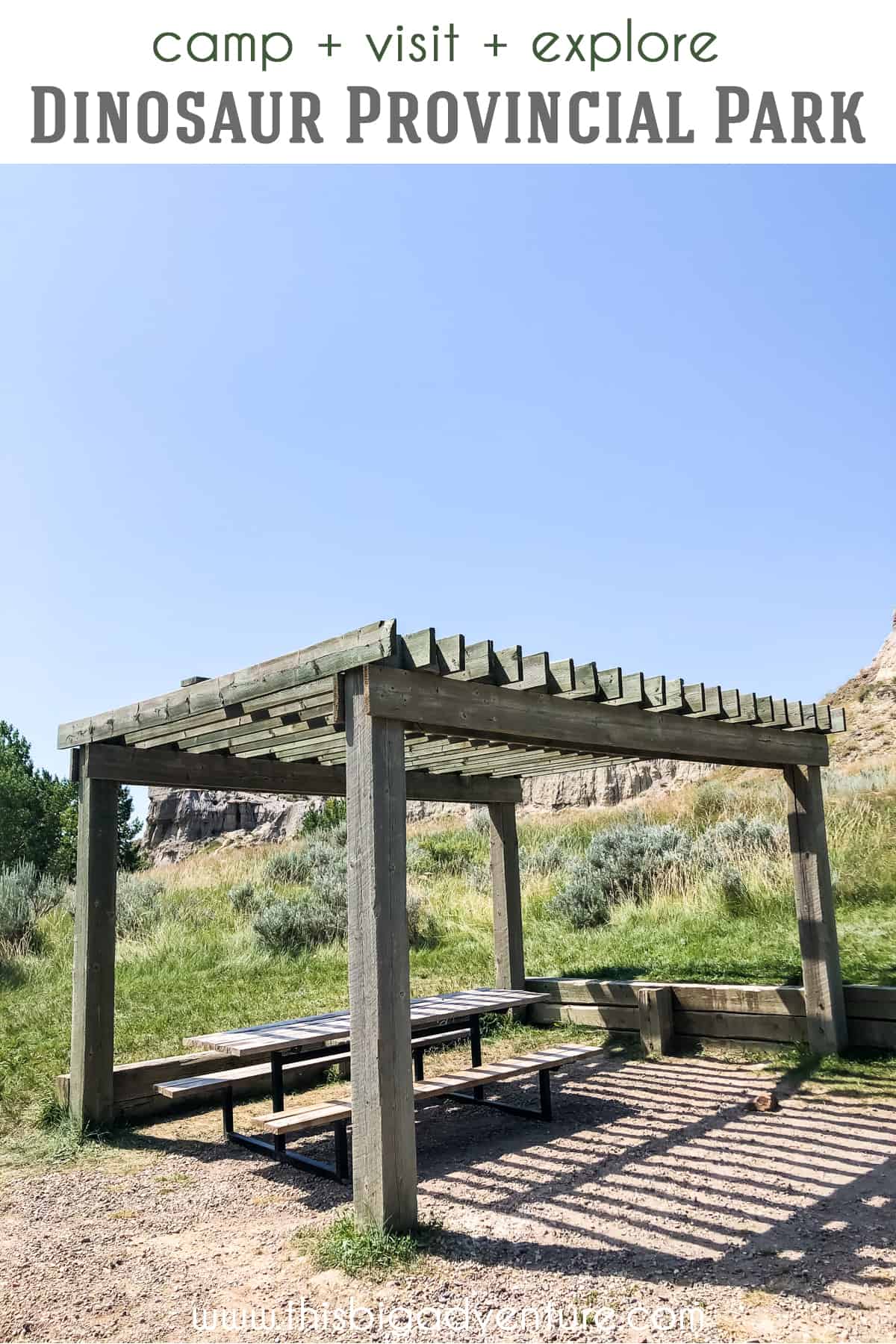 More Adventure at Dinosaur Provincial Park