Boardwalk of the Giant Cedars in Mount Revelstoke National Park
If you are driving along the Trans Canada Highway in Mount Revelstoke National Park, make sure to stop in at the Boardwalk of the Giant Cedars!
A half kilometre boardwalk takes you into the heart of the park's old-growth forest, among cedar trees that may be more than half a millennium old. Signs along the way relate the importance of functioning ecosystems. Benches are provided so you can relax and breathe in the serene forest atmosphere. Trailhead is at the Giant Cedars Picnic Area, 30 km east of Revelstoke on the Trans Canada Highway.
As we walked through the trail at Giant Cedars in Mount Revelstoke National Park, we tried to explain how long 500 years was to a six and three year old. The concept was lost upon them, until we happened upon a fallen tree and explained that it took the tree an entire year to grow that layer. If you've ever wanted to blow a kids mind, start with that.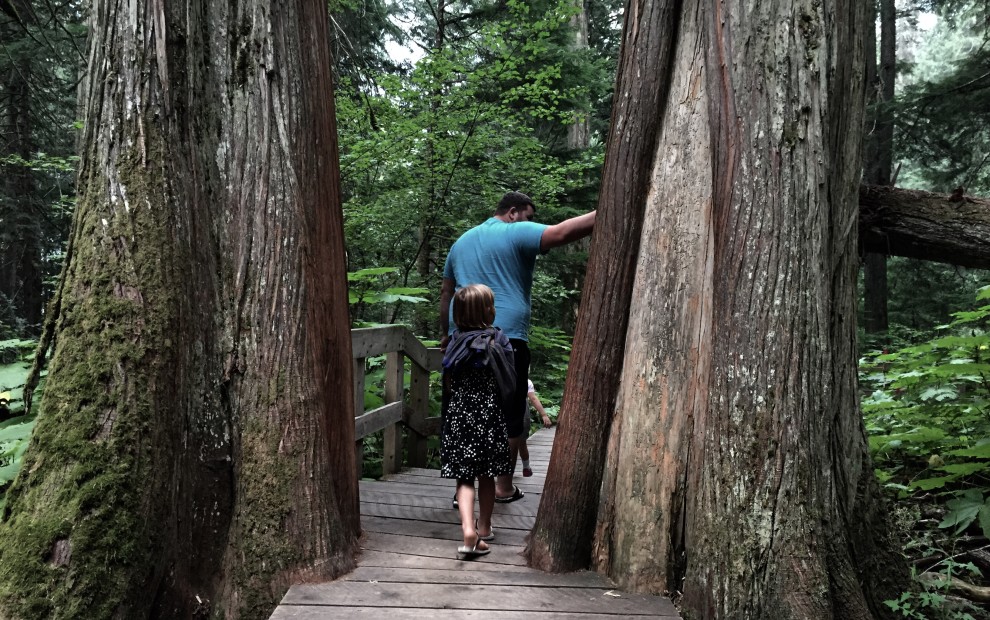 We walked, talked and had the short trail to ourselves. Noticing an off-trail path, we decided to take it to try and find more of the water that was trickling under the trail.
We've heard the trail can be busy, so were delighted that we were passing by just after seven in the evening, making for a time when we only passed one other couple. The kids ran amongst the trees, stood inside trees and just revelled at the sheer size of the trees – and if we're being honest, we revelled a little too. I hadn't seen trees that big since my childhood growing up on Haida Gwaii.