Camp: Sleeping Bags that Keep Kids Warm
A couple of years ago, we were heading out on our first camping trip. It was the first time we had camped with the kids, and we chose sleeping bags based on their 'cool factor' with glow in the dark constellations, on them, rather than the 'warm factor' of how warm they were going to keep the kids.
Temperatures tanked overnight, and though the kids weren't cold I worried about them and snuggled them together in one to make sure they stayed warm (because those mountain temperatures left me freezing).
Fast forward a few years later, the sleeping bags required replacing as we camped earlier in the season, and deeper into the mountains. Though quality camping equipment may seem expensive, especially for kids that are only going to use it for a handful of years, it's important to choose children's sleeping bags, as the smaller sleeping bag makes for less space to keep warm, keeping the child warmer through the night.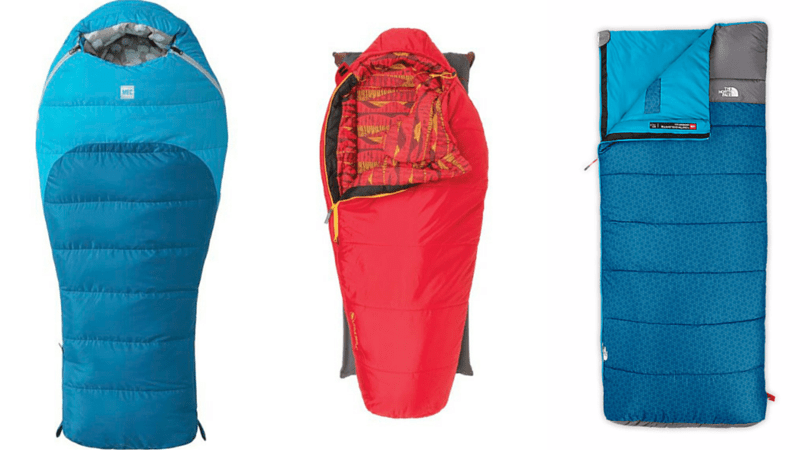 MEC Big Agnes | Rated to -9C. A pint-sized sleeping bag that packs big warmth. The design has an integrated sleeping pad sleeve, so kids won't roll off of their sleeping pad in the middle of the night. A roomy hood and stay-warm details like a no-draft collar and an insulated zipper. The no-draft wedge brought this one high up on my list, for the kids to grow into.
North Face Dolomite | Rated to -7C.  This youth-sized 20-degree synthetic, rectangular bag unzips flat for campground versatility. For the kids that don't like to be squished into a sleeping bag, this option is going to keep them warm, but doesn't come with the hood part – not a big deal, as the kids tend to sleep in hooded shirts anyhow.
MEC Explorer Down Sleeping Bag | Rated to 0C. Let the younger members of your expedition enjoy the body-hugging warmth only a down-filled mummy bag can deliver. During the day, they (or maybe you) will also appreciate the small size and lightness when it's in the pack. The built in pillow pocket, and glow in the dark zipper pulls, with no drawstring at the top were our favourite features.
After looking at all three bags at the top of our list, and considering the options and choices with each of them, we went with the MEC Explorer down sleeping bags for the kids. Lightweight, warm keeping and the fact that we're likely not going to be camping in temperatures that are under zero degrees, even overnight – it sealed the deal.
Though the price tag looks like a splurge, we factored in the fact the bags will be used for multiple children, keep them warm, multiple times a year, in high quality designs – and that youth quality camping gear has a high resale value when we're finally finished with them.