Tips for Hiking with Kids in the Desert
The Arizona desert is a beautiful place to explore with your family!  Here are some tips for Hiking with Kids in the Desert!
There is no denying it, we love the desert.  Over the years our family has visited the Phoenix area quite a few times, and each time we go, we fall more and more in love with the area.  The desert is beautiful.  I had a friend recently ask me why it was that I loved the desert so much, and I thought it was such an interesting question.  I often wonder how anyone could not love the desert?  I think a lot of people see the desert as a one dimensional place…cacti and scary critters.  But it is SO much more than that.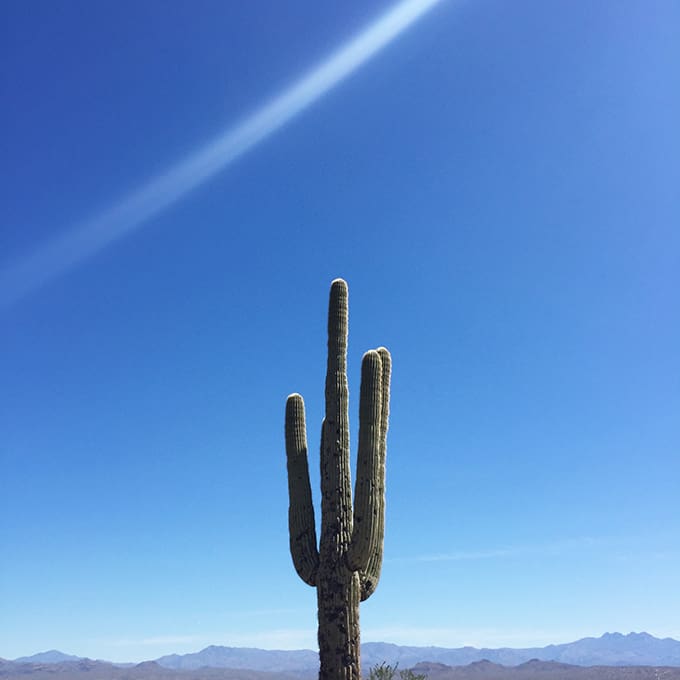 The desert is rich in flora and fauna…there are more cactus species that you can count, the desert has beautiful flowers, the wildlife is fascinating and you can't beat the big blue skies and amazing weather.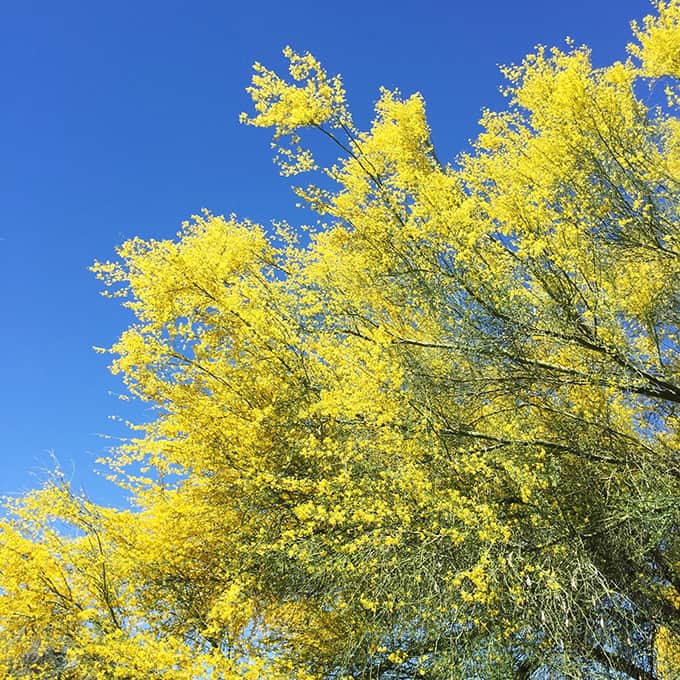 We also love the wildlife, even the creepy crawlies, as long as they stay away.  They're fascinating.  My kids used to get freaked out by the idea of all the spiders, snakes and scorpions, but over time these just become a part of the landscape, and not to be feared as long as you are aware of them.  Just don't wear open shoes on hikes, don't wear bare feet in rocks, don't lift up rocks or put your hands in small spaces and you'll be just fine. 😉  Over the years we've had the privilege of seeing scorpions while hunting for them with black light at night, we've also seen California King Snakes, Gila Monsters, geckos, tarantulas and other big creepy spiders.  As well as bush bunnies, cactus wrens, hummingbirds, quail, doves and many other birds.  Beautiful.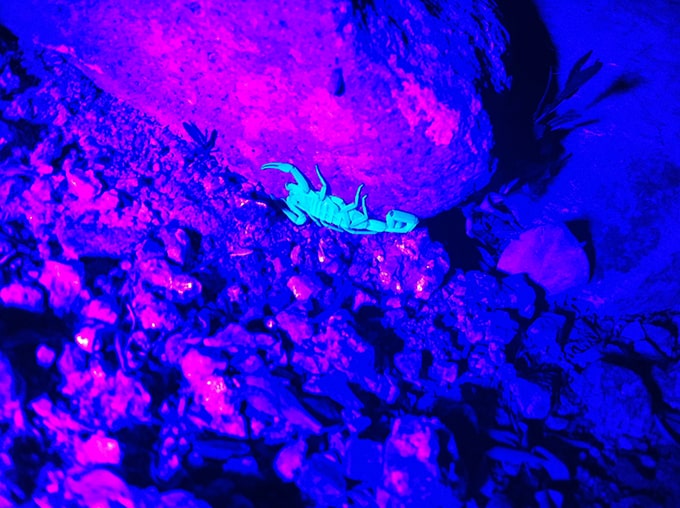 A scorpion seen under a black light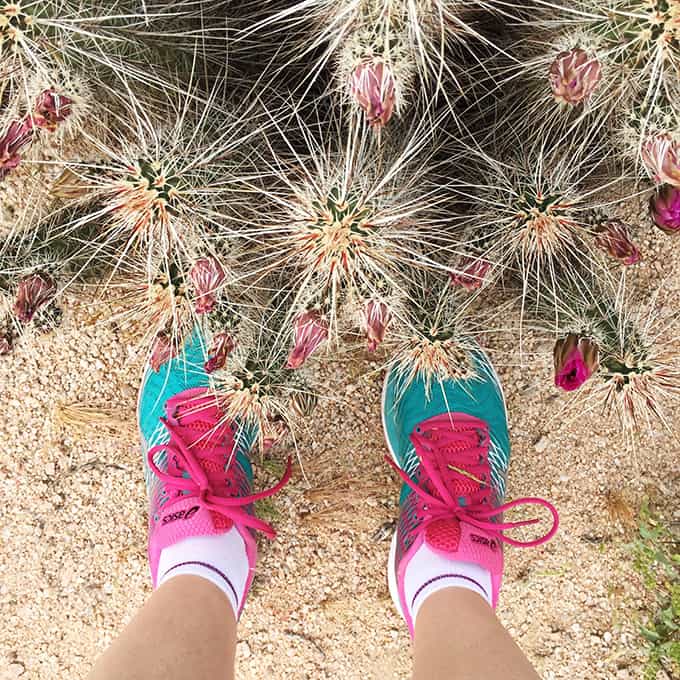 The best way to explore the desert is to do just that…explore.  Go on hikes and get to know this beautiful ecosystem.  Just go prepared, and you'll have an amazing time in the beautiful desert.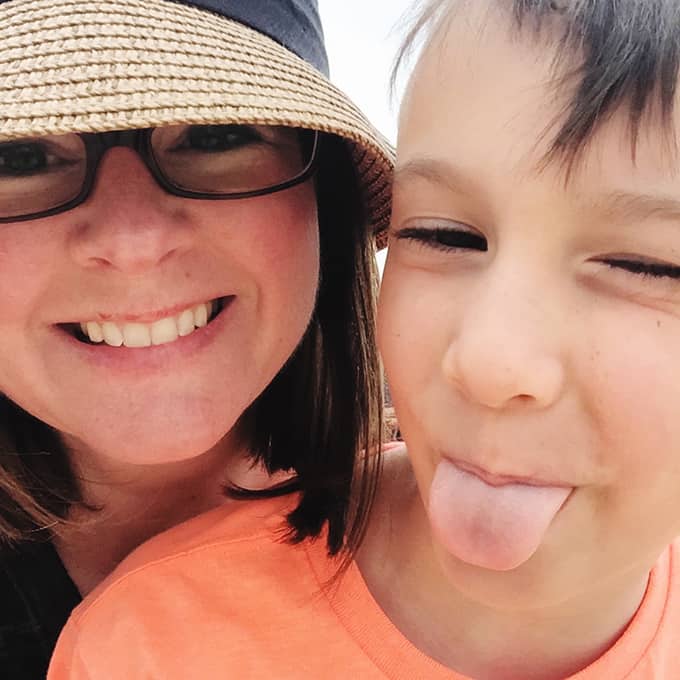 Tips for Hiking with Kids in the Desert:
MOST important, bring water!
Hiking in the desert is no joke.  It is hot and the sun can be intense, even on cool days, so you need to bring enough water for everyone, including pets (most trails don't recommend pets due to extreme heat). We make sure to have at least 1 litre per person, then bring extra.
Bring snacks.
Snacks provide energy on long hikes.  We like to bring granola bars, trail mix, nuts and fruit.
Wear proper shoes.
Wear running shoes or hiking boots.  Don't wear sandals on desert hikes…you have to beware of spiders, scorpions, snakes, cholla balls and cactus spines.
Wear light coloured clothing.
Dark clothing absorbs heat, and will make you feel hotter, so light is the way to go.
Lather on the sunscreen.
The sun is strong, and you will burn if you aren't wearing sunscreen!  Don't forget to wear it on cloudy days too…you can still get burned when there is cloud cover.
Wear a hat.
With the sun beating down on you, you can burn your scalp!  A hat is a must.
Bring sunglasses.
Eyes can get sunburned too!
Bring a fully charged cell phone.
For emergencies and for taking pictures.
Don't forget your camera.
The desert is SO beautiful.
Bring tweezers.
Those little cholla balls are so sticky…if you try to remove them by kicking them, or using your cell phone case, it won't work.  Ask me how I know. 😉
Timing is everything!
Consider doing hikes early in the day, before noon if possible.  The desert gets very hot!  And trust me, hiking with kids at the peak of heat in the day is NOT fun.
Critters.
Yes, there are critters.  This is the desert, and it is home to spiders, scorpions, snakes, gila monsters, lizards, poky plants and many other things.  But you don't have to be scared!  The desert is beautiful, and safe if you take the proper precautions.
More Hiking Adventures in Arizona:
Happy Hiking!