Make The Most Out Of Your Trip To Disney California Adventure Park
Make The Most Out Of Your Trip To Disney California Adventure Park!  Here are some practical tips, including must see attractions and things to do!
Disney's California Adventure Park was in the top 3 of our favourite stops on our California Road trip. When we had initially planned visit, we didn't know what to expect, and we were very pleasantly surprised!  The attractions and themes here are recent and relatable to our kids, from movies they loved and watched like Cars, A Bugs Life, Incredibles, Monsters Inc., Toy Story…making this park extra fun!
For those that have never been, it's good to know that California Adventure Park is across the lot, and within walking distance from Disneyland.  California Adventure is a smaller park than Disneyland so it doesn't take as long to visit, but the attractions are so good you may want to go on the rides more than once.  And if you have a Park Hopper Pass (which I highly recommend) you can easily go between the parks on the same day, all day long.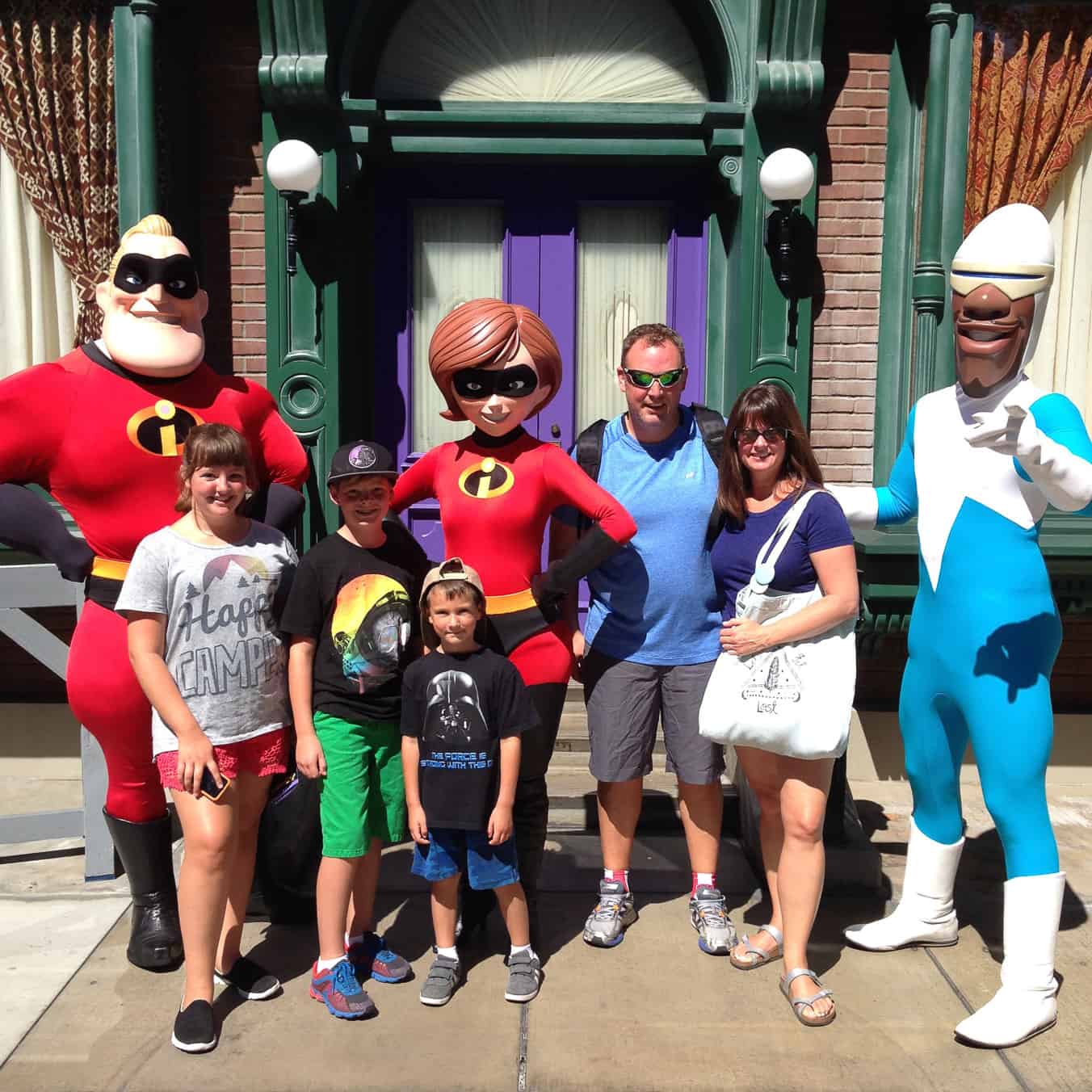 When you first get to the park you will enter Buena Vista Street and your instinct might be to walk right on through it, which you might want to do if you are planning on visiting Cars Land (see tips below).  But make sure to come back and check out the shops, there are many great ones.  From here you can head on over to Hollywood Land which we really enjoyed!  You can see Anna & Elsa's Royal Welcome, the Aladdin Musical and take a ride on the Tower of Terror (um no thank you).  There were a tonne of Disney characters here available for pictures which was really fun!  I made my family stop to take pictures with the Incredibles…I couldn't pass them up…the Incredibles movie was played in our home countless times so I had to have a picture!  Sniff.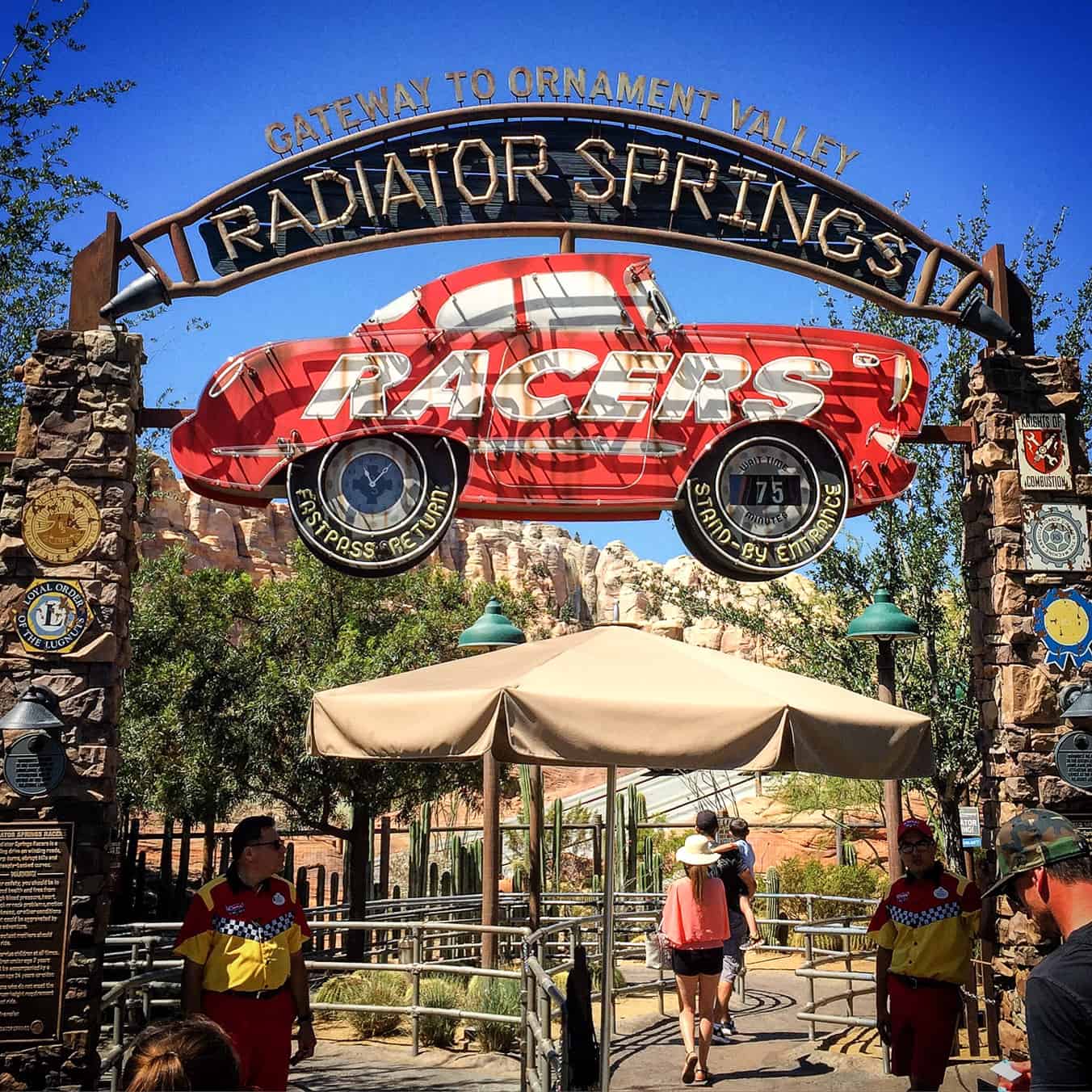 The busiest attraction at California Adventure was by far, Cars Land.  If you have this on your must see list, make sure you get a FastPass for it, and go there first because it gets very, very busy!  And if it's not on your list, you should put it there because it is a fantastic attraction.  The details here are incredible, everything is touched with Cars magic…the food (Cozy Cone Motel is great), the kiosks, every building, all of the signs, and all the characters…it's a really well done attraction and we enjoyed it immensely!  And the Radiator Springs Racers ride is SO fun!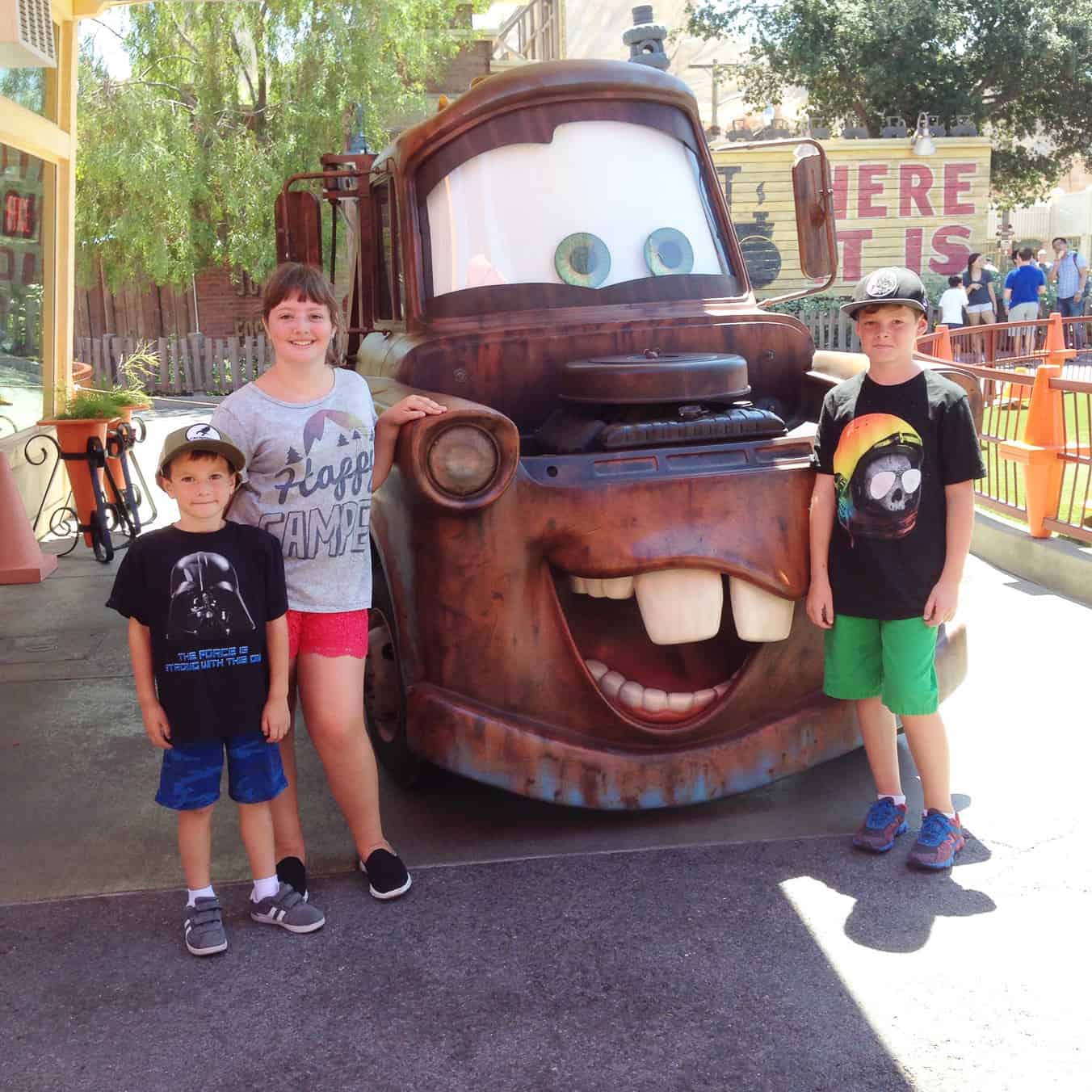 My kids loved Radiator Springs and that's what is so great about it…all ages enjoy it in different ways!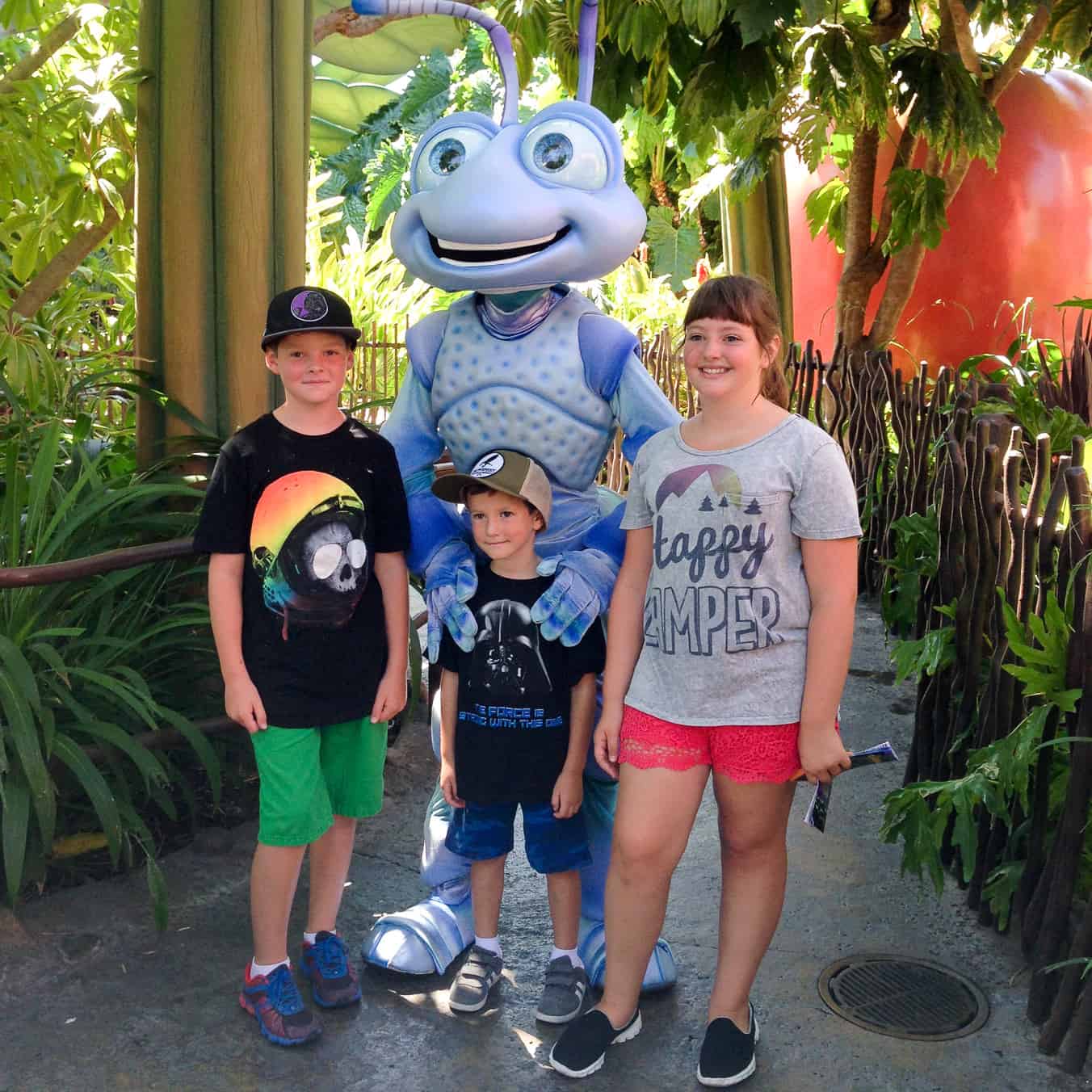 Ok, I know this is hilarious, but my most favourite attraction here was 'A Bugs Land'!  Yes, yes it was. Maybe because it makes me feel nostalgic since the movie came out when my older kids were teeny tiny.  But really, it's just a great attraction.  You HAVE TO see the 3D show 'It's Tough to be a Bug!', it is has tonnes of great special effects and audience interaction!  We liked it so much we went to it twice!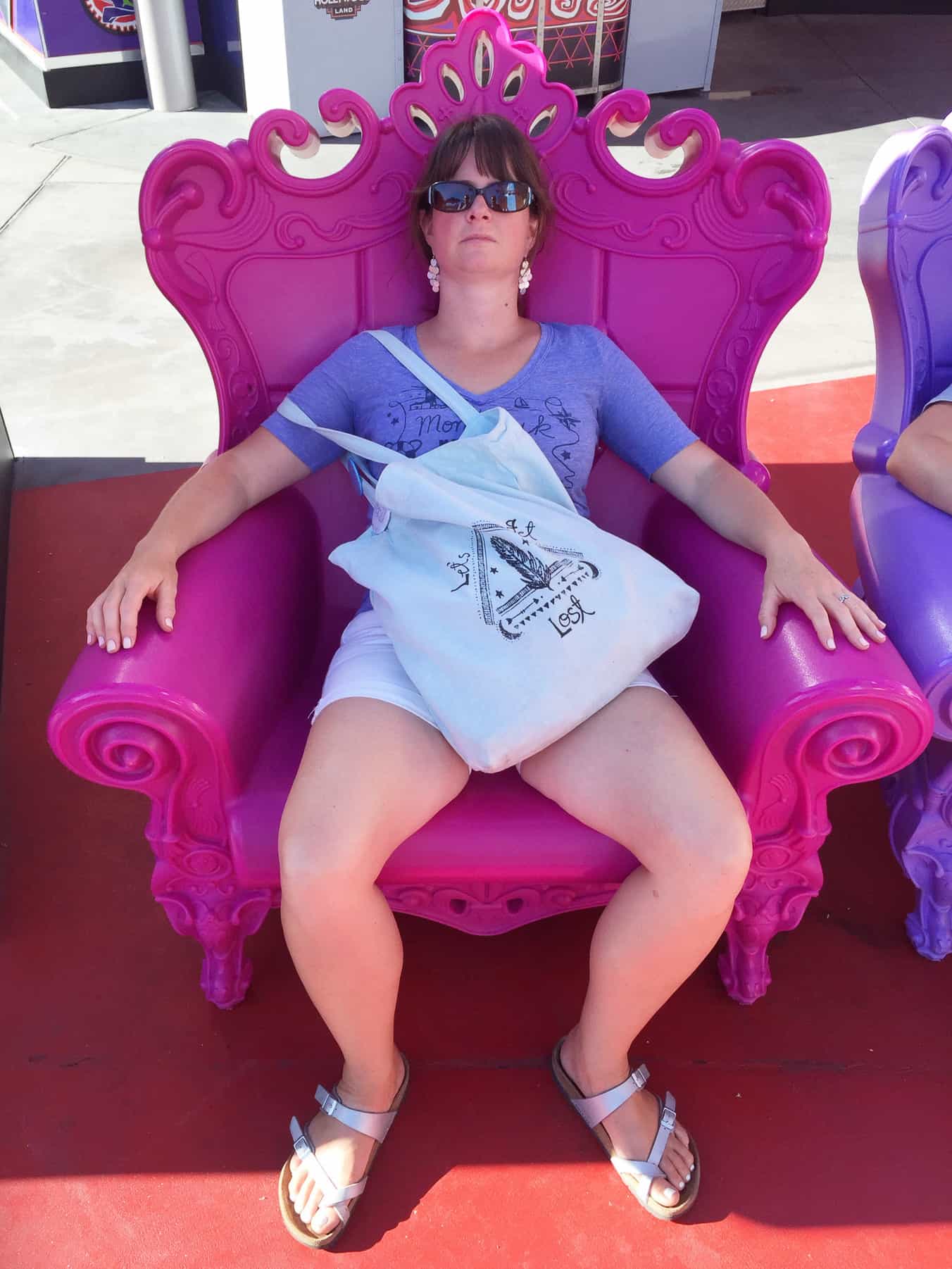 We packed in everything we possibly could on our one day visit, and I was worn out.  Worn out. But it was an amazing day, we loved California Adventure…we'd definitely come back again.
To help make your visit more enjoyable, here are some tips that were useful for our visit!
Tips for Visiting Disney California Adventure Park:
Buy Entrance Passes Online
If you don't want to wait in line to buy entrance passes, consider buying them online ahead of time.
Buy A Park Hopper Pass
If you are planning to visit both Disneyland and California Adventure buy Park Hopper Passes which will allow you to visit both parks in the same day.
Get There Early.
Getting there early means that you can get to the most popular attractions before they get too busy.  The busiest attractions were Radiator Springs Racers, Grizzly River Run and the Tower of Terror.
Be prepared.
Have sunscreen, hats, comfortable shoes, and take a sweater/coat in case the weather changes.  Take your camera, have your phone fully charged.
Get a park map as soon as you enter.
This will help you plan out your visit.  There is a lot to see and you don't want to miss anything!  The maps are very detailed with all attractions and dining options…we referred to ours endlessly.
Use the Disney FastPass+ service!
This service lets you reserve access to select rides, attractions, character greetings and entertainment at no extra charge!  Basically these passes get you into select popular attractions without having to stand in the long general access lines.  FastPasses are available for Frozen Sing-Along, Anna & Elsa's Royal Welcome, Tower of Terror, Radiator Springs Racers, California Screamin', Goofy's Sky School, World of Color, Grizzly River Run, and Soarin' Over California.
TIP!  Speaking of FastPasses, the first thing you should do is get the FastPass for the ride you want to go on the most.  The day we were there the FastPasses were filled for the day by 11:00AM!
Food and drink are not allowed into the park.
But there are plenty of great places to eat when you are here.  There are many different menus to suit all tastebuds, with healthy options that I really appreciated after eating out for 5 days straight!
Be prepared for line ups!
Be aware that line ups for the popular attractions were very long, sometimes up to 2 hours!  But don't worry, the lines are managed fairly well with lots of shade, misters, and some activities for the kids to keep them occupied.
Must See Attractions/Events/Rides:
Radiator Springs Racers, the 3D show 'It's Tough to be a Bug', California Screamin', Tower of Terror (if you're into that kind of ride hahaha!), Grizzly River Run (wear a rain poncho or garbage bag, trust me), World of Color, and Soarin' Over California.
Do your homework!
Things may have changed since we last visited, so to avoid disappointment check out the California Adventure website before you go.
SO.  MUCH.  FUN.
More California Adventure: